Building Belleville: Taking Another Step
We wrap up Building Belleville with a look at two forwards and two blueliners who are in line for a big step.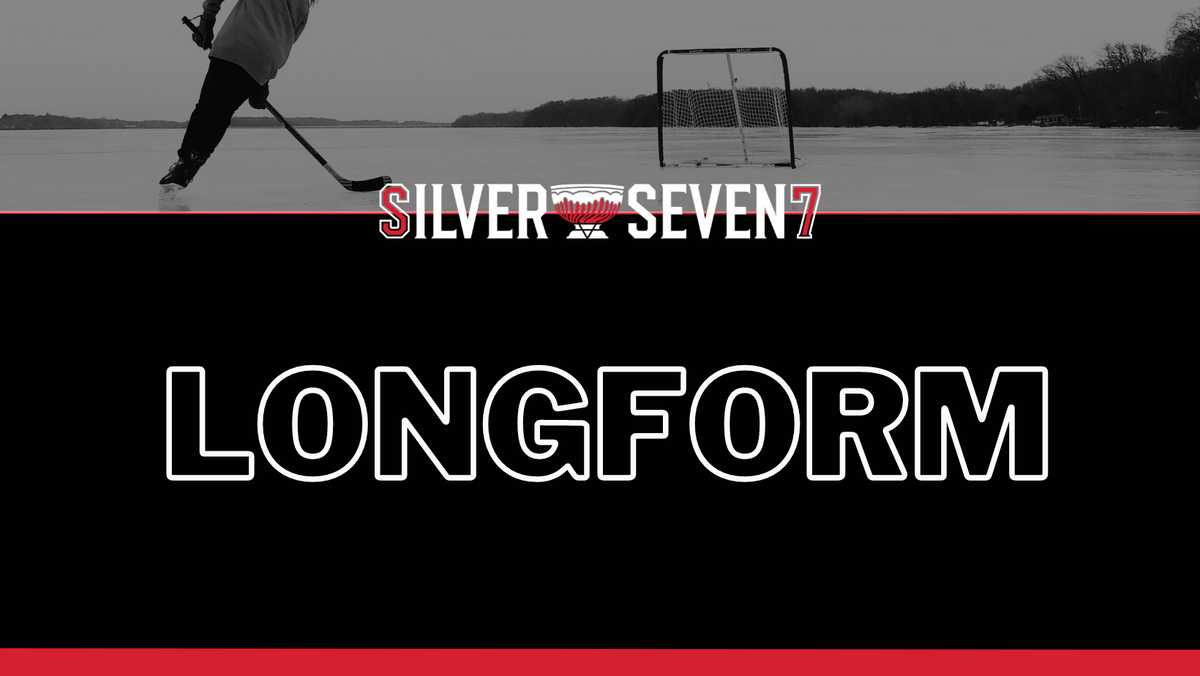 Welcome back to the final instalment of Building Belleville as we are just a mere weeks away from being able to talk about training camp in real time.
If you're new to this series, you can catch the other pieces here:
Today, let's take a look at those players who Belleville will look to in taking another step in their professional development, going from contributors to game changers as they enter another season in the American Hockey League. Up front, the candidates are none other than Angus Crookshank and Roby Järventie, while on the back end Max Guénette and Lassi Thomson are the most obvious choices.
Angus Crookshank
The 23-year-old North Vancouver product was a recent feature of our Top 25 Under 25 list, where he moved up five spots to #13. Beata's piece dives deep into what Crookshank offers as a prospect, so I won't recreate the wheel and get too deep today. I'll keep the focus on where Crookshank will contribute in the AHL this season after a brief introduction to his body of work.
What's interesting about Crookshank as a prospect is that he spent all of last season on the sidelines due to an injury, missing a crucial year of development. He came into the organization red hot, with 16 points in 19 games following his exit from the University of New Hampshire in 2021-22. Then, last season, Crookshank played a total of zero (0) professional games. He was hit with an injury before the season could even begin which saw him miss what was supposed to be his first full season in the AHL.
Thus, Crookshank's official rookie season slid to 2022-23. The speedy winger got back onto the saddle and got an almost full AHL season under his belt, featuring in 71 of Belleville's 72 contests. In this span, Crookshank posted a respectable 26 goals and 21 assists for a total of 47 points, ranking him first in goals and fourth in points amongst his teammates.
For Belleville, Crookshank is almost certainly in line for an important season. In the NHL, the left side of the roster is pretty busy. While I think Crookshank could battle for a spot on a lesser team, I just don't see a place for him in Ottawa. This means he's likely going to spend the majority of the upcoming season as a staple left winger in the top six. Of Belleville's top six producing forwards last season, only half are returning. One of which is Sokolov, who could see more time with Ottawa than Belleville this year. This puts Crookshank's offensive production firmly into the necessity column, should Belleville wish to claim a playoff spot.
Roby Järventie
Yesterday we profiled Roby Järventie for T25U25, so I once again won't dive deep into his performance or standing in the organizational prospect pool. The big highlight for the Finnish winger year over year is that in 2022-23, Järventie compiled just three fewer points than he did as a rookie, despite playing 30 fewer games. Going from 0.47 points per game played to 0.75 from rookie to sophomore season is exactly what the Senators needed to see to continue believing in Järventie as a potential long term player in Ottawa's top nine.
Järventie, like Crookshank, faces a similar log jam issue that is likely to keep him in Belleville for the majority of the season. And just like Crookshank, that's really not a bad thing. While his production certainly leaped, there are still a number of areas of the game that he'll need to brush up on in order to make the leap to the big leagues.
In Belleville, Järventie will be the mainstay in Belleville's top six along with Crookshank. It's likely these two will be the 1A-1B situation on the left side, while both will see plenty of powerplay opportunities on the top unit. What we'll want to see from Järventie moving forward is twofold.
First, 18 of his 30 points last year came on the powerplay. While we want to see him continue to produce on the powerplay, the important improvement we'll want to see comes at even strength. To give you an idea of what I mean by this, Järventie ranked fourth in total primary points per games played for players in his draft curve (DY+3) last season. If you make the same calculation, but only considering even strength primary points per games played, he plummets to 27th.
Second, I'd call Järventie a "north-south" player who might lean a little more north, if you catch my drift. It's not that he's an irresponsible player in his own zone or that he's regularly making mistakes, but he should be watching Sokolov's game tape from two years ago and then again last season to see what he accomplished with his play away from the puck. Järventie is a fantastic player to have when you have the puck. He needs to be more involved in getting himself in the right position to also be an effective contributor in regaining possession.
Between Järventie and Crookshank, you have to hope for a minimum of 100 points combined. Last season they hit 76, but Järventie missed 32 contests. There are other offensive producers that will be involved, but having these two take that next step will be the difference between playoff bubble and playoff contender.
Maxence Guénette
On the backend, we have easily Ottawa's most improved prospect in my eyes. The rightshot rearguard went from seventh round pick in 2019 to the 20th ranked defender in scoring in the AHL in 2022-23, at the age of 21. This lifted him two spots to 17th in this year's Top 25 Under 25 ranking. To emphasize this growth, Guénette's 40 points last year ties his single season personal best for production in the QMJHL. This means he was able to elevate his offensive contribution to a similar level, while playing in a much more difficult league.
What's most important about Guénette's leap is the fact that he has also been defensively responsible, trusted in key situations by both Troy Mann and David Bell. He moves the puck extremely well and is positionally sound. Essentially, he's everything you want in a puck mover at the AHL level. He can quarterback your powerplay and shut down players on the penalty kill - although, you'd be smart to focus on the former as play with the puck is definitely his strength.
For Belleville, Guénette will factor in as a top four fixture on the right side. His style of play will work perfectly with someone like Dillon Heatherington or Jacob Larsson, while the final member of this list will be the other right shot blueliner in the top four.
Lassi Thomson
Lassi, oh Lassi.
While Guénette is certainly the biggest riser, in my opinion, Thomson has had the greatest fall. It's not to say that Thomson's time in the organization is done, nor is it to say he can't become an NHL blueliner. It just appears that there's been a bit of a stall in development. In back-to-back seasons, Thomson essentially had identical showings. While he was able to secure 16 games with Ottawa the year before last, he was limited to just two this past year.
Belleville's blueline goes from good to great if Thomson can get his development curve pointing in a more promising direction early on. He has the positional prowess and booming shot to be a gamebreaker at the AHL level and put his name back into the callup column for when Ottawa needs him.
It's important to note that Thomson is no longer waiver exempt, so in order for him to play for Belleville he will have to clear. This means there's a chance Ottawa loses him. That being said, that chance is pretty small. At the beginning of the season, plenty of players go unclaimed while teams are shuffling their rosters and getting ready for opening night. I'd be shocked if Thomson wasn't on Belleville's opening night roster.
Roster Shaping Up
At the end of the day, there's promise in Belleville.
The Senators front office did a great job bringing in fresh, experienced players in July to go along with exciting young guns like Tyler Kleven, Tyler Boucher, Tomas Hamara and Zack Ostapchuk. There's a three headed monster in net and the four young, experienced AHLers we've outlined above who are capable of taking another step this season.
It would take some serious misfortune to not see Belleville in the battle for a playoff spot this year. There's scoring throughout the lineup, strong defenders and a steady goaltending group that should more than make up for the handful of points by which they missed last season.
Get ready Sens fans, we might be seeing two teams in the playoffs this year.




Not everyone can afford to pay for sports coverage right now, and that is why we will keep as much of the site's content free for as long as we can.
But if you are able to, please consider subscribing to help keep our articles free (and get a few extra perks).
Erik Condra
Ability to comment and participate in our community
Twice monthly newsletter available only to subscribers
Ad-free reading
Our undying love and appreciation
Brady Tkachuk
Everything from the Erik Condra tier
10% discount on all merch
Access to any future paywalled content
A personal thank-you from the Silver Seven staff
Daniel Alfredsson
Everything from the Brady Tkachuk tier
Inner peace knowing you are supporting quality, independent coverage of your favourite sports team