Ottawa Senators Top 25 Under 25, #17: Maxence Guénette
The right-shot defenseman moves up six spots from the 2022 list after a solid second season in Belleville.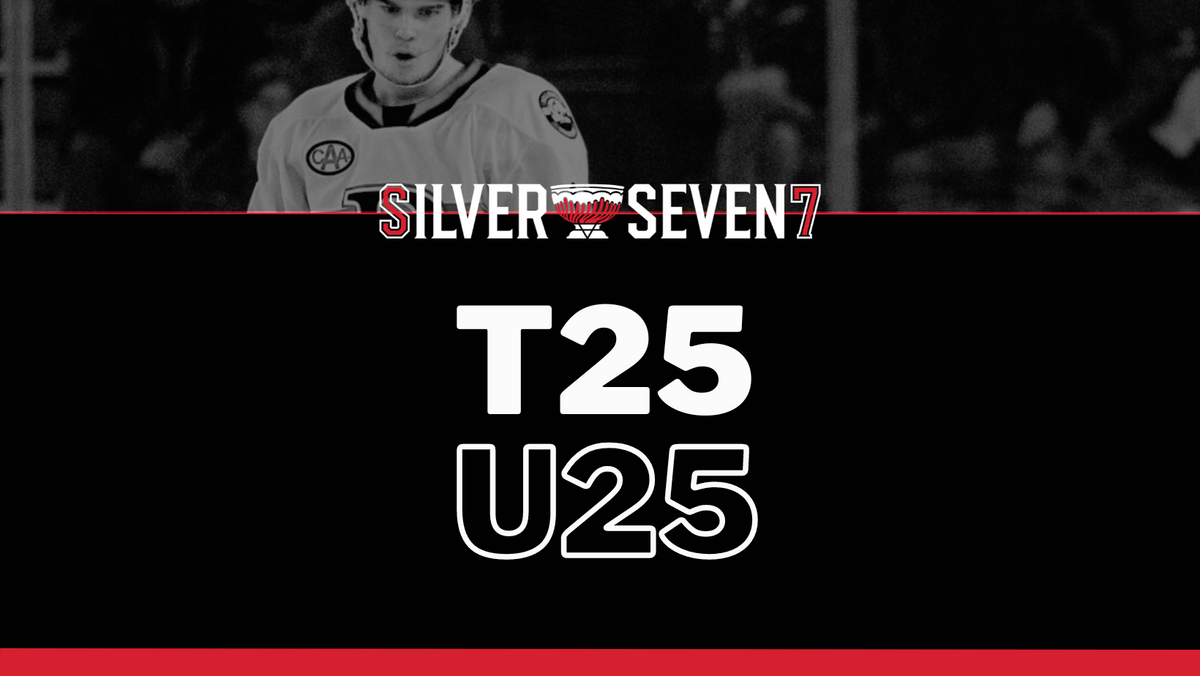 We're back profiling the top 25 Ottawa Senators under 25, and you can see the rest of our list that's been revealed so far right here.
Today we take a look at a 22-year-old right-shot defenseman:
#17: Maxence Guénette (Reader Rank: 19, Last Year: 23)
Guénette moves up six spots, which is not a huge rise considering where he started (after first appearing on the list at 25th in 2021), but it's notable nonetheless. He was drafted in the 7th round, 187th overall, in 2019, so the fact that he's a prospect of any worth whatsoever is a credit to him. Guénette spent two post-draft seasons in the QMJHL with the Val d'Or Foreurs, and then two seasons in Belleville.
Guénette is known for his offensive prowess; he put up an impressive 40 points in 62 games in 2019-20, turning some heads in the Ottawa Senators' fanbase. Then once the QMJHL resumed play during their COVID-shortened season, he started off the season with a blistering 16 points in 15 games. He finished with 22 points in 36 games, as well as 7 points in 15 playoff games. What was most encouraging was that he was amongst the league's best for breakouts and zone exits—something that is often indicative of future success at higher levels:
At that point, Guénette was worthy of signing an ELC after that, and in his first pro season in the AHL with the B-Sens, he had a modest 19 points in 48 games. His on-ice results weren't the best, with a 41.54 GF% (3rd worst on the team), although the overall stats that are publically available in the AHL are quite limited beyond that. With a season that didn't stand out too much, and other defensive prospects such as Jake Sanderson, Tyler Kleven, Erik Brännström, Jacob Bernard-Docker, Lassi Thomson, etc. ahead of him on the depth chart, it was easy to forget about Guénette.
This past season was more promising for him, as he notched 40 points in 72 games, good for fifth on the team and seven points ahead of the next defenseman, Thomson. He had some very good stretches, as he had 2 goals and 12 assists over a 17-game stretch in November, and then 2 goals and 10 assists over an 11-game stretch in March. It's clear that he's capable of going on a run.
Most of his production came from the powerplay, which is nice to see but does beg the question a bit about 5v5 results. He had 1 goal and 15 assists at even strength but 4 goals and 19 assists on the powerplay—57.5% of his points on the man advantage. He has the offensive tools to be successful on the man advantage, but what's not so clear is whether or not he can be more than a powerplay specialist. All of this before we touch on his defensive play, an admitted weaker spot.  
Here are some clips showing his best strength, offensive ability, at either even strength or the powerplay:
As you can see by the last clip, Guénette obviously got to play his first career NHL game at the end of the season – a nice reward for a prospect who has progressed well since being drafted. Despite the NHL experience, he enters the 2023-24 season somewhat buried on the depth chart. When healthy, Thomas Chabot, Jake Sanderson, Jakob Chychrun, Artem Zub, Erik Brännström, Travis Hamonic, and Jacob Bernard-Docker will be in the NHL. Behind them, Tyler Kleven and Lassi Thomson seem likely to be the next two up, with some tight competition between Nikolas Matinpalo, Jacob Larsson, Donovan Sebrango, Dillon Heatherington, and Guénette after that. It's unclear where Guénette would be in that pecking order, but he's at best 10th and at worst 14th. The Sens, for the first time in a very long time, have real organizational depth on the blue line.
This coming season is a huge one for him, as he's an RFA in the summer, and if he doesn't show enough of a promising future, he might not receive a qualifying offer. However, if he takes another step in Belleville and becomes a top call-up option, then he will get re-signed for a year or two and can potentially play his way into a future with the Senators.
Having said that, his future would most likely be in a limited role. As a right-shot defenseman in a league with more lefties, he will get some opportunities. Moving forward, the Sens can count on Zub on the right side and perhaps Chychrun if he plays on his off side, but that does leave room for an offensive defenseman on the third pairing. In the current configuration, it's difficult to envision a situation where that would be alongside Brännström – so Guénette would need the circumstances to be perfect for him to make a name for himself in Ottawa. Talent typically wins, though, and I like his skillset more than some others in the system.
At the end of the day, he has the offensive upside, and the fact that he's a right-handed shot working in his favour. He's been very good in Belleville, and has proven he call pro level hockey. Those factors alone get him to #17 on our list. Whether he becomes more than that might not be determined this year, but, eventually, he is going to get a shot.
Not everyone can afford to pay for sports coverage right now, and that is why we will keep as much of the site's content free for as long as we can.
But if you are able to, please consider subscribing to help keep our articles free (and get a few extra perks).
Erik Condra
Ability to comment and participate in our community
Twice monthly newsletter available only to subscribers
Ad-free reading
Our undying love and appreciation
Brady Tkachuk
Everything from the Erik Condra tier
10% discount on all merch
Access to any future paywalled content
A personal thank-you from the Silver Seven staff
Daniel Alfredsson
Everything from the Brady Tkachuk tier
Inner peace knowing you are supporting quality, independent coverage of your favourite sports team