Ottawa Senators Top 25 Under 25, #3: Jake Sanderson
The stud defenseman continues his rise up the rankings
Welcome back to the 2023 edition of our Top 25 Under 25 feature. You can check out the full list so far here.
For today's entry, we have:
#3: Jake Sanderson (Reader Rank: 3, Last Year: 6)
As we enter the rarified air of the top three spots of this year's Top 25 Under 25 ranking, we've made it to the players that will define the next chapter in the franchise's history. When the Ottawa Senators gave Jake Sanderson an eight year contract extension after just one season of professional hockey, it was predicated not just on his impressive play in those 77 games last year, but on a bet that the young rearguard was just scratching the surface of his abilities. As I said in the linked piece, it's a wager I'm quite comfortable with the Sens making. Like the two players above him on this list (spoiler alert: they're Brady Tkachuk and Tim Stützle in some order), Sanderson has the potential to be a special player. If he hits that ceiling, watch out.
A brief recap of his performance last season: Sanderson tallied 4 goals and 28 assists for 32 points in 77 games, played 21:55 a night across all situations, and generally looked extremely polished for a twenty-year old in his first year in the NHL. The Sens got the better of the shots, and the chances, at 5v5 when Sanderson was on the ice. At a high level, his statistical profile was strong.
A recurring theme among observers of the team was that Sanderson didn't seem to be experiencing the same type of steep learning curve that baffles many young defensemen. An uncanny calmness, complemented by superior skating, form the rock solid foundation of a player who rarely seems to take a wrong step. Sanderson is not the perfect player, we will get to his (minor) weaknesses a bit later, but I cannot remember too many others , particularly players this young, who made so few mistakes. Sanderson's defensive reads are superb, his positioning is top notch, and when he gets the puck he virtually never gives it away cheaply. As a fan, I experience a deep calm whenever I'm watching him defend.
The common consensus among scouting types prior to his being drafted was that Sanderson had all the tools to be a defensive stalwart, but that he might be more limited in his ability to create offense at the highest level. After dominating NCAA hockey, particularly in his second and final campaign, Sanderson was indeed immediately impactful defensively in the NHL. Here's how he fares by Micah McCurdy's model over at HockeyViz: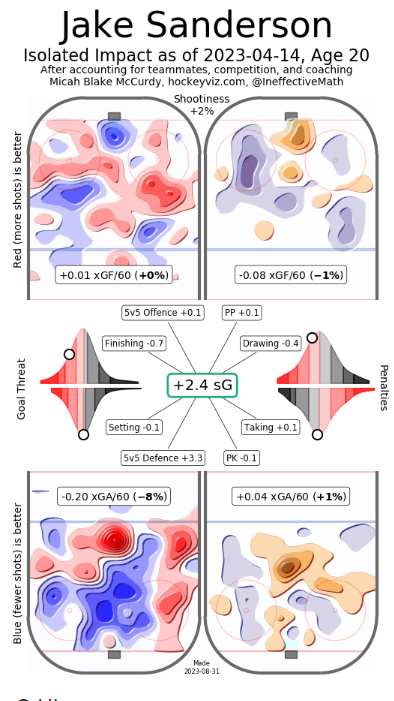 The charts read as you expected: Sanderson severely limits chances at 5v5 and has a neutral impact on the offense. Add that up, and you have a good player.
Sanderson played virtually all of last season alongside Travis Hamonic, in something resembling a "shutdown" role. That he achieved the defensive results that he did is wildly impressive to say the least. Next season, it sounds like DJ Smith might ask his young prodigy to play an even more exaggerated defensive deployment alongside Artem Zub – thus freeing up Jakob Chychrun and Thomas Chabot to feast in offensive situations.
Defensively, there's already not too much more that could be asked of Sanderson. On the offensive side of things, Sanderson's impact is a bit more muted. That's not to say he's ineffective per se, but he's not quite helping the offense create chances in the same way. Earlier I described Sanderson as almost never making a mistake; this is true, but in order to drive offense from the blue line in the modern NHL you have to do more than not make mistakes. Sanderson, last season anyways, didn't quite make enough incisive plays to really get things going at the same level as other top defenders. Sometimes his rushes with the puck would result in an uncontested dump to the opposing team's goal line– again, this is not a bad thing on its own, but also not the type of play that creates sustained offensive pressure.
The good news is that several of the positive attributes I earlier ascribed to Sanderson, his skating, his awareness, his decisiveness with the puck, can all be leveraged to improve that 5v5 offensive creation. Already last year, particularly as the season went on, it wasn't uncommon to see Sanderson use his superior skating to jump into the rush and create opportunities. Even more of that is possible. Sanderson played quite a bit on the power play last year, where the results were a bit mixed, but the fact that he even looked comfortable quarterbacking the first unit can only be taken as a good sign. I don't know where he will fall in the pecking order this season with Chabot and Chychrun, but the possibiliy of a 3F, 2D alignment on the second unit to give all three lots of time with the man advantage seems likely.
Last season Sanderson profiled as a very strong second pair defenseman, or a fringe first pair player. When the Sens selected him fifth overall in 2020, they saw the vision of a defensive crusher who would be the perfect accomplice to the more offensively inclined Chabot. Even if last year's version of Sanderson is the best he'll be, the Sens have a high quality defender on their hands. Barring major injury, Sanderson will be an impactful mainstay on the Ottawa blue line for years to come. Will he take the step to potential superstardom that his fellow 2020 draftee Stützle did last season? That's what we're all hoping for.
Not everyone can afford to pay for sports coverage right now, and that is why we will keep as much of the site's content free for as long as we can.
But if you are able to, please consider subscribing to help keep our articles free (and get a few extra perks).
Erik Condra
Ability to comment and participate in our community
Twice monthly newsletter available only to subscribers
Ad-free reading
Our undying love and appreciation
Brady Tkachuk
Everything from the Erik Condra tier
10% discount on all merch
Access to any future paywalled content
A personal thank-you from the Silver Seven staff
Daniel Alfredsson
Everything from the Brady Tkachuk tier
Inner peace knowing you are supporting quality, independent coverage of your favourite sports team