Jake Sanderson's Extension Sets the Stage For What Comes Next
With Jake Sanderson secured to a long-term deal, the Sens' core is poised to contend for years to come.

Late Thursday evening, the Ottawa Senators came to terms with Jake Sanderson on an eight-year extension with an AAV of $8.05M. The 21 year old rearguard will play next season on the final year of his ELC, after which point the new deal will kick in and carry through the end of the 2031-32 season when Sanderson will be 30. If there were any vestiges of the fanbase's old fears about an inability to retain homegrown talent, let them be officially laid to rest: the last of the "core" is now signed to a long-term deal.
It's awfully tempting to just end the article there. "Your favourite team signs good young player to long-term contract" gives me (and probably you!) the warm and fuzzies. This particular deal has the added benefit of covering all of Sanderson's theoretical prime, including three UFA years. Frankly, if you want to stop thinking about the contract in any more detail than that, who am I to say otherwise?
In the interest of painting a complete picture, I do think there are a few things to unpack. The first is that this contract is a bit of a gamble on Sanderson's upside: public models peg Sanderson's current worth on a deal of this length at closer to $6.8M-$7.3M depending on your source
The Sens are also working off a very small NHL sample in making this offer; Sanderson has just the one season, and 77 games, to his name. As aforementioned, there is a year left on his ELC and thus, in theory, no rush to get this deal done right away. Another year's worth of information would reduce a bit of the uncertainty. Although I believe it to be small, there is a chance this will end up being a bit of an overpay.
That uncertainty can also work to the Sens' advantage, though. While it's true that there's some potential downside in a deal like this, there's also a large potential upside. Sanderson is only 21, and there's a very real chance that he takes another step forward in his development. By making this deal today, the Sens give themselves the chance to reap the benefits of that jump at what could be a very reasonable price.
Sanderson was immediately a defensive stopper when he showed up in the NHL last season. The question of just how good he will be depends on growth in his offensive game. Here's how Micah McCurdy's hockeyviz model views him: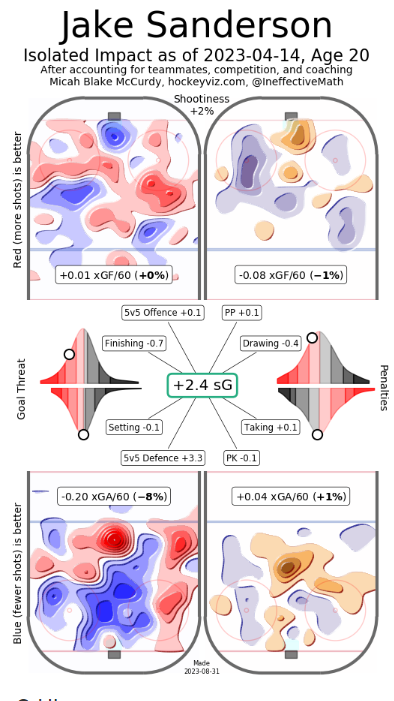 One thing that could help Sanderson's offensive contributions next year will be a change in defense partners. Per DJ Smith, Sanderson will start the season beside Artem Zub – a meaningful upgrade on the time spent with Travis Hamonic. It's also possible that Sanderson might see more time on the first power-play unit. He might also just simply improve on his offensive repertoire: Sanderson's skating and awareness are elite by any standards. It's not too much of a stretch to imagine him leveraging those abilities more effectively for offensive purposes.
Back to the bigger picture: betting on promising young players is one of the best ways to build a team that can be competitive for a long period of time. Having star, or near star, players on value contracts is the foundation for good cap management. Instead of bargain bin-diving each year, the Sens should have the financial capacity to sign meaningful contributors to help in the bottom six. It's true that you cannot win in the NHL without stars, but stars don't win alone either.
Dorion's track record has been mostly good with these types of bets: the deal given to Tim Stützle is already one of the best in the entire league, and Brady Tkachuk's contract adds significant value. Thomas Chabot carries a slight negative value (models see him more as a $7.5M-ish player). The big question mark is Josh Norris – a return to his 2021-22 form would buy the Sens adequate value on his contract but injuries are a real concern. Hopefully the recent surgery will put to rest Norris' persistent shoulder issues and allow him to resume his goal-scoring form.
For Sanderson to fall into the Stützle or Tkachuk camp, he'll need to take the aforementioned step forward offensively but even if he doesn't the odds this contract will be a large negative are very small. All in all, if you look at the five "core" deals for approximately $40M, and assume a cap approaching $90M, it's not hard to imagine assembling a competitive team. You can pay five players $8M each and build a good team, despite any narratives to the contrary.
I also wanted to touch on the long-term benefit of setting a "ceiling" on salaries for the team's star players. It feels like a long time ago now, but there was a moment in time when Sens fans had grown tired with Tkachuk while he was negotiating a new contract. In the end, Tkachuk signed a nearly identical contract to the one previously agreed to by Chabot. After Tkachuk and Chabot were locked in at approximately $8M, everyone that came after had something of a ceiling – you can't earn more than the (at that time) two best players on the team. Whether Dorion knew it at the time, or whether this is a plan that has fallen into place in a more happenstance fashion, the net result is a very structured cap sheet. It's also worth keeping this in mind for any potential future contract for Jakob Chychrun. $8M AAV on a long-term deal is a very firmly established anchor.
It's been a long, oftentimes painful, process to rebuild the Sens' organization from the rubble of a brutal teardown. The moment that things really started to change was at the 2020 NHL Entry Draft when the team selected Stützle and Sanderson; they were the reward for all of the dreadful finishes. Stützle has blossomed into one of the league's best players and looks poised to give the Sens a dominating presence down the middle for years to come. Last season Sanderson took a big step towards becoming that same presence on the Sens' blueline; if he reaches that same level, the Ottawa Senators can be real contenders. Sanderson's new deal is a bet that he's going to do just that – it's exactly the kind of bet the Sens should be making.
Not everyone can afford to pay for sports coverage right now, and that is why we will keep as much of the site's content free for as long as we can.
But if you are able to, please consider subscribing to help keep our articles free (and get a few extra perks).
Erik Condra
Ability to comment and participate in our community
Twice monthly newsletter available only to subscribers
Ad-free reading
Our undying love and appreciation
Brady Tkachuk
Everything from the Erik Condra tier
10% discount on all merch
Access to any future paywalled content
A personal thank-you from the Silver Seven staff
Daniel Alfredsson
Everything from the Brady Tkachuk tier
Inner peace knowing you are supporting quality, independent coverage of your favourite sports team