Building Belleville: The Kids
Diving into Tyler Boucher, Tyler Kleven, Zack Ostapchuk and Tomas Hamara.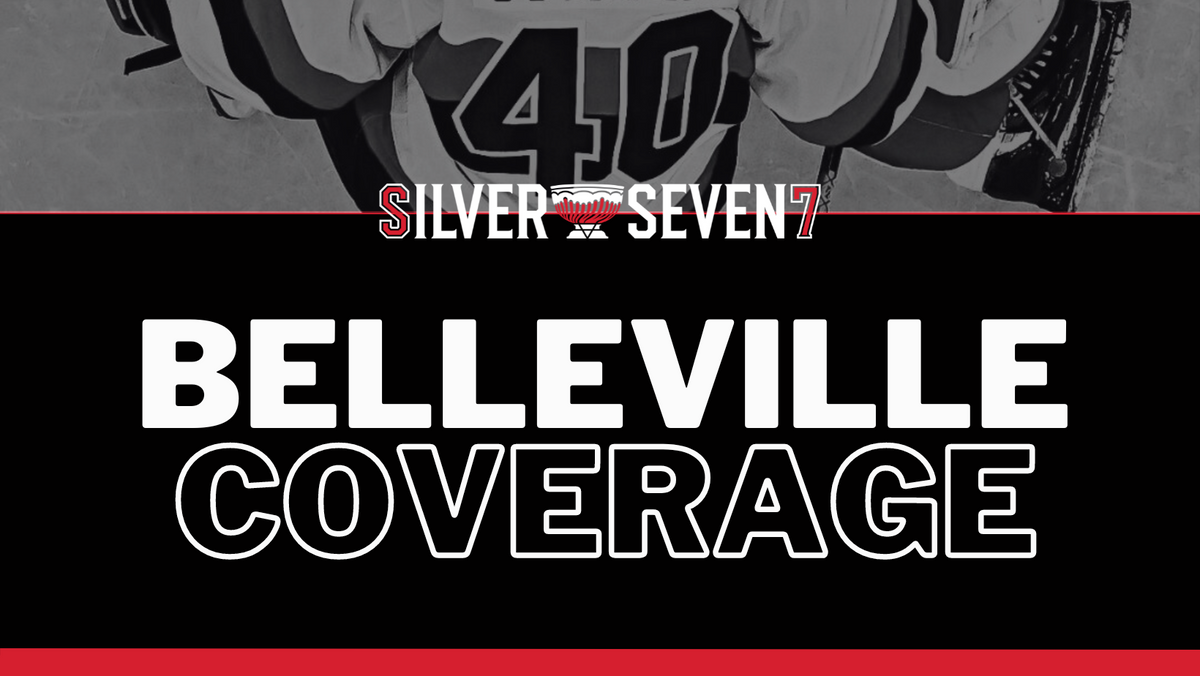 Shortly after July 1st, I wrote about a few of the extensions and new additions to the Belleville Senators for the 2023-24 season. This sparked what will be a periodic series we'll be running over the summer, checking in on the construction of the Belleville Senators and diving deeper than usual into how the BSens will look this year.
For today's edition, we're going to be talking about more newcomers. This time, however, it'll be a look at the prospects graduating from various non-professional leagues who are expected to make a likely lengthy appearance in the AHL this year. The Sens have a few intriguing names who are likely to spend time in Belleville this year. Let's dive in, check in on where they're coming from and ponder a question about the year ahead.
Tyler Boucher
Ah, Tyler Boucher. The lightning rod of criticism.
This year, it's a basic certainty that, barring injury, Tyler Boucher will be in the opening lineup when Belleville kicks off their season on October 21st at CAA Arena. This is almost entirely due to an incredibly rocky few seasons that saw him accumulate multiple lengthy absences due to injury and suspension, while making the decision halfway through his freshman year at Boston University to get a head start on Ottawa life with the 67s. Tyler Boucher simply needs to play hockey in a steady environment where he can just focus on becoming the player that Pierre Dorion & Co. believed he could be when he was drafted 10th overall in 2021.
The bad news from this past season is that Boucher only played 21 games, suffering a shoulder injury that put his year on ice. The good news is two fold. First, I've been assured that Boucher will be healthy when training camp opens in September. Second, even though his season was short, when he played, he played well. He was a tenacious force for the 67s and added 0.71 primary points per game (P1/GP) while he was at it. While there are many DY+2 players ahead of Boucher in this category, it represents an improvement from the 0.5 P1/GP he recorded the previous season.
The Question: Can he play a full season?
As mentioned, Boucher's hockey career has been mired with missed days, weeks and months. He's going to show up to training camp in full health but it remains to be seen if he can play a full season. He's likely to start in a depth role, with multiple right shot wingers ahead of him on the depth chart, and will need to earn ice time. If he can't stay healthy and disciplined, it'll be tough to climb the ladder.
Tyler Kleven
It is truly fitting that Tyler Kleven and Tyler Boucher - the Two Tylers - will be be having their first professional seasons side by side. After all, the Tylers have been two of the most divisive prospects in Sens Twitter history.
I know what you're thinking at the moment. Many people from your average joe to media personalities have been talking about Tyler Kleven as a candidate for the bottom pairing in Ottawa. And he is! He played well in his NHL debut, where many of his haters saw his smooth skating and puck movement on display likely for the first time. But, at the end of the day, there are very few prospects the Ottawa Senators have brought into the lineup in a situation like Kleven's and kept them there. Tim Stützle, Jake Sanderson and Max Lajoie are the three examples that come to mind. One of these things is, obviously, not like the other. But Kleven is not Stützle and he is not Sanderson. Josh Norris and Drake Batherson both played plenty of AHL hockey before they become full-time Senators. Heck, Thomas Chabot played 13 games as a BSen - famously registering the first goal in Belleville Senators history.
Kleven seems destined for Belleville at some point. He either heads there at the start of the season or gets some games in Ottawa before ending up in the AHL. Either way, you'll be seeing Kleven playing For The B, so let's talk about that.
Kleven has had what I would call a meteoric rise in his prospect profile. Many questioned the Senators when they not only draft him but they traded extra draft capital to ensure they could. At the time, those people were right to do so. There were many reasons to question moving up in the second round to pick somebody who profiled like a boring defensive defenseman.
Since then, he's improved in basically every facet of the game. He's produced more offensively and his skating appears vastly improved from my viewings of him (primarily at the World Juniors). When he joined the Senators after signing his entry level contract, he didn't look out of place very often. While it's an incredibly small sample size and he played sheltered minutes, he actually led the Sens blueline in CF%. There are plenty of defensive prospects who have come in and played far worse in similar samples.
The Question: How long will he be in Belleville?
I think it's safe to assume if the Ottawa blueline stays healthy, Kleven will spend the bulk of the year in the AHL. But we all saw what happened last year, right? The Sens had major and minor injury issues all year long. If any of Ottawa's left shot defenders go down, Kleven likely gets first crack to fill in. Time and health will tell.
Zack Ostapchuk
I have to admit, I'm pretty intrigued here.
Between the toolkit and the clear locker room present - as he served as the Vancouver Giants captain - you can see why the Senators used the 39th pick in the 2021 draft on this big centre. Top that off with the fact he's a big game performer, having registered 1.14 points per game in the WHL playoffs, and you're looking at an interesting prospect here.
In the WHL this year, Ostapchuk registered 0.96 P1/GP. There were only five forwards at Ostapchuk's draft year who fared better.
The Question: Where will Ostapchuk slot in?
This player is one with a reputation for playing the game the right way. I dare you to find a prospect report or scouting summary that doesn't talk about his play at both ends of the ice, his play away from the puck, and everything in between. He even received pretty major praise from Head Coach DJ Smith in his first camp with the club. If any of the young players coming in can gain the trust of Head Coach Dave Bell quickly, it's Ostapchuk.
On the left side in Belleville, there's some competition. He'll have players like Angus Crookshank, Roby Järventie, Philippe Daoust and, possibly, Boko Imama lining up at left wing. Ostapchuk is a player who's play both left wing and centre, so there's a possibility he ends up down the middle. But, organizationally, there's not a lot of room for that with all three of your current top nine forwards being as young as they are. So, do you want him playing centre or do you want him playing the position - one which he is already experienced and successful in - that he's likely to slot into when he makes his way to Ottawa down the road?
Tomáš Hamara
Tomáš Hamara is technically still eligible to play as an overager with the Kitchener Rangers of the OHL but I have it on good authority that, while a decision hasn't specifically been made, the Rangers do not expect Hamara back for the 2023-24 season. As a CHL Import draft pick, Hamara has the choice that domestic players do not have at this age. He can report to the AHL. Since he's already under contract, I'd expect that to be the case.
Hamara, a 2022 third round pick, came to North America last season to join the Rangers and acclimate himself to the North American game. In his rookie season, Hamara's statistics don't exactly hop off the page. Offensively, Hamara didn't accomplish much with 17 points in 56 games and only one assist through 9 playoff games. Amongst his peers on the blueline, he ranked 23rd in P1/GP (0.14), 30th in EV P1/GP and 33rd in EV GF%.
To compare, in his draft year, Hamara accumulated 0.50 P1/GP in Finlands U20 league. While there is a drop off here, it's important to note that the OHL is a vastly more competitive than playing junior hockey in Finland. While Finland's league does produce decent talent, it's not nearly at the same rate as the OHL. So a drop in production was a virtual guarantee.
What Hamara does bring to the table his in his transition game. He's only 6'0", so he has to use his skating and positional awareness to be effective in his own end. He works well under pressure and I've been told that, while he is slightly undersized for a defender, he doesn't play like it.
The Question: How much will he play in Belleville?
For the BSens, the blueline is relatively full. On the left side, Dillon Heatherington, Jacob Larsson, Tyler Kleven and Donovan Sebrango are expected to be in the mix for those top three spots - with Heatherington and Larsson being locks. I don't know much about Sebrango yet - reviewing his play is on my offseason to-do list - but I imagine with his AHL experience, that seventh spot on the blueline will be his. So, Hamara's ice time in the AHL will highly depend injury and how much time players like Heatherington and Kleven spend in Ottawa. This likely leads to Hamara bouncing back and forth between Belleville and the Allen Americans of the ECHL.
The secondary question then becomes, what's better for Hamara? To be an overager in the OHL and play top minutes? Or to turn pro and work his way up when opportunities arise?
Not everyone can afford to pay for sports coverage right now, and that is why we will keep as much of the site's content free for as long as we can.
But if you are able to, please consider subscribing to help keep our articles free (and get a few extra perks).
Erik Condra
Ability to comment and participate in our community
Twice monthly newsletter available only to subscribers
Ad-free reading
Our undying love and appreciation
Brady Tkachuk
Everything from the Erik Condra tier
10% discount on all merch
Access to any future paywalled content
A personal thank-you from the Silver Seven staff
Daniel Alfredsson
Everything from the Brady Tkachuk tier
Inner peace knowing you are supporting quality, independent coverage of your favourite sports team