Building Belleville: The Vets
In this edition of Building Belleville, we look at the AHLers Belleville has brought back into the fold for the 2023-24 season.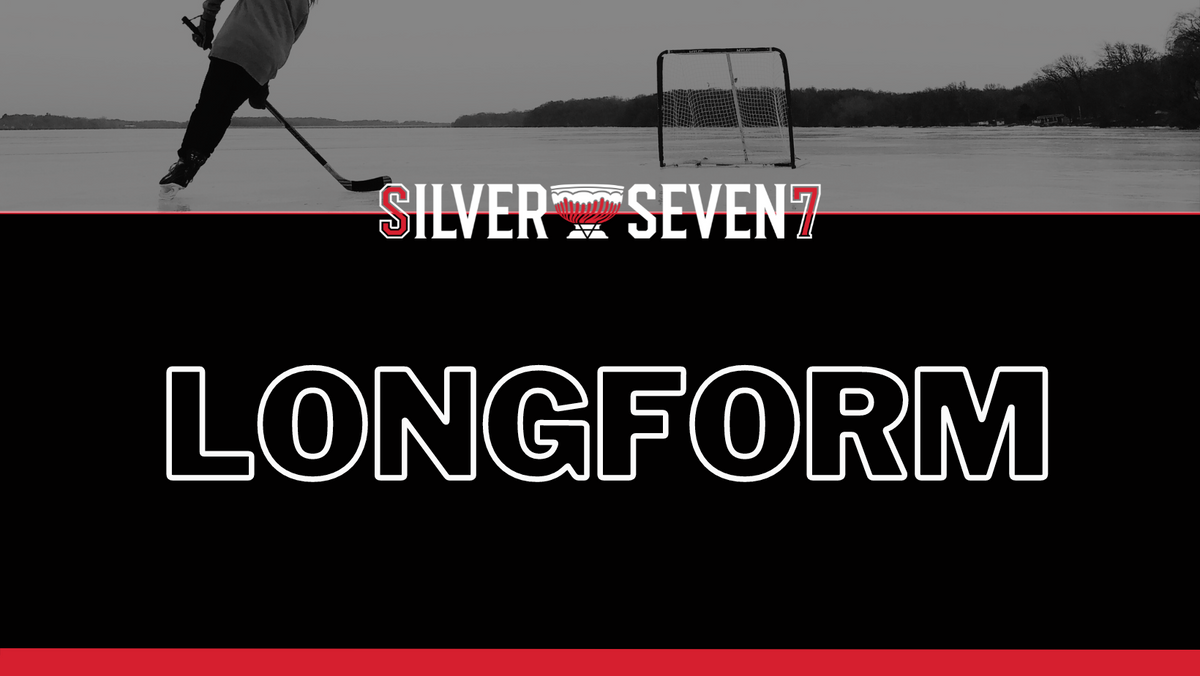 Over the course of the offseason, we've talked about the construction of the 2023-24 Belleville Senators. First, we welcomed some new additions to the fold when the bell rang for Free Agency back at the beginning of July. This saw Boko Imama, Matthew Highmore and Josh Currie added to the ranks through free agency signings. Next, we talked about the kids. There's an exciting new crop of talent coming into the AHL this year, with Tyler Boucher, Tyler Kleven, Zack Ostapchuk and Tomas Hamara all factoring into the lineup in some way, shape or form. Finally, earlier this month we looked at the three headed beast in the crease featuring Mads Søgaard, Leevi Meriläinen and Kevin Mandolese.
Today, we're going to look at the veteran presence in Belleville. The criteria for this group is the list of players who both have AHL experience and are not brand new to the organization. While I have no doubt that someone of the experience level of Imama, Highmore or Garrett Pilon will become leaders in the room, I want to look at who the Sens have opted to bring back. There are three players in particular who make up this veteran core. The players who have worn the B before and will take continue to help young players like Roby Järventie, Zack Ostapchuk and Maxence Guénette continue to trend towards the NHL.
After profiling Rourke Chartier, Dillon Heatherington and Jacob Larsson, we'll talk about what these returning players mean to the roster, and why you should be happy with these three players in question.
Rourke Chartier
Rourke Chartier was one of the first signings of this offseason when Free Agency opened at the beginning of July. The 27 year-old centre from Saskatoon inked a one year deal to return to Belleville, likely featuring as the most consistent and stable contributor down the centre of the ice. Depending on what happens with Ridly Greig this year, it's possible that Chartier is the only centre in Belleville who played in the AHL last season - with Ostapchuk, Philippe Daoust, Pilon and Currie as the other likely options.
Offensively, Chartier provides what you expect of an AHL veteran middle six centre. Since joining the organization in 2021-22, he's compiled 53 points in 73 games. Over half of those points were goals. Last season, his primary points per game played was almost identical to the likes of Järventie and Jake Lucchini. This kind of consistency will be integral to Belleville getting back to the postseason.
Where you have to worry about Chartier is in the medical room. Despite a solid P1/GP metric last season and scoring 30 goals in 73 games over the course of two seasons, Chartier only played in roughly half of Belleville's games in this span. Some of those games were missed due to a six game stint in the NHL last year, but the bulk of his games missed were due to injury.
With the regular ups and downs of an AHL season, Chartier's health will be a key cog to providing Head Coach Dave Bell with some consistency in an important position. If Chartier misses any significant time and Greig ends up primarily or entirely in the NHL, Bell will have to turn to a lot of centres who lack experience to move up the lineup. It could work, but there's a lot of risk there.
Dillon Heatherington
Belleville's Captain is back for at least one more season. Last year, he played 60 games for the BSens, ranking him second amongst defenseman and seventh overall in games played for the club in 2022-23. Heatherington is your prototypical, stay-at-home defender. There's virtually nothing about Heatherington's general or advanced offensive stats that gives you an indiciation that he's going to go out there and help the team put pucks in the net. But that's not his job.
Heatherington played an important role on Belleville's left side last season and he'll look to do just that again. That role? Being the steadiest Eddie for his partner. If you'll recall, Belleville's blueline is a little backwards from Ottawa's in that the puck moving, offensive talent are, mostly, on right handed. Heatherington will likely line up with one of Lassi Thomson or Maxence Guénette as the guy they can trust to be in the right place at the right time while they focus on moving the puck up the ice. He's the Marc Methot to their Erik Karlsson.
Heatherington is also a true veteran of the league. At 28 years of age, he's amassed 418 games across eight seasons as a member of three different franchises.In this time, he's never produced offensively but he's been a player relied upon to play tough, physical minutes in a league which features more rough and tumble play than the NHL.
Jacob Larsson
Jacob Larsson is the final returning veteran to outline here. The big left shot defenseman provides, more or less, what his counterpart in Heatherington does. He's big, he's physical, and he defends well at the AHL level. The 26 year old Swede will cross the 200 games played mark in the AHL early in the upcoming season, but what Larsson brings to the table is even more professional experience through 172 games in the NHL and 96 in the SHL. While Heatherington has played much longer in the AHL than Larsson, the latter's professional resume is filled to the brim with solid experience.
Like Heatherington, Larsson is a left shot defender who will be ready to play that steady role alongside another one of the right shot puck movers. More importantly, he gives Belleville strength down the left side for the moment(s) where Belleville will bid farewell to Kleven when he's called up to the NHL. This means, barring injury, there will be two, veteran left shot defenders holding down the fort for the BSens at any given moment.
The Roster
I know it's strange to use the term "core" when you're talking about a middle six centre and two stay at home defenders but the good news is this core is surrounded by talent. What this core does for Belleville is provide some stability with which to build a strong contender. While Bell only has these three veterans returning, after saying goodbye to the likes of Lucchini, Cole Cassels, Scott Sabourin and Kristians Rubins, he also has a ton of experience coming in through Currie, Imama, Pilon and Highmore. Add those names to young returnees like Järventie, Thomson, and Angus Crookshank as well as newcomers Kleven, Boucher, Ostapchuk and Hamara and you're looking at a pretty intriguing group to put on the ice.
As we build out Belleville, you have to remember that at least a few of the players we expect to be on the team to miss time, either through injury or recalls. But, at the end of the day, I'd place the skaters in the following groups. When you look at these groups, you can start to see that Belleville has the potential to have a strong season in the North Division this year.
Top Line Options: Roby Järventie, Egor Sokolov, Ridly Greig*, Matthew Highmore
Middle Six Options: Jiri Smejkal*, Zack Ostapchuk, Angus Crookshank, Rourke Chartier, Cole Reinhardt, Philippe Daoust, Josh Currie
Bottom Line Options: Boko Imama*, Tyler Boucher, Garret Pilon
Top Four Options: Tyler Kleven*, Lassi Thomson, Maxence Guénette, Dillon Heatherington, Jacob Larsson
Bottom Pair Options: Donovan Sebrango, Tomas Hamara, Nikolas Matinpalo
*Expected to spend semi-significant to significant time in the NHL
At the top of the lineup, there are multiple players who have proven to score at a high level in this league. Highmore is coming off a season where he put up 61 points in 68 games, while Järventie had 30 ppoints in 40 games and Sokolov led Belleville with 59 points last season.
In the middle of the forward group, it's busy. You can likely take any arrangement of six of the above players and make two decent middle six lines. Between Chartier, Ostapchuk and Currie, you've got strong options down the middle with speed and skill on the flanks with players like Crookshank, Reinhardt and Daoust. Notably, Daoust has played a lot of centre in his junior career but I'd expect him to start on the left wing in the AHL this season.
At the bottom, you've got size mixed with some skill. I know some Boucher fans will not be thrilled to see me list him as a bottom line option but I just don't see a realm where he comes out of camp as anything but the fourth best right winger in Belleville. He's got a ton of competition ahead of him with Sokolov, Highmore and Currie all featuring as right shot forwards. If Sokolov ends up in Ottawa, you'll see Boucher bumped to L3.
Of the above, I'm expecting players like Sokolov and Kleven will get time in the NHL this season, while the team is on record saying Imama may have been signed more for the NHL than the AHL, I think he ends up spending more time, overall, in Belleville. Greig is the most likely candidate here to not spend a single moment in Belleville, but that will all depend on his training camp and how things go.
The big question mark for me is, understandably, Jiri Smekjal. The player described as "The Czech Hulk" by some appears, on paper, to have what it would take to carve out a role in Ottawa's bottom six. If it weren't for the offseason signing of Zack MacEwen, I would've assumed Ottawa was banking on Smejkal moving straight to the NHL in a full-time, bottom line role. I think a lot of Smejkal's season will hinge on what the Sens end up doing to make room for Shane Pinto. If we see a player like Mathieu Joseph move out, that's an indication that Ottawa is ready to roll the dice on an unknown quantity in Smejkal. If all of the forwards currently under contract remain, however, I'd expect Smejkal to be a force for Belleville, bringing his physicality and cycling prowess to a team in need of it.
Not everyone can afford to pay for sports coverage right now, and that is why we will keep as much of the site's content free for as long as we can.
But if you are able to, please consider subscribing to help keep our articles free (and get a few extra perks).
Erik Condra
Ability to comment and participate in our community
Twice monthly newsletter available only to subscribers
Ad-free reading
Our undying love and appreciation
Brady Tkachuk
Everything from the Erik Condra tier
10% discount on all merch
Access to any future paywalled content
A personal thank-you from the Silver Seven staff
Daniel Alfredsson
Everything from the Brady Tkachuk tier
Inner peace knowing you are supporting quality, independent coverage of your favourite sports team