Building Belleville: The Goalies
Taking a look at Belleville's expected goaltending trio for the 2023-24 season.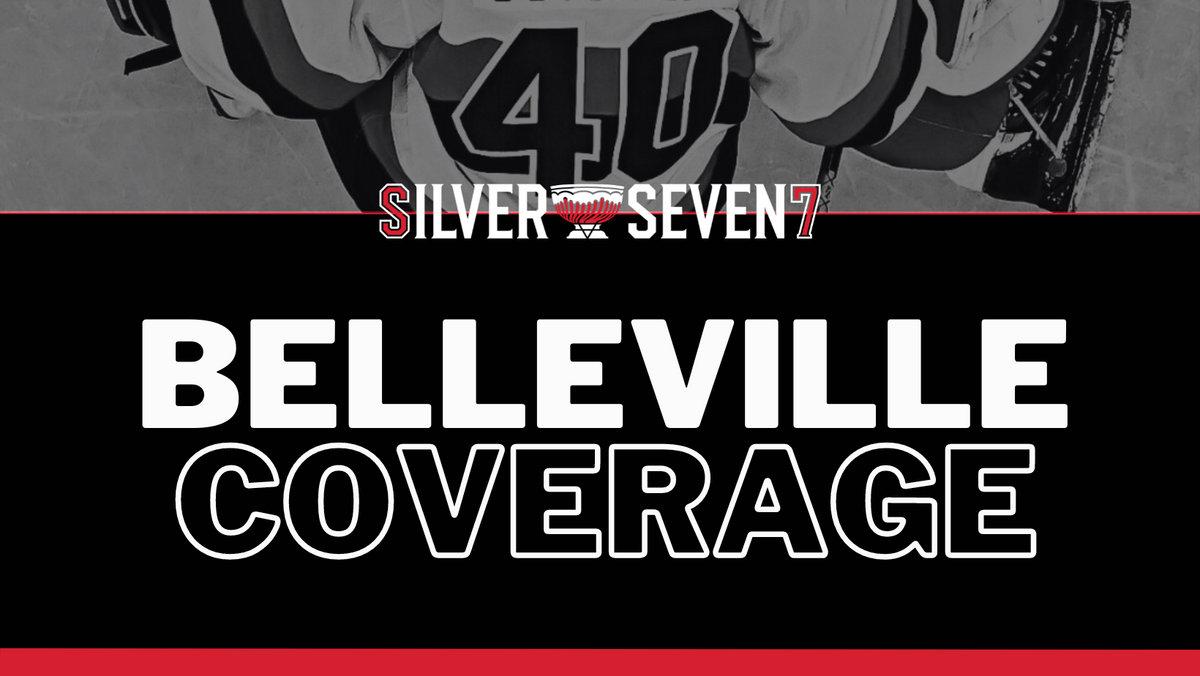 So far in our series previewing the Belleville Senators, we've talked about the intriguing new additions that the Sens front office injected into Belleville , and we've done a quick runthrough of some of the more exciting prospects who are entering the fold.
Continuing the Building Belleville series today, we take a look at the trio of young goaltenders who will be doing what they can to keep the puck out of the back of Belleville's net: Mads Søgaard, Leevi Meriläinen and Kevin Mandolese.
As you have likely noticed, we've kicked off our annual Top 25 Under 25 series here at Silver Seven, so you can expect to see some deep dive articles on these goalies in the coming weeks. We'll get into performance and a  look at what these three goaltenders bring to the table, and then talk more about Belleville's history with goaltenders and how this trio can help Belleville get back into the playoff picture.
Mads Søgaard
Based on experience in the organization, my expectation is that Søgaard is seen as the starting goaltender in Belleville for the upcoming season. The towering Danish netminder has 64 games under his belt, which is more than the 47 games Mandolese and Meriläinen have combined in the American Hockey League. Søgaard was also the clear starter last year, and with the addition of Jonas Korpisalo in Ottawa, it's highly unlikely that Søgaard comes out of camp anywhere other than being sent to the AHL.
It's been an interesting ride for this goaltender thus far, because he came out of the gates on  fire with a 0.917 SV% and a 7-0-0 record upon arrival in the Bay of Quinte. The following season saw a dip to 0.908 SV%, and a further decline t0.893 athis past season. Søgaard was likely a victim of the goalie carousel, spending a lot of time in Ottawa. Further, while he was in Belleville, he was playing behind a team that wasn't the strongest on the ice. In Ottawa, he posted a 0.889 SV% and an 8-6-3 record for the Sens, with a few standout performances in his 19 games with the big club.
Kevin Mandolese
Next in line in experience, Mandolese is the likely candidate to play third string - or be sent to the Allen Americans of the ECHL to get some reps in. It's not necessarily indicative of Mandolese's future as a potential NHL goaltender, but more of a situation where the numbers aren't in his favour. It was clear last season that Søgaard, who played in only the AHL and NHL, was the favoured goaltender over Mandolese, who spent time in all three tiers of the Sens organization.
Mandolese's 17 starts in the AHL were similar in performance to Søgaard , with a 0.890 SV% and a losing record. His time in the NHL, however, was far and away more impressive than his Danish counterpart; albeit in a much small sample size of just three games.
Leevi Meriläinen
Leevi Meriläinen is Belleville's dark horse for 2023-24, and my personal take is that he is going to surprise a lot of folks. While he only played a total of six games in North America - four with Belleville and a pair with Ottawa - last season, he was pretty solid in all but one of his performances. In his first game with the BSens, he posted a 41 save shutout while compiling a 0.933 SV% across his four starts. In Ottawa, he took the Carolina Hurricanes to overtime with a 0.919 SV% in his debut.
If that's not enough to make Meriläinen a very intriguing addition to the BSens, he's also coming off a season in Liiga where the 21-year-old started 42 games, posting a 0,918 SV% with an 18-13-7 record. All this while he set the record for shutouts by a rookie goaltender with eight.
Belleville's Netminders
I think it's pretty obvious at this point that I see Mandolese as the odd man out in Belleville's crease. Between Søgaard being the clear goaltender of choice by Sens brass - having started 19 games in the NHL compared to Mandolese's 3 - and Meriläinen's professional career to date in Finland, it feels like a certainty that a healthy trio would see Mandolese riding the press-box-pine to start the season.
For Belleville, just like their big brothers in Ottawa, it's playoffs or bust this season. Which begs the question: do the BSens have what they need between the pipes to get there?
If you look across the league, the AHL is not a place that requires lights out goaltending to make the playoffs. Why? Well, partially because it's not possible to have that many goaltenders playing at Dustin Wolf's 0.932 SV% level, but mostly because so many teams make the playoffs in this league. Because of the way the league is formatted, with uneven division sizes, there are actually 23 teams who get to move beyond the regular season in one way, shape or form. This means there are a ton of teams who made the playoffs last season on the backs of a starting goaltender who posted a relatively pedestrian 0.900-0.905 SV%. In fact, in the North Division last season, Toronto's Joseph Woll was the best starter with a 927 SV%. The netminders who started the bulk of the games for the North's other four playoff teams, averaged a 0.905 SV%, with Cayden Primeau recording the second highest mark with a 0.909.
In other words, you don't need a top end starter to make the playoffs. You just need your goaltending to be good enough. If you asked me to describe the tandem of Søgaard and Meriläinen heading into 2023-24, I'd certainly call them more than just good enough.
The big question really boils down to health. If the Sens organization experiences what they did last season regarding goaltenders, you can just take this entire post, print it out and light it on fire. Last season, there were a total of ten (10!) goaltenders who spent at least a couple shifts in the crease for the club. Belleville went through so many goaltenders that if you use the filter for "qualified goalies" on the AHL's website, which is set by playing a minimum of 1,440 minutes, Belleville has zero (0!) goalies show up. For reference, they're one of just two teams for which this is true. The bulk of the league even has more than one "qualified goalie" for the 2022-23 season.
Needless to say, while the BSens don't need to lead the league in goaltending stats to get a sniff at the postseason, they certainly need at least two of their three expected goaltenders to be regularly available to the club from puck drop in October to the final buzzer in April.
Not everyone can afford to pay for sports coverage right now, and that is why we will keep as much of the site's content free for as long as we can.
But if you are able to, please consider subscribing to help keep our articles free (and get a few extra perks).
Erik Condra
Ability to comment and participate in our community
Twice monthly newsletter available only to subscribers
Ad-free reading
Our undying love and appreciation
Brady Tkachuk
Everything from the Erik Condra tier
10% discount on all merch
Access to any future paywalled content
A personal thank-you from the Silver Seven staff
Daniel Alfredsson
Everything from the Brady Tkachuk tier
Inner peace knowing you are supporting quality, independent coverage of your favourite sports team