Ottawa Senators Top 25 Under 25 2023, #12: Egor Sokolov
Watch me get Soko-pilled, baby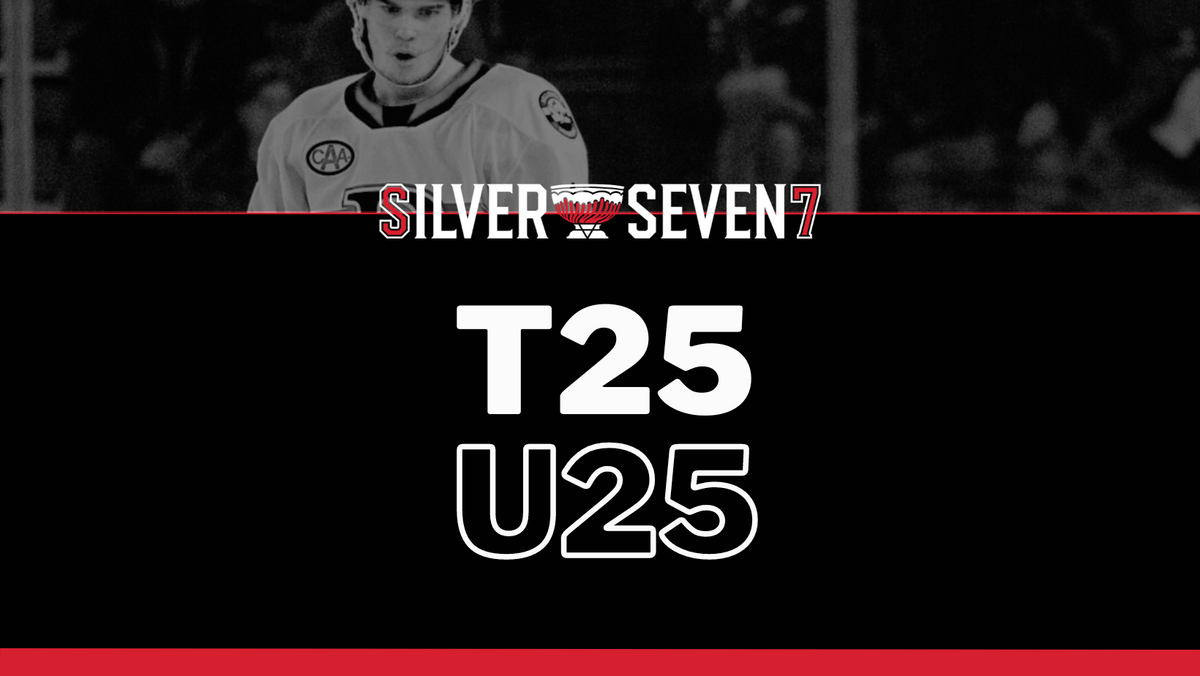 Welcome back to the 2023 edition of our Top 25 Under 25 feature. You can check out the full list so far here.
For today's entry, we have:
#12: Egor Sokolov (Reader Rank: 11 Last Year: 15)
Spoiler alert: I had Egor Sokolov ranked a lot lower than the readers and my fellow writers when I filled out my ballot. Historically I have ranked Sokolov lower than most and as recently as a few weeks ago I suggested that the Sens could expose him on waivers without much consequence or that Sokolov could spend a year in Europe developing in another pro league. I take it back.
Writing these entries has served for me as not only an opportunity to inform our readers but also to educate myself. I learned a lot about Sokolov researching for this entry and it absolutely changed my impression for the better. I already knew, as our readers do, about Sokolov the human and overall very friendly, likeable character. I don't know that those traits inform his ranking here but they can lend value to a player, especially if Sokolov's teammates find him as endearing as we do.
We've always had this sense of Sokolov as more of a vibes player and less of a blue chip prospect. His numbers since the Ottawa Senators drafted him as an overager have stayed good if not average given our expectations and (in a change of course for my style of assessment) I want to focus on more of the scouting report and less on the stats for once. Beata covered a lot of the essentials last summer and not much has changed on that front. If you followed our prospect coverage over the course of the season then you know that Sokolov had another solid season in Belleville and some personal milestones in his young NHL career.
I have up until now gone astray in my assessment of Sokolov due to my fixation on his well-documented skating issues. We've always talked about this as the reason why Sokolov went undrafted in his first two years of eligibility, and the reason why a second-round pick seemed like such a gamble given all the available talent in the 2020 draft. And while the questions about footwork will always plague Sokolov's NHL aspirations, watching him play more and more professional hockey has helped me see how the Senators' staff recognized enough talent to mitigate the mechanical concerns. Sokolov does so many of the things that scouts like and he fits the archetype of Brady Tkachuk-era Sens hockey.
As Beata noted last year, Mark Stone gave us the gold standard of how average skaters can become great NHL players and while I try not to delude myself into a narrative of Sokolov as the poor man's Stone, I can appreciate that Stone offers us a road map as to how Sokolov can develop into a successful winger for the Senators.
Other than footwork, when we talk about Sokolov we tend to talk about his size. And why not? What coach wouldn't love having a winger who (depending on the source) checks in at about 6'3" and 220 give or take – and Sokolov uses his size well. Most observersvtend to agree, when Sokolov gets set up in front of the net, defenders can't move him. He makes a great screen and he doesn't look hesitant to get between the dots where he can retrieve loose pucks and wreak havoc. Sokolov can take on defenders and hold his ground. He also fares well retrieving pucks in the corners and can hold his own in those one on one battles thanks in part to his frame and reach.
Having such a big frame also helps when it comes to boxing out and protecting the puck. Sokolov can leverage those assets defensively, and on offence he has demonstrated that once he has the puck on his stick, defenders will struggle to separate. Where he lacks that first step, Sokolov compensates by using his momentum to push back defenders. Once he gets going, Sokolov will barrel right down and force the hand of the opposition.
But that all depends on Sokolov's ability to first gain the line. This means cheating a bit in the defensive zone to get open and cherry pick passes. Sokolov can play scrappy and will engage physically so I don't buy him as a defensive liability. Plus the Sens finally have the personnel to play sound team defence so they can afford to let a winger cheat a bit (hello Vladimir Tarasenko). The Senators desperately need scoring wingers so pick your spots and live with consequences.
So all that and I still haven't talked about the most important element of Sokolov's scouting report: he has plus-plus hands (not all big skaters have these!). Sokolov can score. He scored in the Q. He scored for Russia's national junior team. He has led Belleville's offence for the past three season. Yes, he uses his size and strength but he primarily relies on his wicked shot. In the shootout, Sokolov looks automatic. Get him a lane on the powerplay and he'll convert. Watch him on a breakaway you'll notice Sokolov can also get very sneaky with the puck. He can dangle like a player half his size.
Sokolov fulfills Ottawa's most pressing need and the Sens have the right players to insulate him to maximize his potential without overburdening the young forward. His response since draft day has suggested a willingness to buy into Ottawa's culture and style. He seems durable based on his performance to date and while you can't fault a player who misses time due to injury, you can still appreciate players who appear in so many games (especially when some early scouting reports questioned Sokolov's conditioning).
I also love that Sokolov celebrates every goal like a playoff overtime goal–just like Mark Stone! Look, I know Sokolov will never have Stone's superhuman vision and one zillion hockey IQ but if Sokolov maintains the same level of patience and focus with the puck in the NHL that he demonstrated in the AHL then we may very soon get to appreciate the full Sokolov experience in Ottawa.
Not everyone can afford to pay for sports coverage right now, and that is why we will keep as much of the site's content free for as long as we can.
But if you are able to, please consider subscribing to help keep our articles free (and get a few extra perks).
Erik Condra
Ability to comment and participate in our community
Twice monthly newsletter available only to subscribers
Ad-free reading
Our undying love and appreciation
Brady Tkachuk
Everything from the Erik Condra tier
10% discount on all merch
Access to any future paywalled content
A personal thank-you from the Silver Seven staff
Daniel Alfredsson
Everything from the Brady Tkachuk tier
Inner peace knowing you are supporting quality, independent coverage of your favourite sports team