Silver Seven Prospect Primer
In case you, like me, have already forgotten whom the Sens drafted earlier this summer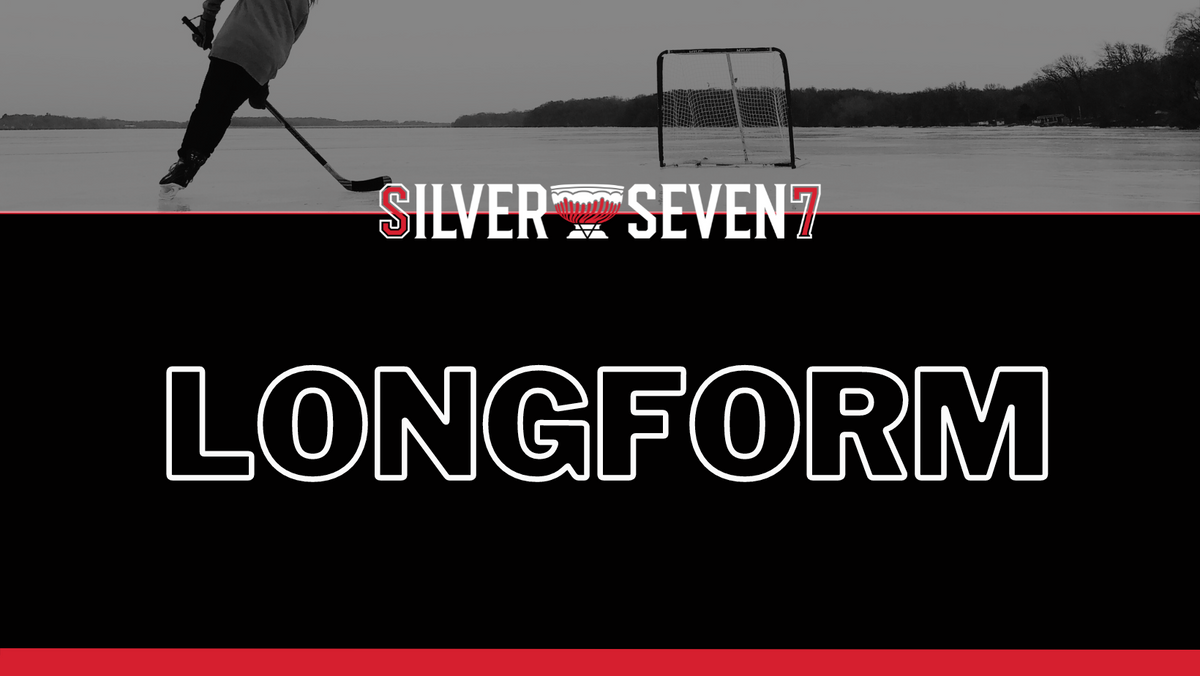 You may have noticed that around these parts we've started getting a bit more transparent about our thirst for tangible, hockey-related content in the wake of the draft, free agency, and the conclusion of the Alex DeBrincat saga (also the beginning of the Vladimir Tarasenko era, though). As a civilian, I love the summer and I want to enjoy August in and of itself. As a contributor here at Silver Seven, though, I really can't wait for the fall. In the spirit of getting stoked for the forthcoming season, I figured I would put together this little primer for you, the readers, and probably also to grease up the rusty cogs in my brain.
New readers may not have familiarized themselves with our ongoing prospect coverage here at Silver Seven, and continuing readers had asked for a bit more context to go with our regular, weekly statistical vomiting, so I wanted to get into the habit of elaborating and providing some insight beyond the numbers before the season starts. You'll get a full write-up of all of Ottawa's core prospects when we do our annual Top 25 Under 25 (and you got a brief synopsis on Ottawa's newcomers during draft week). I endeavour to tie everything together here with a system overview again so folks have some context when reading our prospect coverage at Silver Seven or when filling out their T25U25 ballots. So without further ado, let's look at the different tiers of Ottawa's farm system (as it stands today (subject to change at any given moment)).
NHL or bust
Not off to a great start here on my part with such a dramatic header but I'll explain. Lots of good players clear waivers every season. Yes, other teams want young additions to their rosters but even teams in the thick of a rebuild have roster crunches of their own. I often use Nick Paul as my go-to example of players who cleared waivers multiple times before finding their permanent place in the NHL. With that in mind, I would feel a whole lot better if the Sens found roles for these three players in Ottawa instead of exposing them on the waiver wire.
Jacob Bernard-Docker has signed a one-way contract and we can extrapolate that the Senators intend to have him in Ottawa at least as a seventh defender if not a regular in the six-D rotation. It feels like a lifetime since the Sens drafted JBD and it concerns me that he hasn't carved out a role in Ottawa sooner. I also don't know that another team would claim him off waivers either way. Let's take the one-way contract at face value though and say JBD plays in Ottawa this year. At this point I don't know that the offence will ever materialize for JBD but he played very sound, defensive hockey in Belleville and could still provide value in a department where the Sens always need it.
Egor Sokolov needs a contract and we won't have much of an idea what the Sens have in mind for the winger until they get the dollars sorted out. I also believe that Sokolov could play in Europe professionally this season should the two parties fail to come to an agreement in time, and that could bode well for his development. The Sens can use all the forward depth they can get in Ottawa so I imagine Sokolov gets a one-way deal and I also don't know that another team would want to experiment with Sokolov on their NHL roster. You won't find many prospects as enigmatic as Sokolov, and he still needs some polishing, but I also figure you have a contingency plan in place when you draft a fixer-upper, overager in the second round. His offensive toolkit lends itself to the middle-six but we'll always have questions about whether Sokolov can get his skating up to that level. A shutdown, defensive role would not seem like a good use of Sokolov's tools, and you would want a better skater in that spot either way--an enigma!
Lastly, I don't know that Travis Hamonic's new contract stings for anyone more than it does for Lassi Thomson. And I say that with all due respect for what Hamonic brings to the Sens. I just don't see how Thomson fits into Ottawa's defensive scheme, and Thomson does not have the benefit of a one-way contract. Maybe we see another trade before the season begins, and yes players always get injured (especially defenders) but you have to think a rebuilding team snags Thomson if the Sens expose him on the waiver wire. Unlike JBD, Thomson still shows flashes of offensive brilliance while defensively he has his lapses. He still has potential and plenty of it, but like JBD he has very little runway left to work with.
AHL as matter of course
Ottawa has a few B+ or even grade-A prospects left in the system even after graduating most of their top picks and fortunately the Sens can continue to season these players in the AHL patiently until a spot opens up on the NHL roster. All of these players could realistically start the season in the NHL based on their development to date but the Sens have to contend with the salary cap and roster limits so this group will wait in the wings.
Mads Søgaard will almost certainly get some more games in Ottawa this season, especially considering the severity of Anton Forsberg's season-ending injury last spring. But the great Dane can also serve as a pillar in Belleville confidently in the meantime. Tyler Kleven played some really good hockey down the stretch in Ottawa and will absolutely compete for a spot out of camp but going by the numbers, he'll likely have to start the season in the AHL where he should really dominate on the top pairing.
Angus Crookshank has taken a long, difficult road in his development and had a whole season set back by injury, so it seems like a shame that he should have to wait another year to play in Ottawa but, like the others, I don't know how to squeeze him into the 23-player roster. Similarly to Sokolov, Crookshank has made a name for himself scoring goals, and the middle-six would make sense for him (where the Sens could really use the help if they had room on the roster).
Ridly Greig and Roby Järventie still grade out as A or B prospects given the day of the week and as fans we have clamoured to see them play in Ottawa. They've both lost time to injury along the way though and given their youth, it won't hurt to play in Belleville. It stinks having to wait but I imagine the organization rewards the players and the fans sooner than later in calling one or both of them up. Obviously the team has long-term hopes for both players as top-six forwards in the NHL.
AHL by design
Leevi Meriläinen seems like the heir apparent for Søgaard's starting job in Belleville when the time comes and will still spend a couple of years on the farm honing his craft with the occasional callup. Kevin Mandolese most likely ends up in the ECHL again if everyone else can get healthy at the same time. Mando has played some good hockey and deserves a better fate than constantly riding the bus from Texas to Ontario. He has also struggled with consistency at every level, however, and probably knows full well that he needs to surpass his European counterparts to climb the depth chart.
Maxence Guénette put a lot of fans on notice last season and will probably convert even more new believers in an expanded role with the B Sens this coming season. With one or both of JBD and Thomson graduating, Guénette pretty much becomes the dude in Belleville on the right side (as he was in Val d'Or during his junior years). Defensive prospect of the year forthcoming?
Sens fans naturally look forward to seeing shiny new prospect Donovan Sebrango in Belleville while Nikolas Matinpalo enters as a total wild card. Given his role as a depth forward, and with Mark Kastelic and Parker Kelly already in Ottawa, Cole Reinhardt will have a more difficult path to the NHL. He deserves a callup but again the numbers do him no favours.
I have long held out for Philippe Daoust to have a big breakout season (not unlike Guénette last year) and I hope we finally get to see a full season from the young forward in Belleville. Given all the time lost to injury, some fans will likely overlook the impressive number Daoust has put up when healthy.
Zack Ostapchuk and Tyler Boucher have had remarkably dissimilar trajectories since the Sens drafted them in the first and second rounds respectively back in 2021. Let's just hope both forwards can put it all together in Belleville. Both still need time to develop, and both have lots of potential, but neither comes with any guarantees of NHL success.
NCAA
After a relatively quiet year for Sens prospects playing college hockey, we'll have a lot more NCAA games to follow this coming season. Luke Loheit (Minnesota Duluth) seems like a fringe-prospect at best (the Sens drafted him in the seventh round after all) and he'll suit up for his fifth NCAA season, as captain no less. Stephen Halliday (Ohio) will look to build on this successful freshman season and seems like a contender for a spring signing if all goes according to plan.
After a disappointing freshman campaign at UMass, Tyson Dyck transfered to Wisconson where he'll look for a fresh start. Cam O'Neill (UMass), Theo Wallberg (Ohio) , Hoyt Stanley (Cornell), and Nicholas VanTassell (UMass) will all commence their college careers this fall. So much for the NoDak Sens huh. Like most fans, I look forward to watching Stanley and I still have O'Neill on my radar as a dark horse.

SHL
At the moment it looks like all three of Oliver Johansson (Timrå), Filip Nordberg (Växjö), and Oskar Pettersson (Rögle) will start their seasons playing in Sweden's top league (and one of the best leagues in the world, I guess). Pettersson probably gained the most attention from the fanbase last season (and the organization too as they signed him to his ELC) and could really cement his place in Ottawa's depth chart with another strong campaign. The Sens can always use more RWs.
Johansson regressed somewhat after dominating in junior in his draft-plus-one season, and struggled with the adjustment to the big leagues. Given his profile as a playmaker, I don't worry too much about one rough season but he'll really want to make an impression two years removed from the draft given his potential. As Ottawa's first selection in the 2022 draft, 64th overall, Nordberg didn't quite live up to our expectations with an up-and-down season that saw him change teams and leagues seemingly every other week. Developing defenders takes a long time but I can understand it if fans get a little anxious waiting for Nordberg to show some consistency this time around.

Junior
In the OHL, I've already written ad nauseam about Jorian Donovan's success in Hamilton last season and naturally we all hope to see him repeat or improve. Tomas Hamara didn't have quite the same success in his first year in North America but he still has boatloads of potential and maybe he can enjoy some success alongside Ottawa's newest CHL prospect, Matthew Andonovski as the whole Kitchener organization tries to bounce back from a weird year.
Elsewhere in the Canadas, Owen Beckner will play one more season in the BCHL before commencing his NCAA career with Colorado College next-next season. Highly mysterious and intriguing commodity Vladimir Nikitin will also play in the BCHL this season so we'll have a slightly easier time keeping tabs on the newest goaltender in the Senators system. Speaking of goalies in the system, Kevin Reidler will also come over to North America this season and play in the USHL, also making my job a lot easier!
Now go fill out your ballots!
Not everyone can afford to pay for sports coverage right now, and that is why we will keep as much of the site's content free for as long as we can.
But if you are able to, please consider subscribing to help keep our articles free (and get a few extra perks).
Erik Condra
Ability to comment and participate in our community
Twice monthly newsletter available only to subscribers
Ad-free reading
Our undying love and appreciation
Brady Tkachuk
Everything from the Erik Condra tier
10% discount on all merch
Access to any future paywalled content
A personal thank-you from the Silver Seven staff
Daniel Alfredsson
Everything from the Brady Tkachuk tier
Inner peace knowing you are supporting quality, independent coverage of your favourite sports team