Ottawa Senators 2023 Top 25 Under 25 - Reader Voting
#1. Tim Stützle. #2. Brady Tkachuk. From there, it gets interesting.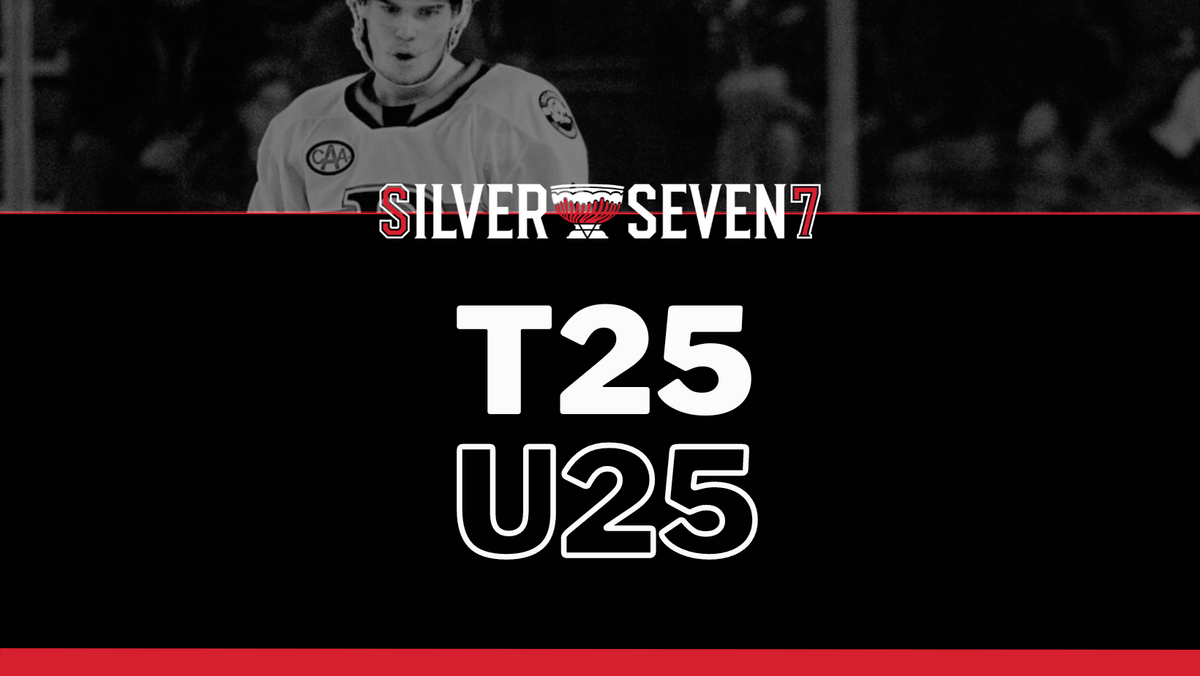 We did it, guys. We made it to August. Now it gets easier.
For the first time since splitting off from SB Nation, we're launching Silver Seven's Top 25 Under 25, in which we rank the organization's talent under the age of 25 leading up to the start of the season.
Does that seem like a pretty arbitrary setup for the sake of a catchy title? Maybe. But there's a good reason for setting it up this way.
With recent trades by Pierre Dorion to improve the team, moving out valuable first-round picks in the process, a large portion of the fanbase has become concerned about the lack of quality prospects in the organization. After all, how are you going to fill out holes in your roster for cheap otherwise? Thing is, nearly all of those holes have already been filled, by players that are under the age of 25. It's only after UFA years start coming into play that we're concerned about overpaying them to stick around.
As with previous iterations, we'll be ranking NHL players and prospects on the same list, and the criteria on which they'll be compared against each other will naturally vary across the readers and staff.
For this reason (and also because we ranked Alex DeBrincat #1 last year), don't read too much into the specific placements here – we're just looking for any opportunity to write about the bright future of the Senators.
Paying subscribers can vote on SurveyHero using this link. The rest of you can vote on SurveyHero using that same link. Here's a reminder of how the poll works, which I copied and pasted directly from last year's edition:
Just drag the options from left to right, and arrange the twenty-five players on your ranking in the desired order. Importantly, you only have to rank twenty-five in this group. For anyone outside of your list, click the 'x' icon next to their name to remove them. This is an irrelevant, random thought, but I've got a good feeling about Cam Talbot. Anyway, you won't be able to submit the form until you do this. If you remove a player with 'x' and change your mind after, navigate to the bottom of the player list, find the deleted player highlighted in red, and click the '+' icon next to their name.
Voting will close at noon EST on Sunday, August 6th. We had 320 responses last season, let's try for at least 400 this year! If we don't reach this goal, we'll go back to using the ever-popular Google Forms. Fun!
Not everyone can afford to pay for sports coverage right now, and that is why we will keep as much of the site's content free for as long as we can.
But if you are able to, please consider subscribing to help keep our articles free (and get a few extra perks).
Erik Condra
Ability to comment and participate in our community
Twice monthly newsletter available only to subscribers
Ad-free reading
Our undying love and appreciation
Brady Tkachuk
Everything from the Erik Condra tier
10% discount on all merch
Access to any future paywalled content
A personal thank-you from the Silver Seven staff
Daniel Alfredsson
Everything from the Brady Tkachuk tier
Inner peace knowing you are supporting quality, independent coverage of your favourite sports team