2023 Ottawa Senators Prospects Awards: Writer's Choice
Shaan, Owen and Spencer give you their Writer's Choice Awards for 2023.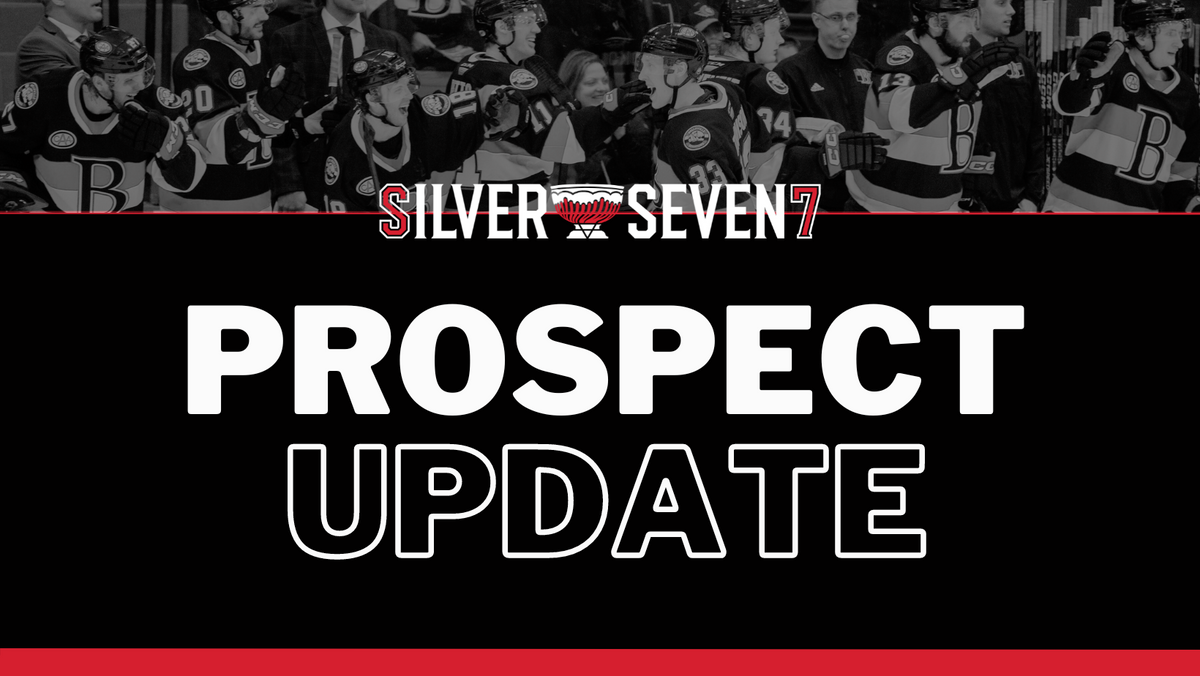 You, our faithful, wonderful readers have had your say. We asked you to vote on our Prospect Awards and you came out in droves to let us know how you feel about the likes of Tyler Kleven, Ridly Greig, Mads Søgaard and more. You're the reason we were able to write about the following awards and, for that, we thank you!
Lassi Thomson, Biggest Underachiever
Angus Crookshank, Top Newcomer
Maxence Guénette, Mann of the Year
Now? Now it's time for Shaan, Owen and Spencer to hand out the coveted hardware for Writer's Choice. This highly regarded award, talked about deep in the halls of the Canadian Tire Centre, anticipated by the hockey world, has one main piece of criteria: who do we like?
Really, that's it. Owen, Shaan and Spencer have come together to select three Sens prospects we like. The three players you're about to read about didn't win any other awards. They got plenty of votes, but weren't able to walk away from the show with a trophy in hand. So, naturally, we wanted to be sure they could hold their heads high. After all, it's all about vibes, right?
Without further ado, here we go.
Owen's Pick: Leevi Meriläinen
We've said it before and we'll say it again, you cannot overstate the importance of the 2020 entry draft when it comes to the next five-ten years of Ottawa Senators hockey. Even if we didn't love every pick at the time, the Sens ended up with a bunch of future NHLers including a couple of core members. In that spirit, I wanted to take this opportunity to put some respect on Leevi Meriläinen and the impressive season he had in Finland while touching on how well he transitioned to the Sens organization. Meriläinen finished second in the voting for both the goaltender of the year and "Mann" of the year awards, so a lot of you also took note of his feats (just not quite enough of you!). Shaan even tipped his ballot saying that his personal vote for top goaltender went to Meriläinen--I feel inclined to agree!
Around these parts, Ross most recently profiled Meriläinen in length as part of our annual Top 20 under 25 which saw the Finn slide into the 20th spot. Ross went over Meriläinen's history with the organization up to that point including his stints playing amateur hockey in Finland and briefly in the OHL. Of Meriläinen, Ross wrote, "Once he's on the ice, we've seen him shine in shootouts and breakaways; he seems unflappable in these high pressure situations. He tracks the puck well, and his lateral mobility powers some stellar split second saves," and also noted Meriläinen's athleticism and ability to make smooth recoveries when caught out of position. From such a scouting vantage, nothing has changed in our estimation of Meriläinen. Rather, his strong season since those ranking has only heightened our confidence in Meriläinen's long-term potential.
Starting with Meriläinen's season in Finland's top league, over 42 games (top-five in the league) Leevi tied for most shutouts with eight -  that seems very good for a rookie as it saw the young Finn set a new league record. His save percentage of 91.8 ranked fifth in the league as did his goals against average (for what its worth) of 2.02. Because the Liiga website has such a detailed stats page I can also tell you that Meriläinen stopped seven of nine shootout attempts. Meriläinen's 18 wins as a rookie rank him between Ville Husso (19) and Juuse Saros (16) who set those marks back in 2013-14 for the all-time ranking. No goaltender has won rookie of the year in Liiga hockey since Saros did almost a decade ago. Meriläinen ultimately finished third in rookie of the year voting.
In the AHL, Meriläinen had a very impressive, if brief, debut. Obviously with just four games Meriläinen didn't qualify for goalie stats leaguewide but for the sake of comparison, Boston's Brandon Bussi (four years older than Meriläinen) led qualified rookies with a save percentage of 92.4 while Meriläinen put up a 93.3 in said four games with Belleville. And for good measure Meriläinen also posted a shutout in one of those four games so he finished top-three leaguewide in that category among rookies. In the NHL, Meriläinen's 87.8 save percentage doesn't jump off the screen but if we really squint then we can see some potential. At five-on-five, Meriläinen ranked fifth among rookie netminder with a goals saved above average per 60 of +0.85 (goals against on special teams naturally torpedoed his overall statline).
Overall, after a stellar season in Finland's top league, Meriläinen returned to North America to impress with both Belleville and Ottawa. We expect to see him play a big role in Belleville this season.
You can relive Meriläinen's best NHL game to date here.
Shaan's Pick: Roby Jarventie
It's true that the Sens have had their share of weaker picks in the early rounds of recent years – it's tiring to beat that dead horse so I won't throw out specific names you're already familiar with. Though one thing that's irked me as of late is that a large portion of the fanbase has been including Roby Järventie in that group as well, with the bulk of the motivation being the success of Buffalo's J.J. Peterka, who was selected one pick after Järventie in the second round of the 2020 draft.
It's the kind of success that distracts us from the performance of our team's prospects.
Whether it's drafting or trading, we're always talking about maximizing assets, but for 32 NHL teams, it seldom happens. Teams almost never draft the "best player available". Erik Karlsson, Daniel Alfredsson, and Mark Stone are exceptions that prove the rule. Even Jean-Gabriel Pageau, an undisputed Ottawa legend, was not the best player they could've taken in the fourth round of 2011. You don't see people talking about missing out on Johnny Gaudreau because it's ridiculous to talk about when the player you drafted is still a slam dunk of a draft pick, let alone a fourth-rounder.
That way of thinking can translate to prospects still early in their development. Järventie compiled 16 goals and 14 assists in 40 games, in a D+1 AHL season, coming off of a long-term injury no less. That's nothing to be upset about. Especially when you consider Järventie was drafted out of the Mestis, a reasonably obscure league for NHL draft picks, as well as the fact that he was perceived as a long-term project at the time of his selection. That his AHL production has been fairly box-standard in spite of these points, is, at least in my opinion, a good thing.
And for a team whose biggest downfall this past season was shooting pucks, Ottawa should truly value a player like Järventie whose shot has always been considered to be his top weapon.
Expect a third season in Belleville for Jarventie next year, in which he'll need to flirt with a point-per-game pace to really cement himself as a fixture in Ottawa's middle-six in the foreseeable future.
Spencer's Pick: Egor Sokolov
If you've followed my AHL writing on this website for any amount of time, you'll know that I have a soft spot for a certain BSens winger who happened to be named Belleville's MVP for his fantastic performance this past season. He also took home the prize of IOA/American Specialty AHL Man of the Year, an honour awarded to a Belleville Senator each year for their outstanding contributions in the Bay of Quinte community. He was an important player on and off the ice for the Belleville Senators and absolutely deserves Spencer's Writer's Choice Award.
Let's talk more about the on ice product, shall we? After all, there's a ton of speculation surrounding the bottom half of Ottawa's forward group for 2023-24 and the team would be making a mistake if they didn't have Egor Sokolov's name written in pencil as one of the primary options for a big frame, right shot forward with offensive upside to round out their fourth line.
When you look at Sokolov's progression as an AHL player, you'll see someone who's been at the top of their lineup the past two seasons, posting 59 points in 70 games this past season while he saw 50 in 64 the year before. In essence, he's been one of Belleville's most consistent players, both in healthy games played and offense produced for two straight years. When you look at that progression in back-to-back seasons, however, the concern that jumps off the page is that, on a points-per-game basis, Sokolov took a slight step back this year relative to the year before. At a high level, that's true, but when you dig deeper, you'll see a fantastic step forward in what I deem to be a more important stat than points per game; primary points per game (P1/GP). In 2021-22, he posted 0.56 P1/GP while this year it jumped to 0.7. His overall production may have dipped, but his direct impact on offense in Belleville improved. Personally, that's what I want to see in a prospect.
For comparison's sake, Sokolov ranked first in total points (59), points per game (0.84) and primary points per game (0.7) amongst the AHLers from his draft age. Now, as a player who's five years out from his original draft year, this is all well and good but he is technically in the same draft class as players like Brady Tkachuk and Andrei Svechnikov. So ,if you want to have hope for a player's future at his age, he better be dominating the AHL like Sokolov has.
What has to come next from Sokolov is simple, opportunity. Away from the puck, Sokolov has seen improvements in his game. He's faster, smarter and, maybe most importantly, he's become an animal in the corners. If you're sending a Belleville Senator into the corner and looking for the best chances you come out with the puck, Sokolov is your guy. If he can tap into this at the next level, he'd be a very effective fourth line winger for the upcoming season. He just needs DJ Smith to give him a real, honest to goodness, chance at a shot at a roster spot.
Not everyone can afford to pay for sports coverage right now, and that is why we will keep as much of the site's content free for as long as we can.
But if you are able to, please consider subscribing to help keep our articles free (and get a few extra perks).
Erik Condra
Ability to comment and participate in our community
Twice monthly newsletter available only to subscribers
Ad-free reading
Our undying love and appreciation
Brady Tkachuk
Everything from the Erik Condra tier
10% discount on all merch
Access to any future paywalled content
A personal thank-you from the Silver Seven staff
Daniel Alfredsson
Everything from the Brady Tkachuk tier
Inner peace knowing you are supporting quality, independent coverage of your favourite sports team