Ottawa Senators Prospect Awards 2023 - Top Goaltender
The first awards piece of the year with a back-to-back winner!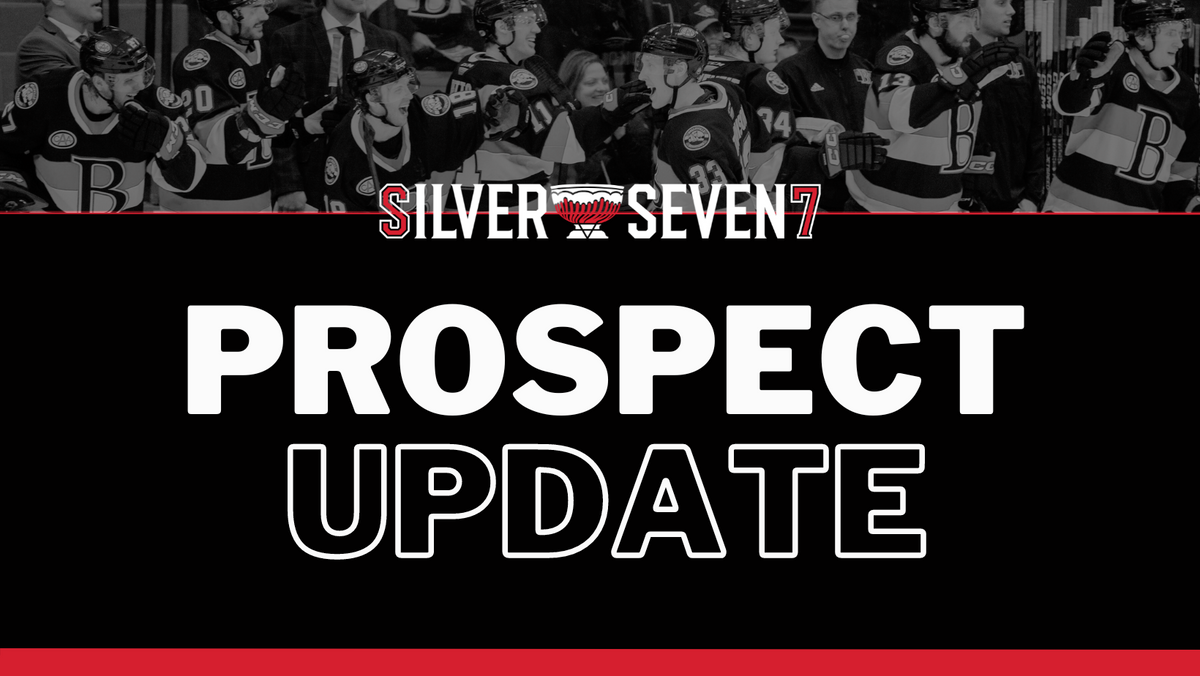 Top Goaltender: Mads Søgaard (66%)
Runners Up: Leevi Merilainen (22%), Kevin Mandolese (9%), Dylan Ferguson (3%)
More than any that came before, this award demonstrates the importance of visibility through playing NHL games. It's clear that 6'8 Mads Søgaard's second consecutive goaltending accolade on Silver Seven was earned on account of playing 19 games for the Ottawa Senators in 2022-23. There's a joke about increased visibility and his height somewhere in there if you care to make it. His .889 save percentage was perhaps indicative of being forced into a role he wasn't truly ready for, but the Senators were still somehow able to get him an 8-6-3 record. And while the Sens indeed broke down defensively in front of him, 56 out of 77 goalies (with at least 500 minutes played) had it worse than the Great Dane, facing a higher number of expected goals against per 60 minutes at 5-on-5, according to NaturalStatTrick.
Unfortunately, he didn't fare much better in Belleville, as his save percentage dropped from .908 to .893 across two seasons. Yes, Søgaard ascended to the highest level of pro hockey but he also struggled in his time there. His season was not exactly an unqualified success.
That said, despite several lackluster games, he did have his fair share of bright spots. He was named Rookie of the Month in February and was electric in the final minutes leading up to Ottawa's 3-2 victory over the Carolina Hurricanes.
He's always been described as possessing good mobility for a larger goalie and naturally has the advantages (pucks hit him more often) and disadvantages (larger five-hole) that come with that frame. Further progression in his rebound control and other fundamentals will be necessary to secure a full-time NHL role. According to HockeyViz, he especially struggles with snap and wrist shots from the right circle – in the following chart, red areas are where Sogaard allowed more goals than average.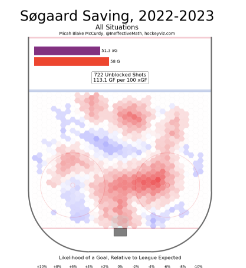 Søgaard ended up receiving almost three times as many votes as Leevi Meriläinen (.918 in the Liiga) did, which could speak to the gap between the number of people who saw both of them in action, as well as the readers placing more stock in NHL-readiness. This is an approach many readers as well as quite a few staff members take with our yearly Top 25 Under 25 series. This is where I might say that I have a disagreement with the popular consensus: I personally value long-term potential, of which I think Meriläinen has slightly more.
While he didn't get any votes, I also want to shout out Kevin Reidler, a fifth-rounder from the 2022 draft who put up a respectable .911 for AIK's U-20 team in Sweden. Definitely a prospect worth keeping an eye on going forward.
Ultimately it's looking like Søgaard will start next season in Belleville, in which case he should be the number-one goalie once again. Ideally, other areas of the team will improve such that he can put up some career numbers and step into the backup role by the end of the season.
Stay tuned for our next piece Prospect Awards piece next Tuesday!
Not everyone can afford to pay for sports coverage right now, and that is why we will keep as much of the site's content free for as long as we can.
But if you are able to, please consider subscribing to help keep our articles free (and get a few extra perks).
Erik Condra
Ability to comment and participate in our community
Twice monthly newsletter available only to subscribers
Ad-free reading
Our undying love and appreciation
Brady Tkachuk
Everything from the Erik Condra tier
10% discount on all merch
Access to any future paywalled content
A personal thank-you from the Silver Seven staff
Daniel Alfredsson
Everything from the Brady Tkachuk tier
Inner peace knowing you are supporting quality, independent coverage of your favourite sports team