Replacing Alex DeBrincat's Production Won't be That Hard
This is my coping mechanism. Don't judge me.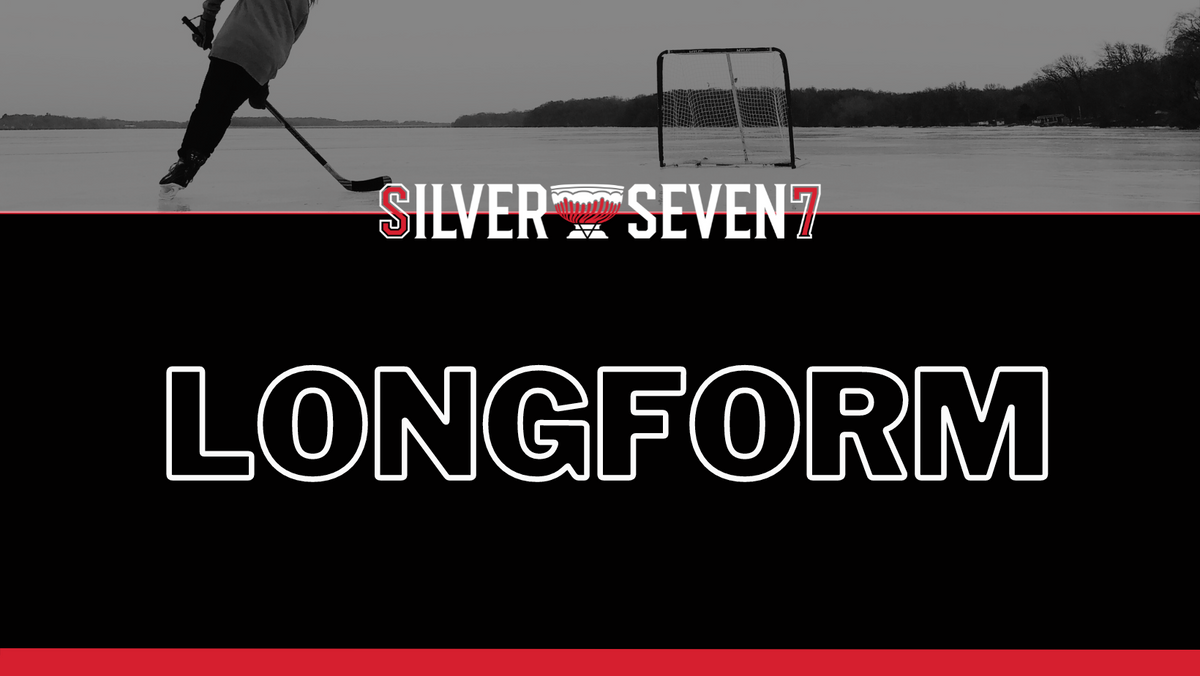 We aren't here to talk about a player who turned his back on the fans, organization, teammates, or the city of Ottawa.
Instead, let's talk about the player who had fewer 5-on-5 goals per 60 minutes than Mark Kastelic last season.
That puts things into perspective a bit when trying to cope with the loss of Alex DeBrincat, just one year after the Ottawa Senators acquired the two-time 40-goal scorer.
Before we get into it, please don't mistake this argument for one saying Alex DeBrincat isn't a fantastic goalscorer who will be missed on the Senators. Despite weak 5v5 results last year, there's still a hole to fill. But the question is, how difficult will that be to accomplish?
The question of how the team will address his loss can only be answered by first asking what exactly it is they're losing - not what we feel like they're losing.
As those of you who've read my thoughts in the past know, I believe the 2022-23 Ottawa Senators' biggest flaw - more so than goaltending, coaching, defense, the bottom-six, etc - was the performance of their second forward line. We all know there was a steep drop off being the top line and the one below it, the line on which DeBrincat played almost all of his minutes.
My thoughts about DeBrincat's role in this have been pretty consistent. He was the best player on that line and largely suffered due to a combination of poor shooting luck, and the large hole created by the loss of Josh Norris. There's no doubt in my mind that DeBrincat is due for a much more productive season in 2023-24 with the Detroit Red Wings. If he plays regularly with the likes of Dylan Larkin, Wings fans are almost certainly going to see 30 or more goals from the Cat.
Regardless, that version of DeBrincat, the one he's been for the majority of his career, isn't the player Ottawa's trying to replace because he never really showed up in Ottawa.
DeBrincat had a down year, that's undeniable. Saying otherwise would be insulting to his past accomplishments. The deal he signed with Detroit is a far cry from what he could've commanded on the open market had he delivered on his 40-goal reputation, or even came close to doing so.
If we're asking who is the better player between Alex DeBrincat and Dominik Kubalik, I and most others would answer with DeBrincat by a long shot. But I don't think it would be unrealistic to see Kubalik in 2024 outperform the version of DeBrincat we saw in 2023.
Various statistical models have shown Erik Karlsson to be a Top-5 defenseman this season, but he played far from that level just two seasons prior. For a myriad of reasons, players rise and fall above and below their established standard. DeBrincat got his life turned upside down with a brand new baby boy, moved to a new country and played in a system he admitted didn't really work for him. You can't quantify that impact, but you can't deny that some of his results can likely be attributed to it.
Compiling 66 points in 82 games is nothing to shake a stick at, and certainly tough to replace. It becomes a bit easier, though, when you realize that 31 of those points came on the power-play. DeBrincat was a big part of that and his role on the man advantage will be missed. But a top power-play unit of Tim Stützle, Brady Tkachuk, Claude Giroux, Josh Norris, and Thomas Chabot should still be one of the better ones in the league.
What's more important for Ottawa is to establish some even-strength scoring beyond their top line. The bottom six should be stronger this year, so what about the second line? DeBrincat's gone, but on top of Kubalik, Norris will re-enter the fold after a season-long shoulder injury. Providing Norris can play close to a full season, the combination of Norris and Kubalik will already more than make up the 66 points lost from DeBrincat.
Even comparing their 2022-23 5v5 numbers directly, Kubalik's 1.50 points per 60 minutes are only slightly below DeBrincat's 1.58, according to NaturalStatTrick, and Norris' 1.86 in 2022 was significantly higher than Pinto's 1.31 this past season.
Six points in the standings, folks. That's all we need.
DeBrincat sticking around would've still been the best-case scenario in my opinion. Potentially even on a one-year deal through team-elected arbitration, with him walking in the following offseason. As we've touched upon earlier, he's due for a 30+ goal season. Though that would've resulted in a tougher cap situation that might not have worked out depending on what Pinto's next cap hit will be, as well as going into the upcoming year without making a move to improve the goaltending.
All we can do is accept that the player we thought we were getting never truly materialized in the nation's capital, and that we won't get to enjoy the fruits of his inevitable bounce-back season.
At the end of the day, DeBrincat's down year, coupled with the return of Norris and addition of Kubalik, means the Sens aren't really worse off after moving on from DeBrincat. They will, however, need to find ways to round out the roster in a way that makes them better.
Being just as good as last season simply isn't an option.
Not everyone can afford to pay for sports coverage right now, and that is why we will keep as much of the site's content free for as long as we can.
But if you are able to, please consider subscribing to help keep our articles free (and get a few extra perks).
Erik Condra
Ability to comment and participate in our community
Twice monthly newsletter available only to subscribers
Ad-free reading
Our undying love and appreciation
Brady Tkachuk
Everything from the Erik Condra tier
10% discount on all merch
Access to any future paywalled content
A personal thank-you from the Silver Seven staff
Daniel Alfredsson
Everything from the Brady Tkachuk tier
Inner peace knowing you are supporting quality, independent coverage of your favourite sports team