Best of the Rest Under 25
Who just missed the cut this year? Who could make the jump next year?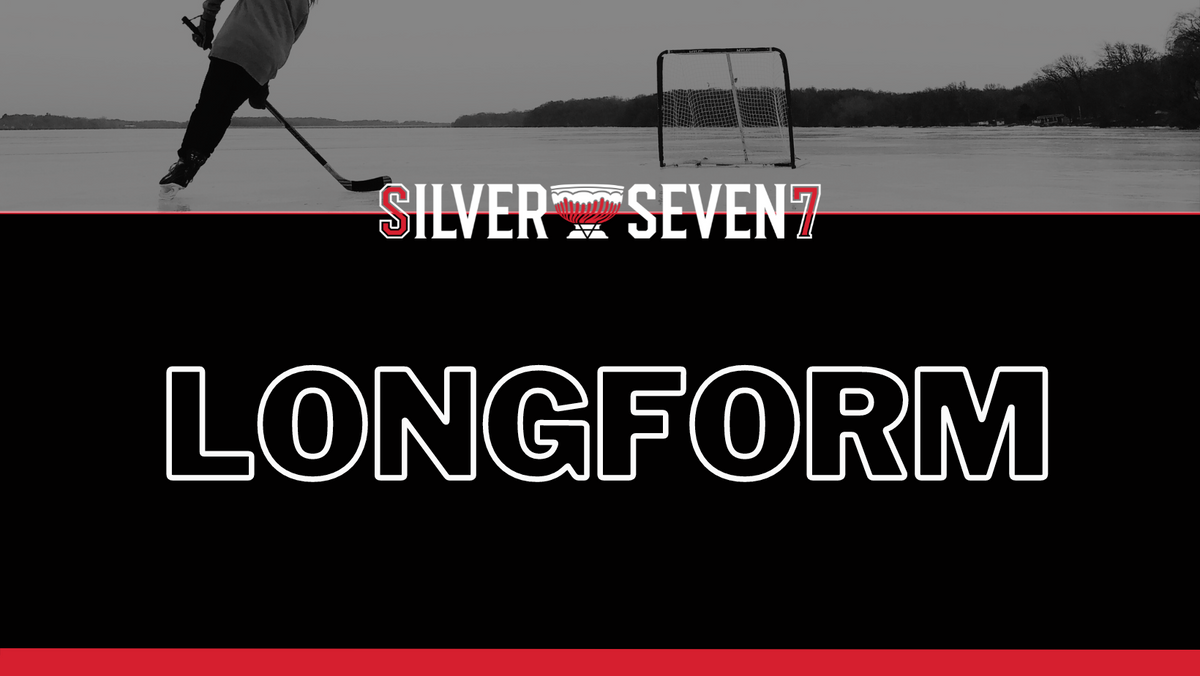 You may have heard that in about a month's time, the Ottawa Senators will play actual, honest-to-god NHL hockey. Can you feel the excitement around the site? I hope so, because outside of live game coverage, the staff here probably have the most fun doing our annual Top 25 Under 25 series. For a couple of years now, we've had much less focus on the draft and trade deadline (how the times change!), and we've actually had some big news to report around free agency. Yes, we might just finally enter that sweet spot where we can enjoy our live NHL coverage and some farm system updates as an added bonus. What a country!
The Sens' prospect pool doesn't look quite as deep as it did a few years ago but now we have an actual, good Ottawa team to watch, and we still have some interesting players in the system (even if they require more polishing than your Brady Tkachuks and Tim Stützles). You likely already know who will round out our top-six but you'll have to stay tuned this week to learn the final rankings (and see my ballot that will age like milk as usual). Thus I doubt you'll get any spoilers here as I discuss some of the players who missed out on the Top 25 in 2023 but could very well make the jump next year. I haven't included any 2023 draftees because quite frankly I want to actually watch them before trying to write any more about them, and I left off non-prospects like Parker Kelly because you already know as much about them as I do. Let's take a look at the honourable mentions!
Oliver Johansson
Ottawa's third-round pick from the cursed (just kidding (not kidding)) draft class of 2021 once again failed to make the cut in our annual rankings and given his profile I guess I wouldn't consider that too surprising. Johansson profiles somewhat like Roby Järventie and Egor Sokolov in the sense that the Senators drafted them in hopes of adding an offensive contributor. And while Järventie and Sokolov have also worked on rounding out their defensive game, their ability to generate offence will determine their NHL fate. Johansson, in the two years since Ottawa drafted him, has had no problem scoring at the junior level (49 points in 41 regular season games) but has struggled to adapt in his Allsvenskan and SHL auditions.
With an "average for a hockey player" type of frame at 6' and 180 lbs. you can see how Johansson might struggle playing in a league of grown adults like the SHL but now in his 20s, I can imagine he feels the pressure to produce if he wants to play professionally in North America. I do have some good news though and I don't want Sens fans to give up on Johansson (I certainly haven't). Having scored nine goals in 32 Allsvenskan games as a U20 player ranks Johansson among the likes of Liam Öhgren (Minnesota 2022 first-rounder), Noah Östlund (Buffalo 2022 first-rounder), and Zion Nybeck (Carolina 2020 fourth-rounder (projected second-rounder at the time)). Nowhere near a sure thing, Johansson represents the kind of high-risk, high-reward picks the Sens don't often make and he hasn't lost his appeal to me yet.
Filip Nordberg
Like Johansson, Nordberg has played all of his hockey to date in Sweden and I reckon that contributes somewhat to our collective oversight. Nonetheless, Nordberg didn't exactly tear it up in his first year as a Sens prospect either. As Ottawa's first pick (second round) in 2022, Nordberg will have to bear the weight of some hefty expectations and to that effect I can only hope he pulls a Tyler Kleven (an honourable mention himself once upon a time) and puts the pieces together with a couple years of seasoning in the farm system.
You can't teach big, and Ottawa's scouting department knows a thing or two about reaching on big players ahead of their projected draft slots (listed at 6'4" and 200lbs (projected third round or later)). Like Kleven, scouts use the right buzzwords about Nordberg: strong skater, uses his reach, unafraid to engage physically. But until the numbers add up in terms of point-production relative to draft-positioning, some of us will remain skeptical.
Like Johansson, if Nordberg can make the jump to the SHL and start playing meaningful minutes in Sweden's top league then we will probably see Nordberg in our Top 25 in 2024. Nordberg will have his work cut out for him as defenders of his style don't tend to put up big offensive numbers, especially as a younger player in a professional league. But again to use the Kleven analog, if Nordberg can continue to develop his game and work on cleaning up his defensive aspects at each level then he will get his due in the Senators organization.
Kevin Reidler
I see a trend here of Swedish players lacking exposure to the fanbase and as one of the people tasked with gathering prospect stats for this site, I can understand why not everyone keeps tabs on European players. You have to dig a lot more to get useful information and at times you can still come up empty-handed. Luckily for us, Reidler will play this coming season in the USHL (they have a great stats site by the way, using the same interface as the AHL (thank you!)). So I hope I get an opportunity to convert a few more Reidler-truthers this year. I can also appreciate that besides having two goaltenders on the NHL roster, the Sens have an absurd five goaltenders in the farm system, and three of them made our Top 25. Even when checking our biases, it seems like overkill to have a fourth or fifth netminder on the ballot.
Reidler spent the entirety of his his season in junior last year (his first in the Sens system). And to give a bit of context to how drastically Reidler improved over the course of the season, he had a save percentage below 90 and a record of 2-9-0 through his first dozen games. By the end of the season, through 32 games, Reidler improved to 14-16-0 and 91.1%. He helped carry a mediocre AIK squad to the postseason where Reidler had a save percentage of 94 in three games. And if you like GAA, then Reidler also shaved off about half of a goal from his regular season to postseason rate. I also have to note that at 6"6', Reidler clocks in as the second-tallest netminder in the Senators' system. Say it with me again: "You can't teach big." Yes, very good.
Cole Reinhardt
Just like you can only have so many goaltenders on your ballot, you can only have so many depth forwards. And Reinhardt will always have to contest with the fact that the Senators already have a lot of potential third- and fourth-line type forwards already in the depth chart. The Sens as an organization value players like Reinhardt as much as anyone but when you look up and see Mark Kastelic, Parker Kelly, and Zack MacEwen already on the NHL roster, you have to wonder where Reinhardt fits. And if a more established prospect like Angus Crookshank or a more highly-touted prospect like Zack Ostapchuk finds their way into Ottawa's bottom-six then things get even more complicated. Ottawa has a good problem on its hands, with a lot of affordable, internal options for forward depth but Reinhardt will always have an uphill battle as a result.
That shouldn't detract from Reinhardt's individual contributions, however. Although Reinhardt didn't get to play in Ottawa this past season (he played one game in the NHL in 2022), he improved his production from the previous campaign with four more points in four fewer games with Belleville this past season. In fact for the past two seasons, Reinhardt has produced as well in Belleville as any Sens prospect not named Sokolov, Järventie, or Crookshank. As you would expect, Reinhardt plays the physical and defensively responsible game that the Sens expect of him and he has gained the confidence to shoot the puck more over the past two season (hence the uptick in individual production). With all of the young forwards competing for ice-time on Ottawa's third- and fourth-lines it will take some kind of training camp performance for Reinhardt to make the team but he can probably put together a monster season in Belleville at the very least.
Donovan Sebrango
When I set out to write this article, I mostly just wanted a personal excuse to do some research on Sebrango. At the end of the day, he might end up as just a throw-in to the DeBrincat trade but still can't shake the impression that maybe some of us just don't know what exactly we have in Sebrango. First of all, he has his work cut out for him as a left-handed defender on a team that just signed Jake Sanderson to a deal similar to Thomas Chabot's. Plus you have Jakob Chychrun, Erik Brännström, and Tyler Kleven on that side of the depth chart, so yeah, tough climb for the new kid. That won't stop me from writing about him.
Detroit selected Sebrango 63rd overall in the 2020 draft (two slots after Ottawa selected Sokolov). Sebrango still has one year left on his entry-level deal after this one, and his waiver-exempt status means he likely lines up in Belleville along the likes of Kleven, Maxence Guenette, and (maybe?) Lassi Thomson. In 2018-19, in the OHL, Sebrango ranked third among rookie defenders with 26 points in 62 games behind Jamie Drysdale and Vladislav Kolyachonok (2019 second-rounder). In 2019-20, Sebrango plateaud somewhat with 30 points in 56 games (second on his Kitchener squad among defenders though). Nonetheless, scouts liked Sebrango's skating and passing enough for a selection just outside the second-round of the NHL draft (he went in the second round of the OHL draft).
Unlike a lot of the other skaters in the Senators' system, Sebrango doesn't play a very heavy game and gets more attention for his footwork and decision-making, although some scouts suggest he plays bigger than his size. The more you read about Sebrango, the more Brännström vibes you tend to get. Sebrango ranks somewhere between small and average for an NHL defender and he doesn't put up eye-popping offensive numbers but it sounds like he has the raw tools to possibly play at the highest level in a supporting role.
Like a lot of players his age, Sebrango's development took a bit of a detour due to the pandemic as he split his draft-plus-one season between tier-two in Slovakia and the AHL (despite his lack of an entry-level contract at that point). Another year in junior likely could have benefited the young defender who naturally didn't set the AHL on fire as a boy among men. Sebrango also missed out on playing for the Canadian national team at the world juniors due to the pandemic. As such, I try not to put too much focus on Sebrango's underwhelming numbers in Grand Rapids. Also, you can't teach local.
All of Guenette, Crookshank, Søgaard, Philippe Daoust, and Kevin Mandolese appeared in this feature at least once before making the Top 25 so I wouldn't sell all my Sebrango stock just yet. He describes himself as a physically engaged player and he'll know how to endear himself to Ottawa's staff. Say it with me again: "You can't teach local."
Not everyone can afford to pay for sports coverage right now, and that is why we will keep as much of the site's content free for as long as we can.
But if you are able to, please consider subscribing to help keep our articles free (and get a few extra perks).
Erik Condra
Ability to comment and participate in our community
Twice monthly newsletter available only to subscribers
Ad-free reading
Our undying love and appreciation
Brady Tkachuk
Everything from the Erik Condra tier
10% discount on all merch
Access to any future paywalled content
A personal thank-you from the Silver Seven staff
Daniel Alfredsson
Everything from the Brady Tkachuk tier
Inner peace knowing you are supporting quality, independent coverage of your favourite sports team