Top 25 Under 25 2023
Ottawa Senators Top 25 Under 25, #23: Tyler Boucher
The Sens' most hotly debated prospect checks in at #23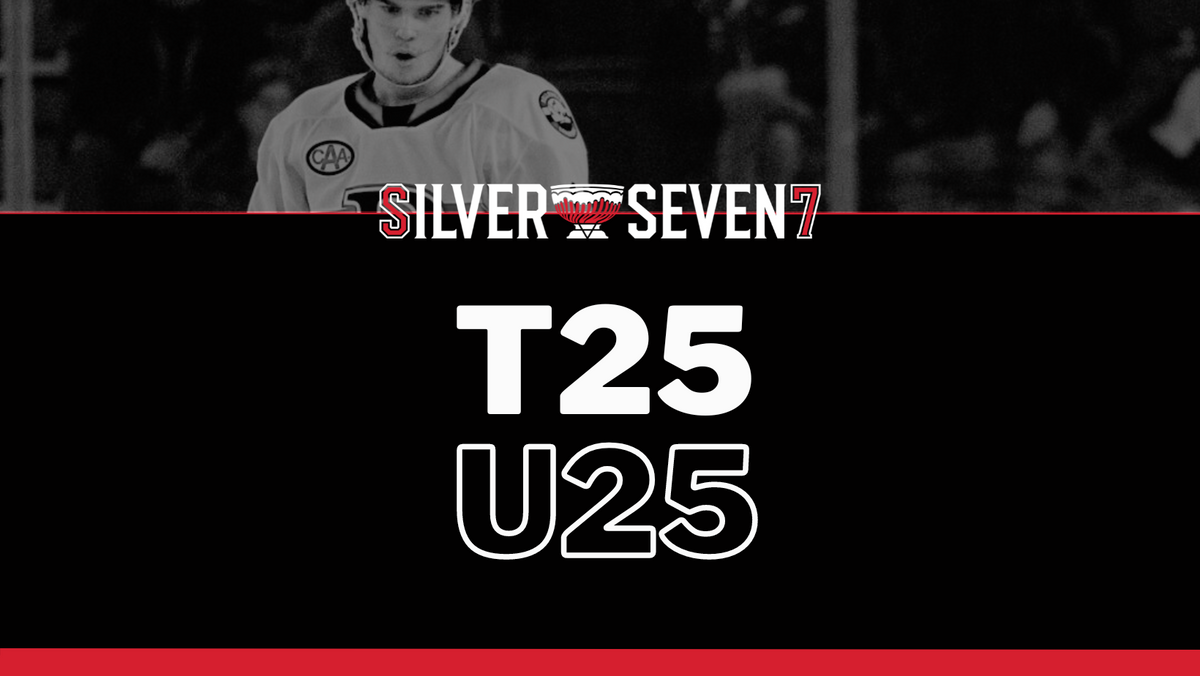 Welcome back to the 2023 edition of our Top 25 Under 25 feature. You can check out the full list so far here.
For today's entry, we have:
#23: Tyler Boucher (Reader Rank: 18, Last year: 24)
Since he was taken 10th overall by the Ottawa Senators in the 2021 NHL Entry Draft, a lot of things have gone wrong for Tyler Boucher: from an ill-fated stint with Boston University that lasted only 17 games, to a slew of injuries during his first season with the Ottawa 67's, to numerous suspensions, to yet another major injury that ended his 2022-23 season, it's been tough sledding. All of the aforementioned factors have combined to make it so that Boucher has played a grand total of 62 games across his time in the NCAA and OHL since he was drafted.  Already a controversial pick at the time of his selection, Boucher has had little chance to demonstrate his value as a player. In that sense, it is unsurprising to see him at #23, up just one spot from #24 last year. Boucher only suited up for 21 games last season, where he posted ten goals and seven assists; that type of season simply won't move the needle too much.
When Boucher suffered his season-ending shoulder injury back in March, I wrote the following:
That brings us to the central question: what comes next for the prospect? The first part of the answer to that question is Boucher will almost certainly play next season in the AHL with the Belleville Senators, where the hope is that his style of play will be more valuable. There's no mystery there. The issue is that two seasons after Boucher was drafted, we are really no closer to knowing if he can eventually contribute at an NHL level. I cannot remember the last time a top Sens' prospect played so little hockey in the immediate years after being selected. Usually some of the mystery has been removed by this stage: the giddiness of draft day is behind us, but, if we're lucky, the player in question has grown their game in some of the areas that will help them to succeed in the NHL. Maybe they've filled out their previously lanky frame with a bit more muscle, maybe they've been focusing on some aspect of their defensive play. With Boucher, almost everything remains in the hypothetical. He's got a laser bream of a shot, but he's only scored 19 goals in two seasons because he's had so few occasions to use it. He's strong as an ox and hits like a tonne of bricks but he's been injured so often that we are left to wonder if his particular style of play will be tenable at the highest level.
Nothing has happened with Boucher in the intervening months to change this assessment; it's not hard to see the physical tools that caused the Sens to call his name, but he's had very few occasions to put them to use and when he has been healthy he hasn't dominated in the way you'd hope for a tenth overall selection. Normally the Top 25 Under 25 rankings are a good time to assess how a player's game has evolved over the last twelve months, but that's virtually impossible to do with such a small sample. Whatever your perception of Boucher at this time last season, it's unlikely to have changed much in the interim.
In his mid-season grading of each team's prospect pipeline, Scott Wheeler wrote the following about Boucher's skill set:
He's got quick hands and some soft skill, but he's not a particularly quick skater, so those hands are most useful in short moments in traffic, when the game slows down inside the offensive zone, or on catch-and-release sequences for his shot, because he's not a particularly dangerous or threatening rush player. His catch-and-release is both effortless and powerful (though he can miss the net a little too much for my liking).
He's good on the bumper on the power play. He'll get to the front of the net and makes plays off the cycle, and he'll score some clean goals with his shot, but when the pace in games ramps up, his impact typically lessens. Can he become a complementary power forward in a bottom-six role? I think so. He certainly has some NHL tools. Will he produce like a No. 10 pick? Not likely.
Speaking of that shot, here is some video evidence that Boucher can, indeed, absolutely cook it:
Barring an incredible training camp, Boucher will begin the upcoming season with the Belleville Senators. The hope is that his particular brand of rugged aggression will play better in the AHL than it did in the OHL.  The move to professional hockey has certainly benefitted Ridly Greig, another first-round pick that struggled with recurring suspensions in the CHL.
One of the consequences of publishing a ranking of prospects is that eventually you are going to get some egg on your face. If Tyler Boucher stays on the ice for a good chunk of this coming season, there's a high degree of probability that he moves up these rankings in a big way. Because of his pedigree, he will get a very real shot to prove his worth. If you're a believer in that pedigree, and his tools, you don't have to squint too hard to see a world where Boucher is an important third line contributor for Ottawa in the not-too-distant future. Certainly our readers already appear to think more highly of him than we do, putting Boucher at #18; five slots ahead of where the staff ended up.  
Boucher is still only 20 years old, so for all of the (mostly justified) hand-wringing about his struggles, there's plenty of runway yet him to grow into an NHL-calibre player. At some point, though, the hypothetical needs to be translated into on-ice performance. A full, healthy, season in Belleville this year would go a long, long way.