Top 25 Under 25 2023, #25: Philippe Daoust
A potential late-round gem looks for a fresh start after a season-long injury.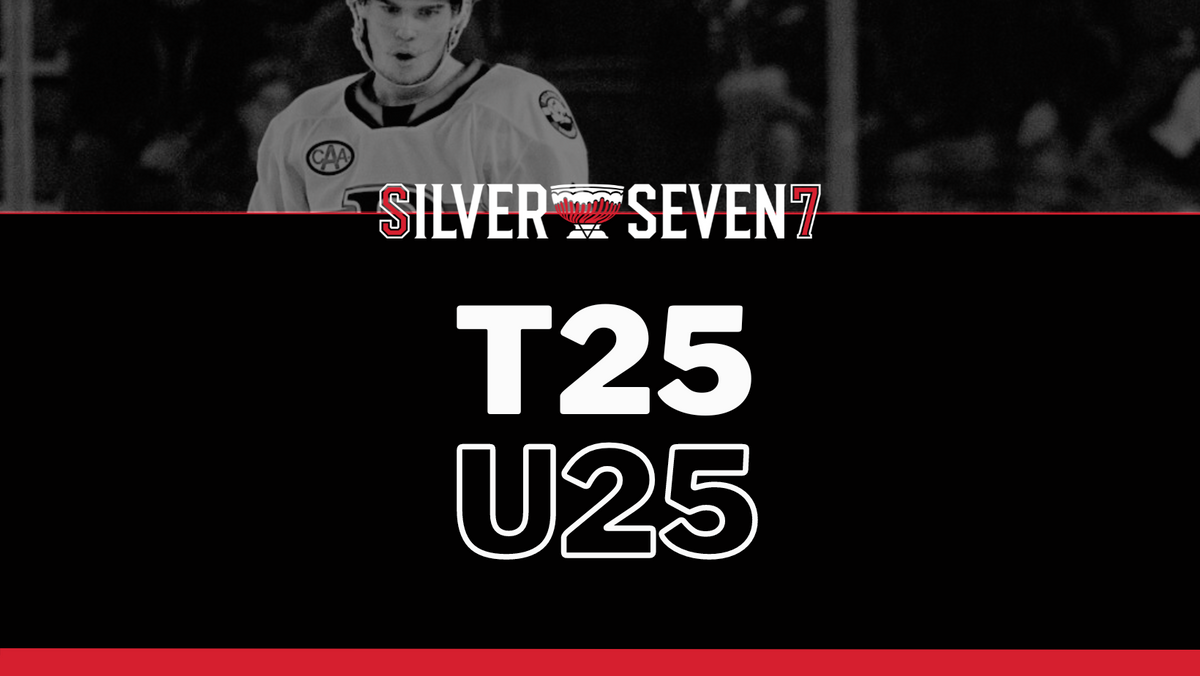 Editor's note: Welcome to the 2023 edition of our annual ranking of the Top 25 players currently under the age of 25 in the Ottawa Senators' organization. This series typically generates some of the liveliest discussion amongst our readers, and we look forward to hearing from all of you again! You can check out last year's pieces here to refresh your memory on just how those rankings went at that time– just don't pay too much attention to the player that finished #1.
#25: Philippe Daoust (Reader Rank: 27, Last year: 21)
Kicking off our series this year is perhaps a bit of a forgotten name, and a player who took part in only nine games of professional hockey this past season: 6'1 left-handed center, Philippe Daoust.
If you don't remember this Barrie, ON native playing in the OHL, that's because he wasn't drafted to the league. Daoust instead spent the 2018-19 season with the French River Rapids of the Northern Ontario Junior Hockey League. From there, he earned an invitation to the QMJHL's Moncton Wildcats' training camp where he made the team, and subsequently had a successful year scoring 29 points in 58 games. He was then selected by the Senators in the sixth round of the 2020 NHL draft. To say it's been a winding for Daoust would be something of an understatement.
The Sens have reaped the rewards of that famous '20 draft, even if parts of their strategy were considered unconventional, but in Daoust's case, his production even for a sixth-rounder, is on the low end. The organization must have envisioned a lot of upside, but some others who watched Daoust did as well. Former NHL scout Mark Seidel described him as a "slippery" player who had to work his way up Moncton's lineup throughout the year. His game-by-game numbers reflect this – no goals, and a measly 6 assists in his first 21 games in that 2020 season, followed by a much better 7 goals and 16 assists in his last 37.
Seidel predicted Daoust would double his production in the 2021 season, and the response was 28 points...in 21 games. Mission accomplished.
Following a short stint with Belleville the following season, Daoust returned to the QMJHL, traded from Moncton to the Saint John Sea Dogs, who were looking to load up on talent in preparation for the Memorial Cup (they were slated to host the tournament, but winning the QMJHL playoffs weren't out of the question either). Daoust quickly began contributing in a big way, finding chemistry with New York Islanders fourth-rounder and fellow steal William Dufour.
Despite being knocked out of the first round of the playoffs by the Rimouski Oceanic, their aggressive approach at the trade deadline paid off as the Sea Dogs performed the impressive feat of winning the 2022 Memorial Cup as the hosts. Daoust had 6 assists in the team's 4 games.
Unfortunately, after a very promising training camp and start to the year, Daoust suffered a long-term (upper-body) injury just nine games into his first official season with Belleville.
In spite of playing just nine games all of last season, Daoust's made the cut here partly due to the seven points (2+5) he tallied, as well as the Senators' highest draft pick in the past two seasons being 64th overall; there just aren't a lot of recent star prospects to choose from.
A long-term injury early on can derail a player's career, but, like Angus Crookshank, Daoust could just as easily get back on track and take a step forward in the AHL this season. He's still that late-bloomer, a player who doubled his production after his draft year, and a key piece of a Memorial Cup-winning roster.
In terms of his playing style, Daoust's a pass-first player, averaging just over two shots a game. His 24-goal season with the Sea Dogs came on the back of a 31.2% shooting percentage, and he's contributed more consistently in his career by finding teammates in high-danger areas than by putting a lot of pucks on net:
From his time with Moncton, David St. Louis from Elite Prospects had good things to say about Daoust's hockey IQ while having reservations about his skating and pace.
His acumen as a playmaker and play driver is further demonstrated through microstat data from Andy Lehoux, some of which shows Daoust to have been one of the best in the Q in the 2021 season at generating primary assists, winning puck battles, and facilitating both zone exits and entries.
You can find Daoust's year-end interview with Belleville here. With two years left on his entry-level deal, there's plenty of time for him to establish himself as a valuable AHL player, and potentially find his way onto an NHL team's roster in some capacity in a couple of years. Could he even be a dark horse to compete with Ridly Greig for that spot on that third line that's likely going to a player on an ELC? With Daoust, a lot of his future trajectory could be determined by his play this year.
Not everyone can afford to pay for sports coverage right now, and that is why we will keep as much of the site's content free for as long as we can.
But if you are able to, please consider subscribing to help keep our articles free (and get a few extra perks).
Erik Condra
Ability to comment and participate in our community
Twice monthly newsletter available only to subscribers
Ad-free reading
Our undying love and appreciation
Brady Tkachuk
Everything from the Erik Condra tier
10% discount on all merch
Access to any future paywalled content
A personal thank-you from the Silver Seven staff
Daniel Alfredsson
Everything from the Brady Tkachuk tier
Inner peace knowing you are supporting quality, independent coverage of your favourite sports team