Longform
Remembering Pierre Dorion's Most Iconic Moments in Ottawa
Say what you will about Dorion as a General Manager, but you can't deny he was entertaining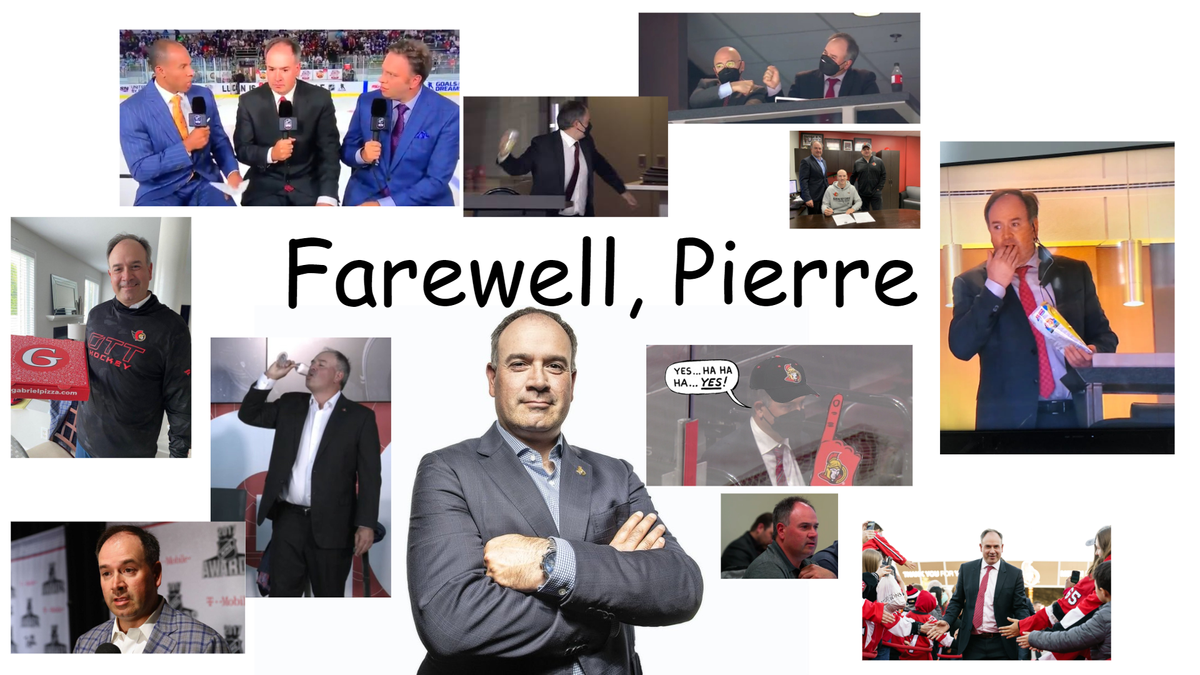 One week ago today, the Pierre Dorion era of the Ottawa Senators officially came to an end.
He left the team in the most Pierre Dorion way possible: on the heels of a scandal so incredibly bizarre that it feels like it never could have happened to any team other than the Sens. His undoing was a blunder that was certainly his fault, but that was also nearly inevitable considering the conditions under which he was working.
Dorion meant many different things to this fanbase throughout his seven years as General Manager of the Ottawa Senators. From the heir to a legacy he would never be able to live up to, to the much-maligned puppet of a tyrannical owner, to the bumbling and incompetent figurehead of a franchise that couldn't catch a break, to the unlikely hero of a team on the rise, he was always a prominent figure in the minds of fans. You'd be hard-pressed to find another NHL general manager who gets quoted as often, or whose image is shared as often on social media.
One thing you can never take away from Dorion as General Manager: he was passionate about the Sens. Every controversial move was defended with a hyperbolic statement to the media. When he was happy with his own work, he made sure everyone knew it. As my co-host said on the podcast earlier this week, Dorion was in many ways the antithesis of your typical Ottawa bureaucrat: no support staff, no media training, and wearing his heart on his sleeve. Some random hockey fan who somehow ended up in control of an NHL franchise. During the darkest days of the rebuild, he gave us moments of levity, and a lightning rod to which we could all direct our criticism.
In honour of Dorion being let go, today I'm counting down his 25 greatest contributions to The Culture. Farewell, Pierre. We'll never forget you.
The Gabriel's Pizza box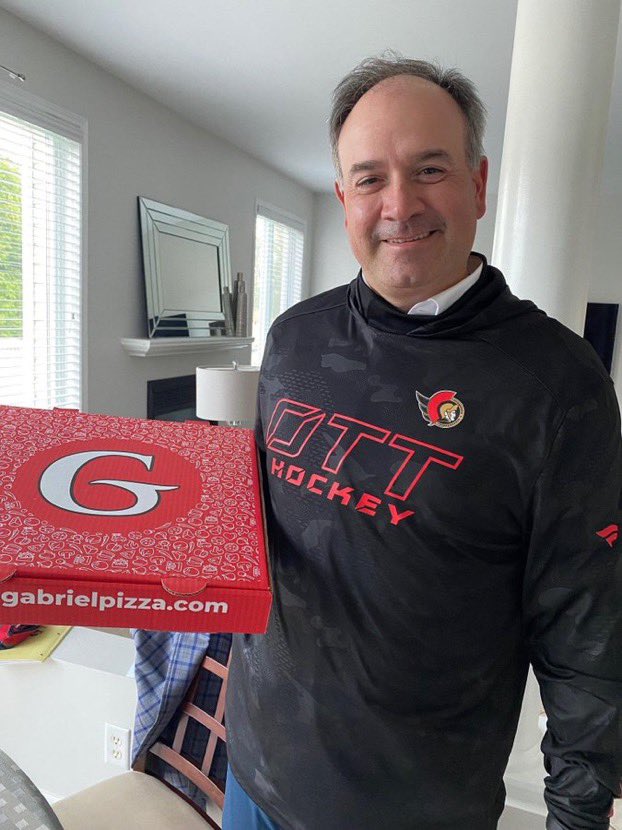 I imagine this is how he welcomes every new player to Ottawa.
"Is he a low character guy?"
The #NHLDraft kicks off in 8 days! Here's Part 2 of our exclusive look behind the scenes at the #Sens amateur scouting meetings last month. pic.twitter.com/cifTApFTe1

— Ottawa Senators (@Senators) June 13, 2019
That video did not inspire confidence in the Sens' draft process.
"We didn't have a fourth round pick"
When Pierre Dorion traded a third round pick for Travis Hamonic, the question that resounded throughout the hockey world was: "why?"
His answer? The Sens didn't have a fourth round pick, which was the asking price for the player, and so he had no choice but to go up to a third round pick, even though the Sens were reportedly the only team interested. That right there is the work of a master negotiator.
What makes this such a good quote isn't so much the fact that he did that, as the fact that he willingly told everyone about it.
The Pierres
The Pierre McGuire era in Ottawa was a real head-scratcher. One of those things we'll always be able to look back on and think "did that really happen, or did I imagine it?" The main thing I'll remember about McGuire's time with the Sens will always be this picture, where he shared a moment with fellow Pierre, GM Pierre Dorion.

"Zubby"
"Night in and night out, he's someone that just plays a really effective game for us."

Have a look behind the scenes as Artem Zub puts pen to paper for another 4 years with the #Sens‼️

Breakaway presented by @Bell | #GoSensGo pic.twitter.com/fWqxrDx8SJ

— Ottawa Senators (@Senators) December 21, 2022
When Dorion was happy about a move, he made sure everyone knew it. That was evident in the video the Sens put out last year about Zub signing a contract extension. Dorion was practically bouncing off the walls with excitement, and even addressed the player by a nickname instead of just his name.
"One (player) wanted to hug me"
One of the first strange quotes to come out of the Dorion era was brought on by the incredibly bizarre Alex Burrows trade. Although most Sens fans were baffled by the move, Dorion insisted that the players were overjoyed. So much so, in fact, that one even wanted to give him a hug.
"My girlfriend told me to stay off Twitter"
This was after the Travis Hamonic trade.
His girlfriend is very wise.
"Food is their fuel"
True, but an odd way to announce that you're hiring a personal chef for your team.
"I've never felt so powerful"
We did not get nearly enough mileage out of this quote, uttered by Pierre as he described the moment Melnyk gave him permission to sign Brady Tkachuk to a contract extension.
Dorion re Melnyk: On Tuesday he said, "get this done." I've never felt so powerful, Dorion says.

— Wayne Scanlan (@HockeyScanner) October 14, 2021
Eating chips in the press box
When you see the Sens get their first shutout of the year despite no Coburn, Gudbranson, and Stepan pic.twitter.com/ig0d3F790F

— Frank Senators (@sleepenbaker) April 17, 2021
He's one of us.
DeBrincat's first visit to the CTC
Watch as Alex DeBrincat gets a first look at Canadian Tire Centre, and his new threads! 😺#GoSensGo pic.twitter.com/KKUNdoBLiN

— Ottawa Senators (@Senators) July 16, 2022
I think I'm going to feel Pierre Dorion's absence most acutely every time the Sens bring in a new player and post a video of said player visiting the CTC for the first time. Those videos are going to fall so flat without Pierre Dorion visibly vibrating with energy next to the player.
Dorion didn't even say anything outrageous about that trade, but his body language in that video was more entertaining than any quote. In hindsight, I wonder if Dorion's energy in that first meeting scared DeBrincat away from Ottawa.
His one jacket
Have you ever had one outfit that you just know goes so much harder than anything else in your closet? So much so that you have to carefully plan out when to wear it so that it gets lots of use but you're not wearing it every day? Every time you need to dress nicely for something, you know exactly which outfit to pull out? If so, you have something in common with Pierre Dorion.
Sometime during Dorion's tenure, fans noticed that he always pulled out the same suit jacket for big press conferences or events. It was lovingly referred to as his "power jacket" or his "big day jacket." A relatable king.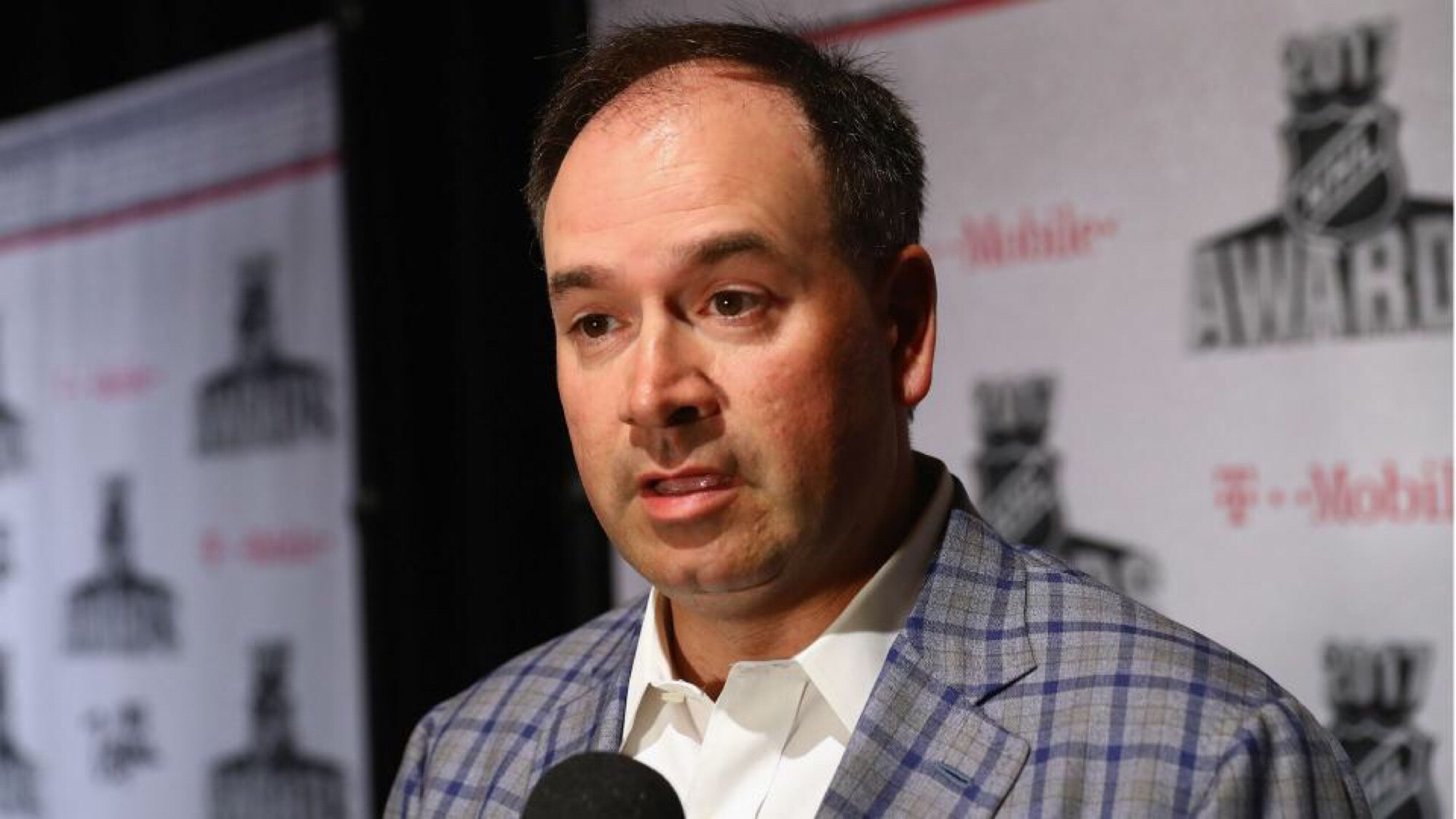 Orleans East Side Mario's
On July 1st, 2022, when General Manager Pierre Dorion addressed the media to explain how he convinced one of the greatest hockey players of the last decade and a half to sign as a free agent with the Ottawa Senators of all teams, he traced the decision back to one specific meeting. Was it a call with his agent? Brady Tkachuk's recruiting job at the NHL All-Star game? A formal sit-down at a fancy restaurant? Of course not. It was a casual chat at the Orleans East Side Mario's.
It feels like a perfect illustration of both the penny-pinching ways of the Melnyk regime and Dorion's childlike and wildly unprofessional demeanor that one of the most significant player acquisitions in the franchise's history started over a massive plate of pasta at a family-friendly restaurant best known for having a great kids' menu. I wonder if Dorion is a "build-your-own-pasta" kind of guy, and if he asked the staff for a toy at the end of his meal.
Knocking back champagne at Andlauer's introductory press conference
Love him or hate him, Pierre Dorion will always be entertainment 😂 pic.twitter.com/lfJTKP25I6

— Ryan Hyndman (@RBHyndman) September 22, 2023
His final meme as GM. He really went out with a bang.
"If anybody is mad at me, be mad at me there (at Navan arena)"
It says a lot about the things Dorion said to the media after trading away Mark Stone that his invitation for fans to confront him in person if they had a problem with the trade was only the third most iconic quote he delivered that day. We'll get to the other two in time.
What did he want fans to do at Navan arena? Ask him questions? Boo him? Fight him? Did anyone take him up on that offer, and if so, would they be willing to give an interview about it?
Sicko
The "sicko" meme was a real highlight of the rebuild. In the 2021 bubble season, when the Sens were still firmly one of the worst teams in the NHL, they picked up a habit of only ever winning when it was funny, or when it would break the morale of a team already on the verge of collapse. Fans embraced this identity, and started using a Sens version of the iconic "sicko" character that had first appeared in a comic on The Onion.
At the height of the "Sens Sicko" meme's popularity, Pierre Dorion decided to head down to the 100 level to watch a shootout from right up against the glass, and unintentionally recreated the iconic image.
Pierre Dorion is one of us pic.twitter.com/WNU5fYly4x

— ̶C̶a̶p̶i̶t̶a̶l̶ ̶G̶a̶i̶n̶s̶ ̶ (@Capital_Gains65) February 24, 2021
"I have two kids. If I could adopt a third one, it would be Tyler Kleven"
Who among us hasn't looked at a young prospect and thought "that's my son"?
That's Pierre Dorion in a nutshell. All the hyperbolic statements we post to social media while overcome with sports-related emotion, he straight up says in press conferences. Pierre, you could have just said he's a good hockey player. Why did you need to offer to adopt him?
Ottawa Senators GM Pierre Dorion: "I went and saw Tyler Kleven this year. I have two kids. If I could adopt a third one, it would be Tyler Kleven. That's how impressed I was with him."

— Brad Elliott Schlossman (@SchlossmanGF) March 5, 2023
Throwing the beer in the press box
Pierre is an emotional guy. When the team is losing, he really feels it. After one particularly bad loss, he was filmed launching a plastic cup half full of beer across the press box, thus expressing the feelings of many Sens fans. I'm sure this rage-filled moment will live on within the fanbase for years to come.
Pierre in Orleans
You'd be hard pressed to find an incident that better encapsulated Pierre's time in Ottawa than the time he called in to TSN 1200 to defend his team.
On November 13th, 2017, Ian Mendes and Shawn Simpson were merely doing their jobs as radio hosts, criticizing the team's play during that disastrous Sweden trip, when they got a call from someone named "Pierre in Orleans."
The rest is history.
"Get a new girlfriend"
Pierre Dorion was right about one thing: to fans, hockey trades can sometimes feel a bit like breakups.
The next time I find myself comforting someone after a bad breakup, I'll make sure to take a page out of Dorion's book and advise them to simply get a new girlfriend.
Capfriendly in the background
Signed through 2023-24! #GoSensGo pic.twitter.com/vLPiiPKoBU

— Ottawa Senators (@Senators) October 12, 2021
That one aged well.
Proudest day as GM
There's no right way to address the media after trading away a franchise player and fan favourite for a handful of loose change. But on February 25th, 2019, Pierre Dorion taught us all that there is a wrong way to do it.
Claiming the day of the Stone trade as his proudest day as GM was one of those quotes that was bad in the moment and only got worse over time.
"The rebuild is over"
What's sad about this quote is that it wasn't actually that egregious; it was just a case of Dorion getting a little too excited about his team.
In fall 2021, the Sens were entering another zone. They had enough talent in the organization that they were past the phase of trading away assets and collecting draft picks, and were ready to at least try to be good.
Unfortunately, Dorion looked pretty dumb when the team immediately plummeted to the bottom of the standings and missed the playoffs that season and the next. And this quote has followed him around ever since.
"They always say God rested on the 7th day. I think on the 8th day He created Erik Karlsson."
General Managers are supposed to like their players. If you ask any NHL GM what they think of their team's biggest star, they'll probably have nothing but good things to say. That's even more true if you ask the question while said player is dragging the team through a historic playoff run on one foot. But who else would stand in front of reporters and claim that God created that player on the eighth day?
It was his first really hyperbolic statement, and it remains the most true thing he's ever said.
We're a team
And finally, we arrive at THE Ottawa Senators quote.
If you haven't seen the video in a while, go ahead and re-watch it. The franchise is at just about its all-time lowest point. The team can't win, every player wants out, the fans are calling for the owner's head, and bizarre off-ice controversies keep popping up. Dorion joins the broadcast before a preseason game, and the host asks him for one thing he's optimistic about. The long silence in response says it all.
In the end, all he can come up with is "we're a team." Considering that this happened in the midst of multiple players wanting out, and not long before several players got caught berating the coaching staff in an uber, he couldn't possibly have intended this to mean that the players got along and worked well together. But his statement was true in one sense: the Ottawa Senators were at the time, and still are, undeniably, a hockey team. The only rallying cry we had left.
Did I miss any iconic Dorion moments? What were your favourites? Let us know in the comments!