Links, News, and Notes
Dorion Speaks, Playoff Primer & More
Pierre Dorion had his year end press conference, the playoffs are about to get underway & more!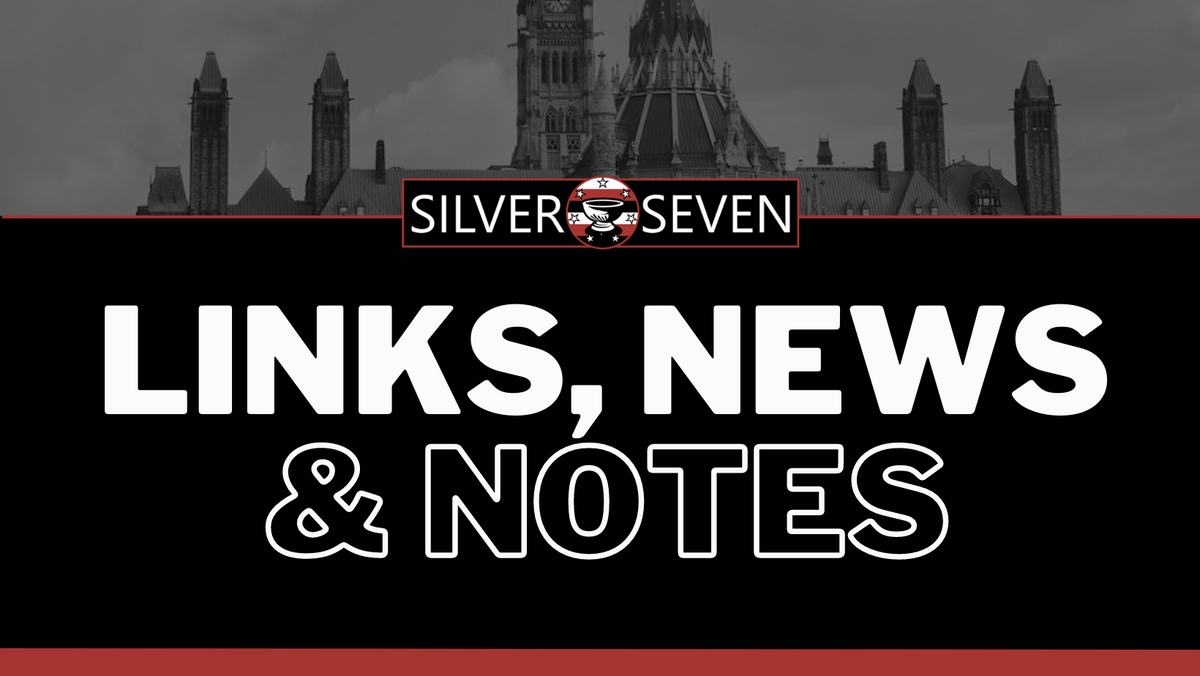 Welcome to the first Links, News & Notes of the postseason! This year, we're doing things a bit differently here at Silver Seven. In previous seasons, we've had daily open threads and updates on the playoffs. This year, we'll be putting together two per week, included in the Links, News & Notes every Thursday as we're hard at work on more Sens content for you heading into the offseason.
Ottawa Senators General Manager Pierre Dorion spoke to the media this morning, addressing the recently wrapped up season, how he's approaching the offseason and what might be in store for the next few months. I've compiled the quick hits for you below.
Dorion Speaks
Following a year in which Dorion stated the rebuild was over and promised meaningful games down the stretch, the Sens GM spoke to the media and then went on TSN1200 this morning. Here are the highlights:
Overall, happy with the season and the progress the team has made. Specifically cited the progress and development the players made and that the goal to play meaningful games down the stretch was accomplished.
On the culture of the team, Dorion believes the dressing room is a big part of building "one of the best cultures in the NHL".
Dorion was "happy with all but 7 or 8 games out of 82".
When asked how confident he is that he'll be here next year: Doesn't believe the team has a bad contract on the roster [anymore], feels like he's done a good job and is ready to continue if the new owners will have him.
Hinted at prioritizing the signing of a "young star prospect" (presumably Jake Sanderson) long term this summer.
On DJ Smith: Dorion felt DJ Smith has done what's asked of him in developing young players. This year, it was about winning more and they won more. This was the first time they were in the playoff race until the end. He was told that Brady Tkachuk and Tim Stützle think the world of DJ Smith.
On Alex DeBrincat: we know he'll be back for one year, had a really productive exit meeting. They talked to his camp during the season, they wanted to see how the season would go and Dorion said DeBrincat's camp was happy with the season. "If he wants to stay, we'll get a contract done." During his exit interview, DeBrincat said he would let the team know what his intentions were by the NHL draft.
On the exit meetings: the tone was totally different this year. The players know we're ready to take the next level. Last year, Brady Tkachuk and Thomas Chabot gave Dorion boxes to check and he feels they did that. Dorion indicated "it's up to them now. They know what the goal is, they know where they want to go, they know their growth. They know they can achieve that."
Cam Talbot will not be back next year. He was offered a one year deal in January, Talbot wanted a two year deal and they weren't able to come to terms on that. Dorion spoke highly of Talbot's leadership, citing some mentorship he saw from Talbot when it came to the young goalies coming in.
Dorion and Smith talked about Anton Forsberg's offseason training, coming in earlier as he's had a history of starting slow.
Mads Søgaard is one of the options to join Forsberg in the crease yet, he believes Leevi Meriläinen isn't ready. From the time Ottawa lost both of their goalies, Søgaard had to come in. They were forced to put him into a situation they weren't sure he was ready for. He went from NHL rookie of the month to having a pretty tough month after that.
Spoke with Derick Brassard, he's left the door open for him to come back next year on a PTO to see if he can play. That injury he sustained was significant enough that Dorion isn't willing to give Brassard a contract out-right. He'll have to earn his spot again.
Not closing the door on Austin Watson on a one year deal, although Watson is looking for more term.
Travis Hamonic is being offered a one year contract.
When asked about Alex Formenton, Dorion couldn't provide a comment as there's an NHL investigation ongoing.
Every call-up for Jacob Bernard-Docker, he got better. He wouldn't have gone back to Belleville if Ottawa was still in the playoff race - and if Belleville was out of the playoff race. Believes Lassi Thomson is the most talent defenseman in the prospect system, but needs to find more consistency.
On how he feels about missing the playoffs six straight years and keeping his job: Dorion is confident that he's done the job that was ask of him to tear down and rebuild a team. He believes the Sens are in a really good spot now. Through this rebuild, he never wanted to make a short cut. When he acquired certain players over the years, it was just as much about culture and letting the kids develop through patchwork moves as it was about bringing in good players. He specifically cited Brayden Coburn as a player who came in almost purely because of his intangible leadership skills.
Dorion is very happy with how the blueline looks now. He feels there's a greater need at the bottom six position up front now. When you build a team, you "can't have 12 Wayne Gretzky's as your top forwards". Ottawa's top six, when healthy, is great. At the same time, you need to have a bottom three/six that can check well, match up with top lines. Sometimes you need a shut down line, he has to focus on how you build that.
Outside of the top line of Brady Tkachuk, Tim Stützle and Claude Giroux, he felt Jake Sanderson, Erik Brännström, Travis Hamonic and Shane Pinto all exceed expectations this year. Feels Stützle will be a top 5 or 10 player in the league.
Next, let's take a look at our Playoff Primer as the 2023 Stanley Cup Playoffs kick off tonight.
Playoff Primer
The 2022-23 NHL Playoffs are here! In regular NHL fashion, we'll kick off four series tonight, with the other four starting tomorrow.
Carolina Hurricanes vs. New York Islanders
Monday, April 17 @ 7pm EST
The Hurricanes and Islanders will officially be the first two teams to drop the puck for playoff hockey this year. With a 20 point gap between the two clubs, the Hurricanes are the clear favourite to move onto the second round in this matchup.
Keep an eye on: the goaltending battle. While Carolina has a strong tandem in net, Ilya Sorokin is capable of stealing games. Can he steal a series?
Boston Bruins. vs. Florida Panthers
Monday, April 17 @ 7:30PM EST
There is no series with more lopsided expectations than the Bruins vs. Panthers. In one corner, you have a team that's seemingly unbeatable. They finished the season with just 17 total losses, 12 of which came in regulation. Whichever team ends up knocking off the Bruins is going to have to do something that no team has done all season long: make the Bruins lose four times in seven games.
Keep an eye on: Alex Lyon. It feels like the only way the Bruins don't move into the second round is if they get goalie'd. Lyon finished the season with a 0.914 SV% but finished the season very strong, posting a 0.928 SV% in his final 8 appearances.
Minnesota Wild vs. Dallas Stars
Monday, April 17 @ 9:30PM EST
Out in the west, the Wild and Stars kick things off tonight. This second vs. third seed battle will be a hot one, with Dallas finishing just five points ahead of Minnesota.
Keep an eye on: Jason Robertson. The young gun follow up last year's point per game coming out party with 109 points in 82 games. If the Stars are going to beat up on a defensive team like the wild, their elite sniper will have to be on his game.
Edmonton Oilers vs. LA Kings
Monday, April 17 @ 10:00PM EST
After many, many years it feels like Connor McDavid and the Edmonton Oilers have a real shot at going all the way. In their way to kick things off are the LA Kings, who finished just five points behind the Oilers.
Keep an eye on: LA's defense. The Kings have a strong group on the back end but the Oilers have three players who cracked 100 points this season. Can the Kings stifle all of Connor McDavid, Leon Draisaitl and Ryan Nugent-Hopkins?
New York Rangers vs. New Jersey Devils
Tuesday, April 18 @ 7:00PM EST
A long standing geographic rivalry takes centre stage on Tuesday with one of the most consistent teams in the East taking on the biggest trade deadline buyers.
Keep an eye on: Igor Shesterkin. While the New York Rangers had a great season, finishing with 107 points, their difference maker in a seven game series has to be Igor Shesterkin. The Rangers have the ability to fill the Devil's net, but the Devil's can do the same.
Tampa Bay Lightning vs. Toronto Maple Leafs
Tuesday, April 18 @ 7:30PM EST
Here we go. The Toronto Maple Leafs will be looking to break their streak of first round exits against the Tampa Bay Lightning. As much as we hate to admit it, this year might be the year. The Lightning were looking rocky at the end of the season. You can't ever count Andrei Vasilevskiy out, but it's going to be an uphill battle for Tampa.
Keep an eye on: Toronto's blueline. We all know the Leafs have the firepower to win a series and Ilya Samsonov has been solid in net. Can Toronto's blueline limit Brayden Point, Steven Stamkos and Nikita Kucherov to low danger chances?
Winnipeg Jets vs. Vegas Golden Knights
Tuesday, April 18 @ 9:30PM EST
There was a time when nobody was certain that we'd see playoff hockey in Winnipeg this year. While they had a concerning stretch of hockey, they pulled through on the back of Connor Hellebuyck and punched their ticket to the big dance against the Golden Knights.
Keep an eye on: Vegas' offensive production. In one end, Connor Hellebuyck has been one of the NHL's top goaltenders all season long. For Vegas, they didn't really have a big producer this year. While Mark Stone was sidelined for much of the year, not a single Golden Knight hit the point per game mark. They'll need to continue to score by committee if they want to solve Hellebuyck.
Seattle Kraken vs. Colorado Avalanche
Tuesday, April 18 @ 10:00PM EST
The Seattle Kraken's inaugural playoff appearance will see the NHL's newest team take on the defending Stanley Cup Champions. While that should be scary, the Avalanche have certainly showed this year they are beatable. Yes, they finished first in their division, but the Kraken cracked 100 points, too.
Keep an eye on: Mikko Rantanen. Just when you think this player has hit his peak, he outdoes himself again. Rantanen's 105 points led the Avalanche this year and you can expect he'll be a big factor in this series.
Links, News & Notes
The Women's World Championship wrapped up yesterday with Team USA defeating Team Canada 6-3 to claim gold. In the bronze medal game, Czechia successfully defended their bronze medal from last year's tournament, defeating Switzerland 3-2.
Former Sens reporter Hailey Salvian recapped her experience at the Women's Worlds for The Athletic.
GM Pierre Dorion spoke on the radio about the Belleville Senators, outlining how he felt about the season.
If you didn't catch it yesterday, Silver Seven's very own Ary dove into what the term "player's coach" really means as the conversation surrounding who should be behind the bench in Ottawa heats up.
As has been the case for many years now, there are a ton of questions surrounding the Ottawa Senators this offseason. The great Ian Mendes has put together what he believes to be the top ten questions in his latest for The Athletic. This includes thoughts on new ownership, Pierre Dorion, Alex DeBrincat and more.
Travis Yost says we should keep an eye on the Avalanche this year, as the Kraken have a strong case to put them on upset watch.
Murray Pam penned some thoughts on the Sens goalie situation, outlining how things look now and pondering what Ottawa might get themselves into with the goaltending market this summer.