Pierre Dorion, Joonas Korpisalo, and the Long Game
Okay hear me out: what if this wasn't an impulse signing?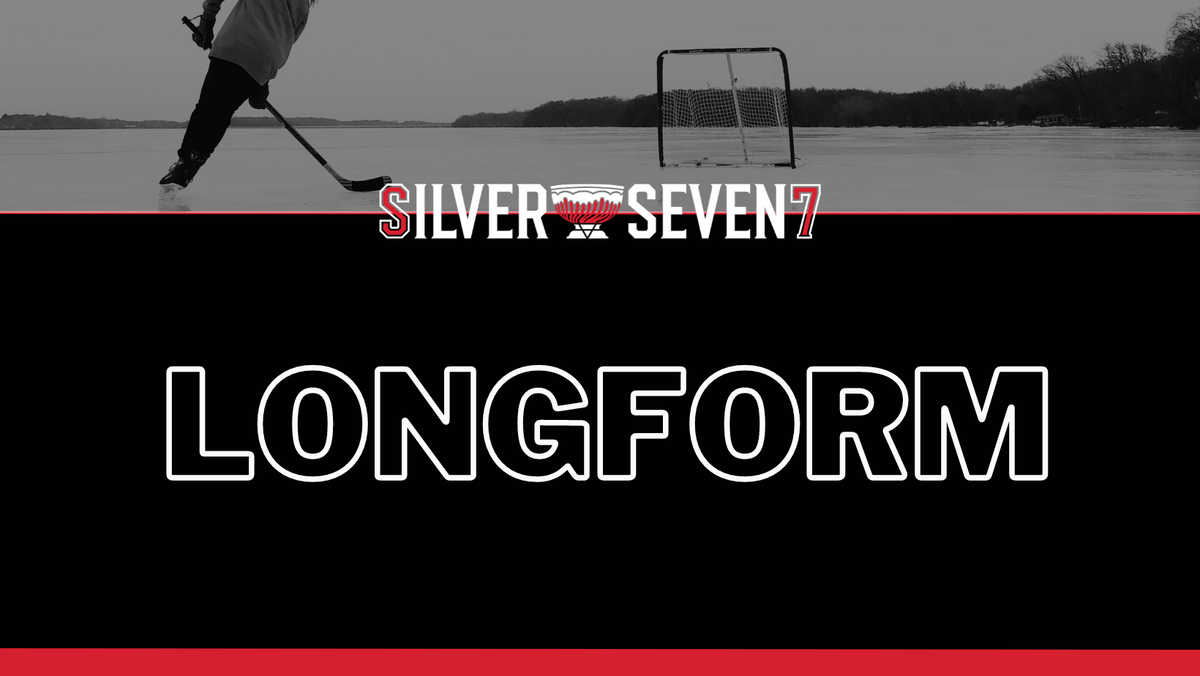 To quote one of the finer and more sophisticated dramas of my time, "To understand what happened to Killer, you gotta understand who Killer the dog was." Context matters, people, and whether you want to talk about fictional dogs or NHL goalies, you've gotta unpack that backstory a little bit. When GM Pierre Dorion recently signed Joonas Korpisalo to a, in all fairness, not insignificant (for a future cap team) contract, some fans immediately worried that GMPD had just imbibed a big ol' swig of recency bias. Korpisalo put up a 92+ save percentage down the stretch with the Kings and maybe, just maybe, that skewed Dorion's judgement on the matter. For the record, I cannot outright refute that argument. I don't know Pierre or what goes on in his head. I do, however, have a longstanding fascination with Pierre and his brain so I wanted to at least take a crack at understanding his possible reasoning for signing Korpisalo to such a significant contract and thus staking his reputation once again on a very dubious gamble.
I also have a history as an Anton Forsberg apologist and I can absolutely guarantee that today's article has everything to do with my previous thoughts on Forsberg. You see, Pierre and I have something in common, namely we're both prospect nerds. We both suffer from this incurable ailment that has on occasionally led our GM to say and do some regrettable things. Even after all these years as the GM of the Senators, Dorion still has that inner scout inside him screaming its opinions. Bear in mind that PD served for almost a decade in Ottawa's scouting department before becoming The Dude. And while I can appreciate that a GM needs a lot more than just a background in scouting to succeed in the NHL, I think Dorion's inner scout and its incessant cries make for some interesting banter, and that means I get to write pieces like this one.
So with all that preamble in mind, and knowing that NHL scouts start assembling dossiers on players in their teens, it stands to reason that Dorion could have folders on the likes of Forsberg and Korpisalo dating back over a decade. In my estimation, Dorion watched both netminders for the better part of the decade before acquiring either/both of them. MLB teams will develop players basically from childhood before they eventually sign them as international free agents (whether legitimately or not). The signings we see as fans represent the tip of a proverbial iceberg in the grand scheme of scouting and development. To me it stands to reason that Pierre Dorion, then in the thick of his scouting days with the Senators, would have started scouting Korpisalo at the latest in 2013 when Korpisalo started for Finland's World Junior team (who did not make it past the preliminary round). For anyone wondering, Forsberg served as backup to Johan Gustafsson for Sweden's 2012 gold medal team.
By age 20, Korpisalo had become a solid professional goaltender in Finland's top league (from the same Lynx team from whence came Lassi Thomson and Roby Järventie) putting up a save percentage of 91.9 over 38 games in 2014-15. The year prior, Forsberg had put up a 92 save percentage over 22 games in Sweden's top league. Among 21-year-old goaltenders in the SHL over the past decade, that season for Forsberg ranks in the top-five. Korpisalo's age 20 Liiga season bears a remarkable resemblance to the one we just saw from Leevi Meriläinen with the former boasting a 91.9% in 38 games and the latter sporting a 91.8% in 42 games. Both rank in the top-ten among age-20 seasons over the past decade with names like Ville Husso, Alexandar Georgiyev, and Kaapo Kähkönen just ahead of them. So yeah, I would consider both Forsberg and Korpisalo known commodities when they played their junior hockey and European professional hockey, and NHL scouts would have had both on their radars so to speak.
Now let's talk about the AHL where, to me, things get interesting. Now you may have heard about the volatility of AHL hockey and how some goalies struggle playing in such a chaotic league (probably especially when coming over from Europe). But Columbus had an bananas tandem in there for a minute: In 2014-15, rookie Forsberg had a 92.7 save percentage in 30 games for a not very good Springfield team (top-five among 22-year-olds in the past decade). In 2015-16 as Columbus' affiliate relocated to Cleveland, Forsberg regressed to a 91.4 (but had a bonkers 94.9 in ten playoff games) while his new back-up, Korpisalo had a solid 91.3 in 18 games as a rookie. Other goalies with similar AHL results to Korpisalo at the same age include Adin Hill, Chris Driedger, and Akira Schmid (some hits and some misses!).
As both goalies made the last big jump to the NHL, things got somewhat unpredictable as Forsberg's career (steady up until this point) kind of went sideways on a well-documented odyssey until he found his game again in Ottawa. Korpisalo meanwhile had a remarkable NHL debut with a save percentage of 92 through 31 games at age-21 putting him in the company of Robin Lehner, Matt Murray, and Juuse Saros (nothing at all cursed about that list!). On a serious note, that performance outranks the age-21 seasons of Carter Hart, John Gibson, and Andrei Vasilevsky. Korpisalo, like Forsberg, embarked on a bit of an odyssey after that with one randomly strong season (both regular and post-) in 2019-20. Keep in mind both goaltenders played in Columbus. We can all laugh about it now that Columbus eventually exposed William Karlsson in the 2017 expansion draft but for a moment there it looked like the Blue Jackets would certainly lose one of Korpisalo or Forsberg that summer if not based solely on their NHL numbers but rather the impressive resumes they had put together internationally and in the AHL, and with the knowledge that both had years of NHL hockey in front of them.
Now at this point I run the risk of reiterating what Ross has already talked about in terms of Korpisalo's NHL performance to date and his future in the NHL. A lot of other folks have also written about Korpisalo's career arc and how they expect Pierre Dorion's big signing to mature in the coming years. I hadn't seen a lot of mention of Korpisalo's pre-NHL experience though and I hope I successfully shed some light on that today. We know about the volatility of goaltending stats and for young goalies in the NHL who only play half or even a quarter of their team's games, the numbers get even less reliable. We have lot more data at our disposal and I tend to subscribe to the mindset that players who find success at the highest level don't actually come from out of nowhere. With a little extra digging you can find indicators leading to those hidden gems. For years, the nerds said the second coming of Jonathan Marchessault would arrive in the form of Jared McCann and here we are.
Maybe Dorion totally swung and missed with Korpisalo. Maybe Korpisalo fails to repeat the success he had this past season and this contract turns into a nightmare for the Sens. But I wouldn't dismiss this signing as purely recency bias or anything like that. Let's give scout Dorion a bit of credit here. Even if he doesn't have a GM of the year type of summer like he did in 2022, I respect PD's style and as I've said before, his weirdness just intrigues me for whatever reason. While some GMs play checkers (recent NHL performance) dudes like Dorion play chess (building a time machine to draft Forsberg instead of Jordan Fransoo in 2011). Who knows, maybe Dorion had Korpisalo on his board ahead of Driedger in 2012. We'll never know! But I hope I shed a bit of light into some forgotten corners. Because, for the Sens, historically that's where they've found some of their best players.
As always, thanks to the websites who make all of my articles possible:
Not everyone can afford to pay for sports coverage right now, and that is why we will keep as much of the site's content free for as long as we can.
But if you are able to, please consider subscribing to help keep our articles free (and get a few extra perks).
Erik Condra
Ability to comment and participate in our community
Twice monthly newsletter available only to subscribers
Ad-free reading
Our undying love and appreciation
Brady Tkachuk
Everything from the Erik Condra tier
10% discount on all merch
Access to any future paywalled content
A personal thank-you from the Silver Seven staff
Daniel Alfredsson
Everything from the Brady Tkachuk tier
Inner peace knowing you are supporting quality, independent coverage of your favourite sports team