Ottawa Senators Top 25 Under 25, #9: Tyler Kleven
Am I excited about Tyler Kleven? Yes, yes I am. Alternate title: "Whoops! Our bad!"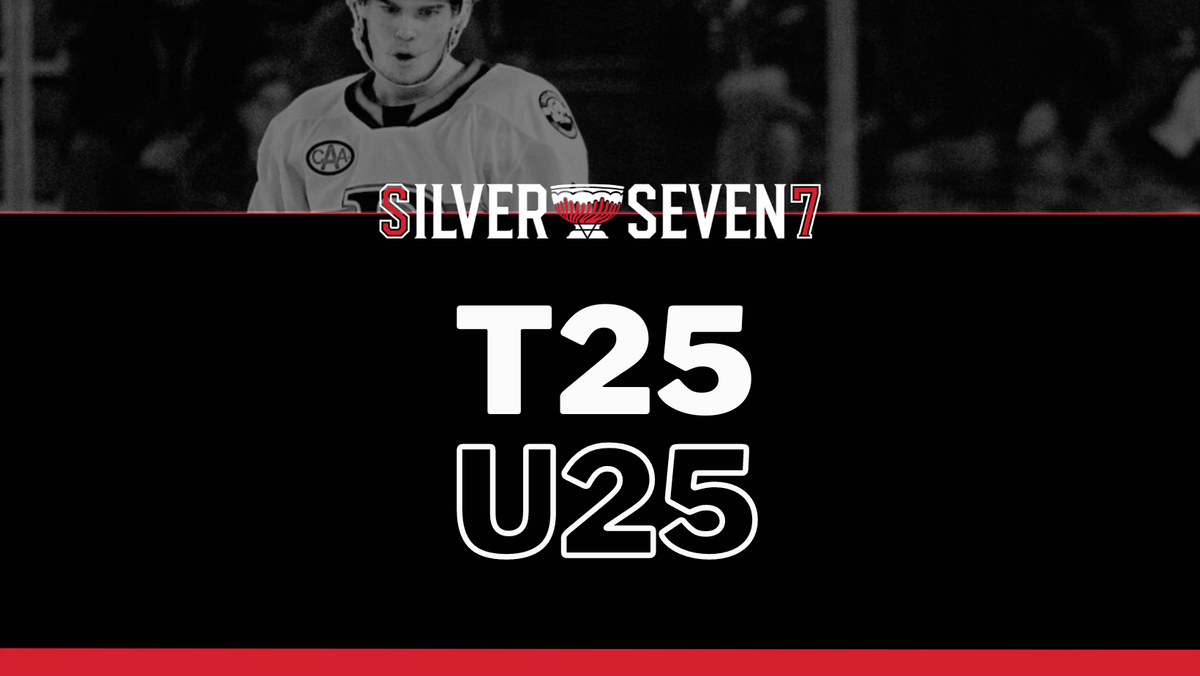 #19: Tyler Kleven (Reader Ranking: 9 Last Year: N/A)
So, Tyler Kleven definitely reads Silver Seven, yeah? Maybe he saw that we left him off this list for three years in a row and he took it personally?
Kleven's tremendous leap into the Top-10 is likely exaggerated by our past rankings putting too much stock in his counting stats, combined with a lack of visibility into the less prominent elements of his game.
This is where I should say up front that I'm an unabashed Kleven supporter, and have been for a while. This article is partly my chance to do some unrestrained cheerleading. The "K-Train", which passes through around 20 years after the "A-Train", is finally get his time to shine after being overlooked for some time. It started in the 2020 NHL Draft, in which the Sens traded picks #59 and #64 to the Toronto Maple Leafs for pick #44, used to draft the left-shot defender from Fargo, North Dakota.
The Leafs used their picks on centre Roni Hirvonen and right-shot defenseman Topi Niemela, and the move was panned in some corners: trading two picks to move up and take a lumberer like Kleven? That didn't seem like an efficient allocation of resources!
Now, the jury's still out on whether Kleven will be a better player than either of Toronto's, but this is by no means the fleecing some made it out to be. I'd argue it never was because, for a 6'4 200-pound behemoth, Kleven goes largely unnoticed.
Everyone sees the thunderous body checks. He loves playing matchmaker, setting up numerous intimate relationships between opposing forwards and the ice surface.
And that cannon of a slapshot, which will, without fail, break ties, twine, glass, someone's glove hand, or all of the above.
He garners a lot of attention because of what he does, but it's what he doesn't do – make egregious mistakes – that puts him higher on my list.
We fondly remember Dylan DeMelo's short time with the Senators, yet we can't remember a single notable thing he did outside of directing Barbie and Oppenheimer back-to-back. That's because generally speaking, the mark of a truly great defenseman tends to go unnoticed.
Good body and stick positioning, breakout passes in favour of icings, retrieving pucks a second faster, throwing a hit to kill an opposing attack instead of enabling one. We see a couple of those every game, and miss dozens more. Those qualities are what separate Cale Makar from Tyson Barrie. Or in this case, Tyler Kleven from Ben Roger, Ben Harpur, Ben Englund, Ben Gudbranson, Ben Brown, good lord, how many Bens have there been???
It's true that a player's size is commonly over-valued. It's also true that there can be a tendency to under-value a player's puck skills if they don't pop off the TV screen. Efficiency beats style every time. Kleven isn't some sort of puck-moving maestro, but the obvious draws of his game can distract from the fact that he does most of the fundamental things well enough to translate to the NHL. Here he is executing a successful zone exit before dumping the puck in.
Over the years, he's learned to incorporate a bit of offensive flair into his game. Even as early as his rookie season with UND – his first career goal was an absolute beauty:
The Athletic's Scott Wheeler included Kleven in a recent article highlighting prospects who have risen above or fallen below his original projection. Kleven is now the fourth Senator drafted in 2020 to fall into the former category.
In the article, Wheeler cites a significant all-around improvement in Kleven's game – softer hands with the puck, sharper pivots, and better decision-making while controlling the puck. The concern about Kleven's discipline remains, but there's some reason to believe many of his PIMs would not translate to the NHL, which is much more forgiving of Kleven's physical play.
This past season, he racked up 8 goals and 18 points in 35 games as a college junior. He's played in three different World Junior tournaments for Team USA, including two games for the 2021 gold-winning squad. I'd be willing to bet they called him right after seeing that goal, considering he was named as a last-minute injury replacement following that game.
Kleven skated in his first NHL game on March 30th against the Philadelphia Flyers, and two days later took part in a game alongside fellow UND alumni Jake Sanderson, Shane Pinto, and Jacob Bernard-Docker.
His first NHL shift featured a positional error which resulted in a quality scoring chance against. From there on, he was rock solid, making use of his skating and range to cover for any smaller mistakes he did make.
In the eight games he played for the Sens, he posted two assists, a team-leading 5-on-5 Corsi For % of 62.77, and a team-leading 5-on-5 xGoals For % of 61.38 (per NaturalStatTrick). Those are strong numbers that will naturally regress with a larger sample size, but Kleven definitely looked the part of an NHL player during those eight games. And it gets better – the Senators can absolutely afford to be patient with him.
Due to there being six players on one-way deals along with Jake Sanderson, it's unlikely that Kleven starts in the NHL. Even then, while playing in Belleville for a year wouldn't hurt, there's a chance he's ready for a third-pairing role right now. If an injury occurs, or if Jacob Bernard-Docker doesn't take the step forward the organization is hoping for, I'm confident Kleven can step in, with Erik Brannstrom moving to the right side, on which he saw success in a small sample beside Jakob Chychrun last season.
Back to my hype train: opposing forwards are going to be skating through the neutral zone weighing the pros and cons of approaching the K-Train crossing. Sure, you could end up slipping past him and home free, or you could end up paying for a gymnastics lesson with your bone structure. And before you decide whether or not to flip that coin, Tim Stützle's taken the puck from you on the backcheck and started an odd-man rush the other way.
Coaches are going to have to plan around Tyler Kleven. Going to have to change up the tactics a bit. Because what else are you going to do? Carry the puck down the right side as planned? Right through the tracks? Don't let the fact that we're in Ottawa fool you. The "K-Train" isn't breaking down anytime soon.
Not everyone can afford to pay for sports coverage right now, and that is why we will keep as much of the site's content free for as long as we can.
But if you are able to, please consider subscribing to help keep our articles free (and get a few extra perks).
Erik Condra
Ability to comment and participate in our community
Twice monthly newsletter available only to subscribers
Ad-free reading
Our undying love and appreciation
Brady Tkachuk
Everything from the Erik Condra tier
10% discount on all merch
Access to any future paywalled content
A personal thank-you from the Silver Seven staff
Daniel Alfredsson
Everything from the Brady Tkachuk tier
Inner peace knowing you are supporting quality, independent coverage of your favourite sports team