Ottawa Senators Top 25 Under 25, #7: Ridly Greig
The 21-year-old is on the verge of being a full-time NHLer, but what will his role be?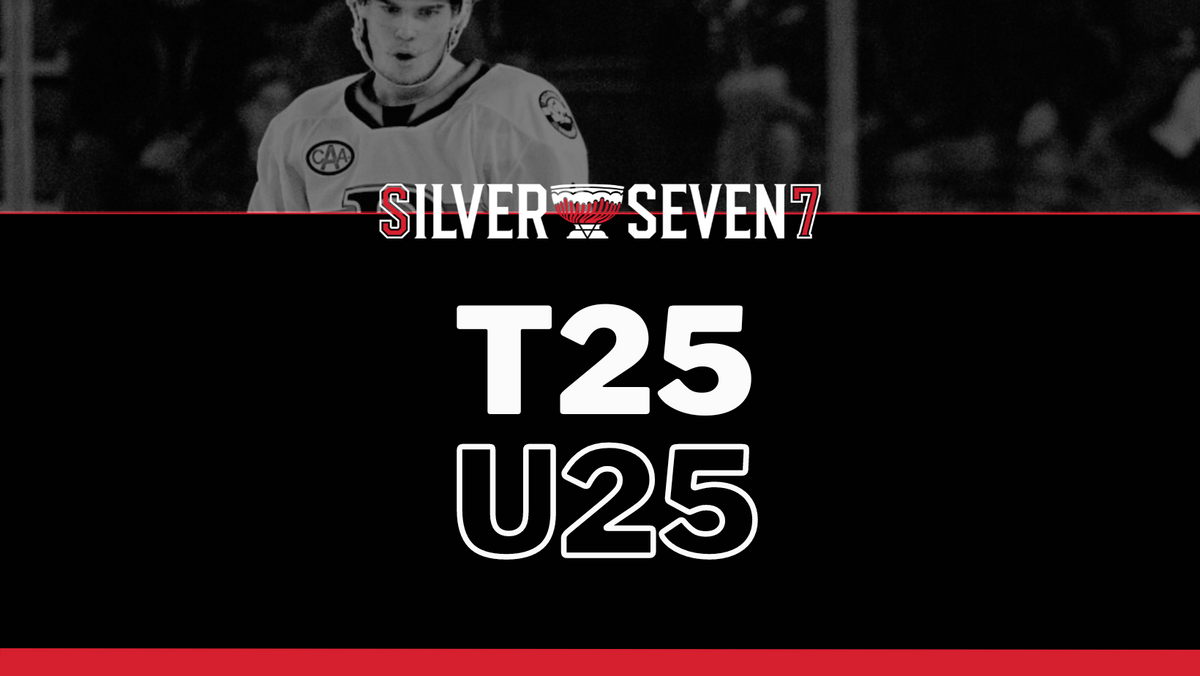 Welcome back to the 2023 edition of our Top 25 Under 25 feature. You can check out the full list so far here.
#7: Ridly Greig (Reader Ranking: 6, Last Year: 10)
The centre/left winger Ridly Greig was taken 28th overall in the 2020 draft, a draft that is already shaping up to be the best in franchise history for the Ottawa Senators. Greig won't be the best pick for Ottawa in 2020, but I feel like you can already confidently say that he is an NHL player in some form or another. He rose three spots in our rankings as compared to last year, and it's clear that fans can see his future value to this team.
Greig had a solid draft+1 year in a strange COVID-19 2020-21 season with 32 points in 21 games for the Brandon Wheat Kings of the WHL, but he then followed it up with an explosive 63 points in 39 games for his final season of junior hockey. Coming into last season, there was a belief that he had some untapped offensive potential. I wouldn't say he blew the doors off playing for Belleville last season, but 29 points in 39 games as a 20-year-old is quite productive. That's on pace for 61 points in a full season, underlining his potential to be a top-6 forward in the NHL.
Greig had some early success at the NHL level, as he had an assist and a whopping eight shots in his debut, and subsequently three assists through five games. He was not quite as visible after his first several games, although he still ended up with 9 points in 20 games, which I think was a good introduction to the league. He was lucky enough to spend the most time with Claude Giroux and Alex DeBrincat, more than three times as much as his next most common linemate, Derick Brassard.
That was a bit of a soft landing in the NHL for Greig, and perhaps that's why he had good results while being on the ice for 12 GF and 10 GA, with a 53.79 CF%, 59.03 xGF%, and 3.8 GAR (11th on the team as a cumulative stat). It doesn't hurt to play with two elite talents, and I wouldn't be calling Greig the leader of a line just yet. At the same time, not everyone can be successful in that role, and he looked more than capable regardless of who he was playing with. Even if he were to begin next season playing with Shane Pinto and Mathieu Joseph or Dominik Kubalik, those are still good players who would be able to help show that Greig belongs in the NHL.
For a player who is more typically known for the edge that he plays with, Greig has some underrated skill that gets showcased every so often. This goal from two seasons ago in pre-season is an excellent example of what he's capable of, and it gives me hope that perhaps instead of a 30-40 point third liner, he can be more of a 40-60 point second liner:
If there's one thing that concerns me with Greig, it's his discipline. It's certainly great to have players that play with an edge, and Ottawa has plenty of them. Greig will be an asset in that regard, but he also needs to know when to rein it in. He had 46 PIMs in 39 AHL games, which would be 97 in a full season. That would've ranked 13th in the NHL, and the Senators don't need another guy who is going to be an important offensive producer and also in the box all the time. You could say the same thing about Brady Tkachuk, but I think he's somewhat of an exception, plus I think even he could rein it in at times. Greig also has a history of suspensions, and if you're going to be successful, you can't be that unpredictable.
The good news is that he "only" registered 12 PIMs in 20 NHL games, which were all minor penalties, so perhaps he'll be able to be smarter about when to pick his spots. That doesn't mean I hope he doesn't play with an edge, because that's gotten him to where he is today. The reality is that he'll probably be a high penalty taker, but I think he can also be quite a productive top-9 and potentially even top-6 winger.
After Greig, there aren't too many blue chip offensive prospects left in the Sens' system; Ottawa is really counting on Greig to take a big step forward this year so that he can be another piece of the core. I'd love to see him start the year in Ottawa, although we've seen the team take their time with prospects before, so I wouldn't say he's a lock despite the fact that I'm confident he's already one of their best nine forwards -- whether that's at left wing or centre. I hope we get to see lots of him this year, and Ridly Greig in the playoffs could be incredibly fun. For Greig, it's no longer a question of NHL potential, it's carving out a meaningful role.
Not everyone can afford to pay for sports coverage right now, and that is why we will keep as much of the site's content free for as long as we can.
But if you are able to, please consider subscribing to help keep our articles free (and get a few extra perks).
Erik Condra
Ability to comment and participate in our community
Twice monthly newsletter available only to subscribers
Ad-free reading
Our undying love and appreciation
Brady Tkachuk
Everything from the Erik Condra tier
10% discount on all merch
Access to any future paywalled content
A personal thank-you from the Silver Seven staff
Daniel Alfredsson
Everything from the Brady Tkachuk tier
Inner peace knowing you are supporting quality, independent coverage of your favourite sports team