Ottawa Senators Top 25 Under 25, #20: Kevin Mandolese
Our first goaltender of the 2023 series comes in at #20.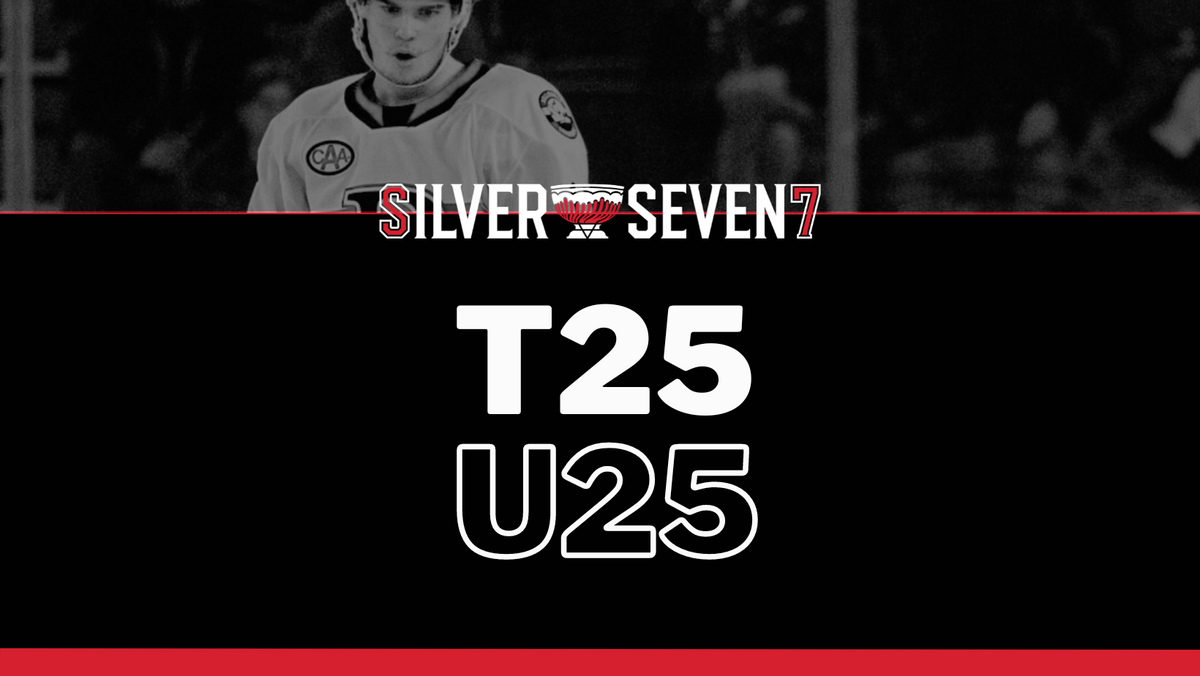 Welcome back to the 2023 edition of our Top 25 Under 25 feature. You can check out the full list so far here.
Today, we go between the pipes for the first time:
#20: Kevin Mandolese (Reader Rank: 21 , Last Year: 23)
With Kevin Mandolese, it feels like everybody is on the same page. He's, unsurprisingly, the first goalie who qualifies for this ranking to appear, and both the staff and readers agree that he's not in the top half of the organization's pipeline.
Moving up three spots from last year's series, Mandolese is coming off a year that saw him wear three different jerseys. He suited up for the big club for a trio of games, while seeing 17 starts in Belleville, and 15 starts for the Allen Americans of the ECHL between regular and postseason action. The good news is, all things considered, Mandolese had some strong showings this year. The 22 year-old sported a 0.916 SV% in the NHL, 0.927 in the ECHL regular season and 0.914 in the ECHL playoffs. The curious piece - and what I'd assume was the reason for many writers and readers ranking Mandolese where we did - was the massive drop in performance in the AHL. After all, Mandolese is supposed to be an AHL goaltender. The porridge was supposed to be too hot in the NHL and too cold in the ECHL.
So why wasn't the AHL just right?
The answer has to do with consistency and "consistent" is about the last way I'd describe Belleville's 2022-23 campaign. These clubs serve as a feeder for the NHL, so you can complain about consistency at this level in just about every organization across the league. Injuries, trades and more make it difficult for teams like Belleville to have a consistent lineup. Belleville was different because of just how intensely the lack of consistency impacted the goaltenders specifically. There were ten (10!) who suited up for the BSens last year.
That's a lot, even by AHL standards.
Mandolese, due to recalls, injury, and more, saw five starts in October, and one each in November and December. That's seven starts across Belleville's 31 games in that timeframe. He experienced an injury and had a tough timing bouncing back. It shouldn't surprise you to learn that when he was back to full health and seeing slightly more consistent starts in January and beyond, that his numbers improved.  Mandolese posted a 0.838 SV% through seven starts during the 2022 portion of the year, but this increased to a 0.908 SV% in ten AHL starts when the calendar year changed.
2023 was also the half of the season where Mandolese got to make his first NHL start and boy was it an awesome night. In case you've forgotten how that went:
When the Sens absolutely needed strong goaltending, with injuries throughout the organization, Mandolese got the call and answered like an absolute stud, giving Ottawa a big February win with 46 saves. Not too bad, Mando.
Needless to say, Mandolese should be focusing on 2023 and forgetting about 2022 when mentally preparing for the upcoming year. As someone who's watched almost every professional start he's had, I believe 2023 Mando is much closer to the real Mando.
Where Mandolese finds his success is twofold: One, he's got a big frame -- measuring in at 6'4". This allows him, like many other goalies of his size, to cover a bulk of the bottom of the net. With that piece of the puzzle on lock, you can focus on positioning and being able to predict where, likely in the top of the net, the shooter is aiming. The physical tools are appealing enough, in fact, to keep him around despite the aforementioned struggles.
Where Mandolese still needs work starts with his lateral mobility. His reflexes are excellent, but his ability to get to the next level hinges on his ability to improve his post-to-post play. With his size, he already covers plenty of the net, but in the NHL that doesn't buy you too much. An NHL forward featured on any line will find a way to beat you if you can't move from side-to-side efficiently. On top of his mobility issues, I'd add rebound control to his list of areas for improvement. While we've definitely seen improvement here from Mandolese, one of the reasons he's moved behind Søgaard on the depth chart is that when the Great Dane™ makes a save, it's less likely that the opposition is going to get another crack at it. Søgaard swallows or redirects pucks to places intelligently. If Mandolese can focus on this, he might put together a tidy career as a backup in the NHL.
Every Sens fan is hoping that we are witness to a dramatica reversal in the health status of goaltenders throughout the organization. I won't point out that it couldn't really get worse than last year because that's inviting some bad vibes into the locker room, but what I will say is that Mandolese is likely to find more stability and consistency in where he'll be playing this season. The unfortunate part is that Mandolese is likely to be at the ECHL level to start the year. With Mads Søgaard dubbed the (current) goaltender of the future and Leevi Meriläinen's professional success in Finland, it feels likely that Mandolese will end up with the Allen Americans. I see a route where the Sens respect Mandolese's seniority within the organization and send Meriläinen to the Americans, but I don't envision a world where Meriläinen plays poorly enough to slot behind Mandolese on the depth chart early on.
At just 22 years old, it's easy to see why the Sens brought Mandolese back on a one year deal. He has the size and reflexes to be an NHL goaltender. If he can take that next step with his lateral mobility and rebound control, there could be a diamond somewhere in here. Are the Sens on the road to building real depth at the goalie position? A strong year from Mandolese would go some way towards that goal.
Not everyone can afford to pay for sports coverage right now, and that is why we will keep as much of the site's content free for as long as we can.
But if you are able to, please consider subscribing to help keep our articles free (and get a few extra perks).
Erik Condra
Ability to comment and participate in our community
Twice monthly newsletter available only to subscribers
Ad-free reading
Our undying love and appreciation
Brady Tkachuk
Everything from the Erik Condra tier
10% discount on all merch
Access to any future paywalled content
A personal thank-you from the Silver Seven staff
Daniel Alfredsson
Everything from the Brady Tkachuk tier
Inner peace knowing you are supporting quality, independent coverage of your favourite sports team