Ottawa Senators Top 25 Under 25, #11: Jacob Bernard-Docker
JBD rises but can't quite crack the top 10.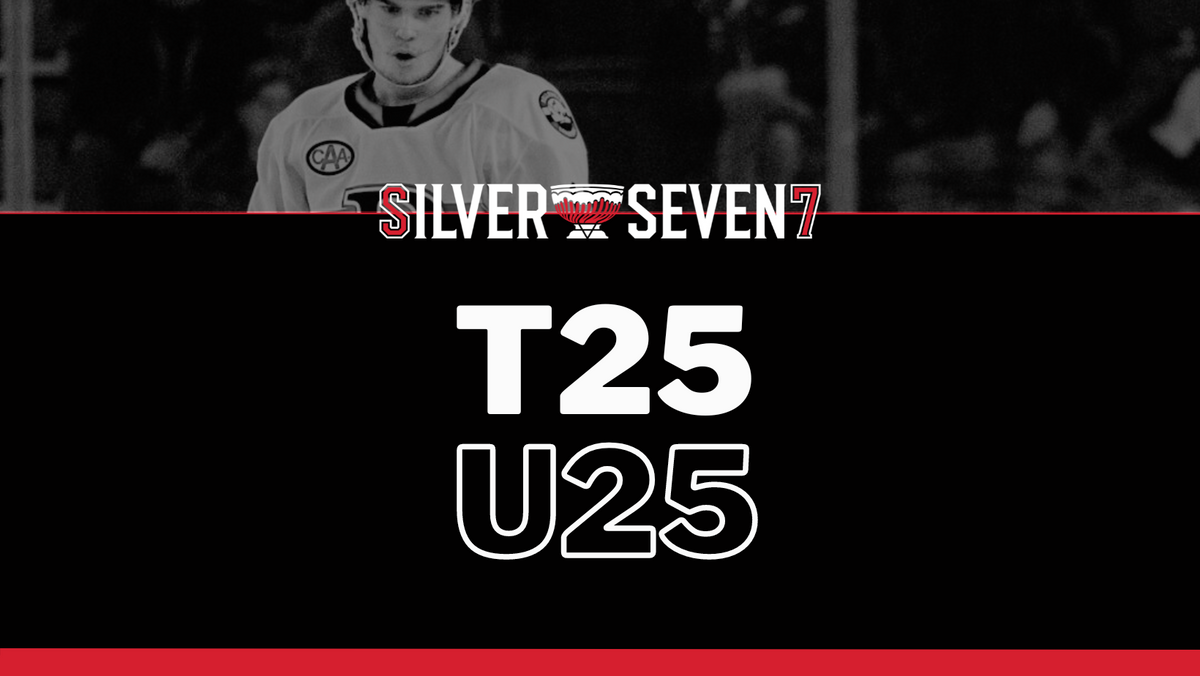 Welcome back to the 2023 edition of our Top 25 Under 25 feature. You can check out the full list so far here.
#11: Jacob Bernard-Docker (Reader Ranking: 10 Last Year: 12)
It's hard to know exactly what to make of Jacob Bernard-Docker. On the one hand, he's on a one-way contract this coming year, he's a right-handed D, he needs waivers to go back to the AHL, and he's 23 – theoretically just entering his prime. On the other hand, he's had a few cups of coffee in the NHL, and has yet to seize a regular spot. He's going to be in a fight with an aged Travis Hamonic, and possibly even Tyler Kleven, to stay out of the press box this year. So while he's in a pretty good spot, most of us were hoping he'd be farther along now.
After the Sens drafted JBD 26th overall in 2018 and then his school buddy Jonny Tychonick 48th overall, many had visions of the two turning into a best-friends pairing, with the offensively strong JT on the left and the defensively responsible JBD on the right, progressing straight from UND to the AHL to the NHL. Instead, Tychonick ended up leaving UND due to being surpassed in their system, went un-signed by the Sens, and is now in the Leafs' system. JBD did three years of college before jumping to the pros.
The offensive numbers for JBD don't jump off the page. He has 15 points in 99 AHL games, and 2 assists (no goals) in 32 NHL games. Still, his offensive game has never been what he was known for. The problem is, the defensive results have also left a bit to be desired. He has never broken 50% in 5v5 shot attempts in the NHL. One could argue that this is because he tends to play with Chabot, which means he's going out against other team's best players, but it also he means he has a very talented partner who should boost his numbers. It's important to note that his most common partners this past year (Chabot, Brännström, and Kleven) all saw their numbers rise a lot when they were separated from JBD. You can kind of see this in the chart below from HockeyViz, where JBD is bad/dull without most partners, while most partners are good/fun without him.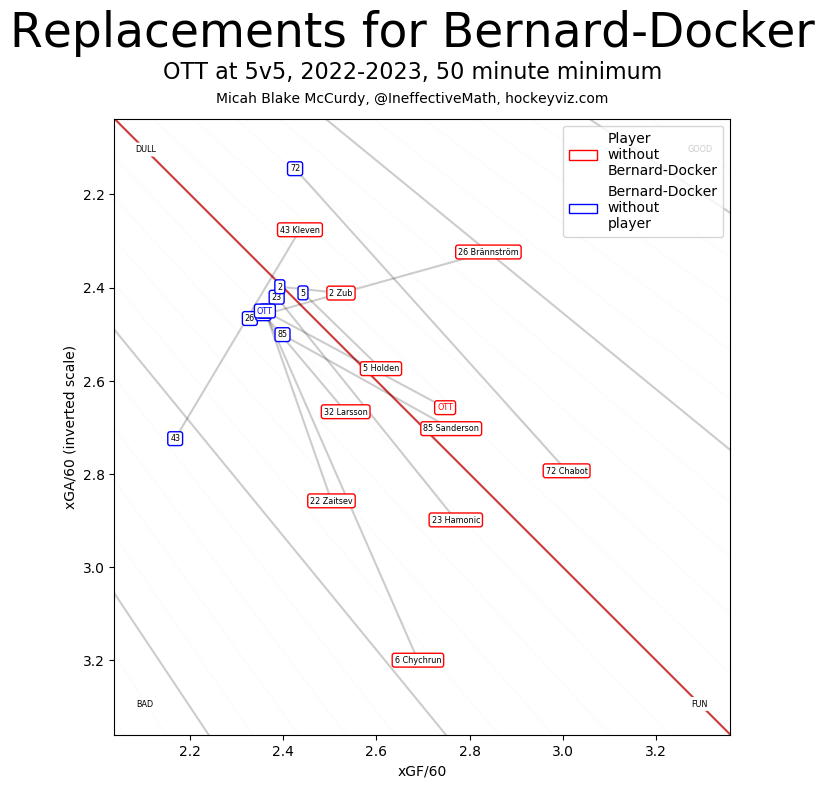 Now, there is some promising recent history here. In his final call-up of 2022-23, he played two-thirds of his minutes with Kleven, and the two put up a 65.7% 5v5 shot attempts rating in 50 minutes together. This suggests that putting him on the top pair in every call-up might've been too much of a "steak to babies" move. He performed much better in a sheltered role, and might yet be able to grow into being very good against top competition – this is the path that has worked so far for the aforementioned Kleven. Forging a connection with the towering defender would also add the nice UND connection we were hoping for.
Ignoring the one-way contract, JBD seems to have the inside track to an NHL spot this year. When asked about his defensive depth, GM Dorion said, "Internally, players that we've called up have performed well." That seems to be a vote of confidence for JBD (and, conversely, an expression of doubt about Lassi Thomson). He also won the Bellville coaching staff's selection for best defenceman, and Coach David Bell's words were glowing: "He's a rock and exudes the characteristic of your best defenceman is, he's safe. When you need a safe shift, or a big moment in the game that you need to shut the other team down, we go to JBD. Whether it's a shot block, or an important clear, or box out around the net, he was consistent from game one to the end as safe and steady."
So, while many of the players that have come before on this list are still very much trying to prove themselves, Bernard-Docker has an almost guaranteed spot as the 7th defenceman in he NHL. I predict to start the year, he will rotate in with Hamonic and Brännström, and could find himself a regular by Christmas, especially if injuries show up (as they always do). If he can build off his play in April, he'll see himself rise on these rankings next year, and could earn himself a solid extension beyond his RFA years.
Not everyone can afford to pay for sports coverage right now, and that is why we will keep as much of the site's content free for as long as we can.
But if you are able to, please consider subscribing to help keep our articles free (and get a few extra perks).
Erik Condra
Ability to comment and participate in our community
Twice monthly newsletter available only to subscribers
Ad-free reading
Our undying love and appreciation
Brady Tkachuk
Everything from the Erik Condra tier
10% discount on all merch
Access to any future paywalled content
A personal thank-you from the Silver Seven staff
Daniel Alfredsson
Everything from the Brady Tkachuk tier
Inner peace knowing you are supporting quality, independent coverage of your favourite sports team