Ottawa Senators Top 25 Under 25, #18: Mark Kastelic
The big, sturdy face-off specialist rises one spot from last year's ranking.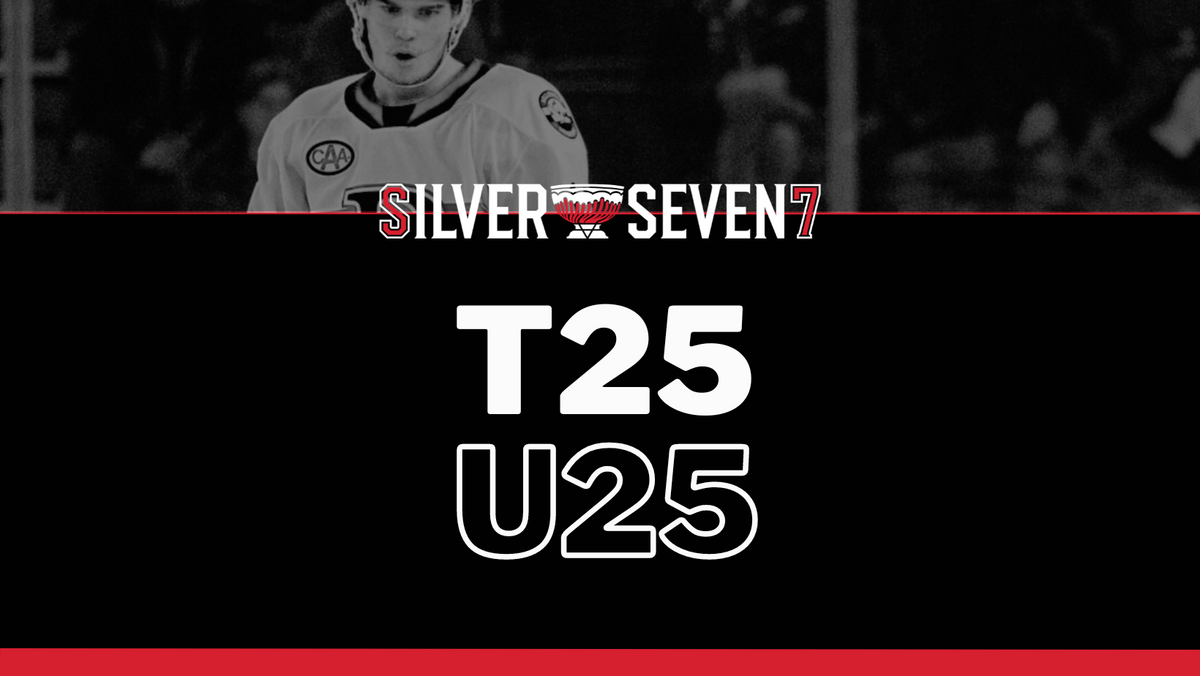 Welcome back to the 2023 edition of our Top 25 Under 25 feature. You can check out the full list so far here.
Today, we take a look at the first full-time NHLer in our rankings:
#18: Mark Kastelic (Reader Rank: 12 , Last Year: 19)
Rising one spot from last year's ranking is fourth line centre Mark Kastelic. Up until now, our entire ranking has been prospect focused – as it usually is in the 20s. Now we turn the corner and start to see a bit of a back and forth, as the staff are looking at both current and future value of the player when we sit down to make this list.
For Kastelic, there's a lot to like in how he's performed in his role. As far as physical attributes go, he's just about as "fourth line centre" as they come: he's 6'4" with a solid frame, and he plays like it. He's a physical presence in his own zone, wreaks havoc on others in the dirty areas, and does quite well in the faceoff dot - as he's sported a career 57.2% success rate in the dot through his 81 games in the NHL. These are all very understandable reasons as to why Kastelic, a double overage selection in 2019, was able to so quickly gain the trust of DJ Smith and his staff. Simply put, he plays the stereotypical fourth line centre role and that carries value; Smith has spoken glowingly about Kastelic in the past.
Of course, it's hard to talk about Mark Kastelic without mentioning the game where he fought someone, not realizing he had just scored a goal.
Yes, in case you didn't notice, you're looking at a line of Chris Tierney, Scott Sabourin and Mark Kastelic. Oh, how far we've come.
Anyways, back to big Kasty.
We've concluded that Kastelic plays his role, and is an NHL player at this point, so why are you about to see the Silver Seven staff flip back to prospects as early as the 17th ranked player on this list? It's pretty simple: Kastelic plays his role well, but his role is relatively replaceable and, personally, I don't see him rising much above it. If Kastelic ends up being a long term fourth line centre for the Sens, that's not a bad thing! But if he doesn't, that's not really a bad thing either. At age 24, this is Kastelic's last season eligibility for the list; he's also already in his absolute prime. Maybe there is minor improvements to be had around the edges, but what you see is what you get at this point.  
That's what it all boils down to for me: he's good at what he does, but he's far from the only player who can do what he does, and he seems unlikely to take a big step forward at this point in his career.  
Since his first stint in the NHL in the 2021-22 season, the Sens have seen the worst of the shots with Kastelic on the ice,  as he boasts a a 46.80 CF% through just under 700 5v5 minutes. To put that in perspective, over the timeframe of those two seasons, both Adam Gaudette and Chris Tierney outperformed Kastelic in this metric. The majority of fourth line centres aren't going to be possession monsters. After all, they're deployed mostly in defensive situations, looking to crash and bang and wear out the opposition. This is likely a deployment and overarching on-ice strategy issue for Smith and his staff, but that's a story for another day.
On the flip side, Kastelic has performed much more respectably in the xGF% category, as he sports just under 50% through his 81 games thus far. Using shot quality to determine which team is expected to score more goals when a certain player is on the ice, Kastelic's xGF% shows us that while the Sens may be out-possessed with the puck when the big centre is on the ice, they end up relatively split when it comes to quality shots. This is a good sign that while Kastelic could do a better job leading his line into positive possession battles, he still manages to almost break even when you try to account for the quality of the shots.
In the year ahead, Kastelic was thought to be well cemented in that fourth line centre role until the Senators brought Philadelphia tough guy Zack MacEwen in on a three year deal. The problem for Kastelic here is they brought in a player who, at first glance, looks a heck of a lot like him but with a few more years of experience. MacEwen is a big (6'3"), right shot centre who doesn't produce a ton offensively. I imagine what we'll end up seeing is a situation where Smith plays both on the fourth line, sliding one to the right wing. I'm of the opinion that you should flank your big, tough centre with speed and skill, so I'm hopeful that playing both won't hinder Kastelic's ability to be as effective as he was in 2022-23. Although, he'd essentially be trading Austin Watson for MacEwen so I'm not too worried about that.
All-in-all, what the Senators have in Kastelic is likely exactly what they drafted him for: he's a big, sturdy centre who is strong on faceoffs with a history of scoring goals in junior. If he can continue to be the former and bring just a little of that scoring touch from junior in the NHL this season, that fourth line pivot spot will be the perfect place for him.
Not everyone can afford to pay for sports coverage right now, and that is why we will keep as much of the site's content free for as long as we can.
But if you are able to, please consider subscribing to help keep our articles free (and get a few extra perks).
Erik Condra
Ability to comment and participate in our community
Twice monthly newsletter available only to subscribers
Ad-free reading
Our undying love and appreciation
Brady Tkachuk
Everything from the Erik Condra tier
10% discount on all merch
Access to any future paywalled content
A personal thank-you from the Silver Seven staff
Daniel Alfredsson
Everything from the Brady Tkachuk tier
Inner peace knowing you are supporting quality, independent coverage of your favourite sports team