Five Thoughts For Friday: Barbie Edition
The content you've all been waiting for: Sens players tier ranked by how much "Kenergy" they have.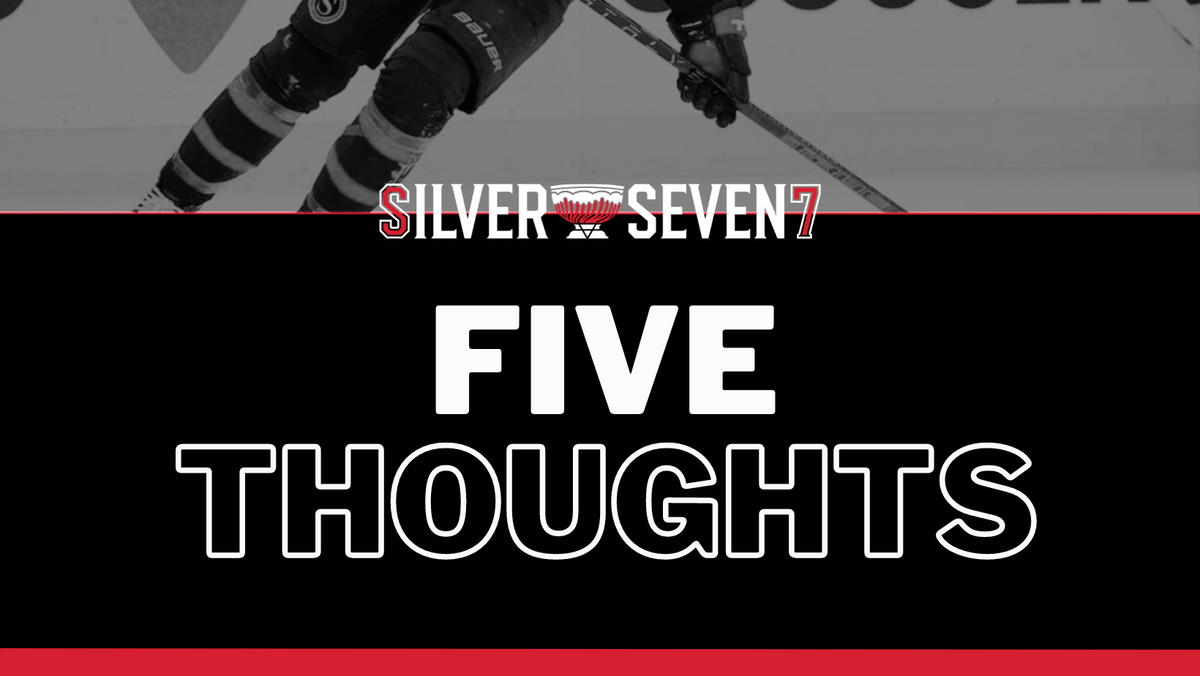 The Sens have had a relatively quiet offseason so far (Editor's Note: until they signed Vladimir Tarasenko!), and when that happens, you have to get creative with your discussion topics. When I put out a call for topics to discuss in this week's Five Thoughts, one suggestion kept popping up: people wanted me to discuss which Sens players have the most "Kenergy."
"Kenergy" is of course a reference to the recent hit movie "Barbie," in which Barbie's boyfriend Ken is portrayed as joyful and kind, if a little bit pathetic and irrelevant. Actor Ryan Gosling has said in interviews that "Kenergy" is something we can't quite define or pin down just yet. However, the best definition I can come up with is that it's positive, nonthreatening masculinity. Ken is a little girl's idea of the perfect boyfriend for her doll. He's a side character, not the protagonist. He's nice, but forgettable. He doesn't have a job or any real skills. He just kind of exists to try (and fail) to get Barbie's attention.
Obviously, I do not know any Sens players personally and thus cannot judge how much "Kenergy" they have in real life. However, because the people requested it, here is a tier list of some Sens players, ranked by how much Kenergy they seem to have based on their on-ice personas and how they appear on social media.
Tier 1: Certified Kens
Erik Brännström
I'm just Ken, sings Ryan Gosling's Ken in his big musical number. Anywhere else I'd be a ten / Is it my destiny to live and die a life of blonde fragility?
That song would work perfectly for Erik Brännström, except instead of singing about being slighted by the girl he loves, he'd be singing about being cast aside by the Sens and their fans. Brännström is a talented player, but Sens fans have never appreciated him for what he is, and the Sens have never given him the role he wants. Still, he is Kenough.
Josh Norris
Kenergy is very similar to being a himbo, and I've been calling Josh Norris a himbo for about two years now, so I kind of have to bestow this honour upon him. Josh Norris always comes across as sweet and friendly. He smiles at the camera on his way down the tunnel after games. He brags about his pumpkin carving skills, then fails spectacularly at the task. He's affectionate toward his teammates. He is a Ken.
Also, I have to let recency bias play a part here. What did Josh Norris do last season? Nothing. He just hung around creating social media content, just like how all Ken really does is hang around trying to get Barbie's attention. Even Norris's backstory is Ken-esque: he has often been seen as "Brady Tkachuk's best friend," meaning that just like Ken, he is perceived as an accessory to a more interesting character, and a side character in his own story. Very Ken-coded.
Tier 2: Almost Kenough
Shane Pinto
Pinto has a lot of Kenergy: he's conventionally attractive, and in interviews he comes across as nice in a himbo sort of way. The only thing holding him back is that he gets a little bit too much attention from Sens fans. People are too obsessed with him. No one cares that much about Ken.

Mathieu Joseph
Joseph also has all the makings of a Ken, but in his case his undoing is that he's had too much success in his career. You can't be a Ken if you've won a Stanley Cup.
Tier 3: Lots of Kenergy
Brady Tkachuk
The captain is a fascinating case, but this is where I've landed with him. On the one hand, Braeden has a certain main character energy to him that simply does not align with being a Ken. He also gets into a lot of fights on the ice, which isn't a Ken thing at all.
However, Tkachuk does have the goofiness and joie de vivre that I associate with Ken, and that one picture of him in his lounge chair at the All-Star game makes me believe he could do the job of "beach," so there's definitely a significant amount of Kenergy there.
Thomas Chabot
Chabot gets points for being friendly and affectionate toward his teammates and generally exemplifying the positive, nonthreatening masculinity characteristic of Kens, but where he loses points is in his style of play and the amount of time he spends on the ice. Whereas Ken isn't much more than an accessory in Barbieland, Chabot has carried this team on his back at times, and remains far too polarizing a character to be considered a true Ken.
Vladimir Tarasenko
When I asked the Silver Seven team if I could still write Five Thoughts this way after the Tarasenko signing, I was told that I could as long as I included Tarasenko in the tier list. Since I don't know much about the player, I consulted a friend, who said: "his favourite Christmas movie is Home Alone and he loves making friends because he's a silly goofy guy  – hope this helps."
Yes, that does help. I think.
Anton Forsberg
He has always struck me as a quiet, unassuming guy, and he has been passed over by many teams before. I feel like he needs to show a little bit more personality to really be elevated to another tier, but there is certainly some Kenergy there.
Tier 4: Normal Amount of Kenergy
Artem Zub
Zub might be a good candidate based on vibes alone, but his lack of character development gives him an air of mystery that is distinctly un-Ken-like. We are far too obsessed with him. No one is obsessed with Ken.
Claude Giroux
Many people tried to convince me to put Giroux higher on this list based on the fact that he's silly and goofy. However, like Zub, his popularity hurts him. I'm pretty sure Flyers fans cry every time his name is even mentioned. People are going to get so mad at me for putting him this low on the list. He is simply far too interesting to be a Ken, I'm afraid.
Tier 5: Very Little Kenergy
Jakob Chychrun
Chychrun probably looks more like a Ken doll than any other NHL player, and I'm sure he's a nice enough guy, but unfortunately his raw meat diet is the opposite of Kenergy.
Tim Stützle
Like Chychrun, Stützle looks the part, but his problem is that he's too much of a main character. He commands attention when he's on the ice. No one could ever forget about him. He is the Barbie of this team, not the Ken.
Like Barbie, Tim Stützle is everything.
Agree? Disagree? Feel free to discuss in the comments.
Not everyone can afford to pay for sports coverage right now, and that is why we will keep as much of the site's content free for as long as we can.
But if you are able to, please consider subscribing to help keep our articles free (and get a few extra perks).
Erik Condra
Ability to comment and participate in our community
Twice monthly newsletter available only to subscribers
Ad-free reading
Our undying love and appreciation
Brady Tkachuk
Everything from the Erik Condra tier
10% discount on all merch
Access to any future paywalled content
A personal thank-you from the Silver Seven staff
Daniel Alfredsson
Everything from the Brady Tkachuk tier
Inner peace knowing you are supporting quality, independent coverage of your favourite sports team