Instant Analysis: Ottawa Senators Sign Vladimir Tarasenko
The Sens came to terms on a 1 year, $5M contract with the veteran sniper on Thursday evening to help bolster their top six.
The heavily-rumoured deal between the Ottawa Senators and Vladimir Tarasenko came to pass at last on Thursday night, as the two sides agreed to a 1 year, $5M deal.
For the Sens, the addition of Tarasenko nicely fills the gaping hole left in the top six by the departure of Alex DeBrincat via trade earlier this month. Much as the team, and some fans, were talking themselves into Dominik Kubalik, this is the real move to replace DeBrincat's lost production. Tarasenko may not be the dominant force he once was, but he can still make incisive plays with the puck; if he is slotted with similarly creative linemates, you can expect Tarasenko to more than hold his own offensively. Importantly, he can still be a big help on the powerplay, where DeBrincat's departure was likely to be acutely felt.  If one were in the business of making projections, 25-30 goals and 50-55 points, provided good health, seems like a very reasonable target.
Things do get a bit dicier defensively for Tarasenko, though. Choose your model, you aren't going to like what you see: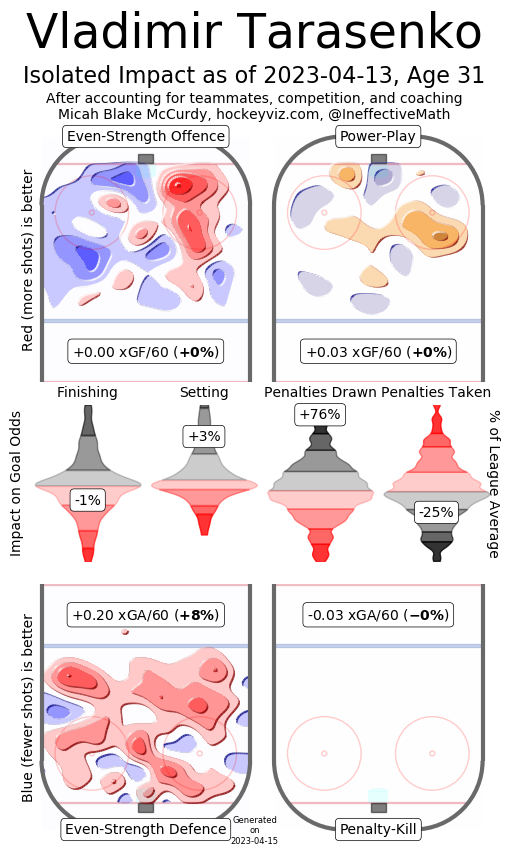 It has becomes de rigeur in some corners of the Sens-fanbase to question the departed DeBrincat's effort on defense, but I will note here that accusations of Tarasenko not exactly giving 100% on defense aren't new.  Maybe the motivation of playing on a "show-me" deal to land one last big payday will re-inject some spring into those legs on the backcheck, but Tarasenko is being brought to the nation's capital to score goals; any improvement on the defensive end would be icing on the cake.
Speaking of that "show-me" deal, though I have my reservations about Tarasenko's ability to drive play at 5v5, the terms of this contract make the acquisition a home run. Simply put, Tarasenko fills a desperate need at the top of the line-up, and the price the team paid is virtually a risk-free bet. If he's a productive top six winger, then $5M is more than worth it. If he struggles, he's gone after this year, and if things really go pear-shaped on the season he could likely be dealt at the deadline for some sort of draft compensation. He won't impact the team's future financial plans in any meaningful way, which is important considering how tightly the team will be operating throughout their competitive window.
This year's cap space, however, remains something of an elephant in the room:
After completing this deal, the Sens are basically at the cap without Shane Pinto or Egor Sokolov signed. Sokolov's deal is unlikely to eclipse even $1M but signing Pinto will require somewhere in the vicinity of 2.8-3.5M – and that's before we get into whether it's wise to operate with virtually $0 in cap space. Simply put: another move is coming. The two most-often speculated about players for potential salary dumps are Erik Brännström and Mathieu Joseph. Coming off a very solid season, and with only a 1 year, $2M contract to his name, Brännström could be traded tomorrow if the club desired it. Joseph, on the other hand, just had a poor season that was derailed by injury and off-ice issues, and his contract is a big negative. Given the way that teams have been hoarding cap space this summer, one can only speculate the price the Sens would have to pay to off-load him; a first-rounder would not be out of the question depending on the structure of the deal.
If Dorion managed to move both those players without taking back any contracts that weren't at the league minimum, then he could scrape together the cash to sign Pinto and fill out the roster – but only just barely depending on Pinto's number. The idle mind does wonder if the Sens have reason to believe that $4.975M might come off the books before the year starts. Regardless, some sort of major move must take place before we can get a full view of the Sens' roster.
Back to the here and now: signing Tarasenko, particularly at this price, is exactly the type of move that I'd hoped to see from Dorion. The team's forward group was once again looking light on scoring punch and, though his two-way game leaves something to be desired, Tarasenko will bring the scoring. Even if he isn't exactly what the team dreams he'll be, the price is so good as to make the gamble an obvious choice. The Sens' competitive window is now, and moves that maximize that window are the order of business.
Now enjoy some highlights of Tarasenko scoring some sick goals:
Not everyone can afford to pay for sports coverage right now, and that is why we will keep as much of the site's content free for as long as we can.
But if you are able to, please consider subscribing to help keep our articles free (and get a few extra perks).
Erik Condra
Ability to comment and participate in our community
Twice monthly newsletter available only to subscribers
Ad-free reading
Our undying love and appreciation
Brady Tkachuk
Everything from the Erik Condra tier
10% discount on all merch
Access to any future paywalled content
A personal thank-you from the Silver Seven staff
Daniel Alfredsson
Everything from the Brady Tkachuk tier
Inner peace knowing you are supporting quality, independent coverage of your favourite sports team