Five Thoughts for a Friday: Vicarious Summer
The Sens' off-season could be exciting, but these five teams really have a lot of work to do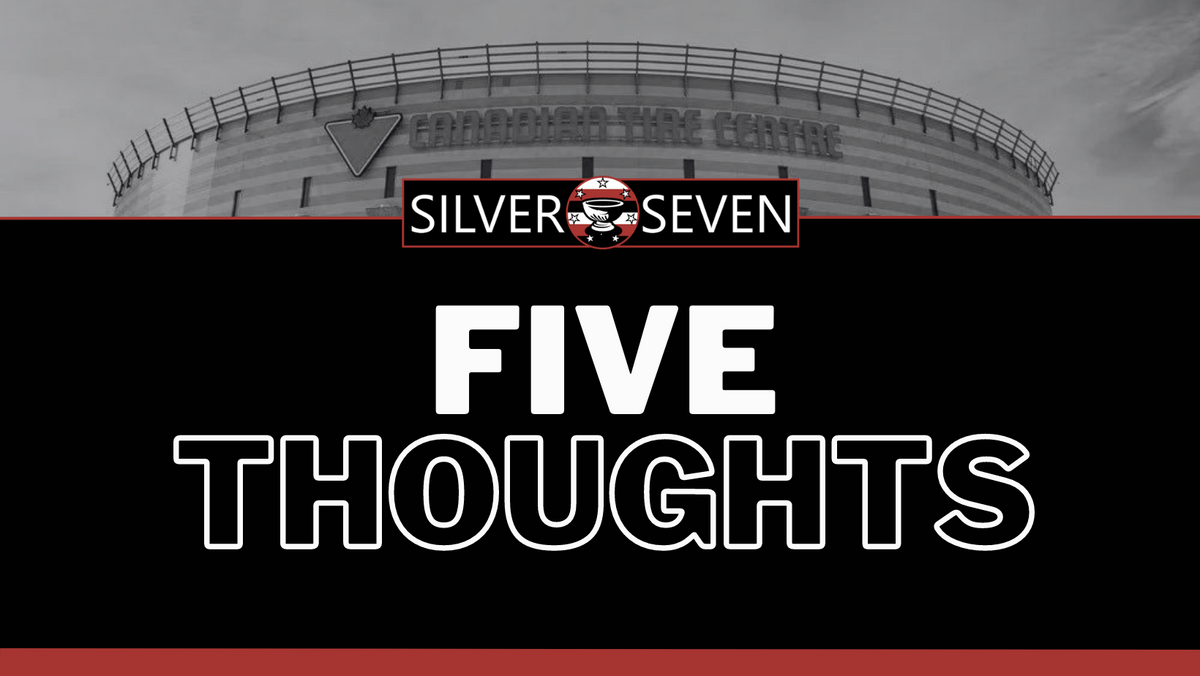 I should start out by thanking Shaan for writing such a good article on Wednesday that I have nothing left to say about the Ottawa Senators. I don't have any insider knowledge into the imminent sale of the team, nor do I have any opinions about prospective buyers. I also subscribe to the popular consensus that Ottawa should probably just sign their RFAs and pray for good health next season - but that doesn't make for much of an article. So here I have for you five vicarious thoughts about other teams who I reckon should have slightly more eventful summers.

Vancouver Canucks
Let's just get this one out of the way because I don't have anything really critical to say other than, "Look at this horrible mess." I don't want to pile on because the Canucks and their fans seem mostly harmless but wow what a pile of garbage this organization has accumulated. You have a couple of franchise players in Quinn Hughes and Elias Pettersson (the latter of them needs a new contract next summer by the way), and then things get really messy.
Here you have a team who missed the playoffs (and the nerd stats absolutely bear out that this team should have missed the playoffs (46.45 5V5 SVA xGF%)) and has somehow already gone over the salary cap for next season. And they have five RFAs to sign. And they had that messy coaching change last year. Will Thatcher Demko or Spencer Martin rebound after mediocre seasons? Will the Canucks finally find a team willing to reclaim Brock Boeser? Can they even afford to qualify Ethan Bear? 31 NHL GMs should have Vancouver on the line trying to exploit their situation this summer. Everyone should have their eyes on the 11th overall pick in the upcoming draft.

Edmonton Oilers
The Oilers have finally left the realm where the Canucks currently dwell. Ken Holland has somehow managed to fill out the roster around McDavid/Draisaitl and the Oilers actually have the nerd stats (54.32 5V% SVA xGF%) to support both their regular season success and their current playoff run. I don't think the acquisition of Mattias Ekholm has hurt their cause. Ekholm (along with Darnell Nurse and Evan Bouchard) has managed to stabilize a once problematic defence, but things will get interesting this summer as Bouchard needs a new contract and the Oilers have just over two million in projected cap space.
Holland will somehow have to rectify this cap conundrum and the fact that he has an expensive yet ineffective goaltender in Jack Campbell and a currently effective (but never with any certainty in this industry) goaltender in Stuart Skinner who could one day get expensive. Somebody, pack your bags because you're going to Arizona!

Calgary Flames
I hope you like western Canadian teams because I still have more. Despite missing the playoffs this year, I think Calgary has a really good chance of turning things around quickly in the post Tkachuk/Gaudreau/Monahan era. The Flames had exceptional nerd stats (55.39 5V5 SVA xGF%) this year and mostly suffered from untimely goaltending regression courtesy of Jacob Markstrom and Daniel Vladar (neither of whom I would write off just yet). Oh also they have a really intriguing young goaltender in the pipeline in Dustin Wolf if/when they choose to move on from their current tandem. The Flames have a lot of decent prospects highlighted by Matthew Coronato, Jakob Pelletier, and Connor Zary.
They only have about a million to work with in terms of cap space but they finally get Milan Lucic off the books and with a new GM and coach you can hope to ride those good peripheral stats back to relevancy. Even after losing Juuso Välimäki on waivers, the Flames have such a good, affordable defence corps (imagine the opposite of Vancouver) with Mackenzie Weegar, Chris Tanev, and Rasmus Andersson. Despite all the anguish last summer and the disappointment this year, I think Calgary only needs to make one or two small moves to reclaim their division.

Winnipeg Jets
Okay last Canadian team and then I'll move on I swear. The Jets find themselves in familiar territory with a core player in need of a new contract and people constantly speculating about a trade. I want to give Winnipeg the benefit of the doubt and say they'll get Pierre-Luc Dubois signed because as a Sens fan I can sympathize with having other fanbases not minding their own goddamn business. Kinda like Ottawa, the Jets will still have some cap space to work with (over $12 million total with $6 million guaranteed for Dubois) after signing their big RFA but unlike Ottawa, the Jets don't have much other housekeeping to worry about. They'll have to think about Cole Perfetti's payday eventually but for now they have Josh Morrissey, Nikolaj Ehlers, and Kyle Connor all under contract.
Rick Bowness got decent results (51.63 5V% SVA xGF%) out of Winnipeg in his first season behind the Jets' bench. I also wouldn't sweat Connor Hellebuyck's mediocre postseason performance because a five game sample doesn't mean much stacked up against years of consistent NHL performance. All that to say, the Jets should make a big splash in free agency. Yeah I know everyone says no good free agents like to sign with Canadian teams but this is my article, not theirs.

New Jersey Devils
Digging into the Devils' summer forecast a bit, I reckon you could write several articles on them alone but I probably have a tentative grasp on your attention at best right now so I'll give you the coles notes. The Devils (and coincidentally their current opponents the Hurricanes) could have a completely different roster next season. The Devils have a whopping $34 million in cap space to work with this offseason but they have to re-sign over a dozen RFAs and will lose some good players to free agency in all likelihood. Timo Meier, Jesper Bratt, and Yegor Sharangovich top the list of RFAs. Tomas Tatar, Damon Severson, and Erik Haula can all test the market. Long term, the Devils have to consider the eventual paydays of Luke Hughes, Simon Nemec, Dawson Mercer, Alexander Holtz, and oh yeah Akira Schmid.
Lindy Ruff has already gotten exceptional results (56.90 5V5 SVA xGF%) out of this team and they haven't even reached their final form. Things don't get any clearer in the crease. With Nico Daws and the aforementioned Schmid in the pipeline, the Devils currently have a semi-veteran tandem of Vitek Vanacek and Mackenzie Blackwood. Vanacek has provided decent returns on his manageable salary while Blackwood has fallen off a cliff and I don't know if the Devils can qualify him with all the other contracts they need to sign this summer. I don't recall the last time I saw a team facing an offseason quite like this one with the fates of so many core players up in the air simultaneously. The Devils' front office basically gets one chance to manage their cap situation and then live with the results probably for the rest of the decade. I imagine they can pull it off but it'll take a whole lot of creativity. I don't envy those responsible.