The 2023 Offseason Could be Pierre Dorion's Toughest Yet
Pierre Dorion has some work to do this off-season: what are his biggest challenges?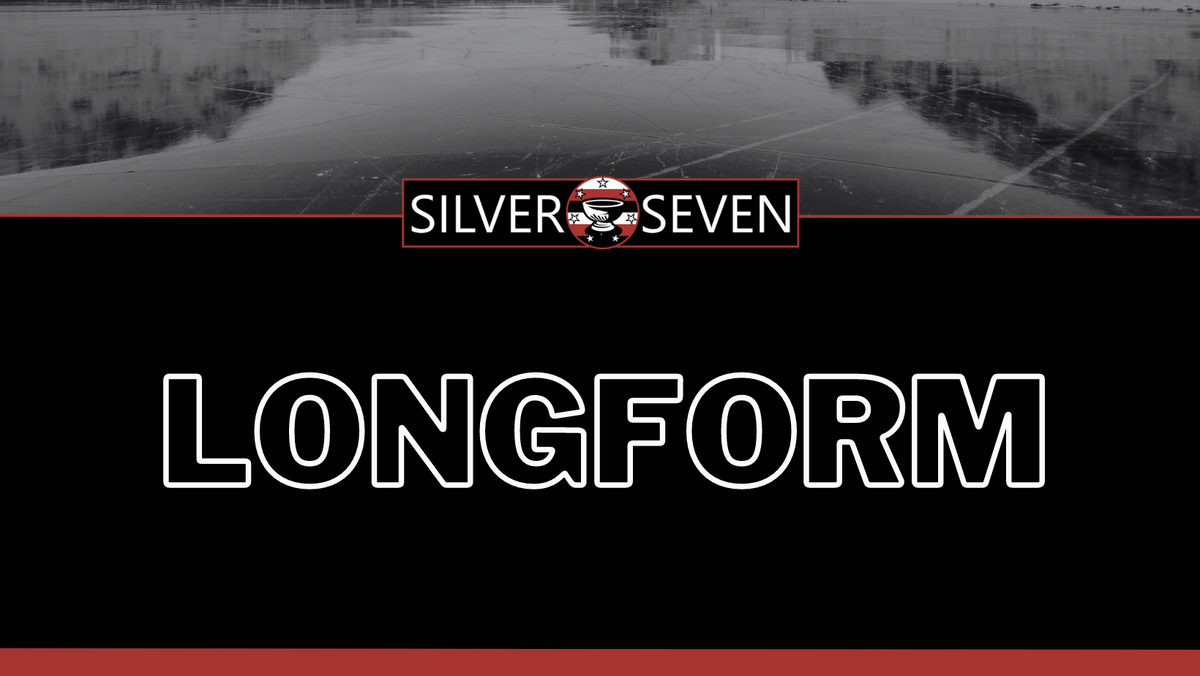 With his future uncertain due to an impending change in ownership, Pierre Dorion is most likely looking at the upcoming offseason as a chance to cement his position in the Ottawa Senators' front office. He's entering his eighth offseason as the Sens' general manager, and the road ahead will be just as arduous as those we've seen in the past -- albeit for different reasons.
Dorion's recently locked up core players such as Brady Tkachuk and Tim Stützle to long-term deals, and thus the question has shifted from "Do they have the money?", to "Do they have the cap space?" . The Sens will likely be a cap team for the first time since before announcing their rebuild *in 2011*.
At the forefront of all the money questions is forward Alex DeBrincat. Acquired at last year's draft from the Chicago Blackhawks in exchange for the seventh-overall pick and two other picks, the 24-year-old sniper, with 27 goals and 39 assists in 82 games, wasn't quite able to replicate his goal totals in Chicago, largely due to the ridiculously bad shooting luck from his line at 5-on-5 throughout the year.  
There's a lot of smoke regarding Debrincat's desire to stick around in Ottawa so I'll be treating it as such and staying away from it. There's really nothing to suggest this negotiation will be anything other than box standard from that perspective.
Where it gets complicated for both parties is in the details of DeBrincat's existing deal, as well as the Senators' cap structure. Heading into the offseason, they'll have around $17M in cap space (according to CapFriendly), with seven forwards, four defencemen, and one goaltender under contract. It won't cost much to fill most of the remaining spots, but three RFAs, in particular, should draw special attention – Erik Brännström, Shane Pinto, and DeBrincat.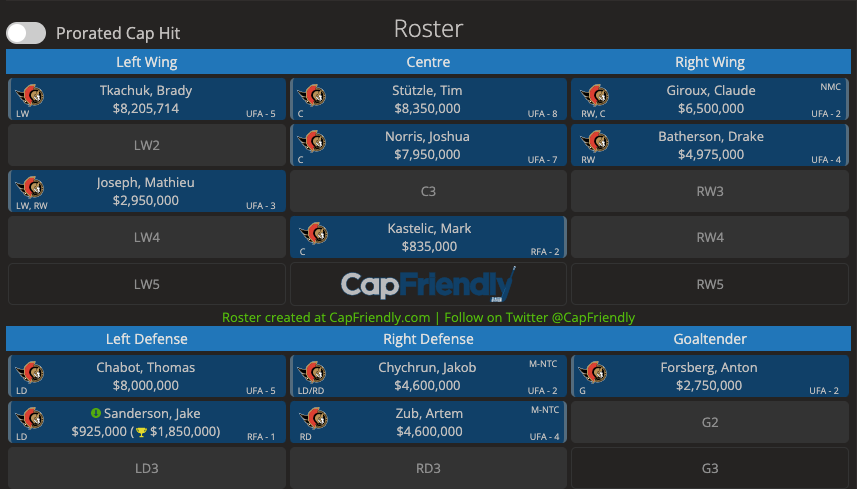 Firstly, DeBrincat will need to be qualified at $9M, his base salary in 2022-23.  He could sign the one-year qualifying offer and become a UFA in the following offseason, which would yield a lucrative opportunity to sign a 7-8-year deal in his prime with the highest bidder. That said, there are risks to signing a 1-year-contract as an established player. His numbers could decrease further, or worse, he could suffer a long-term injury, which would negatively impact his career earnings in a contract year.
Filing for arbitration likely wouldn't increase his payout by all that much, as $9M is already rich for a player of DeBrincat's caliber. The Sens could also file for arbitration themselves and potentially receive a one-year deal as low as 85 percent of DeBrincat's $9M base salary – $7.65M, but this would be even less likely than an offer sheet and is not a route you want to go if you want to maintain a good relationship with the player in question.
On the other end of the spectrum is an eight-year deal, and I'm skeptical of any team offering DeBrincat $9M/year after the season he had. I don't think the Sens can justify making him the team's highest-paid player on a long-term deal ahead of Stützle's $8.35M cap hit.
Looking at Detroit's Dylan Larkin as a comparable, he plays center, has outproduced DeBrincat over the last two seasons, and was a pending UFA prior to signing an eight-year extension worth $8.7M per season. Another recent comparable would be Islanders forward Bo Horvat, who signed an eight-year $8.5M/year extension after a point-per-game season with the Vancouver Canucks.
DeBrincat's history as a two-time 40-goal scorer could increase his value to that point. You could try an eight-year deal with the first year being worth $9M (the same as the QO) and the whole contract averaging out to right below Stützle's.
If that doesn't work, both sides could meet in the middle with a term between three and five years – Ottawa would get a decent amount of mileage out of DeBrincat, and he'll still hit the open market at a young enough age such that teams will be willing to offer a seven-year deal.
If we assume a highball of $9M, that will leave Ottawa with $8M in cap space to fill out the rest of their roster. Aside from Pinto and Mathieu Joseph, the bottom six will be filled by players making around league minimum – expect Mark Kastelic, Parker Kelly, Ridly Greig, Egor Sokolov, Angus Crookshank, and newly-signed Jiri Smejkal to compete for spots.
On the back end, we'll pencil Jacob Bernard-Docker into the #6 spot, and sign a backup goaltender to league minimum. There may not be enough space for Travis Hamonic unless he takes a major discount.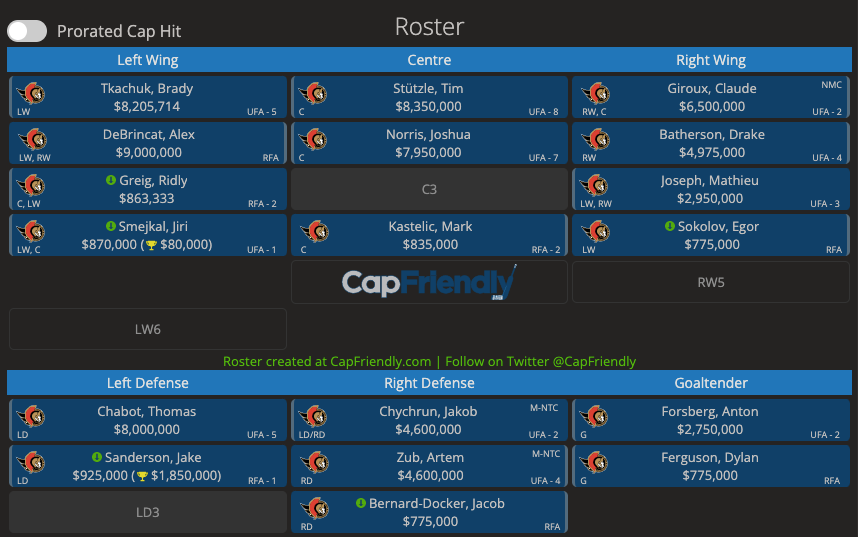 With 4.7M remaining, we'll sign one-year deals for Pinto at $2M and Brännström at $1.2M, which leaves us with just enough space for two depth players at a league-minimum salary.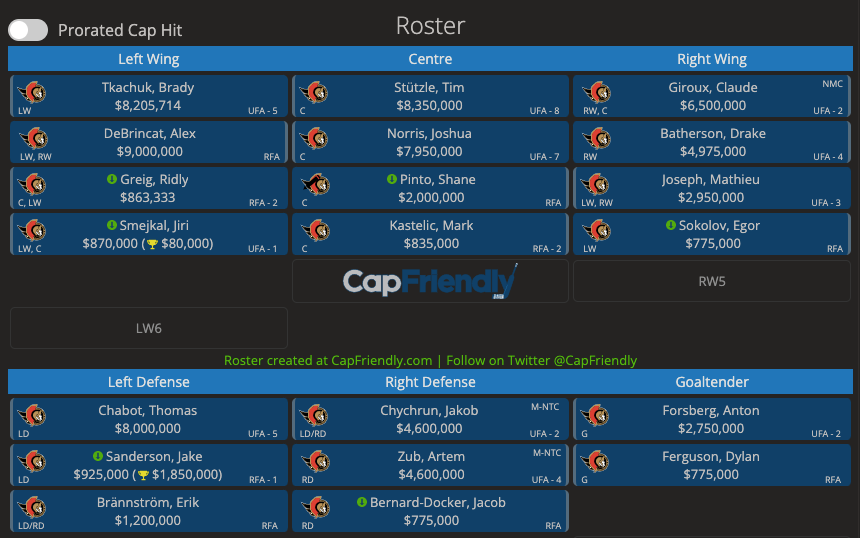 Depending on how things shake out with DeBrincat, there could be a cap crunch on the horizon. However, there's a silver lining we have yet to touch upon, and it stems from a move Dorion made last offseason.
I'm not sure what sort of Jedi mind trick he pulled on Kyle Dubas to convince the Leafs to take on two years of Matt Murray's contract, but after a predictably mediocre season, they'll need to address that cap hit if they want to continue their regular-season dominance.
In a rare twist, we're asking how the Leafs affect another NHL team, as opposed to the other way around. If they buy out Murray, it would reduce his cap hit from $4.7M to just $700k. Since Ottawa has 25% of the deal on their payroll, the buyout would also apply to them, reducing the cap hit from $1.56M to $229k, saving $1.33M, which is significant for a team likely to be up against the cap this year.
Granted, these projected RFA deals I'm throwing around are from my own estimation, so take it with a grain of salt. What's for certain is that after six consecutive years of missing the playoffs, Dorion will be under pressure to build a Cup-contending roster,; the good news is that the pieces appear to finally be in place.
The core players are entering their prime, Jake Sanderson et al. are going to keep improving, the defense is miles ahead of where it was last year, they have young talent ready to contribute in the bottom six, and the team's even-strength shooting luck and goaltending are due for an increase.
Also that Josh Norris guy might play more than 8 games this year. Maybe.