What do the Ottawa Senators Have in Dominik Kubalik?
Dominik Kubalik isn't Alex DeBrincat, but that doesn't mean he can't still be useful.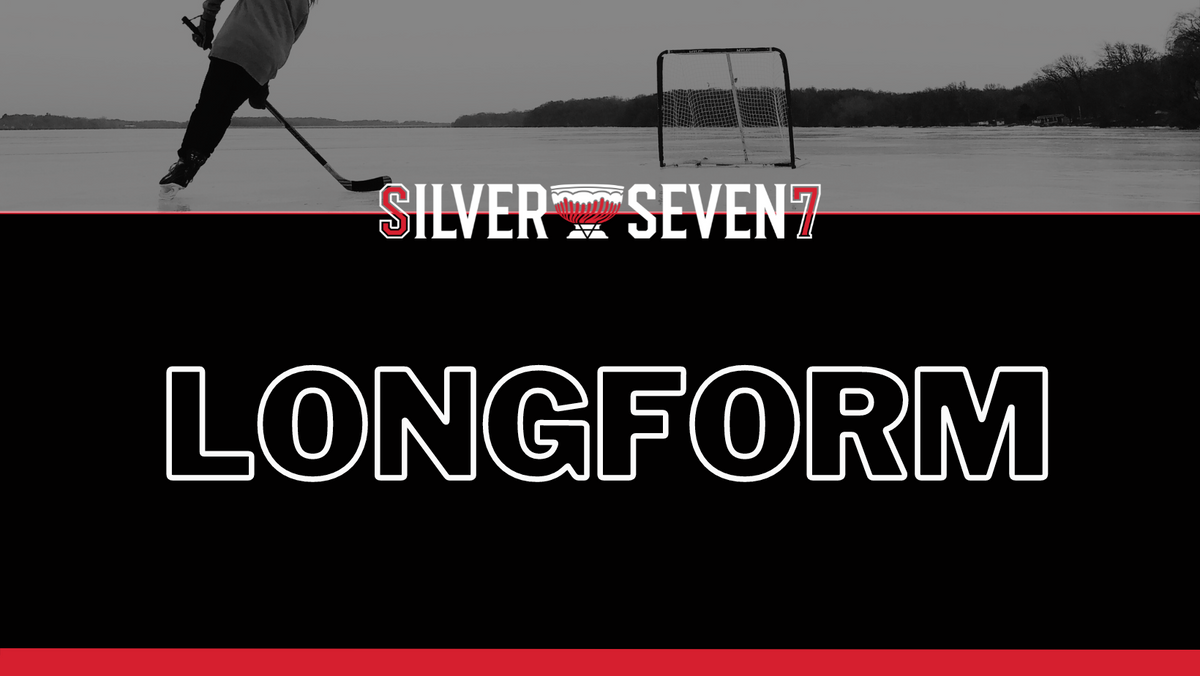 The first thing that we should make clear up front is that there is very little chance that Dominik Kubalik will come particularly close to replacing the departed Alex DeBrincat's contributions. While I am not typically one to simply defer to the wisdom of NHL GMs, if these two players were expected to have even remotely similar performances over the next couple of seasons, Steve Yzerman would not have dealt the cheaper of the two, along with a prospect, and two draft picks (including a first round pick!) for the privilege of swapping them. Could Kubalik strike gold while DeBrincat goes ice cold? Anything is possible I suppose – the Toronto Maple Leafs finally made it out of the first round this past season, so I'm not willing to rule anything out anymore.
That being said, there's no reason that Kubalik can't be a helpful contributor in his own right. What, exactly, do the Ottawa Senators have in their newest acquisition? What are some realistic expectations?
What He Will Do:
Kubalik loves to hit one-timers, and he's pretty good at it. If there's one thing that anyone who's watched the big Czech winger play in the NHL will tell you, it's that Kubalik will find the one-timer opportunity – sometimes even where you might not think there was one.
You don't have to take my word for it either. Hockey Twitter analytics personality JFresh has Kubalik in the 99th percentile in propensity for one-timers, right at the very top of the whole league:
That's a list of some of the game's elite scorers, and a couple of guys (Kubalik, Olofsson) who just love to crank one. Watch enough Kubalik highlights and you get the idea:
Kubalik is also a capable passer, particularly off the rush and when he has time to find the incisive, attacking, move. Hockeyviz's model, which as we'll get to shortly is not very impressed with his overall ability to drive play, nonetheless sees him as a very strong "setter", i.e he is proficient at making passes that lead to dangerous shots.
The numbers are very much in line with any scouting report you'll read about Kubalik: he's got some real shooting ability, he can make positive plays with the puck in the offensive end, and because of that he can sometimes get really hot for extended stretches. Kubalik, in fact, had 21 points in his first 18 games (!) of the 2022-23 season.
I should also note here that Kubalik is a sizable lad at 6'2, 190, and he will, at times, use his size and strength to his advantage on the forecheck. I wouldn't describe him as a banger by any means, DeBrincat actually threw more hits last season, but he'll put a defender on their ass on occasion. He is fairly dogged on the forechek, even if his effectiveness at retrieving the puck is somewhat limited.
What He Won't Do:
As aforementioned, Kubalik's strengths are mostly related to finishing goals either for himself via his shot, or setting up his teammates for dangerous opportunities. Once the puck is in the offensive end, Kubalik is a helpful player; the trick, then, is getting it there.
While Kubalik has lot of positive offensive attributes, his ability to help get the puck going the right way is not one of them. Hockeyviz does not paint a particularly pretty picture of what happens to his team in terms of chances for and against when Kubalik is on the ice: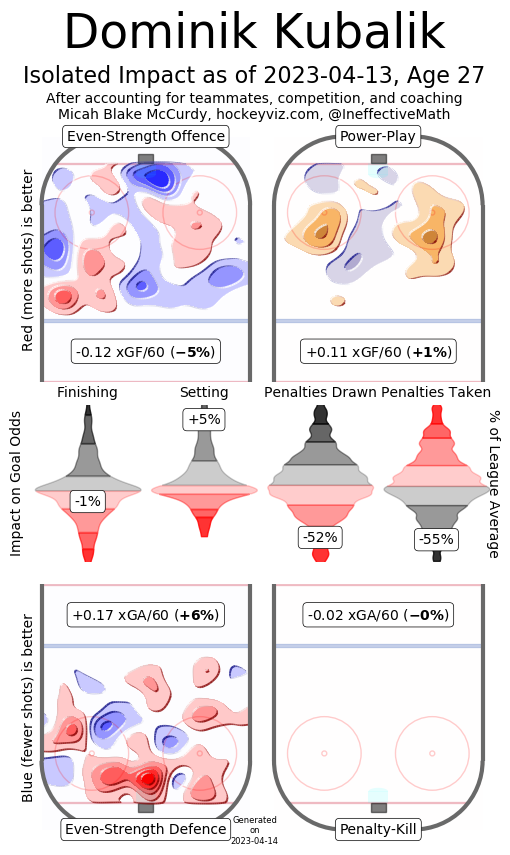 Part of this is his defensive awareness. Most scouting reports of Kubalik mention that he is a good skater for his size, but that he is not particularly capable defensively. Specifically, when it comes time to get the puck out of the zone, it's a bit of a struggle. Corey Sznajder, whose work I cannot recommend strongly enough, tracks micro stats and tabulates his findings at his website, All Three Zones. His data paints  a picture of a guy who has a very, very hard time with zone exits:
To return to Kubalik's blazing hot start to last season: he started the year playing almost exclusively with Dylan Larkin, the Red Wings' best player and a whiz at offensive generation. Larkin is a one-man breakout, and exactly the type of centre that could get the absolute most out of Kubalik.  The flip side of that hot start,is that Kubalik notched a meagre 24 points in his last 63 games despites continuing to see substantial PP time and ending the season with Larkin as his most frequent teammate. I'm not a big believer in the "streaky" label, but if there is a streaky scorer in the NHL then Kubalik might be that guy. There will almost certainly be stretches next season where he gets hot, maybe for as long as 5-10 games, and Sens fans will wonder what the big fuss over losing DeBrincat even was. But there will also almost certainly be similiar (or longer) stretches where the puck just isn't going in the net and Kubalik will be totally invisible because of his inability to contribute in other ways.
The Verdict:
Kubalik can help a good team by bringing some secondary scoring punch to the bottom half of the line-up. He won't drive the play in the right direction by himself, and you'd be wise not to deploy him in high leverage defensive situations, but put him with the right teammates who can get him the puck in the offensive end and he'll deliver results. For a team like Ottawa whose bottom six was particularly inept last year, Kubalik has the potential to be a real balm. If he's asked to play a leading role on one of the top two lines for longer than a few games at a time, he'll almost certainly be a disappointment.  It's all about setting expectations, and with Kubalik, at this stage of his career, it's pretty clear what we should expect.
Not everyone can afford to pay for sports coverage right now, and that is why we will keep as much of the site's content free for as long as we can.
But if you are able to, please consider subscribing to help keep our articles free (and get a few extra perks).
Erik Condra
Ability to comment and participate in our community
Twice monthly newsletter available only to subscribers
Ad-free reading
Our undying love and appreciation
Brady Tkachuk
Everything from the Erik Condra tier
10% discount on all merch
Access to any future paywalled content
A personal thank-you from the Silver Seven staff
Daniel Alfredsson
Everything from the Brady Tkachuk tier
Inner peace knowing you are supporting quality, independent coverage of your favourite sports team