Should We Put Some Respect on Jiří Smejkal?
Four months later, an introduction of sorts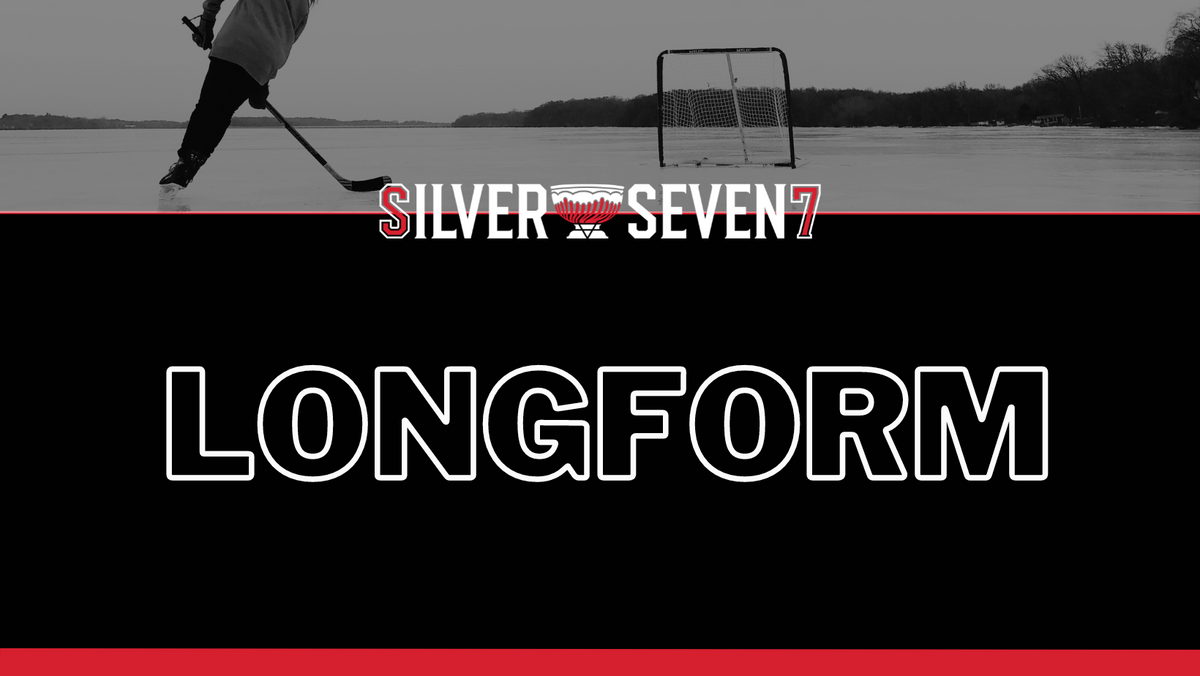 Now you may not have noticed, because really no one in their right mind should have noticed, that in the (almost) four months since the Ottawa Senators signed Jiří Smejkal, we here at SilverSeven have neglected to actually write a proper introductory article about the Czech winger. I intend to right this wrong. Of course, you could make the argument that Smejkal might top out as an AHL forward at best for the Sens, and thus not merit his own introductory blurb. But as a counter to that argument: I have written about a million words on this site about players who never amounted to anything at the NHL level, and I have no intention of stopping any time soon.
Back on May 5th, the Senators signed Smejkal as an undrafted, international free agent to a one-year, two-way contact with a cap hit of $870k. The Sens love them some oversized forwards with incomplete toolkits, as we've discussed at length through our Top 25 under 25 series, and I would consider Smejkal no exception. He doesn't skate as well as the rest but you can't teach 6'4" and 200lbs so why not give the dude a shot? The Sens also like to reward players with good athleticism and a willingness to play hard in the crease (check! check!). He doesn't require waivers so worst case Smejkal adds some valuable depth to a Belleville team that can no longer tap into one of the best prospect pools in the league. So other than size or grit, why did Pierre Dorion and friends sign Smejkal?
Well to start, Smejkal does have some pedigree. Moose Jaw drafted Smejkal with the 12th pick of the CHL import draft back in 2014, the same year that Smejkal won a silver medal with the Czech team at the U18s. In what should have been his draft year, Smejkal had 12 goals and 20 assists in 72 games for the Warriors. The following season he had five goals and 22 assists over 58 games split between Moose Jaw and Kamloops. He played his best hockey at the World Juniors with four points in five games. The following season Smejkal started his professional career in the KHL with four points in 26 games, and two points in nine games playing professionally in his home country. Suffice to say at this point, any chances of Smejkal playing professionally in North America seemed slim based on his career trajectory at that point in time. He had his moments, yes, but the above production rarely merits anything more than a cursory look from NHL squads.
Over the past two seasons, somewhat surprisingly, Smejkal has come back from the wilderness, and had some sort of renaissance playing in Finland and Sweden's top leagues respectively. His improved play garnered attention from North American scouts and Ottawa ultimately won the Smejkal sweepstakes. Let's start with 2021-22, Smejkal's second season in Finland's top league and his first with the Pelicans. That season, Smejkal finished seventh leaguewide with 45 points in 44 games and third in goals at 25. Now immediately, we need to address Smejkal's shooting percentage of almost 15 and remember that these aberrations happen all the time. As you'd expect with an undrafted player, you get a mix of good and bad.
In terms of individual production, Smejkal had one of the best seasons we've seen in the last five years in Finland's top league but it comes with some red flags. Smejkal led the league in forward ice-time at over 20 minutes a night on a pretty mediocre team that didn't make it past the qualifying round of the playoffs. On a positive note, Smejkal only accumulated about a quarter of his points on the powerplay so that bodes well. And because Liiga's website blesses us with some nerd stats we can also tell you that Smejkal had an unsavory 5V5 CF% of 46.3 (eighth among forwards on his team). Again, take the good with the bad.
Last year in the SHL, Smejkal finished sixth in the league in points with 43 in 49 games. His 23 goals saw him tied for second league-wide. This time he had an absurd shooting percentage of almost 24 so take that as you will. Among his teammates, Smejkal finished second in goals, third in points, and fourth in assists and shots, so you could make the argument that he may have rode the coattails of teammates Antti Suomela, Ahti Oksanen, and Patrick Karlkvist. Without having watched the tape, I would relent to say. Contextually, Smejkal's SHL campaign again stands out as one of the better individual performances we've seen in the past five years but that doesn't necessarily mean much for a player in their mid-twenties. At the very least, Smejkal should play meaningful hockey in the AHL based on his experience but the jump to the NHL still represents a significant increase in difficulty especially for a player not known for their skating prowess.
When talking about the Senators system, and forwards in particular, we often circle back to the fact that Ottawa has a lot of big, strong, hardworking forwards who can eat minutes and hold their own in all situations while not really creating a lot by way of skill. And the trend continues with Smejkal as you may have deduced by now. H e joins the ranks of Parker Kelly and Mark Kastelic and Cole Reinhardt and, and, and, and--you get the point. I can appreciate when the Sens do roll the dice on players like Roby Järventie at the draft or Vladimir Tarasenko in free agency because they desperately need some finishers beyond that top line. I can also appreciate that in Smejkal the Senators have yet another game-ready forward they can plug in without much fuss who can add some grit and depth, although it fails to address a greater need (arguably Ottawa's greatest need post-Alex DeBrincat).
Does Smejkal deserve an opportunity in the AHL and/or NHL? Definitely. A lot of players with similar profiles have had successful careers in the AHL and enjoyed cups of coffee in the NHL too, so I do like the signing in that capacity. Smejkal fits Ottawa's mold and will likely adapt well to DJ Smith's style of play. If he has good locker-room vibes then all the better. I learned my lesson with Artem Zub that you can't dismiss these types of signings until you actually watch a player in a few NHL games. Consider this another low-risk, low-reward gamble from a team that already has its core in place and needs to find the missing pieces to get them back into the postseason. Oh, and Jiří Smejkal is also a pretty badass name. Welcome to Ottawa!
Not everyone can afford to pay for sports coverage right now, and that is why we will keep as much of the site's content free for as long as we can.
But if you are able to, please consider subscribing to help keep our articles free (and get a few extra perks).
Erik Condra
Ability to comment and participate in our community
Twice monthly newsletter available only to subscribers
Ad-free reading
Our undying love and appreciation
Brady Tkachuk
Everything from the Erik Condra tier
10% discount on all merch
Access to any future paywalled content
A personal thank-you from the Silver Seven staff
Daniel Alfredsson
Everything from the Brady Tkachuk tier
Inner peace knowing you are supporting quality, independent coverage of your favourite sports team