Sharing NHL Draft Resources
The Sens may not have many picks in the upcoming NHL Entry Draft, but that doesn't mean there isn't plenty to learn about the class.


I'm proud of a lot of our coverage here at Silver Seven, and the area that I feel as though I've been able to contribute to the most over the years is previewing and analyzing the annual NHL Draft. I find the uncertainty of it all wildly entertaining, and during the painful moments of the last decade, focusing on the future provided me – as a writer and as a fan – much solace.
It would be hard for me to write up a Sens-focused draft preview given the team's lack of picks in the top-100 for the first time in many years. Hence, I thought it'd be fun to focus this year on informing the fanbase through providing education that aims to bolster the level of analysis and discussion we can all contribute to.
Education always begins with access to resources, and resources about the NHL draft can appear and disappear on a whim. Major public sites have started a paywall, online scouting bureaus hope to be paid for their analysis, many folks who were previously online have been hired by professional teams. The landscape is always changing.
As of June 2023, here is a list of resources that I use to gather information about the NHL Draft. If you have other sources that you'd like to share, or additional tips you have about using any of these, I'd welcome your additions in the comments section.
---
Information
EliteProspects: The most cited database for hockey prospects in the world, EliteProspects is your premier resource if you're wanting to learn high-level information about every draft-eligible player and the environments they play in.

Use for:
Their Draft Center portal compiles rankings from independent scouting agencies, lists over 500 draft-eligible players, and contains valuable information such as their age, height, weight, and boxscore statistics. Looking through past portals can help you get an accurate sense of historical information when making connections in your analysis.
On an individual player's profile (e.g., Zach Benson), don't forget to scroll down to the "Player Career Totals" and "Career Highlights" box; close examination can help you get a sense of the player's career trajectory to date. For me, if a player wasn't always a scorer but suddenly became one (or vice-versa), it's worth trying to answer the question: what changed?
I spend most of my time looking at the league pages (e.g., WHL). The filters at the top allow you to get a sense of how the player ranks positionally, on their team, by age, and by draft status; premium filters that are accessible for those with a subscription allow for a more nuanced look at finding a player's comparisons in terms of age, size, or statistical profile. As you can see below, when looking at the stats compilation, I love to filter to the "All-time/season" tab to expand my sense of how a player's performance this season compares to other draft-eligible players in previous years.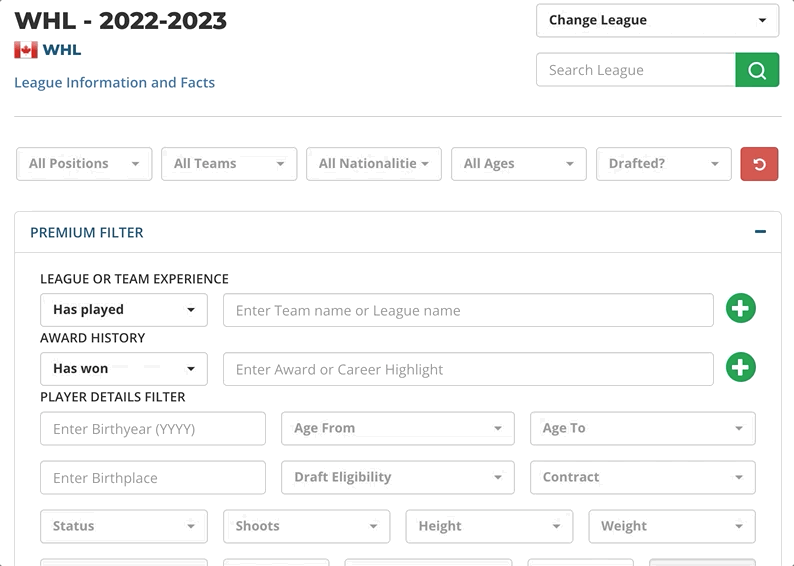 Hockey Pipeline: Launched this month by Daniel and Jared, HockeyPipeline compiles mock drafts and rankings for people to access a plethora of qualitative information in one place. https://hockeypipeline.com/
Prospect models: Over the years, there have been plenty of individuals who have worked to model and analyze the NHL Draft. From Seattle's Namita Nandakumar writing her thesis on draft strategy to Josh Weissbock and Cam Lawrence's Prospect Cohort Success model that got them noticed and employed by multiple hockey clubs. Publicly, the most common term that you hear about in relation to this work is called NHLe, shared widely by the LA Kings' Rob Vollman, and updated many times over the years. Earlier this week, Chace McCallum wrote up a useful piece outlining how and why prospect models are useful and noted the following, which I strongly agree with:
Prospect models are fairly simple and flawed, but they help us do something that's really hard using only our brains. Ultimately we should care about these models because they can help us find prospects we would otherwise struggle to find. They do this by helping us weigh information, check our biases, and collect information about a prospect every time they play a game. It's not about perfection and that's okay. This is far from a comprehensive list. I forget things all the time, but I hope it covers some things that aren't well fleshed out in Twitter and Reddit debates about NHLe models.
A popular model is Byron Bader's, and you can read more about how to utilize the data tools he's created here.
Advanced statistics

NHL Draft Stock Charts: Developed by Jeremie and Prashanth, this app illustrates the probability of when a player might get selected, derived from rankings from popular public outlets. You can read more about their use of rank-ordered logit models to do this here.

Use for:
Use the player charts tab to see how a player's stock changed over the course of their draft year (last summer to now).
Readers familiar with our colleague Colin Cudmore's work during the 2020 NHL Draft can make use of the average draft ranking tab to learn about how many rankings a player was included in, their average rank, and the expected range for their selection on draft day.
Use the draft pick probabilities tab to make yourself sad that the Senators are not likely to be able to draft Radek Bonk's son, Oliver, unless they acquire a pick in the top-100.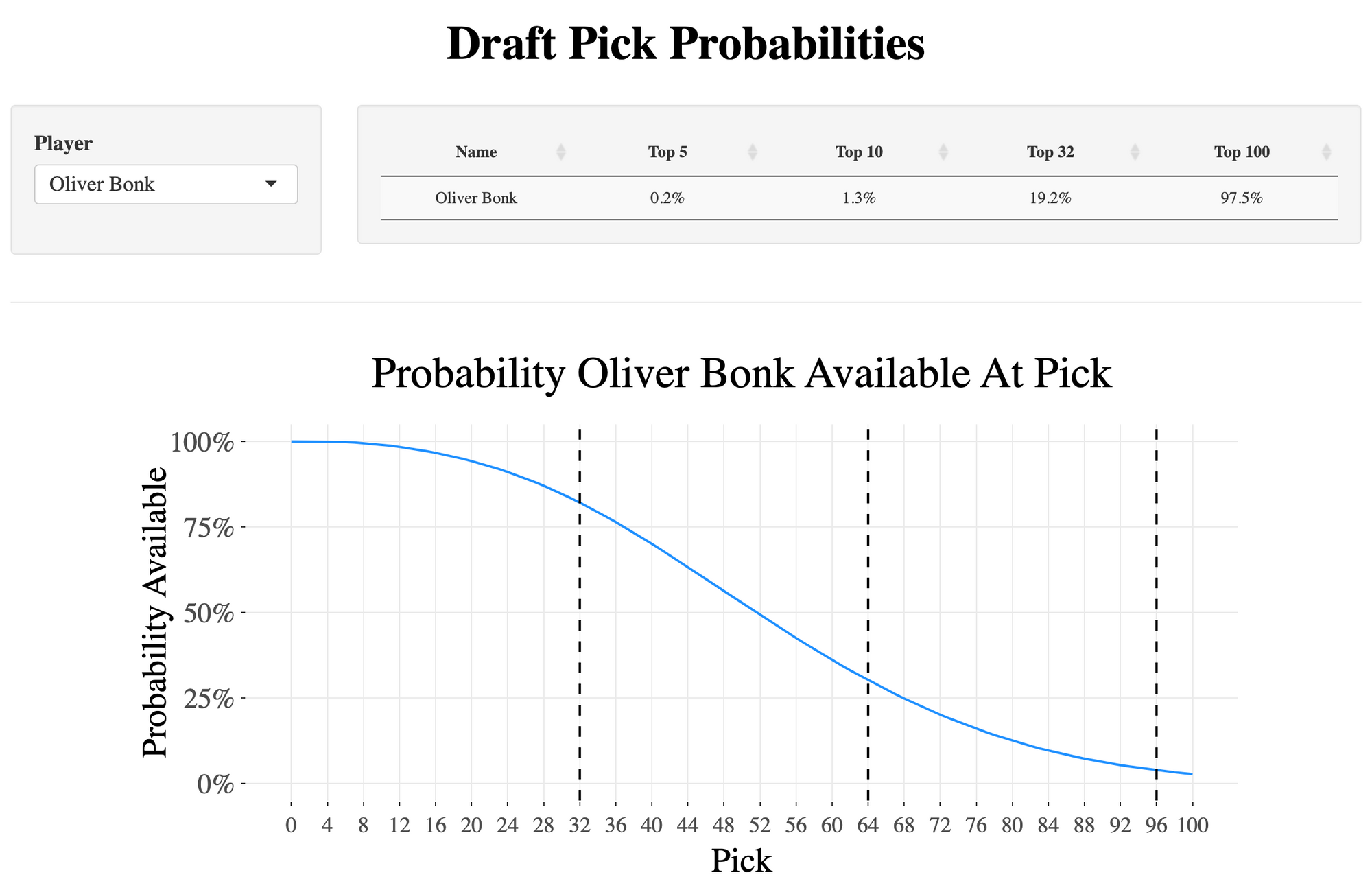 The Draft Digest: Created by Chace, Max, and Josh, this free site features many tools built off of the EliteProspects API that help to further our understanding of players, teams, and draft tendencies.

Use for:
League-wide tools like the era adjustments and league scoring rate help you adjust your analysis when comparing players playing in the same league in one year (e.g., 2023) to another (e.g., 2015), and can support you in comparing players across leagues.
The team draft page allows you to assess a team's draft tendencies in terms of NHLe, height, age, and position compared to other teams between 2000 and 2022.

Pick224: Run by Dave MacPherson, now of the Sarnia Sting, Pick224 is an invaluable, free statistical database that contains a plethora of data about North American, Swedish, Finnish, Russian, Czech, and Slovak hockey leagues. The site has not been updated since 2022 – last year – given that's when Dave got hired, but the repository goes back until 2008 in some cases.
Use for:
Comparing prospects drafted between 2008 and 2022 in measures such as even-strength points (versus points on special teams), goals-for percentages, estimated time on ice per-game, primary points, (goals and first assists), and age relative to their draft class.
Mock drafts & simulators
After five years of getting very familiar with Tankathon, Sens fans haven't had to worry about a lottery pick after trading their lone first-round pick to the Arizona Coyotes. If you want to play another game, there are two draft simulators out there that might interest you:
FCHockey's tool allows you to go through the 2023 draft as if you were in-charge of as many teams as you want. You can just choose one, like Ottawa, or choose as many as you want. The draft order is already set, and players are pre-loaded as per FCHockey's draft rankings.
Draft Prospects Hockey has a similar tool, where you can have a local draft allowing you to pick for as many teams as you want, but also has an online draft option that is plenty of fun for you to do with friends or in a pool!
---
Am I missing any resources you use? Do you have tips that you'd like to share with people to help their analysis? Share with us in the comments!
Not everyone can afford to pay for sports coverage right now, and that is why we will keep as much of the site's content free for as long as we can.
But if you are able to, please consider subscribing to help keep our articles free (and get a few extra perks).
Erik Condra
Ability to comment and participate in our community
Twice monthly newsletter available only to subscribers
Ad-free reading
Our undying love and appreciation
Brady Tkachuk
Everything from the Erik Condra tier
10% discount on all merch
Access to any future paywalled content
A personal thank-you from the Silver Seven staff
Daniel Alfredsson
Everything from the Brady Tkachuk tier
Inner peace knowing you are supporting quality, independent coverage of your favourite sports team