Ottawa Senators 2023-24 Season Start-Up Event Recap
Ottawa Senators Superfan Kevin Lee shares his thoughts from the team's 2023-24 Start-up Event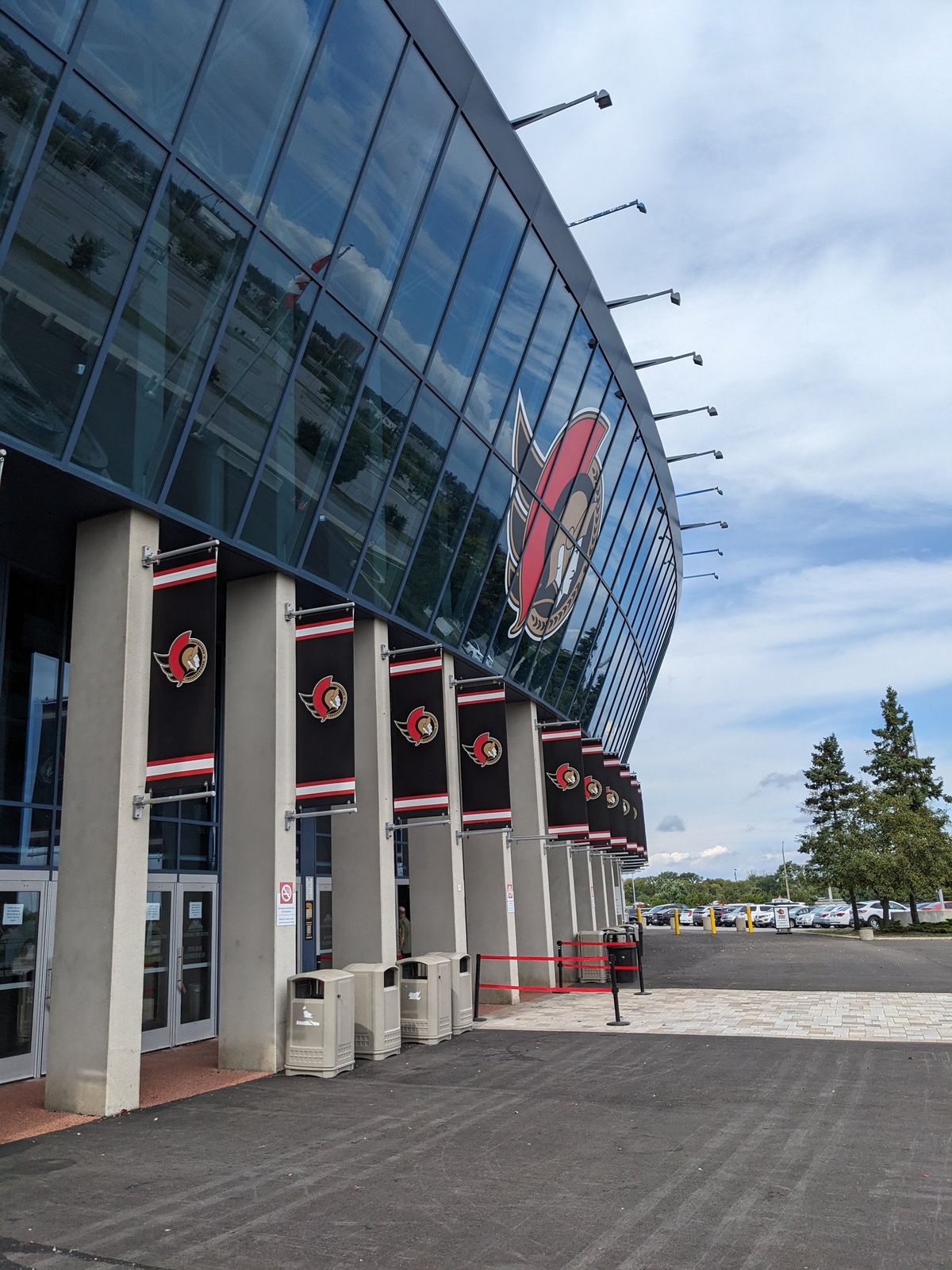 Editor's Note: Kevin Lee, who you might know from our old site's fanposts as sensfanforlife11, or @BringBackLee on Twitter, kindly offered to do a guest post for us recapping his experience from this morning's event. We look forward to hosting more of these posts from the community as the season goes on! – nkb
The Ottawa Senators hosted a "What's New With The Sens" season start-up event for the 2023-24 season earlier today. As expected all the local media were invited, but on top of that they extended the invitation to both some Sens social media influencers, as well as members of the new Sens Membership Council. I was lucky enough to get an invite and was in attendance.
The Sens Membership Council is a new addition for the 2023-24 season, and is a group composed of roughly 30-40 season seat members to help shape the fan experience going forward.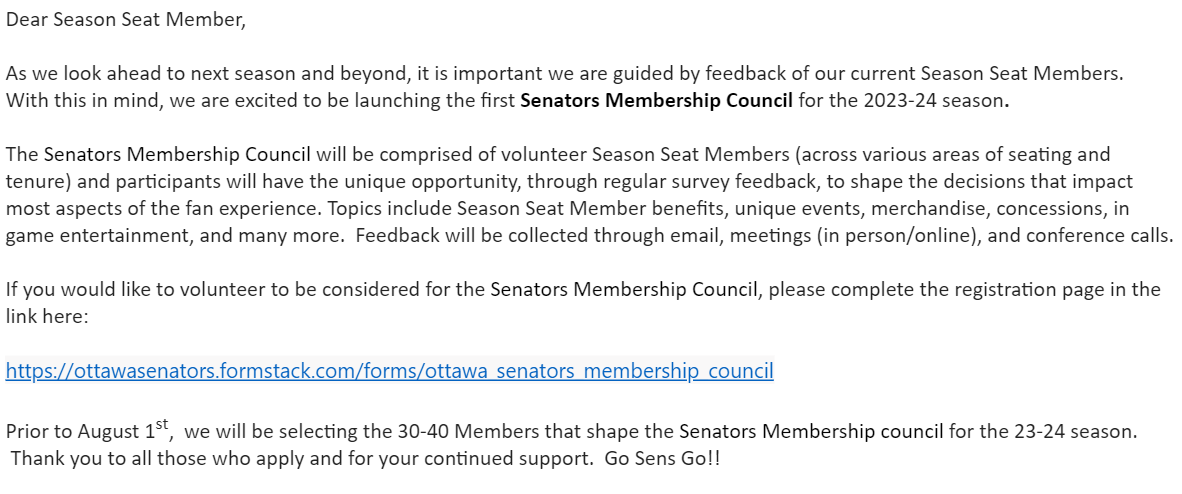 Thomas Chabot opened the event with a couple quick words (in both English and French), thanking everyone for their support of the team and mentioning the exciting times ahead.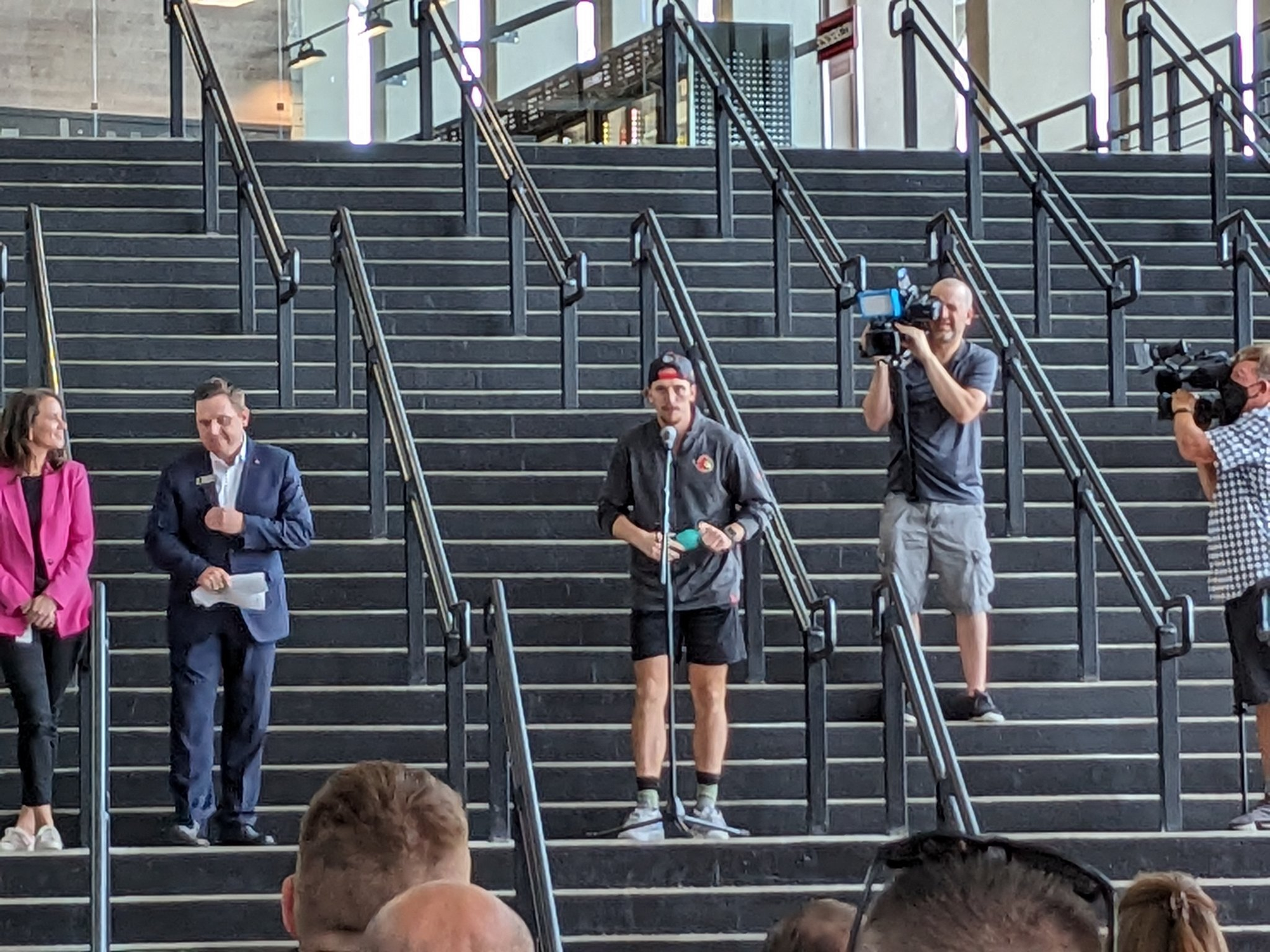 This was followed up by the announcement of  food changes prior to showing us some of the new items that will be available. Burgers will be customizable the way you want it starting this season. The team also quietly introduced soft serve ice cream in some of their stands last season, and are also planning to add customization options for that as well.
Another change is the team wants to push recycling beer cans this season. There will be specially marked disposal bins for them, where all proceeds from the recycled cans will be used to raise money for the Sens Foundation.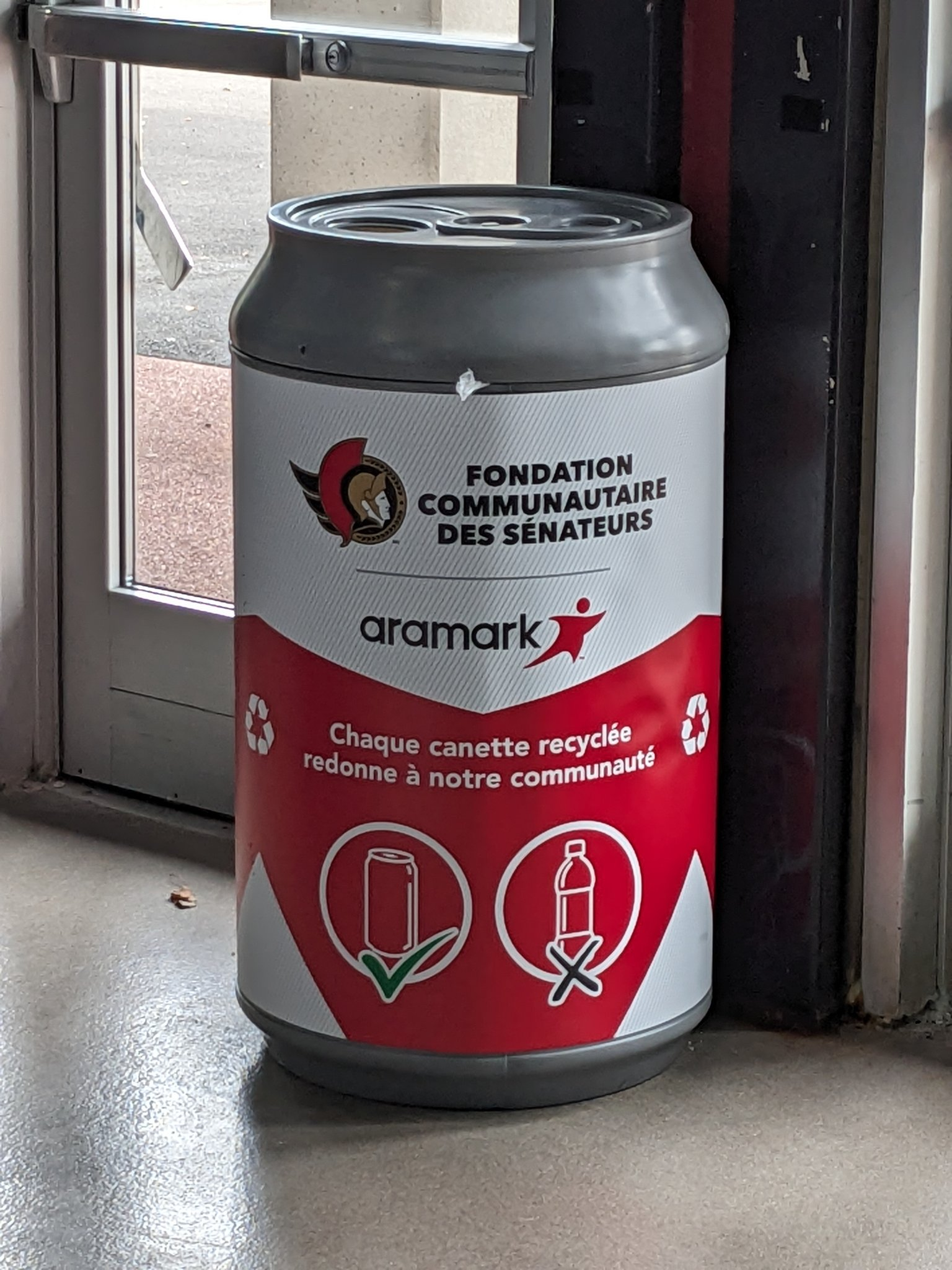 With these quick introductions, we were off to start the tour.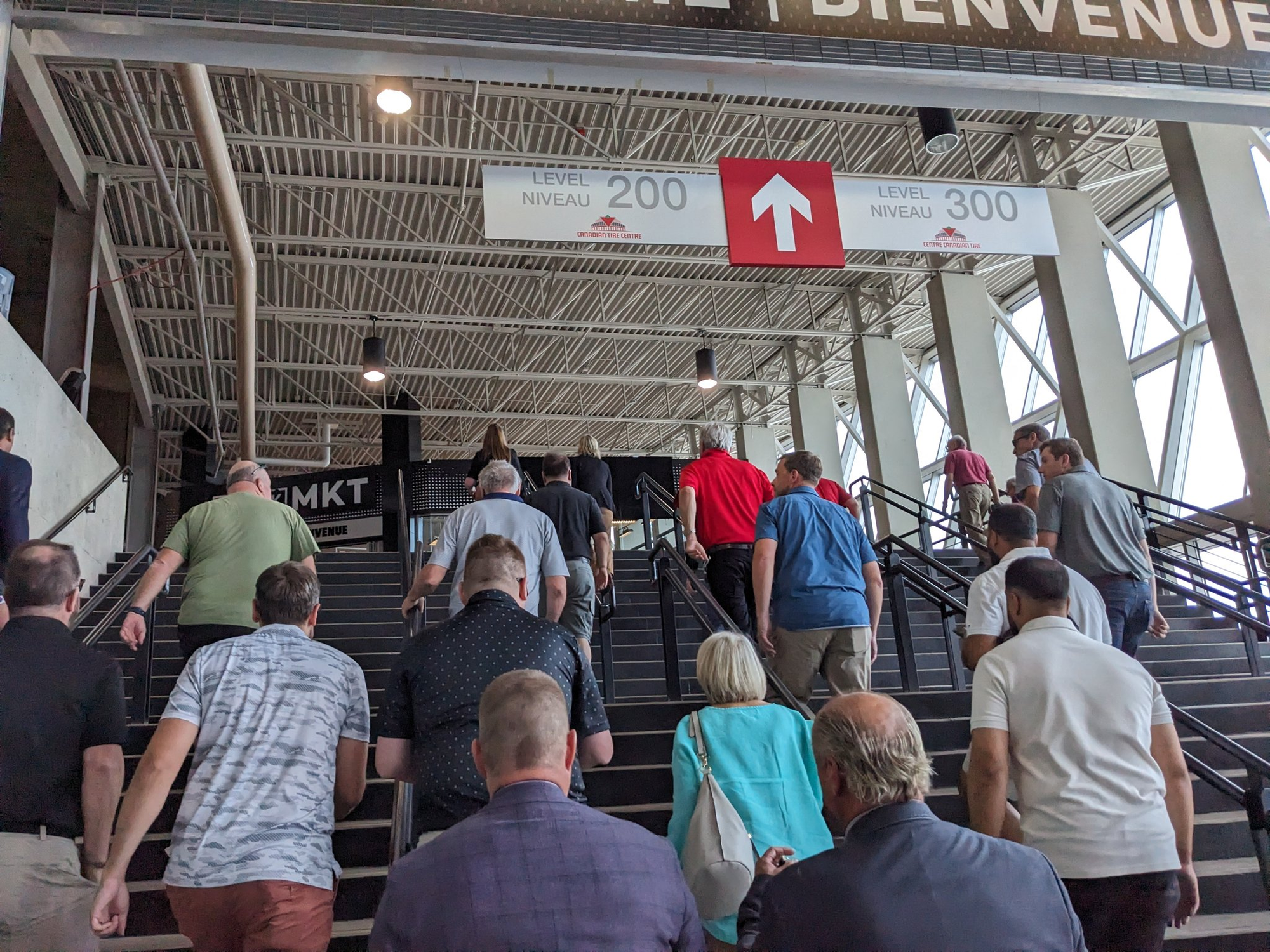 The director of concessions started us off by going over the self serve stands that were introduced last season. Simply grab your beverages and/or snacks, place them under the scanner, get your total and pay, and be on your way.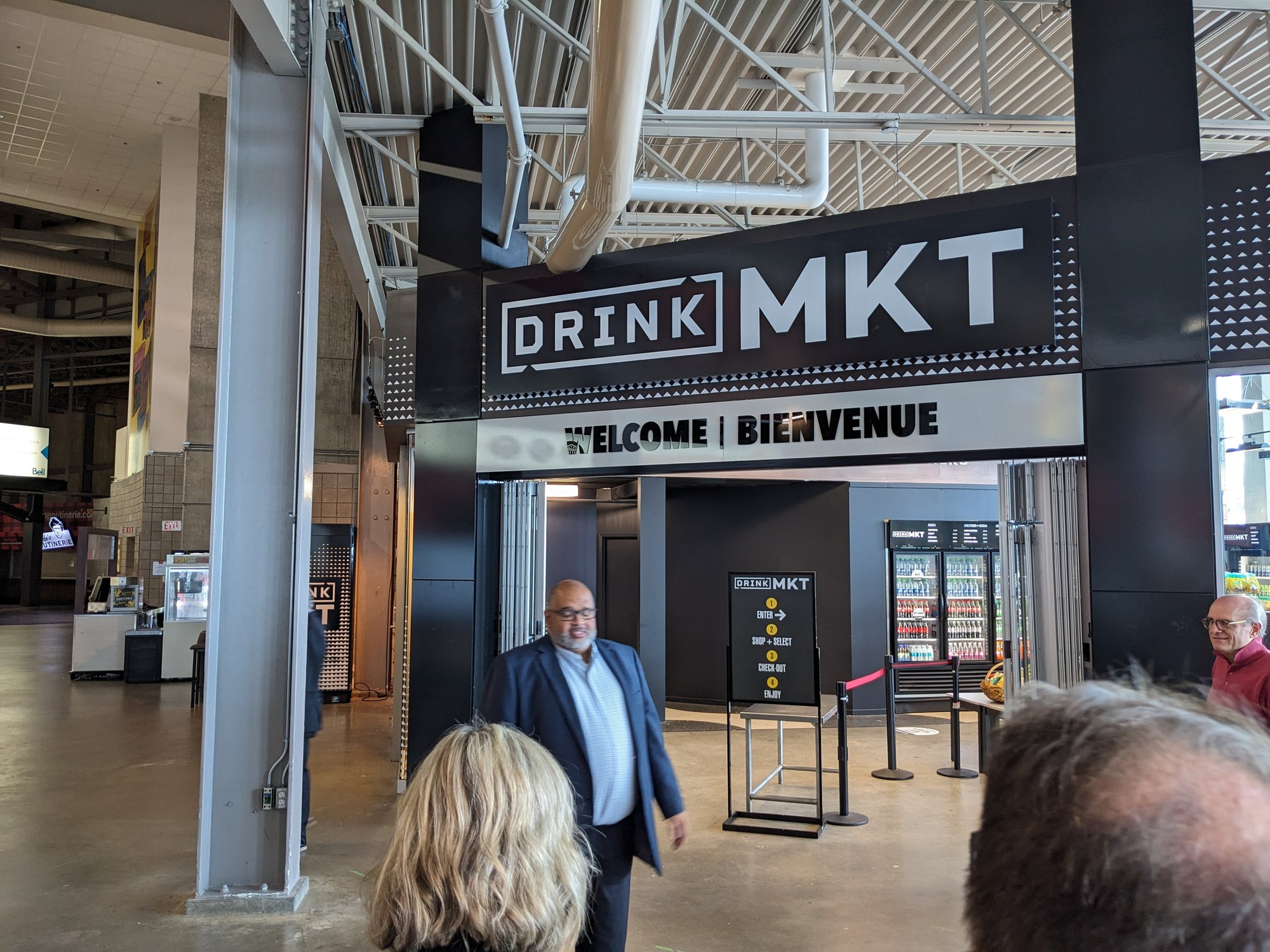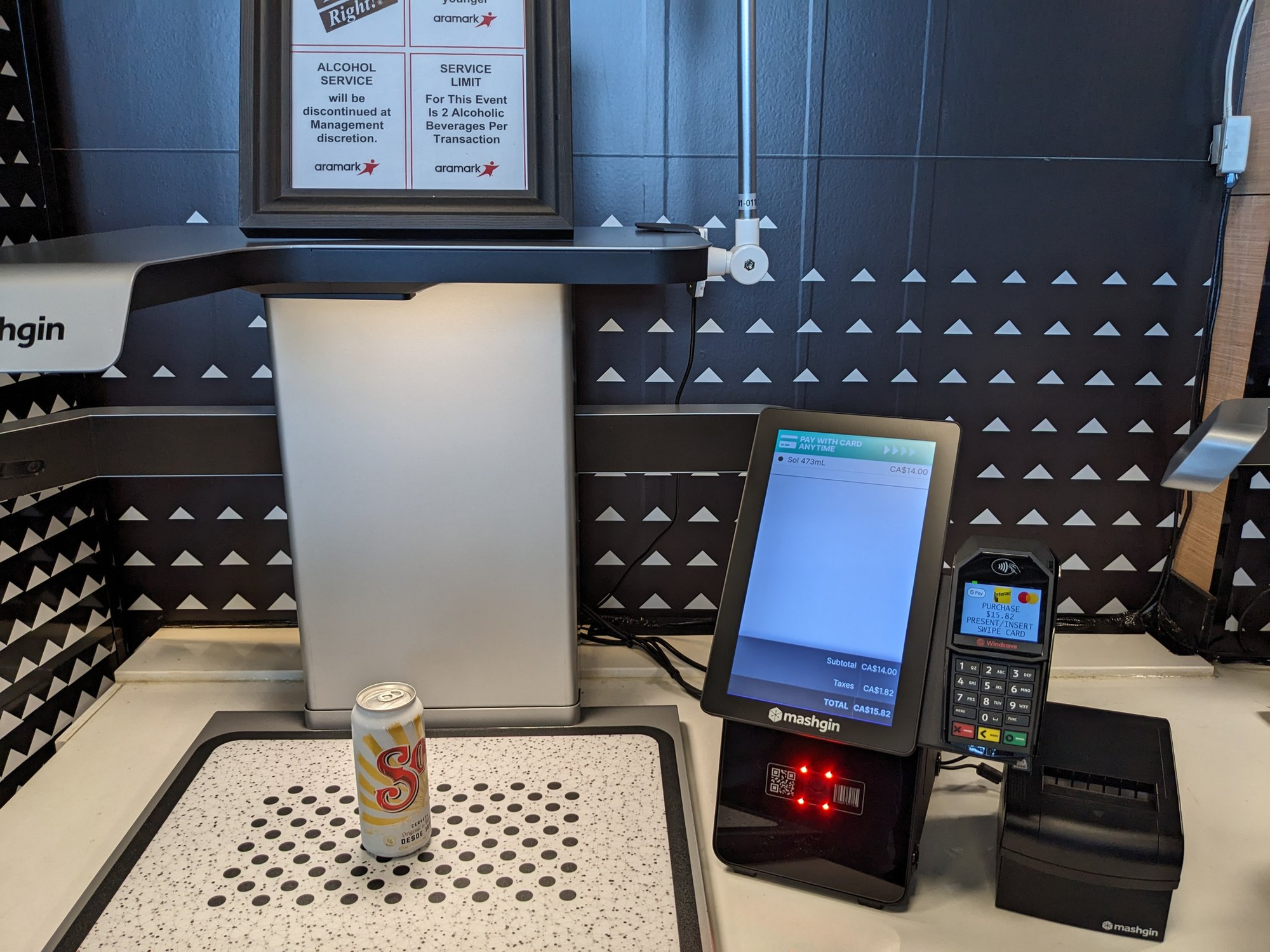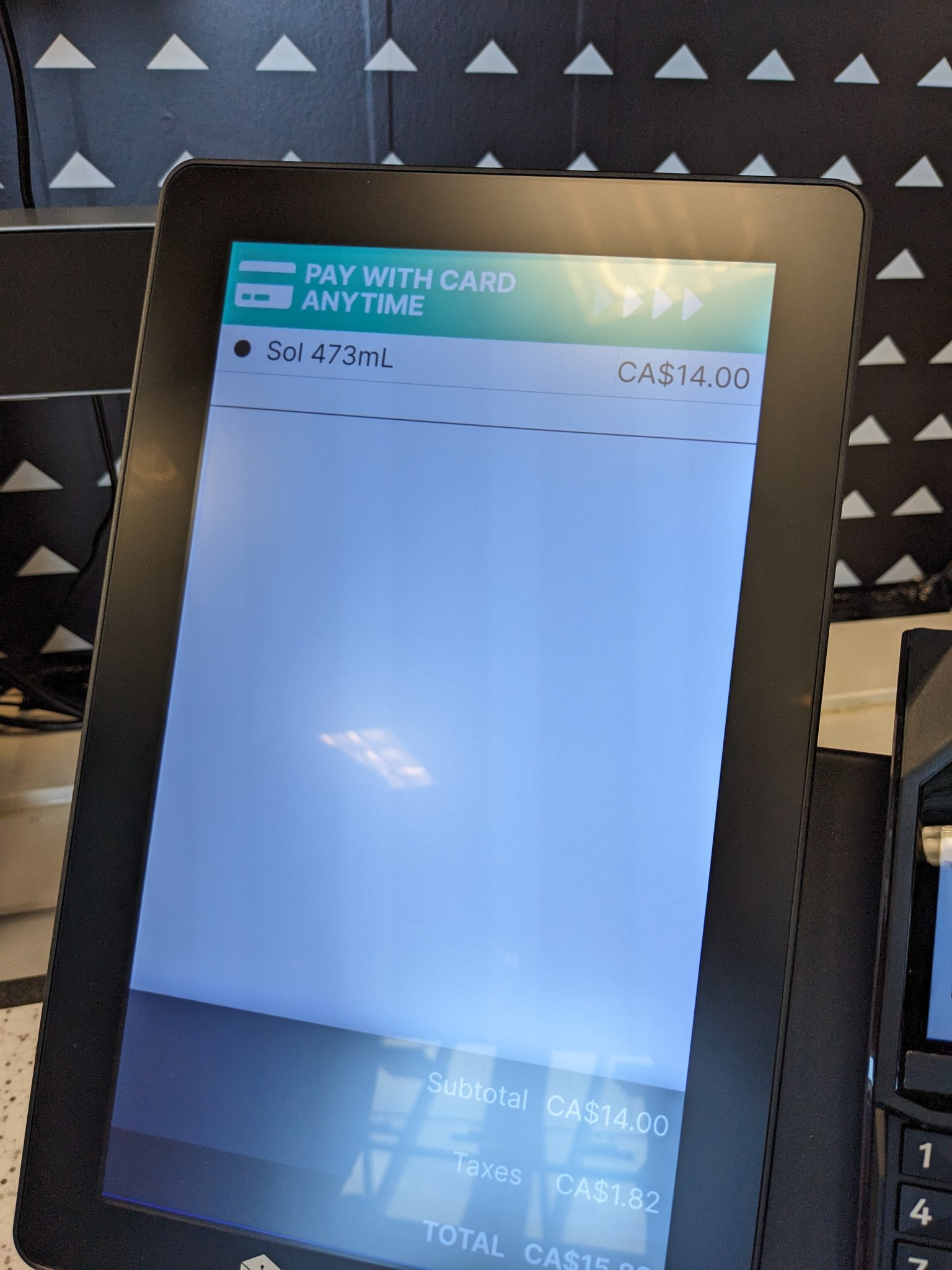 The team was nice enough to let us grab whatever we wanted without paying.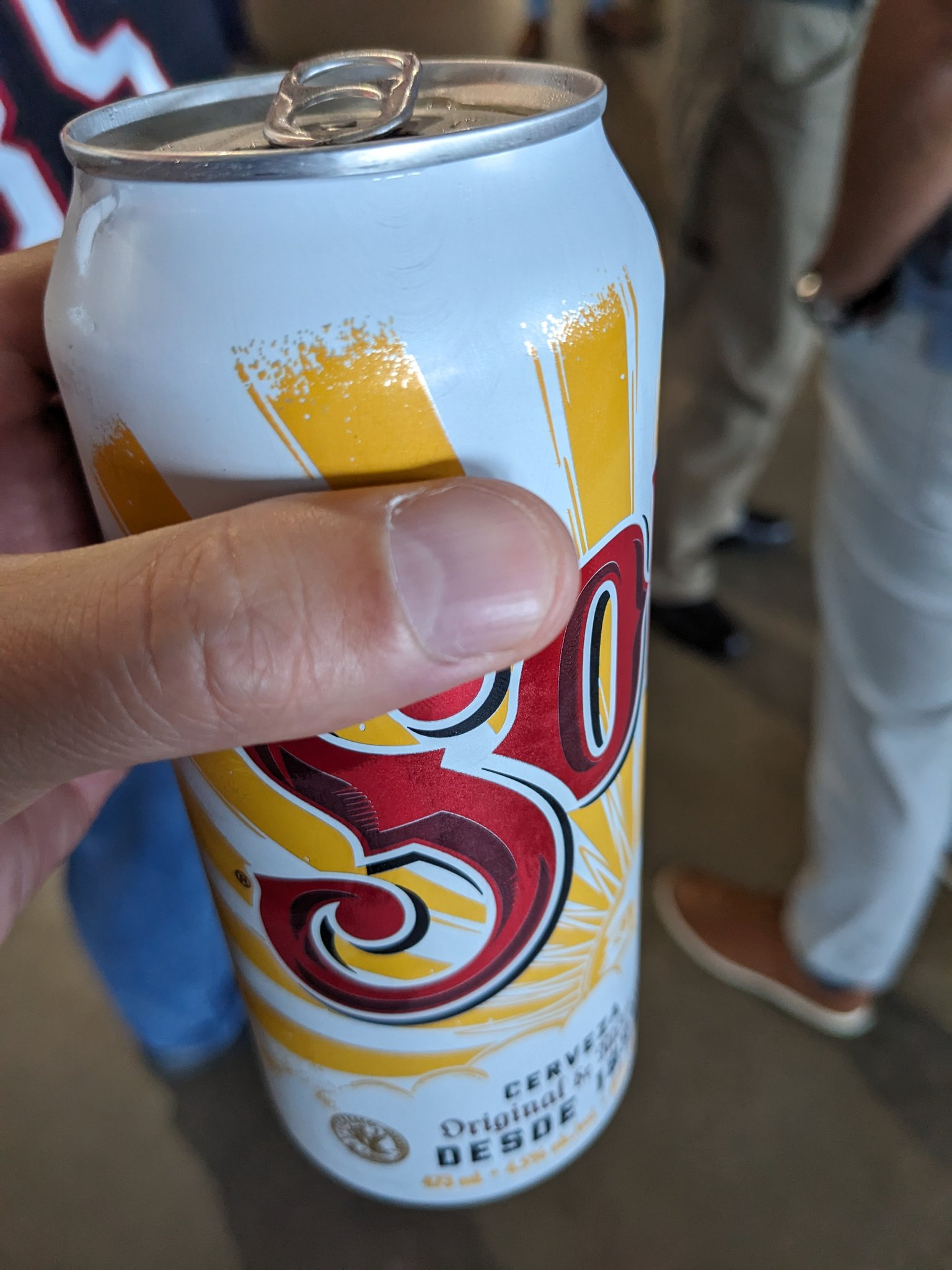 While we were walking to the next food stands, Michael Andlauer made a surprise brief appearance to thank season ticket holders for their support, making a joke that we got to meet him before the media, and mentioning he's already spoken to the players. It was certainly brief, but he was charismatic and friendly and I'm excited to see the direction he brings to this franchise.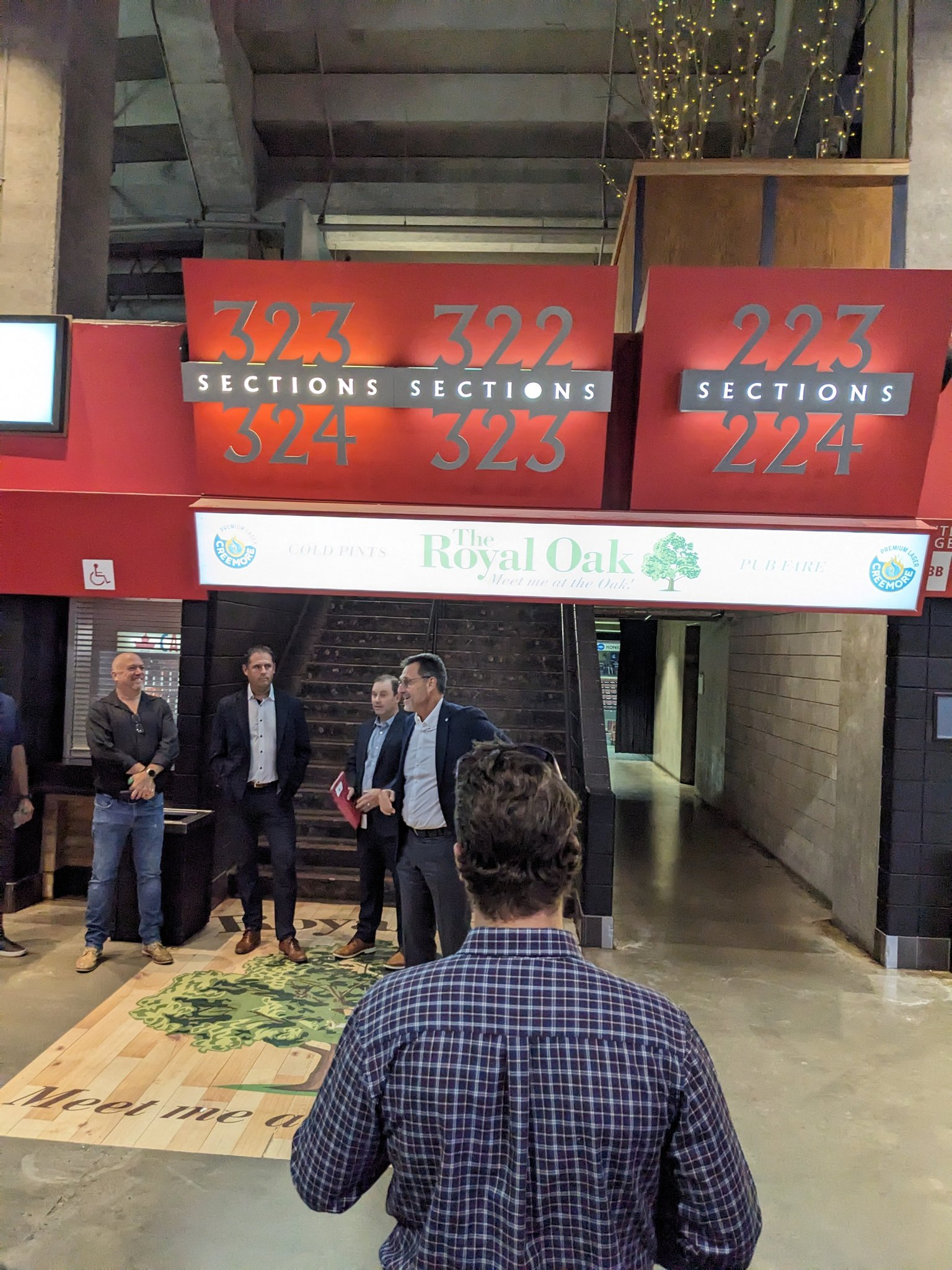 We were then brought to the Chef's Hat-Trick food stand, which was opened last season, with executive chef John Mitchell introducing some new items.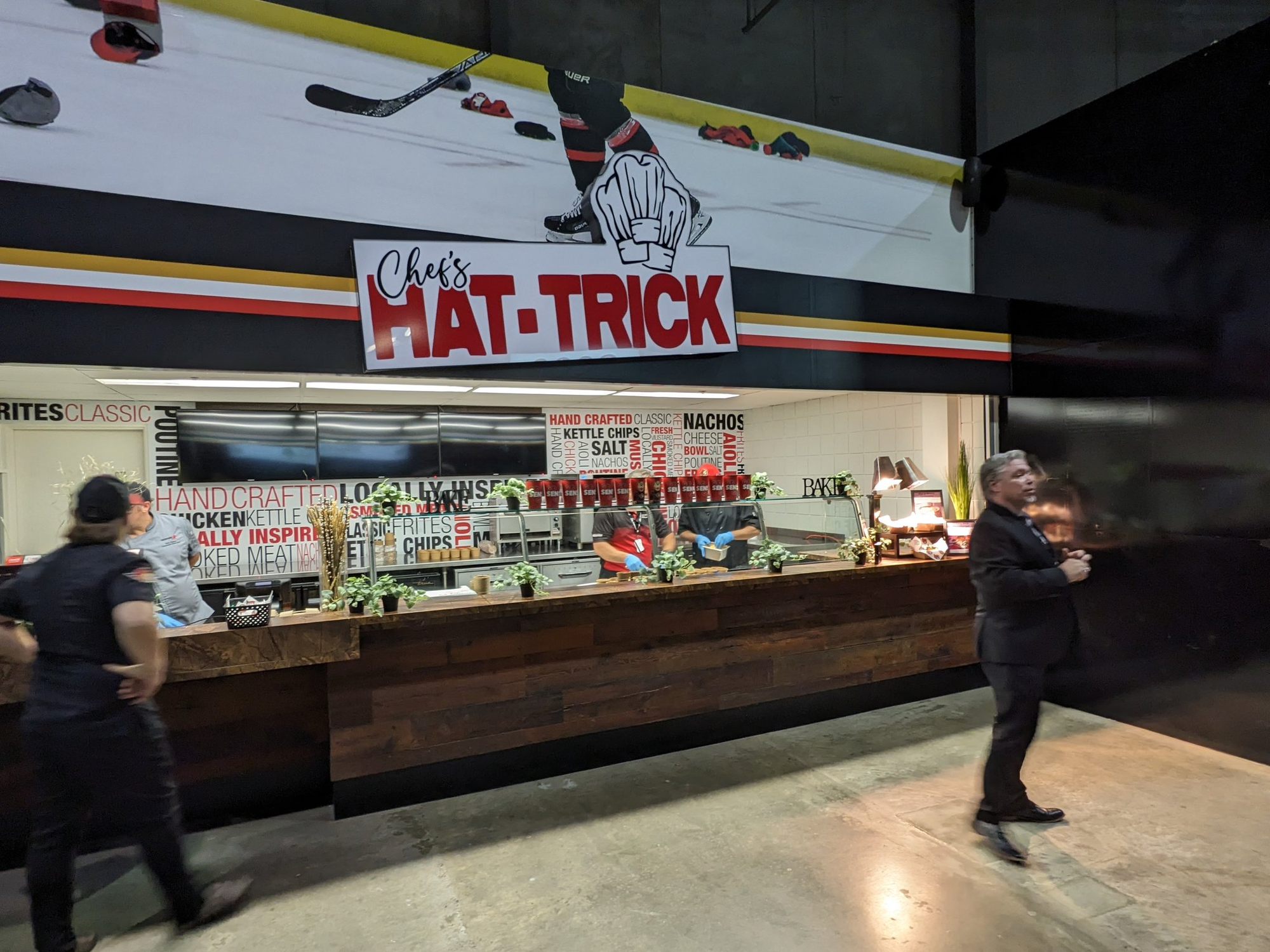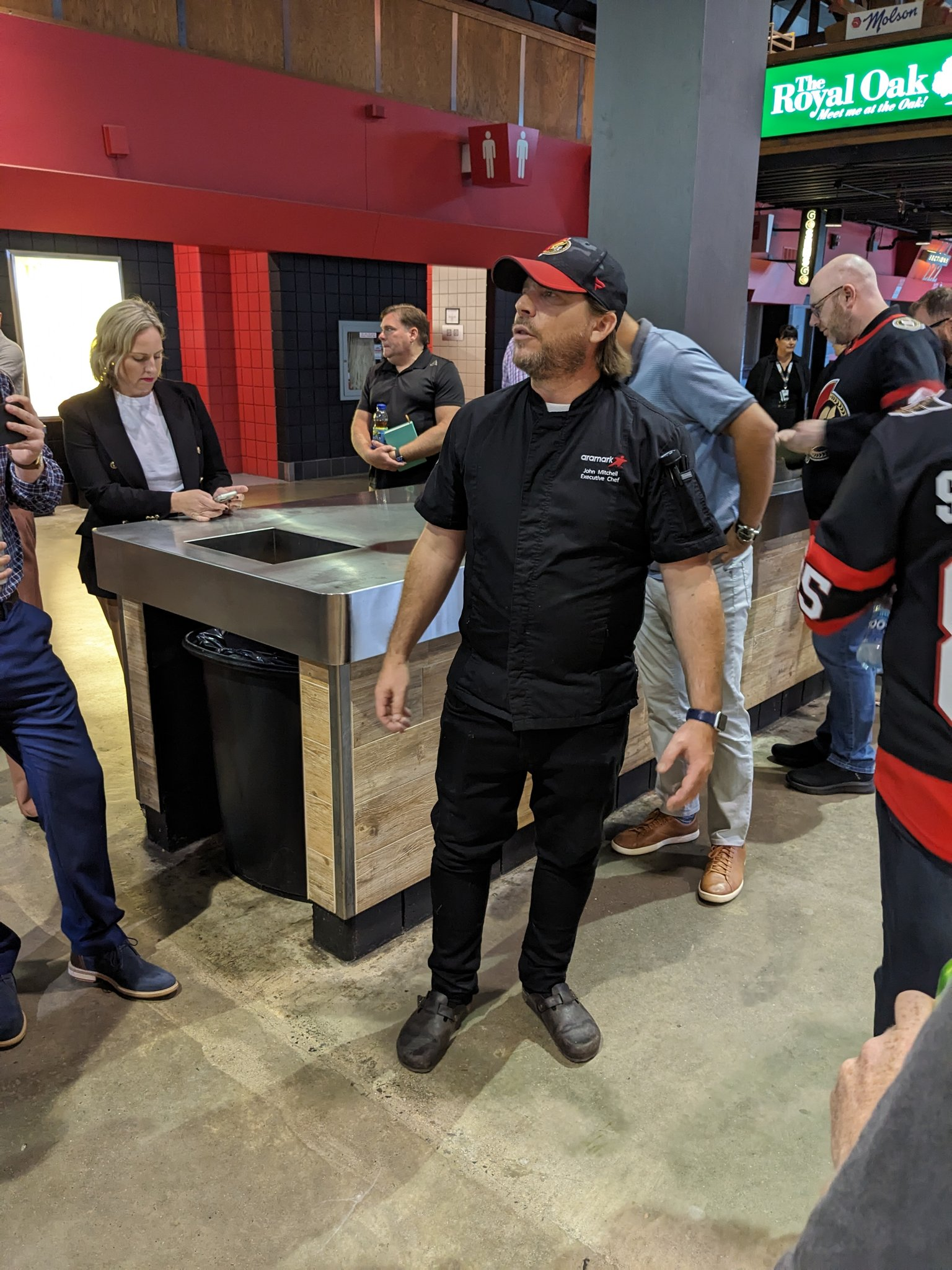 The three items they previewed were
Mac & Cheese Carbonara
Gyro
Hickory Stick Cheeseburger
We were given a small sample for all three, and here are my brief thoughts: the Mac & Cheese is by far the best of the three, the smoked pork belly worked really well in it. The Gyro isn't close to restaurant quality, but does well enough for a hockey game as a healthier less greasy option that's easy to eat. As for the hickory stick cheeseburger, I know the new craze is cutting open a chip bag and adding topping on top, but it's not quite for me, although I'm sure many like the salty pile to go with an ice cold beer.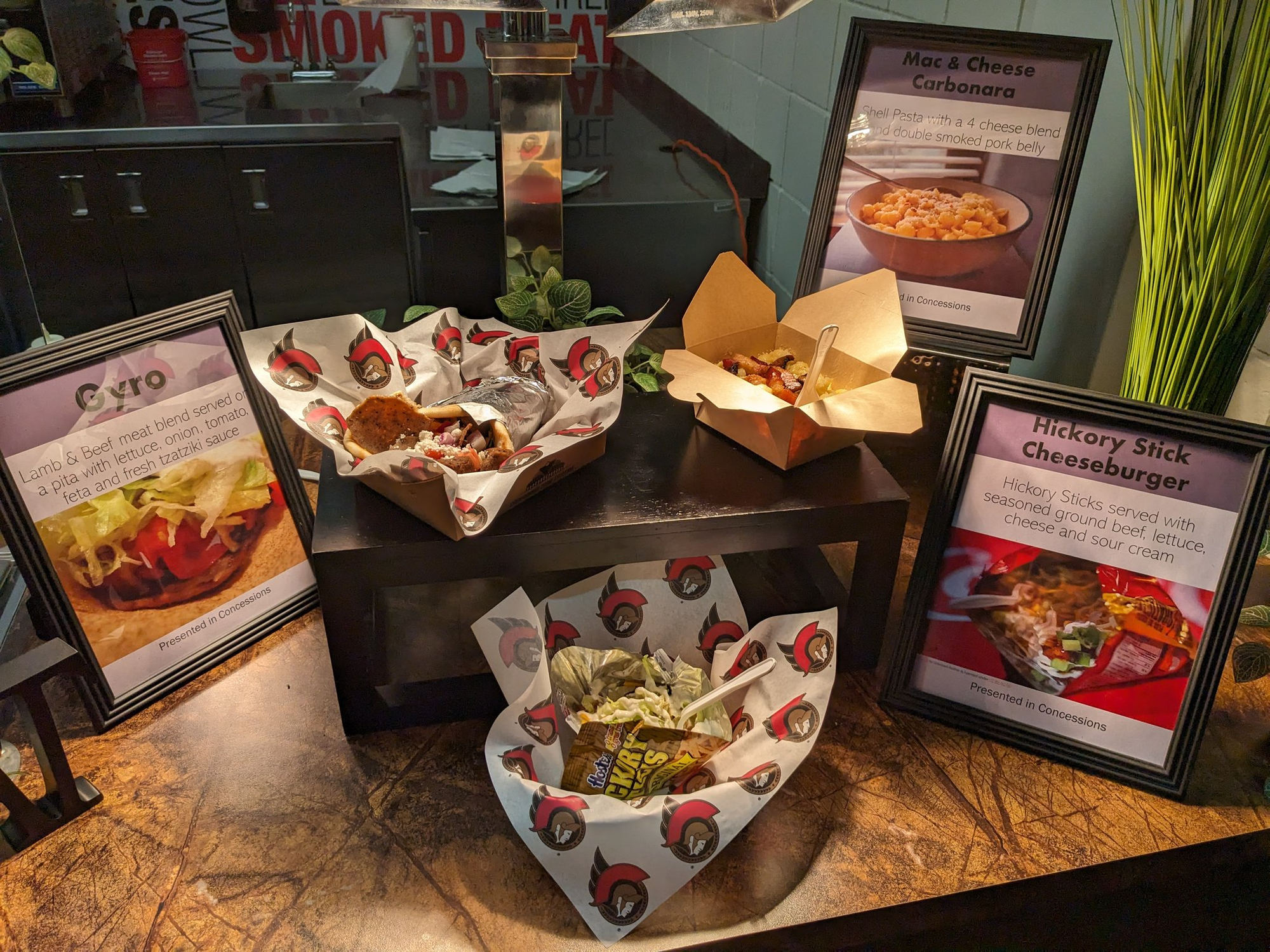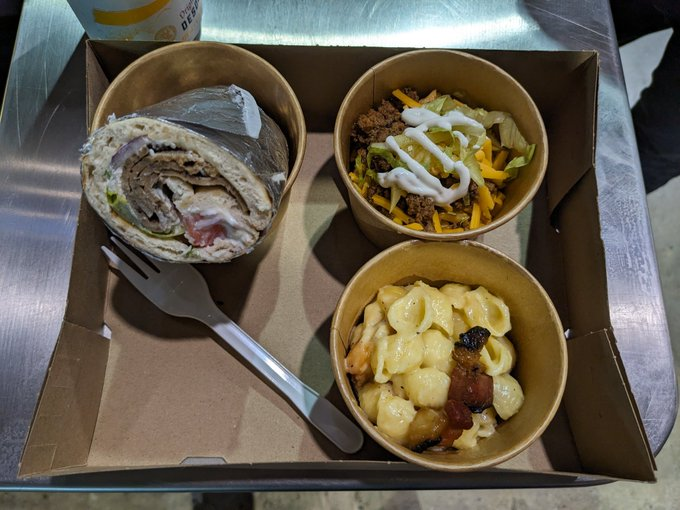 They then also showed off The XL Dog food stand which was opened last year which offers foot long hot dogs.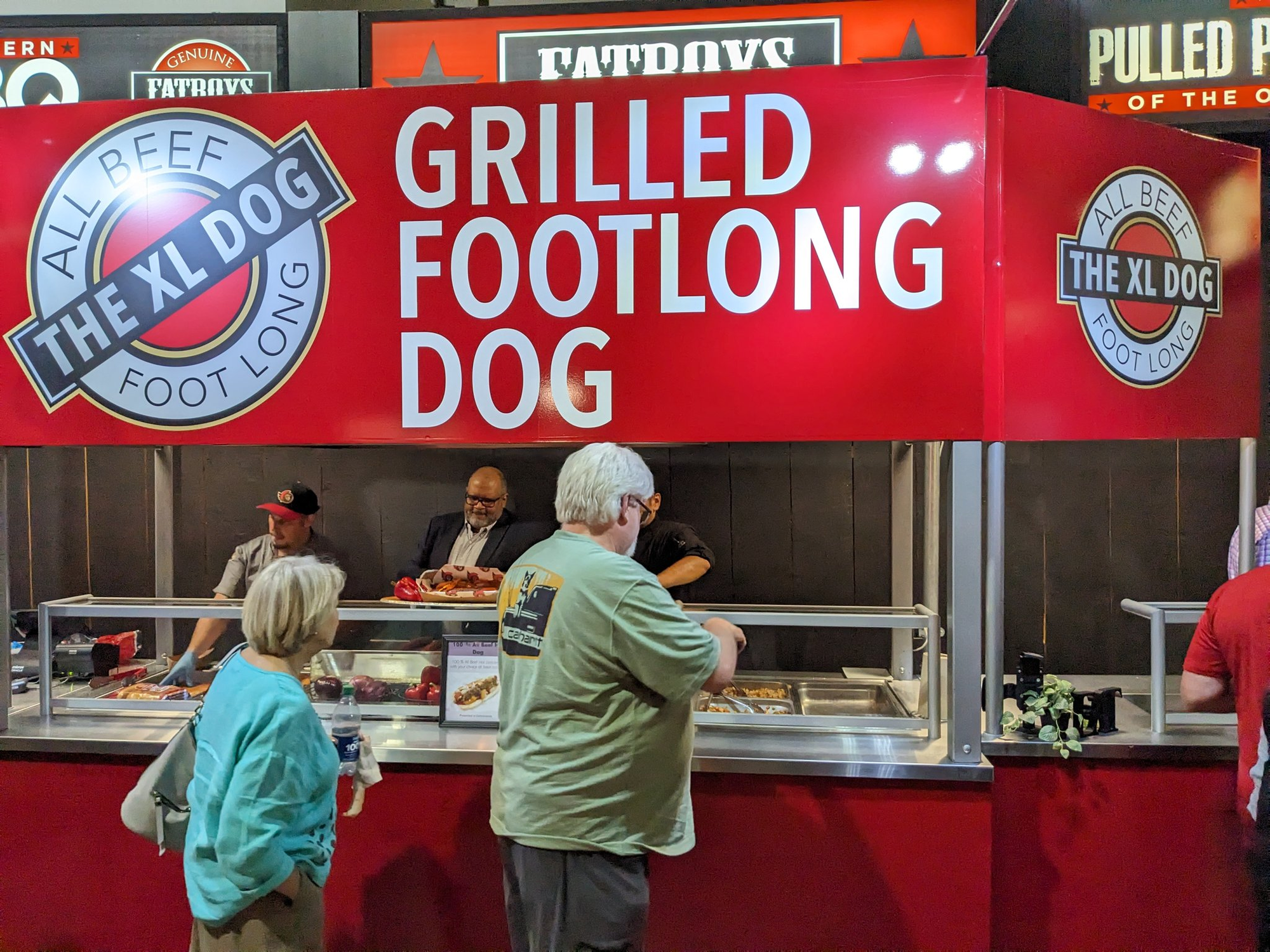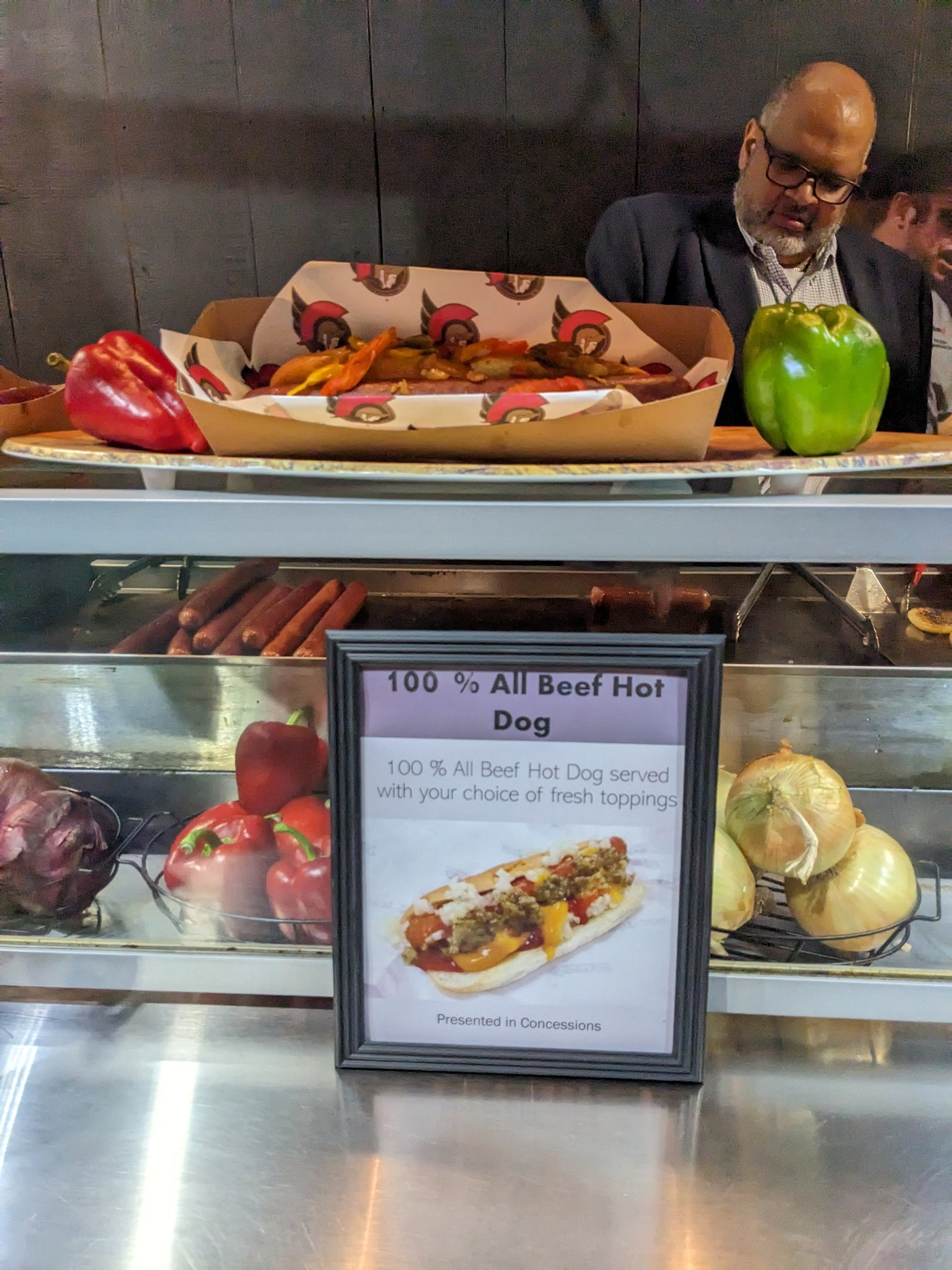 Again, we got to sample this (albeit in a smaller hot dog form) with all the new fresh toppings they'll have available.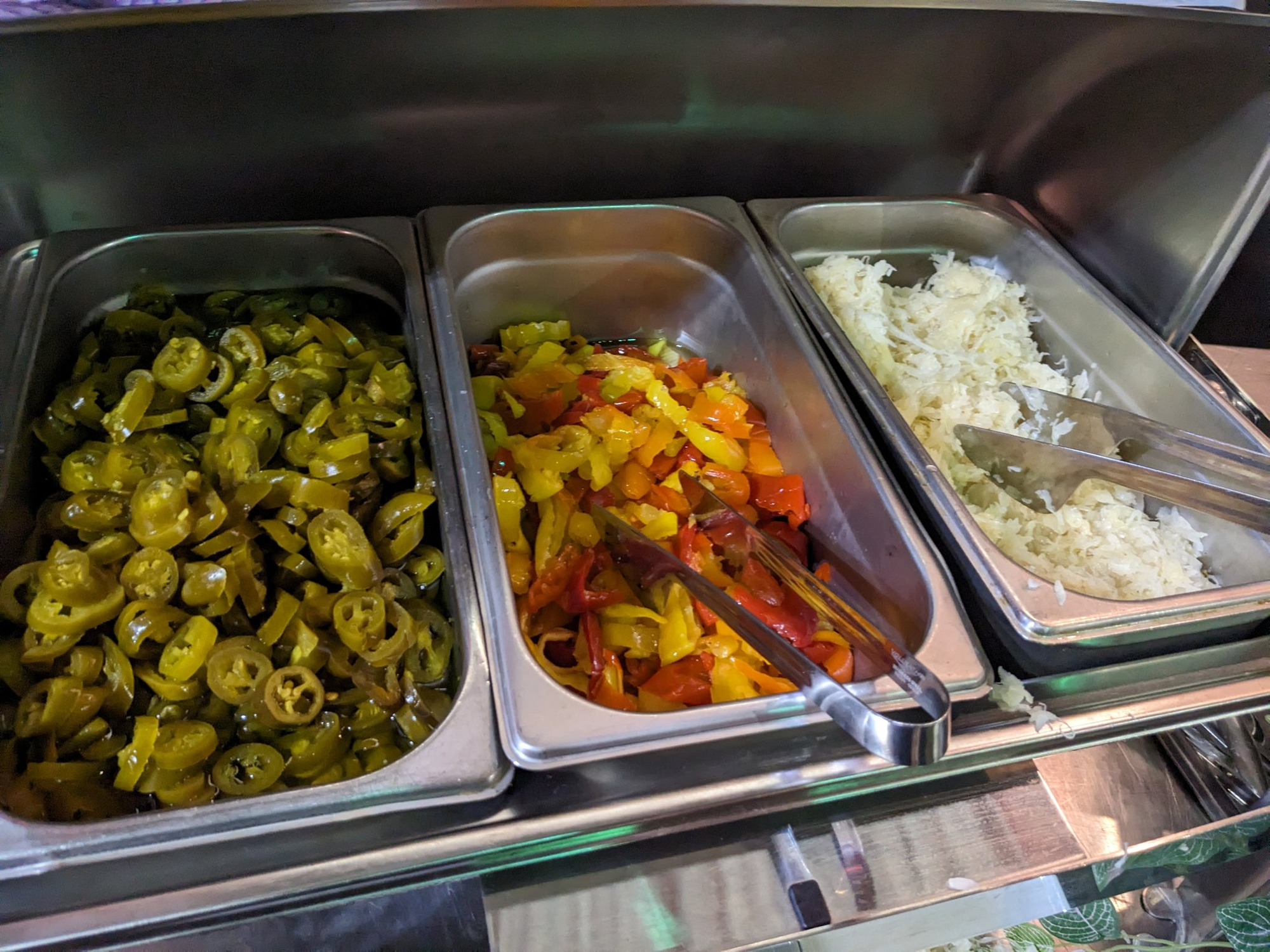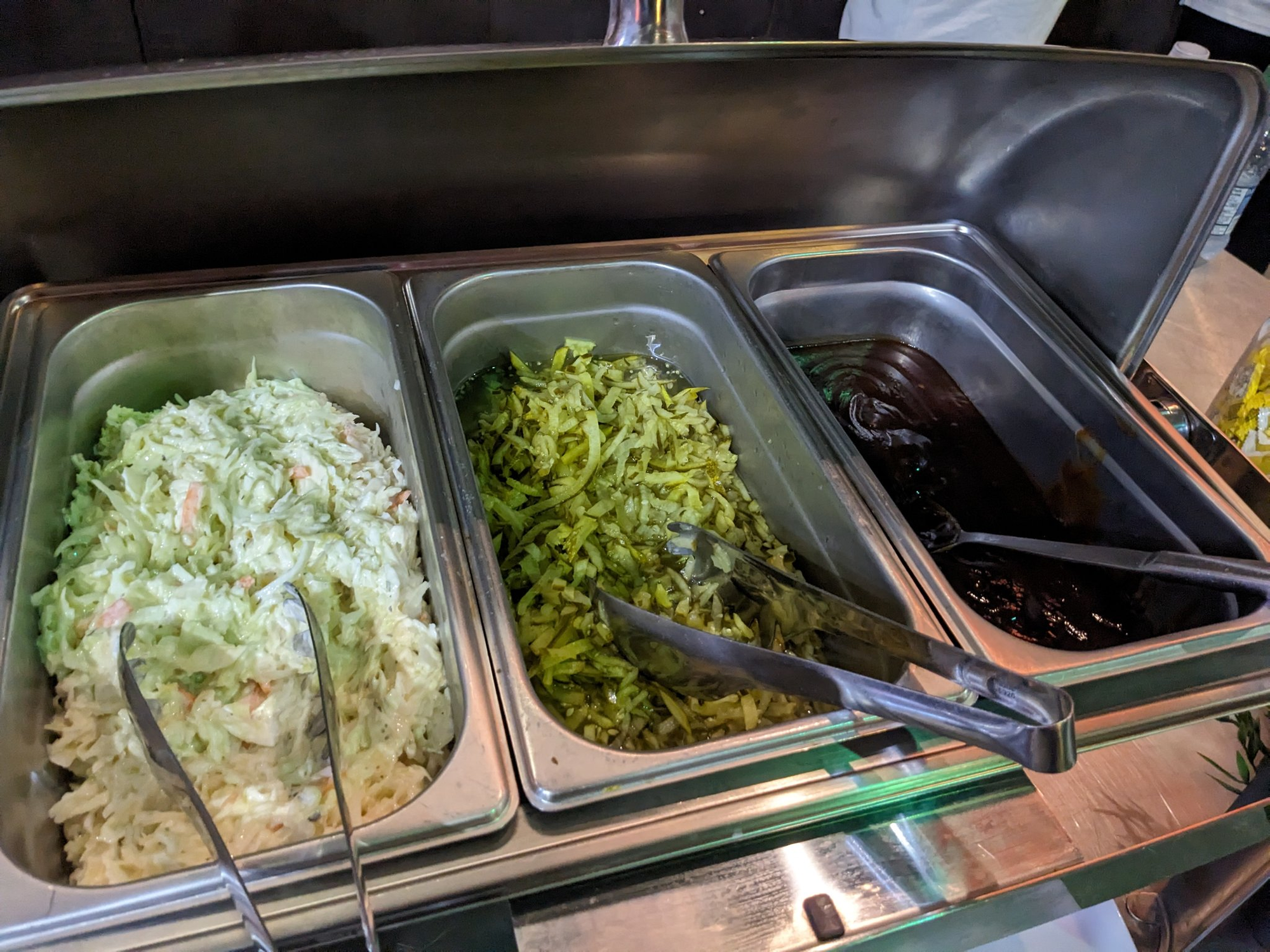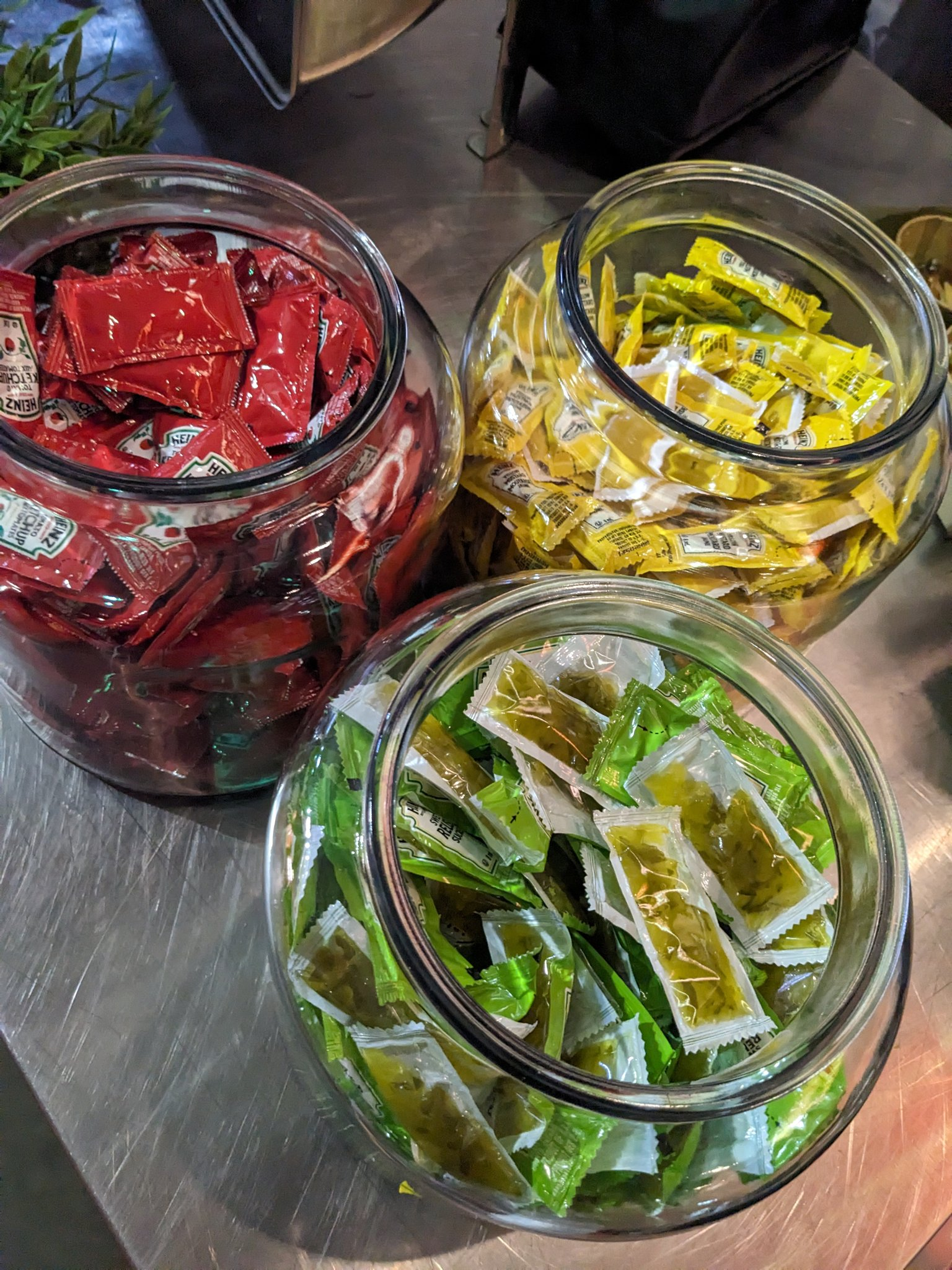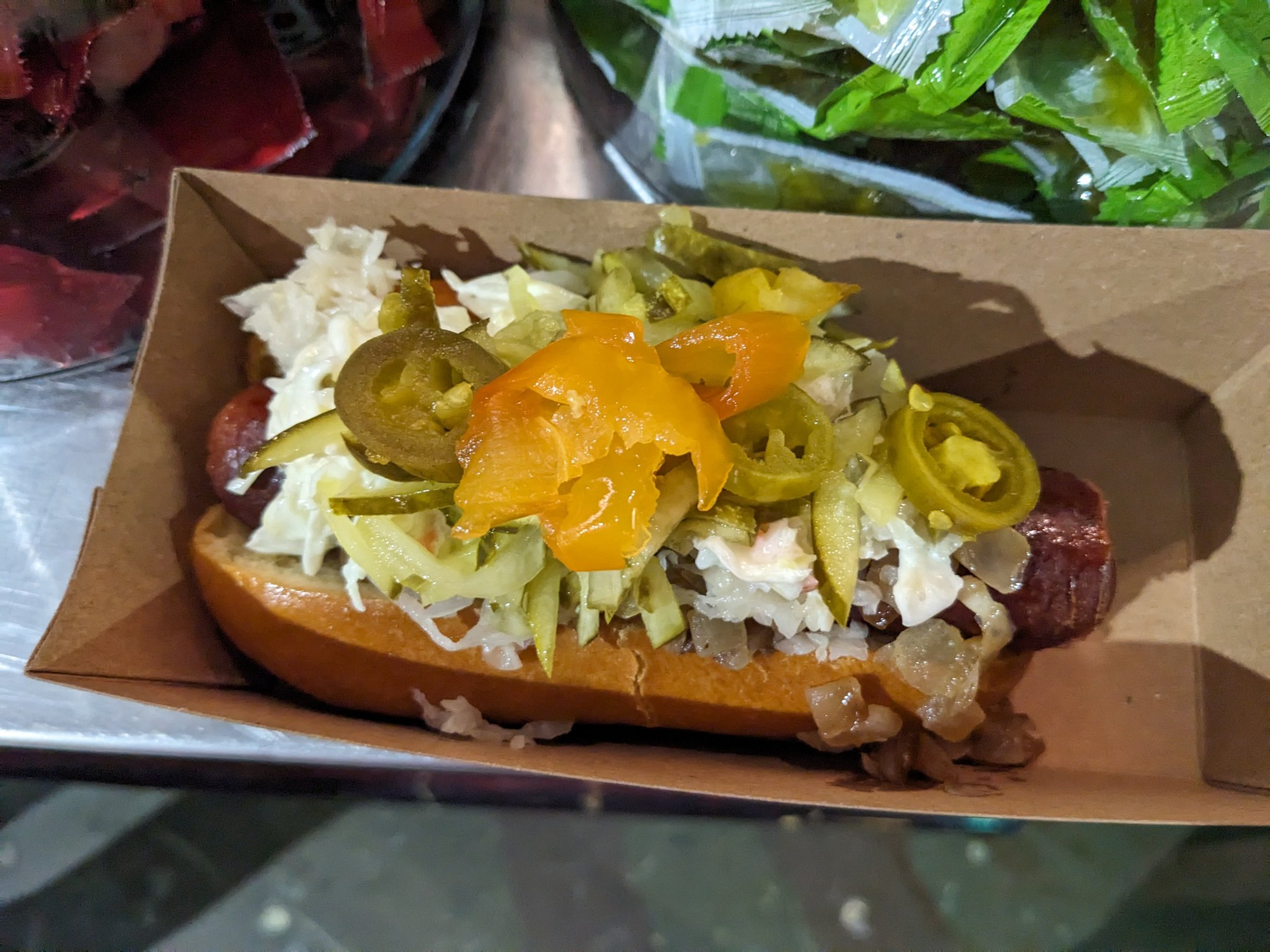 We were then brought down to Legacy (previously Chek Point) to sample some more newly added food items.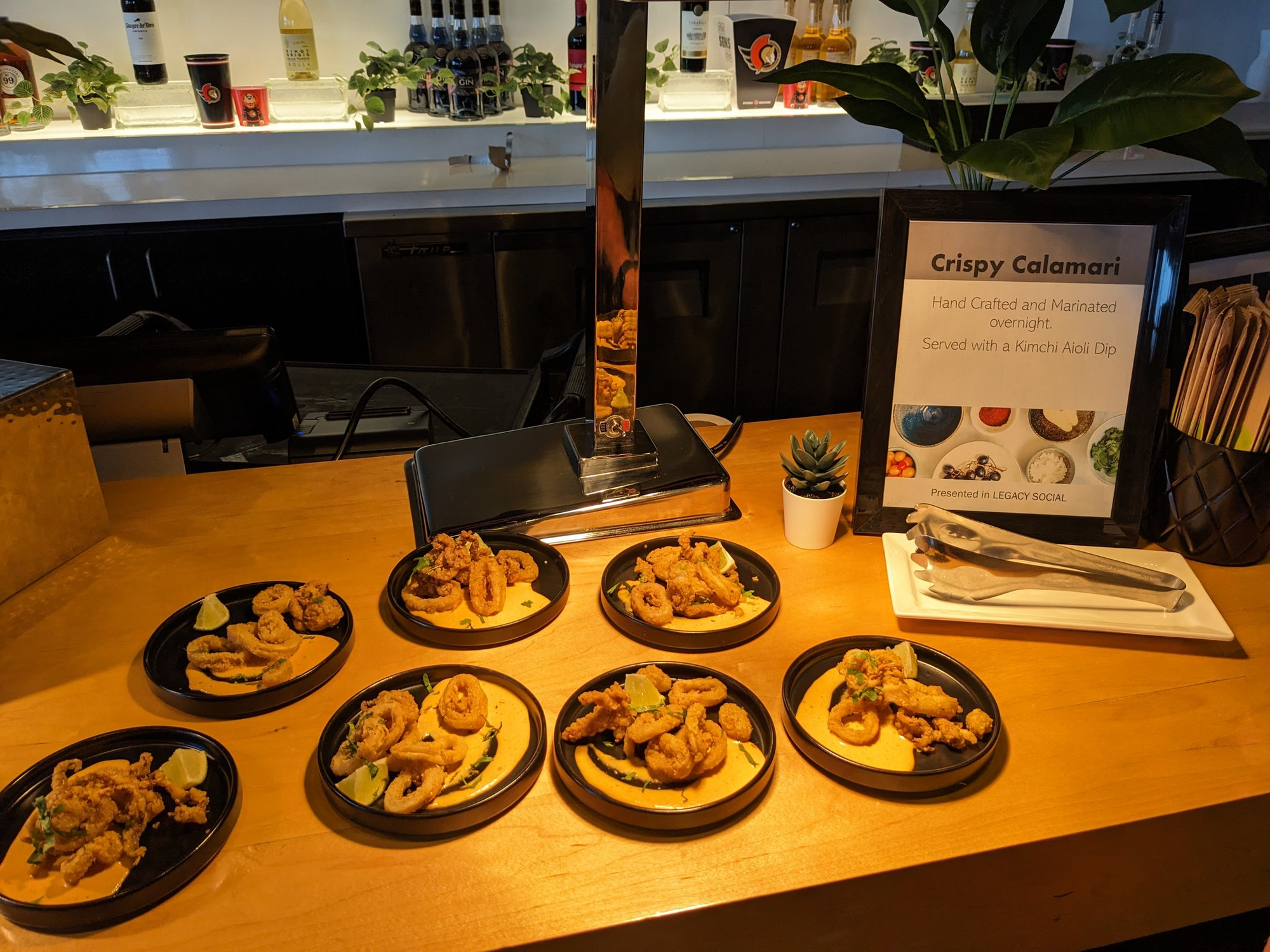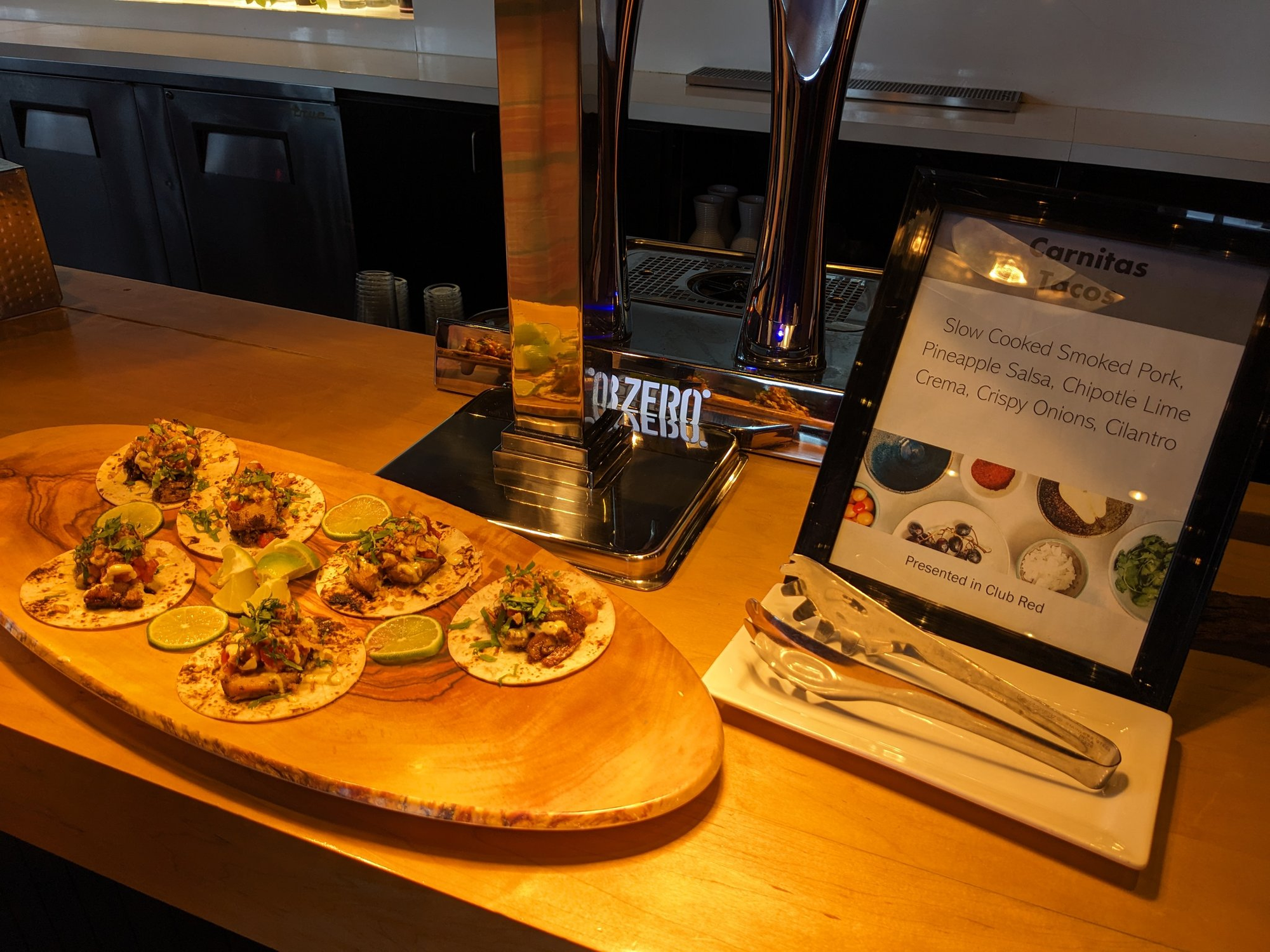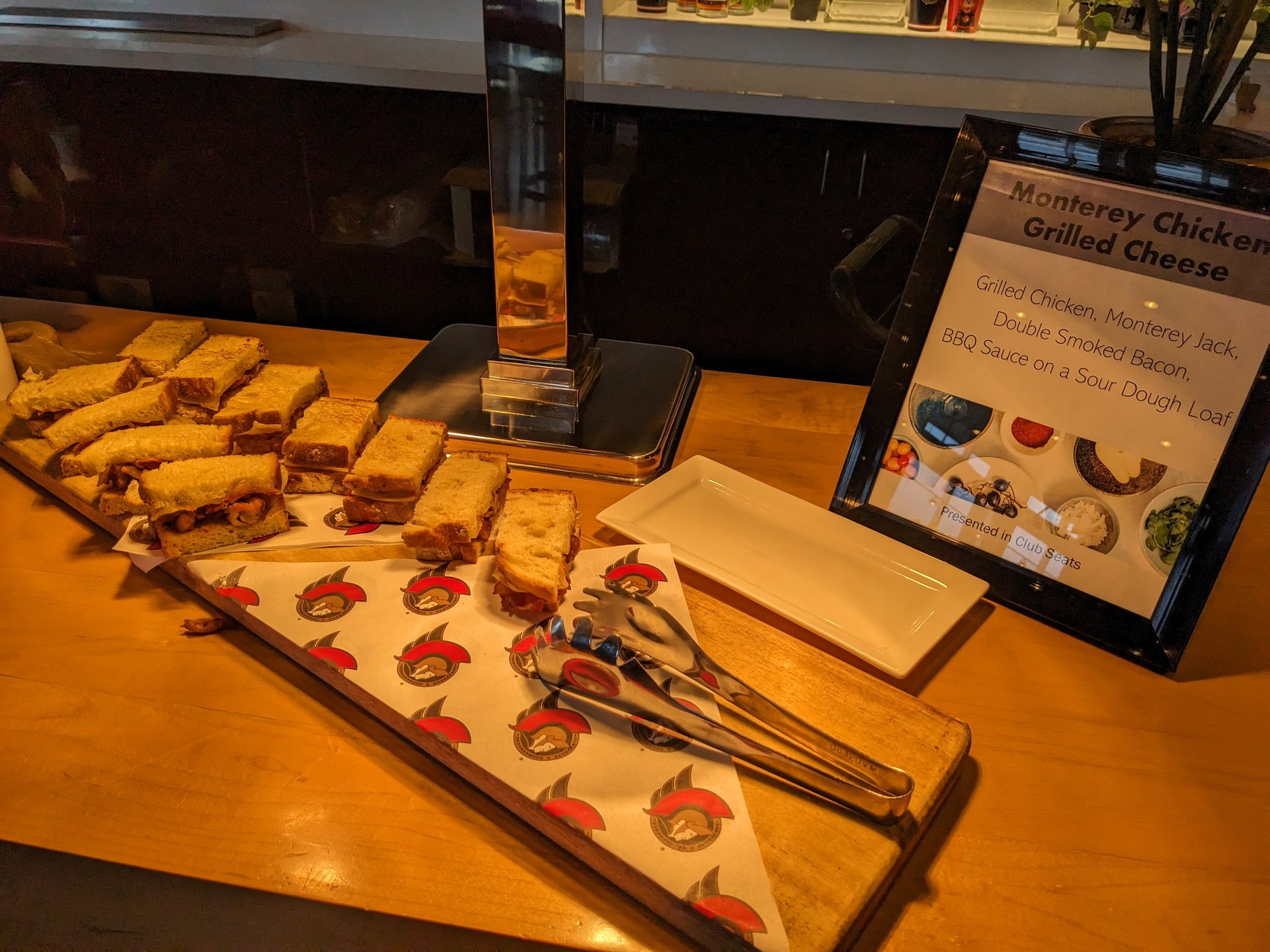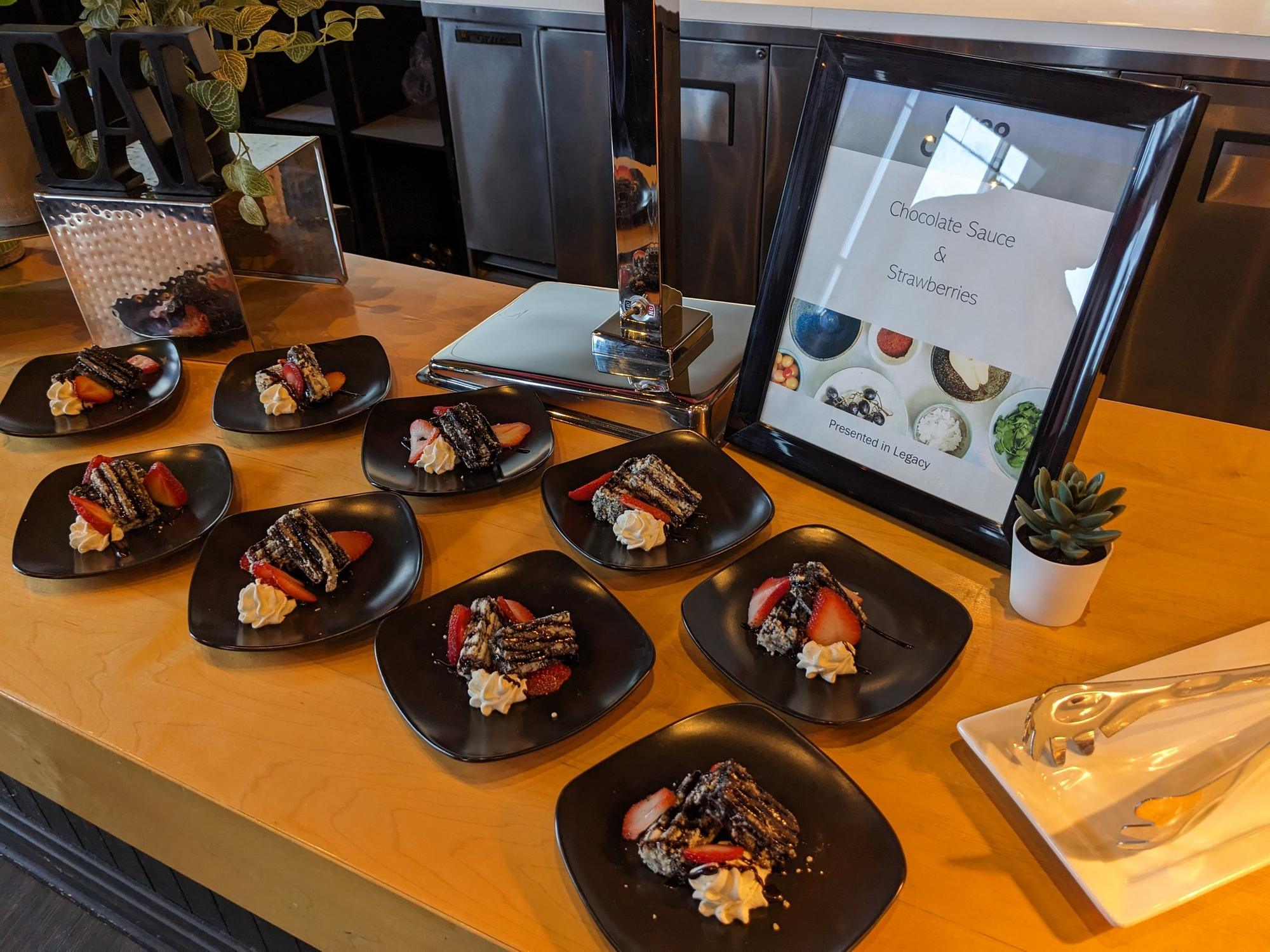 Unfortunately for most of us fans, we won't be able to have the Carnitas Tacos or Monterey Chicken Grilled Cheese unless you're spending some serious cash. On the bright side, the other 3 items should be available for everyone. The Crispy Calamari and Oreo Churros will both be available in Legacy (and were both extremely tasty food options). Meanwhile the "Smoky" Beef Dip will be available outside section 226 at Chef's Kitchen and is another good new sandwich option assuming they still serve the Smoked Meat sandwich from past seasons.
We also got to try their ginger mule with Gretzky 99 vodka which is served in a reusable cup that you can bring home with you afterwards.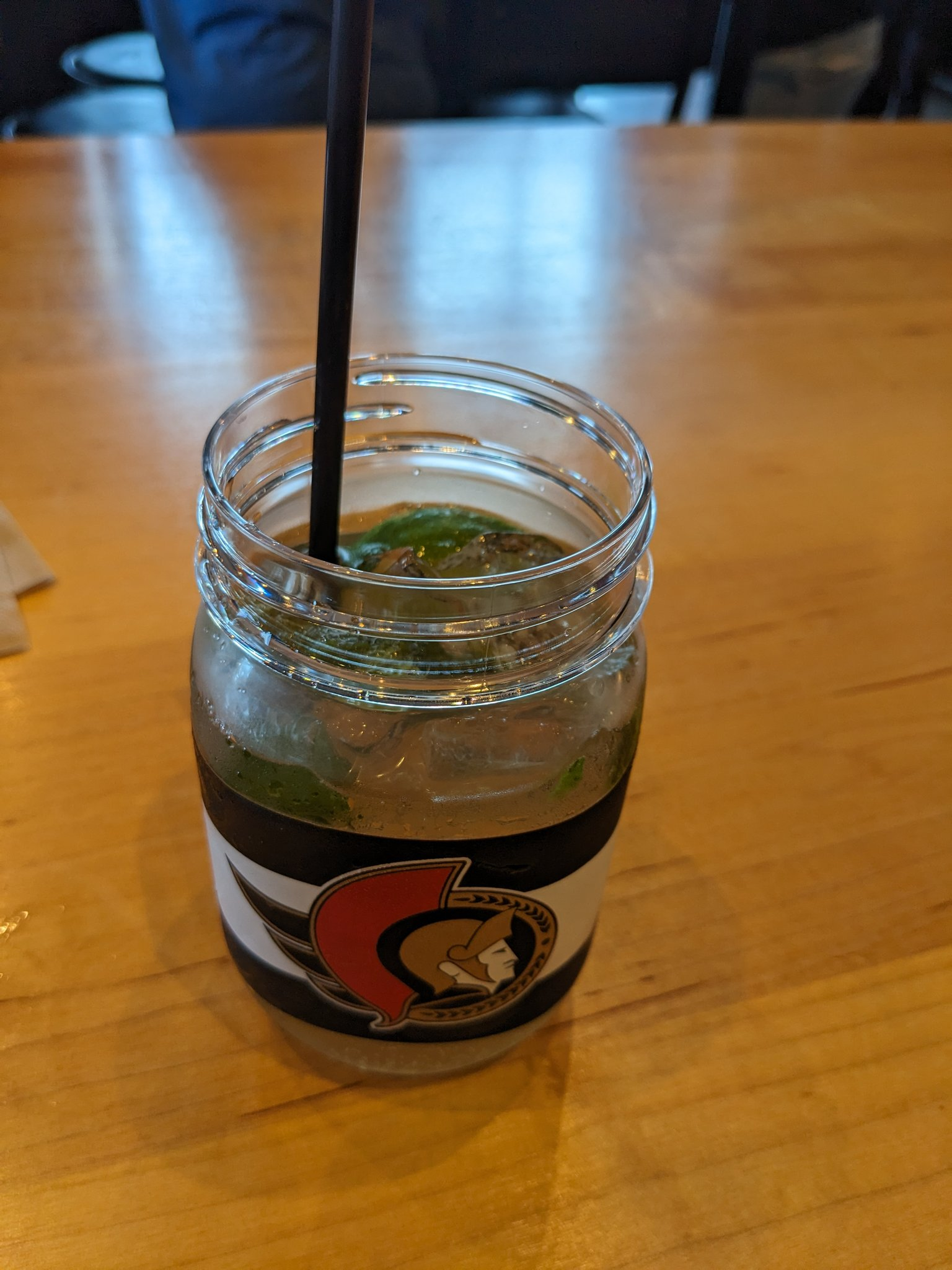 With that, we pivoted to the business side of the Senators. Brendan Duvall (Vice President, Ticket Sales & Service) started off with a ticketing update.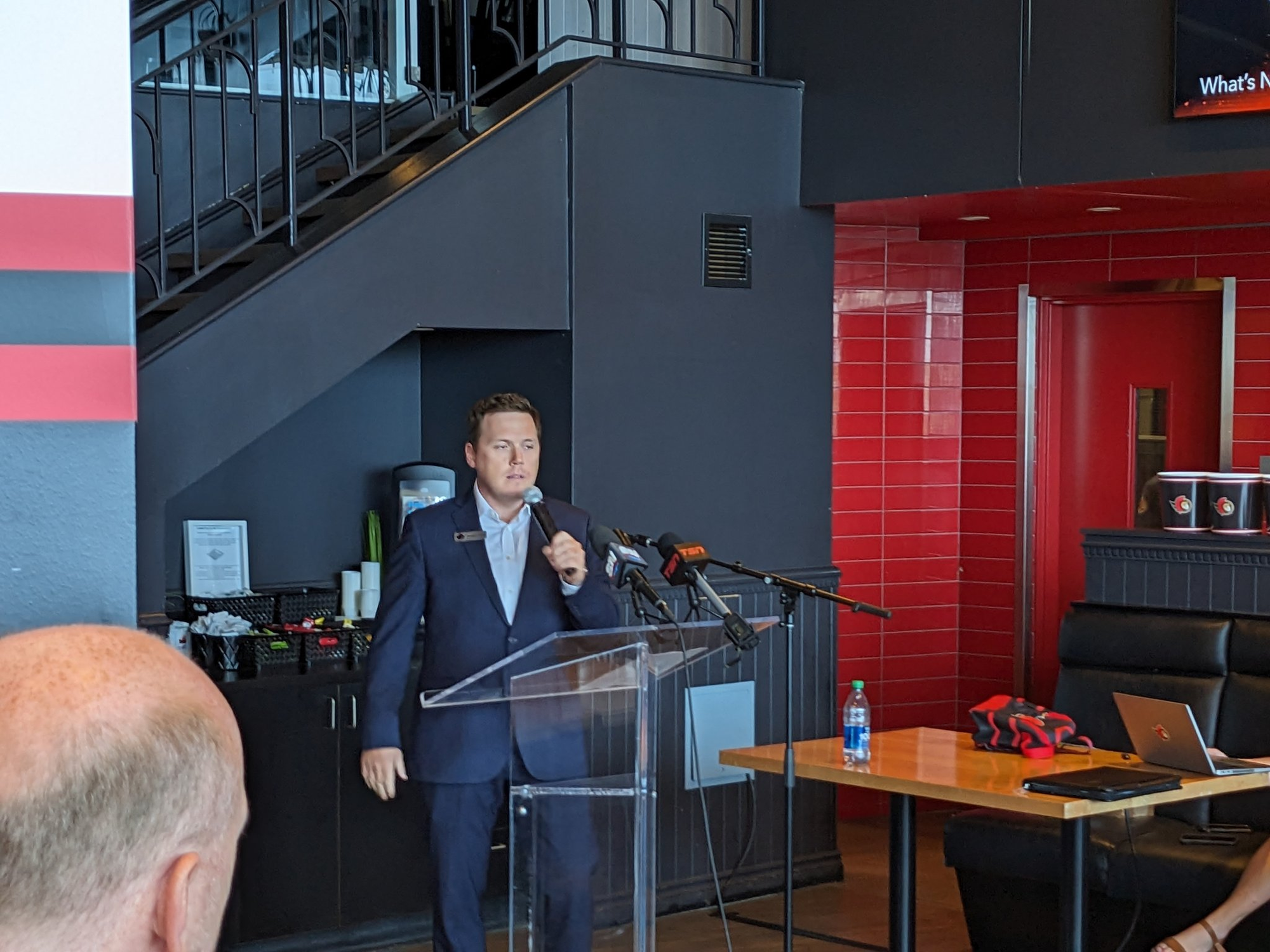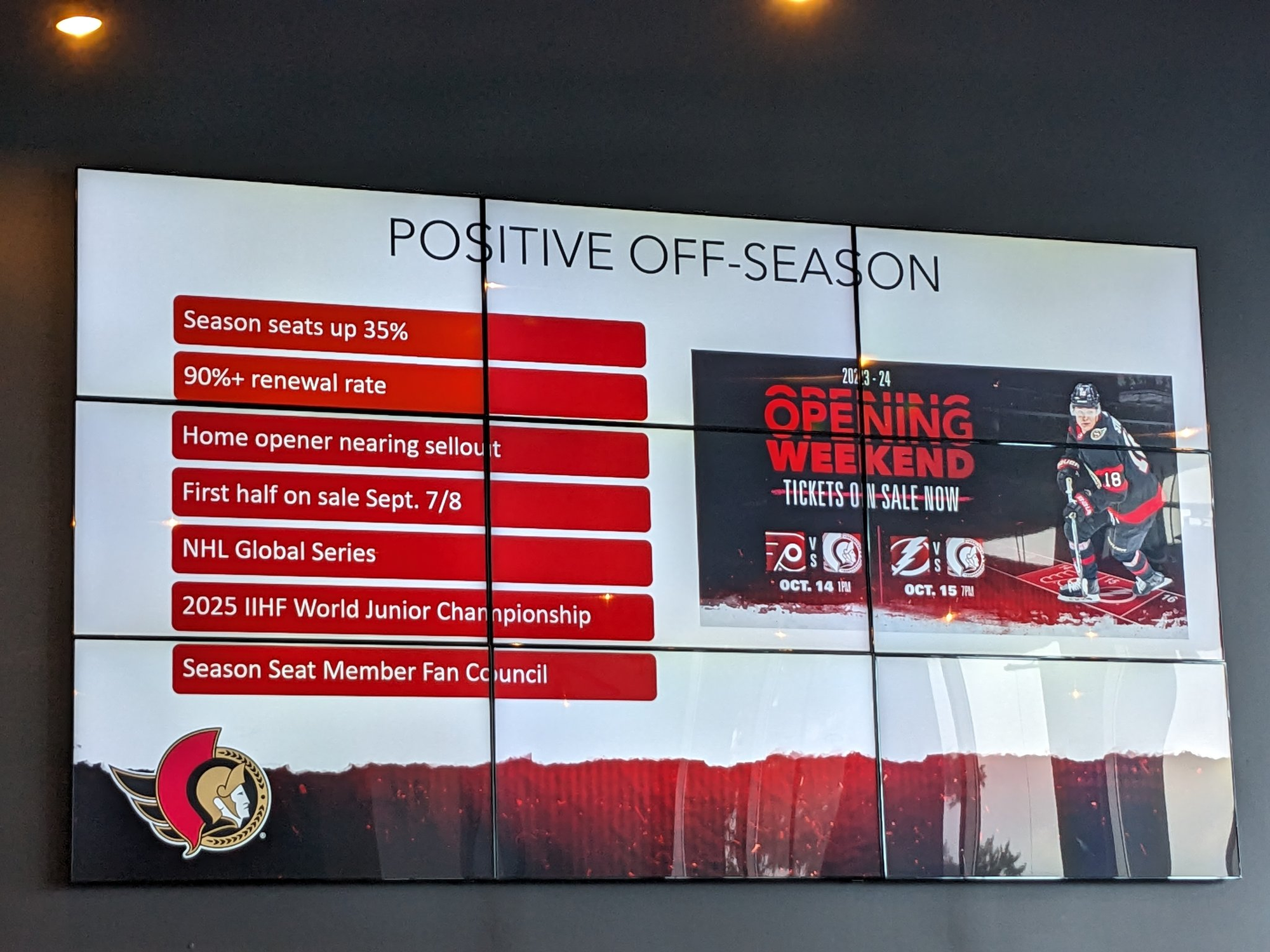 Highlights include the fact the vibes are indeed returning, with season seats sold being up 35% and a 90%+ renewal rate for existing STHs. The home opener is almost sold out with only 1600 seats remaining, so get on that if you haven't already! First half of the season goes on sale tomorrow for the general public. And of course Ottawa is getting the 2025 World Juniors, with season seats members getting priority.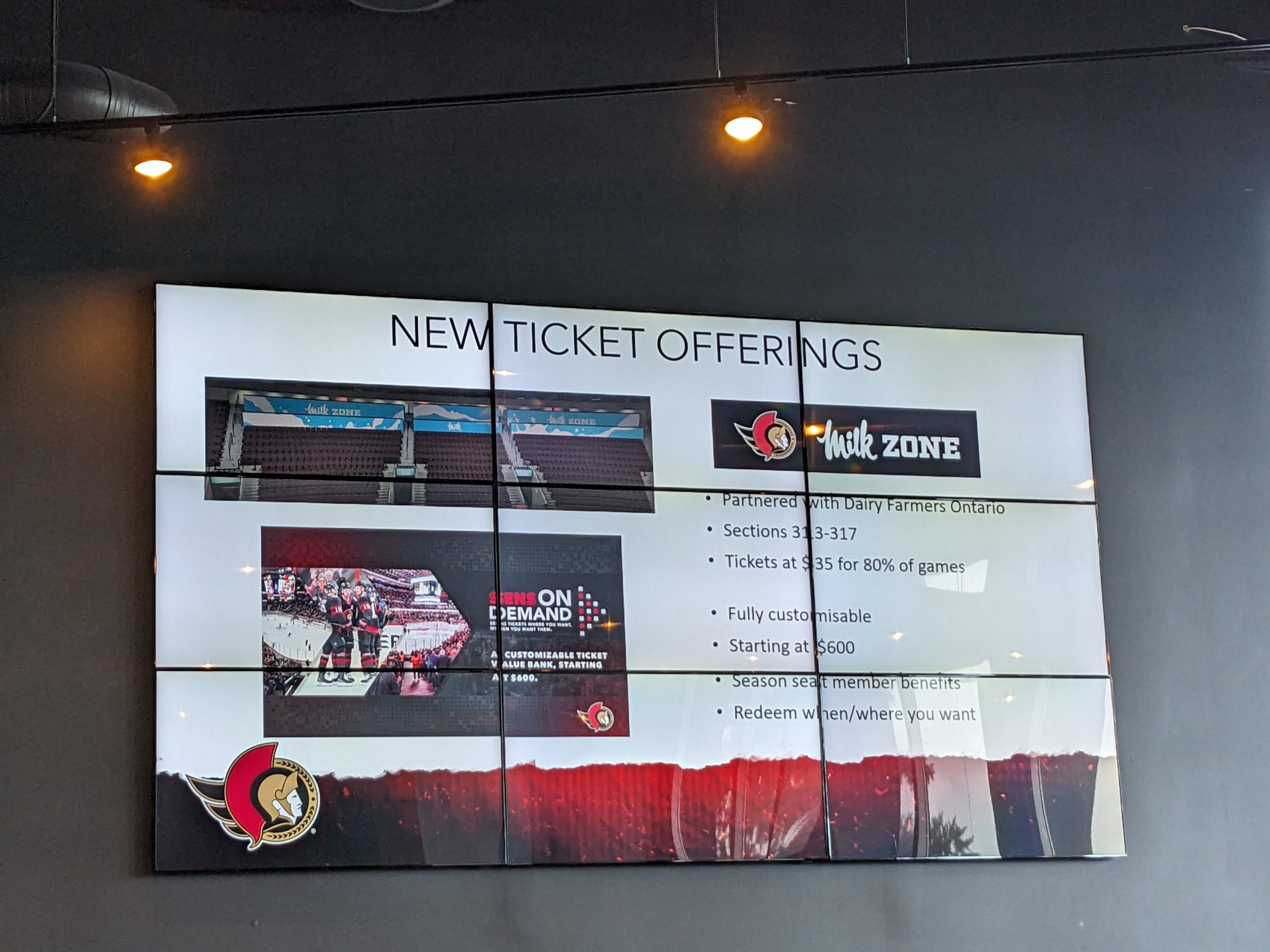 As well the Coke Zone has been rebranded to the Milk Zone, and remains the cheapest ticket option for fans. The team is continuing to push the Sens On Demand as the best starter option for getting season member benefits with maximum flexibility.
Chelsea McDermott (Director, Marketing) then jumped in to give a marketing update.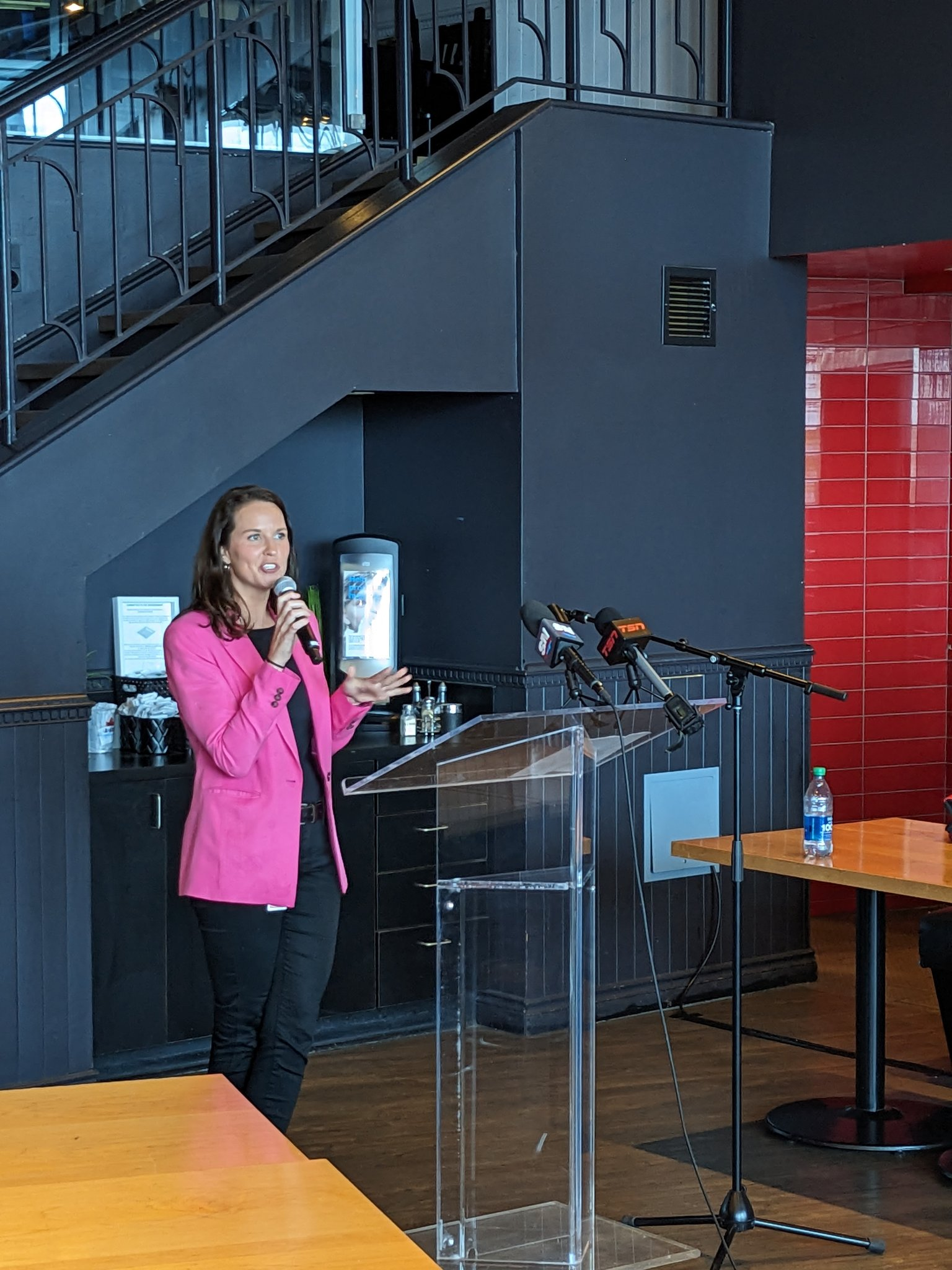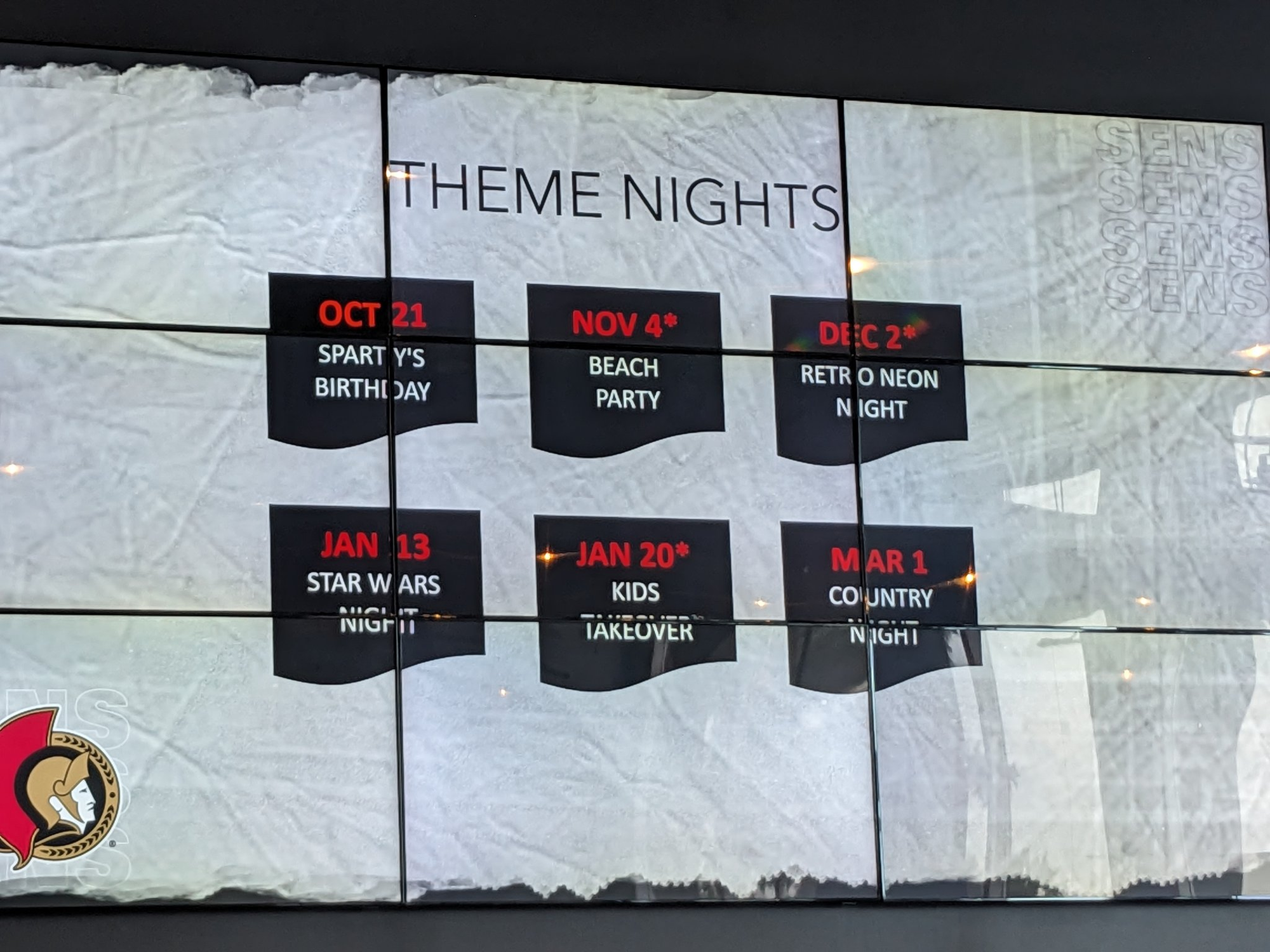 The six theme nights were introduced, with many expected to offer giveaways. New this season are the Beach Party, Retro Neon Night, and Kids Takeover (the last of which I'm really excited for if the Sens can get creative like other teams have).
Oct 21 (DET) - Sparty's Birthday
Nov 4 (TBL) - Beach Party
Dec 2 (SEA) - Retro Neon Night
Jan 13 (SJS) - Star Wars Night
Jan 20 (WPG) - Kids Takeover
Mar 1 (ARI) - Country Night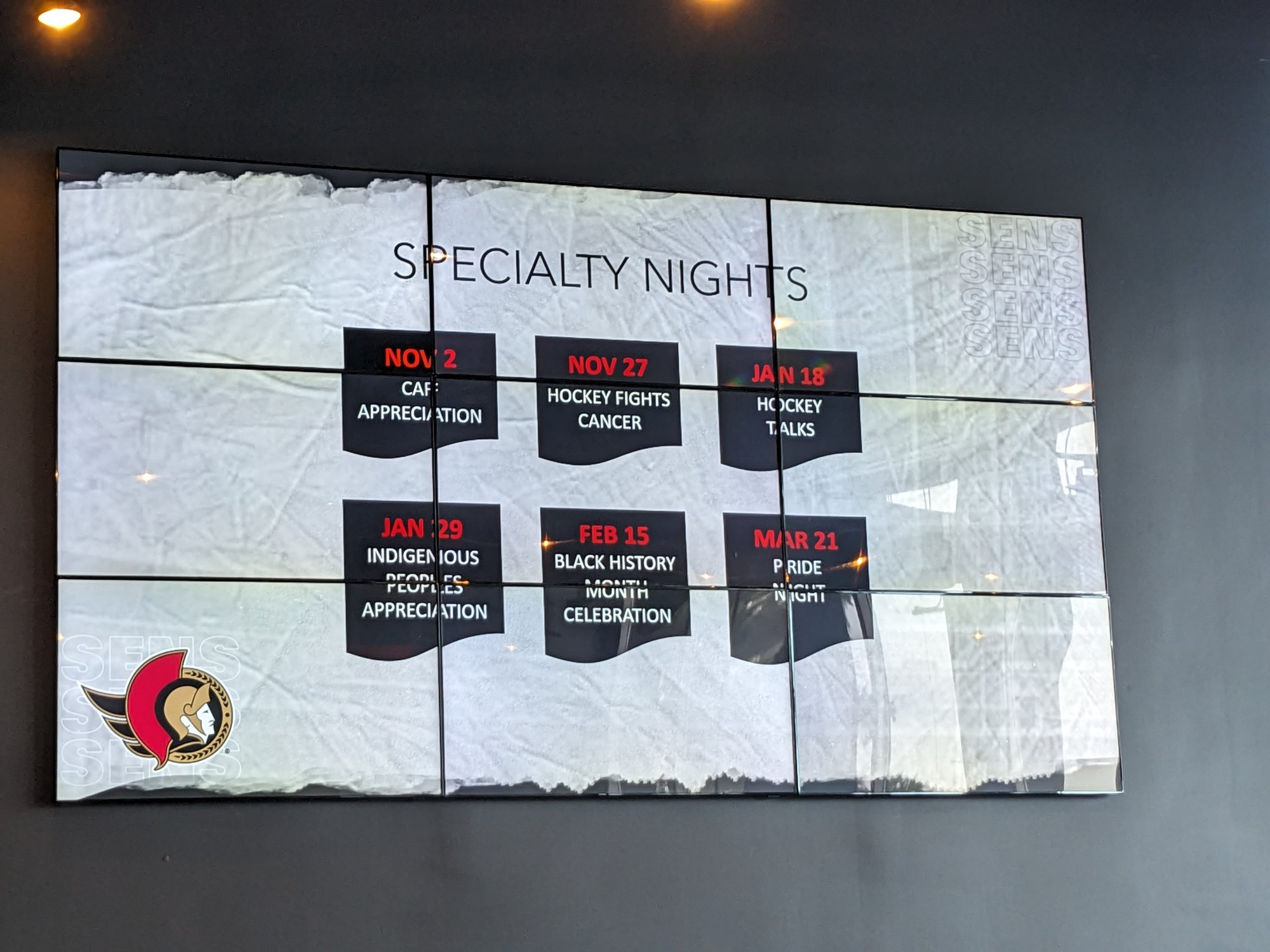 As well, the Sens continue their specialty nights, the biggest of which we saw last year was the full crowd different coloured tee shirt giveaway for Pride Night.
Nov 2 (LAK) - CAF Appreciation
Nov 27 (FLO) - Hockey Fights Cancer
Jan 18 (MTL) - Hockey Talks
Jan 29 (NSH) - Indigenous Peoples Appreciation
Feb 15 (ANA) - Black History Month
Mar 21 (STL) - Pride Night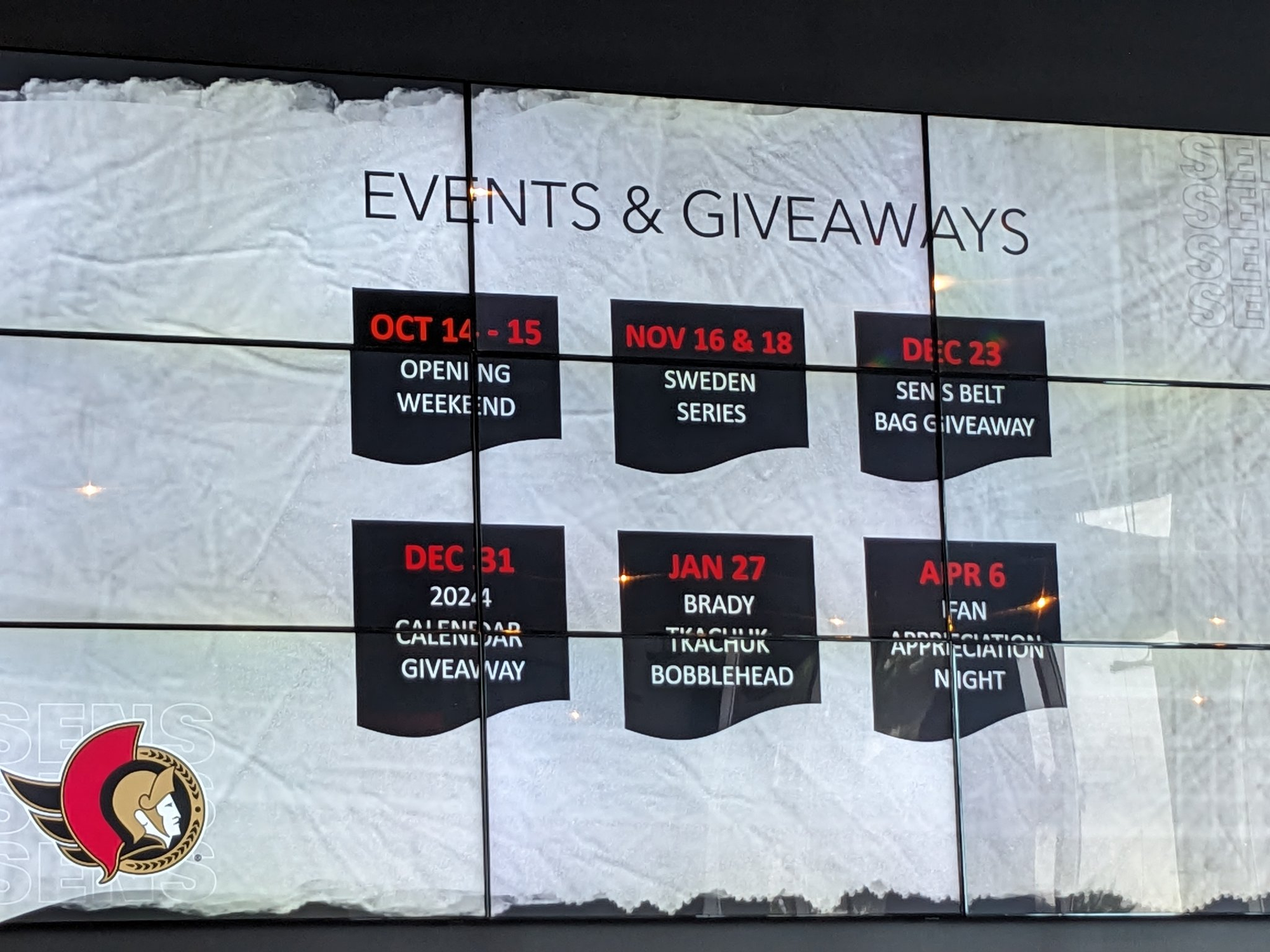 Lastly, events and giveaways were introduced, the biggest of which was a Brady Tkachuk Bobblehad. We're finally getting those back, albeit just one this season, but bolds well to see the rest of the core eventually get their own.
Oct 14-15 (PHI/TBL) - Opening Weekend
Nov 16 & 18 (DET/MIN) - Sweden Series
Dec 23 (PIT) - Sens Belt Bag Giveaway
Dec 31 (BUF) - 2024 Calendar Giveaway
Jan 27 (NYR) - Brady Tkachuk Bobblehead
Apr 6 (MTL) - Fan Appreciation Night
Chris Phillips is getting more involved now and gave an update on the building itself.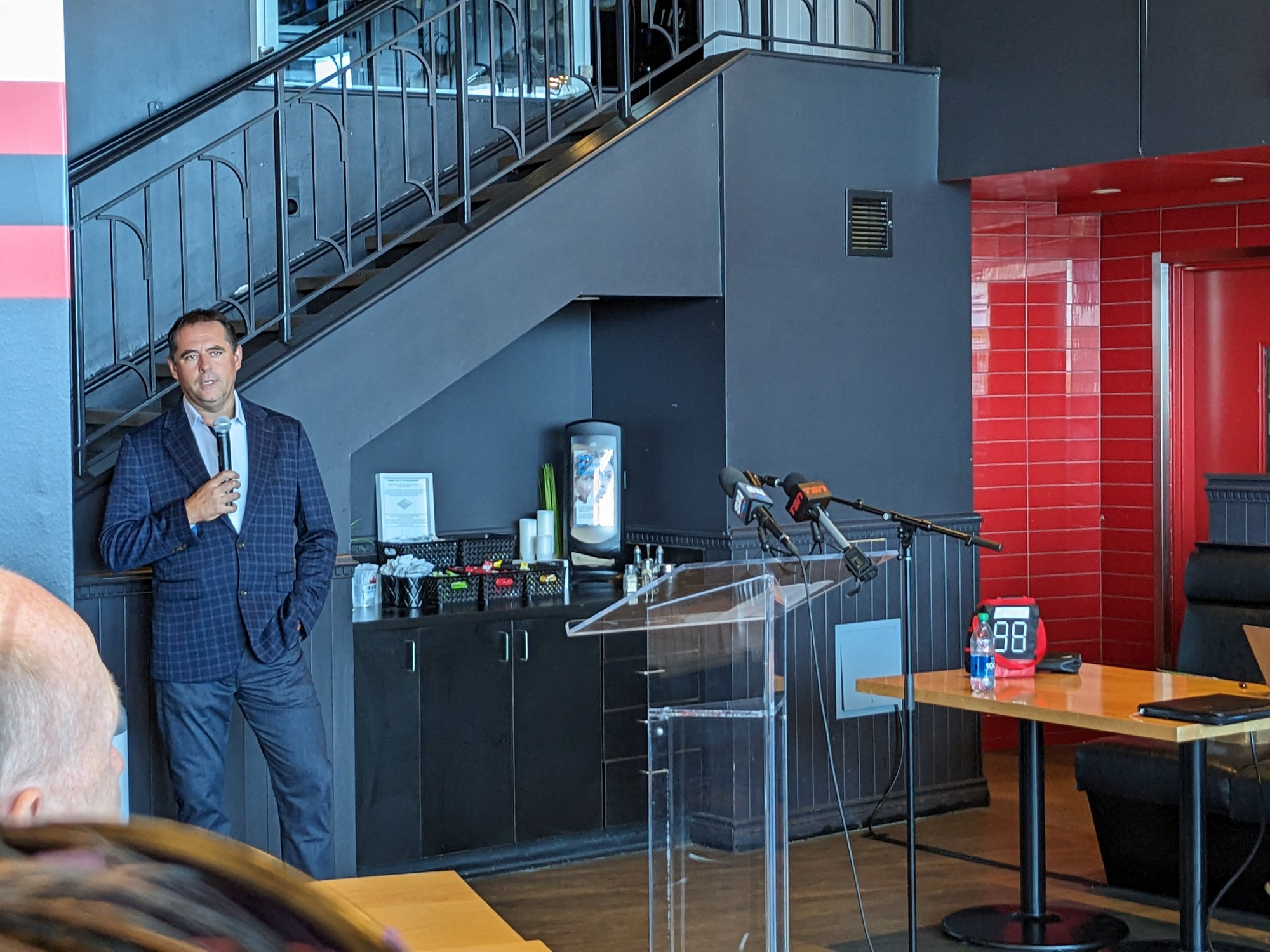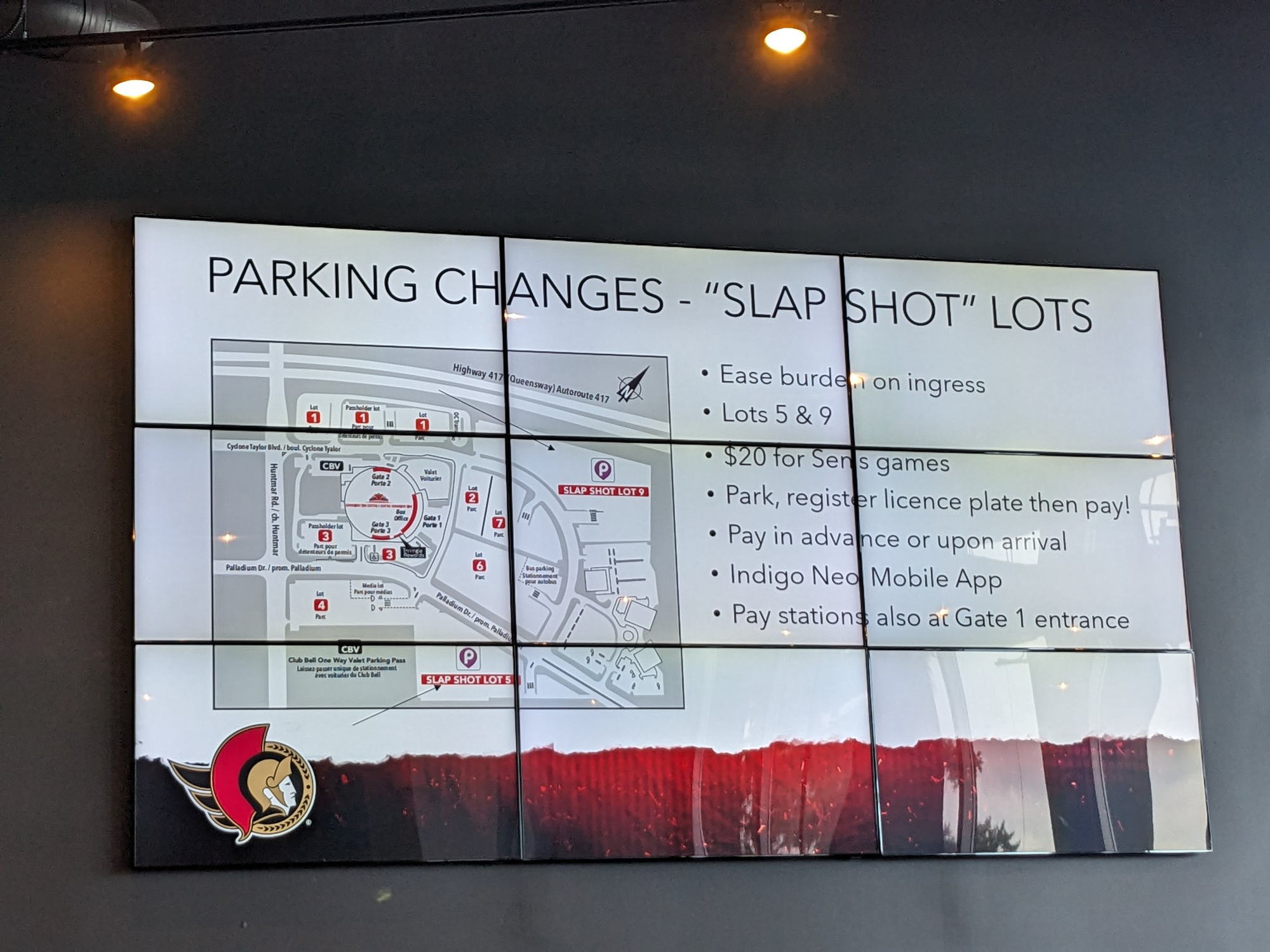 The team is trying to improve the ingress for games by turning lots 5/9 into "Slap Shot" lots where you'll simply park and pay via the Indigo Neo Mobile App. Pay stations will be available inside for those unable to pay via mobile. Parking is also now $20 for all the general lots and brings the pricing back up to what it once was prior to them lowering it during the down years.
He also mentioned how the ice was put in early at the players' request in order to get skating together as team earlier which is awesome to hear.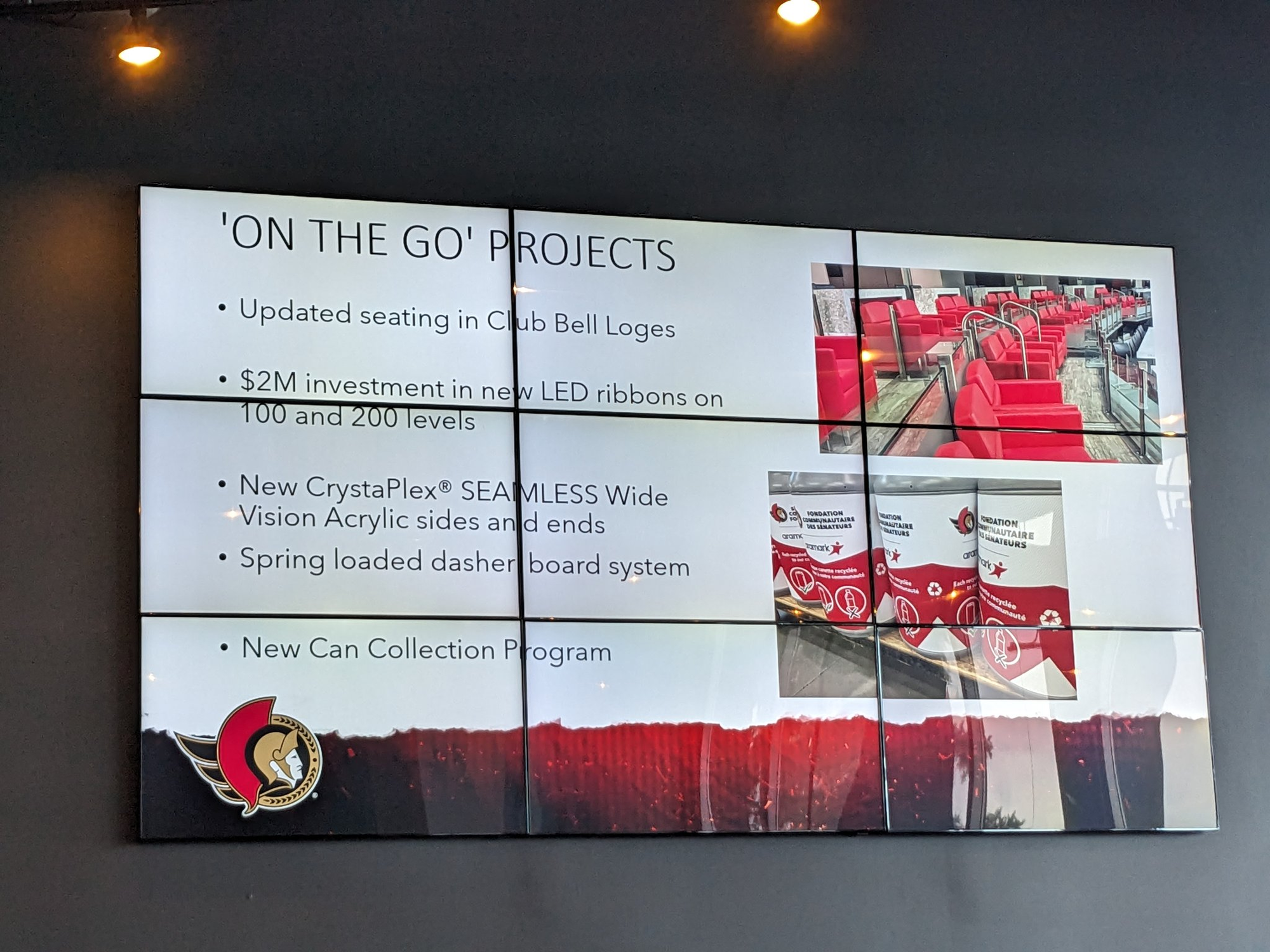 Despite knowing a new building is eventually coming, the team is still investing in the Canadian Tire Centre. Two of the bigger ones are new LED ribbons on the 100/200 levels and brand new boards and glasses.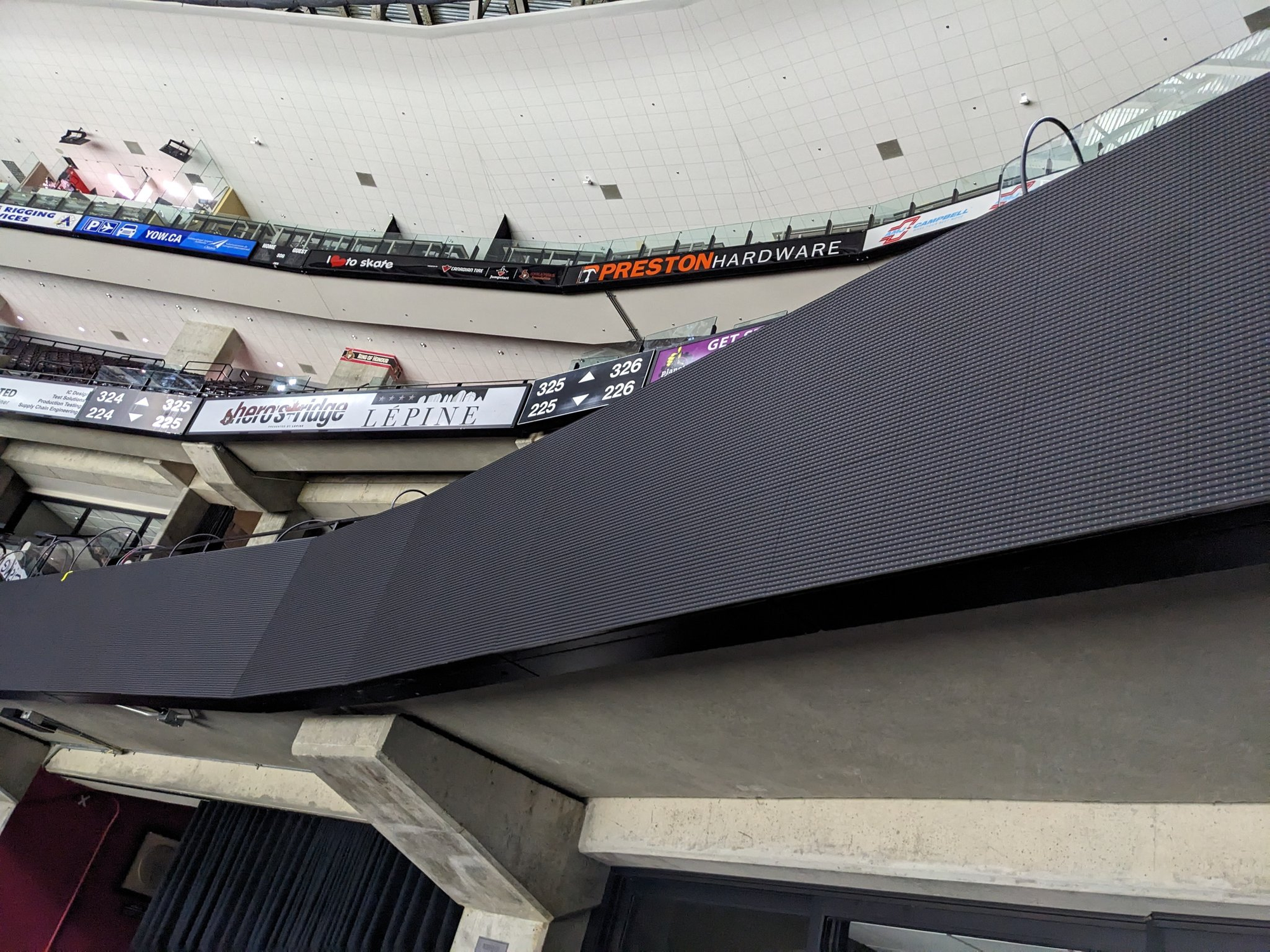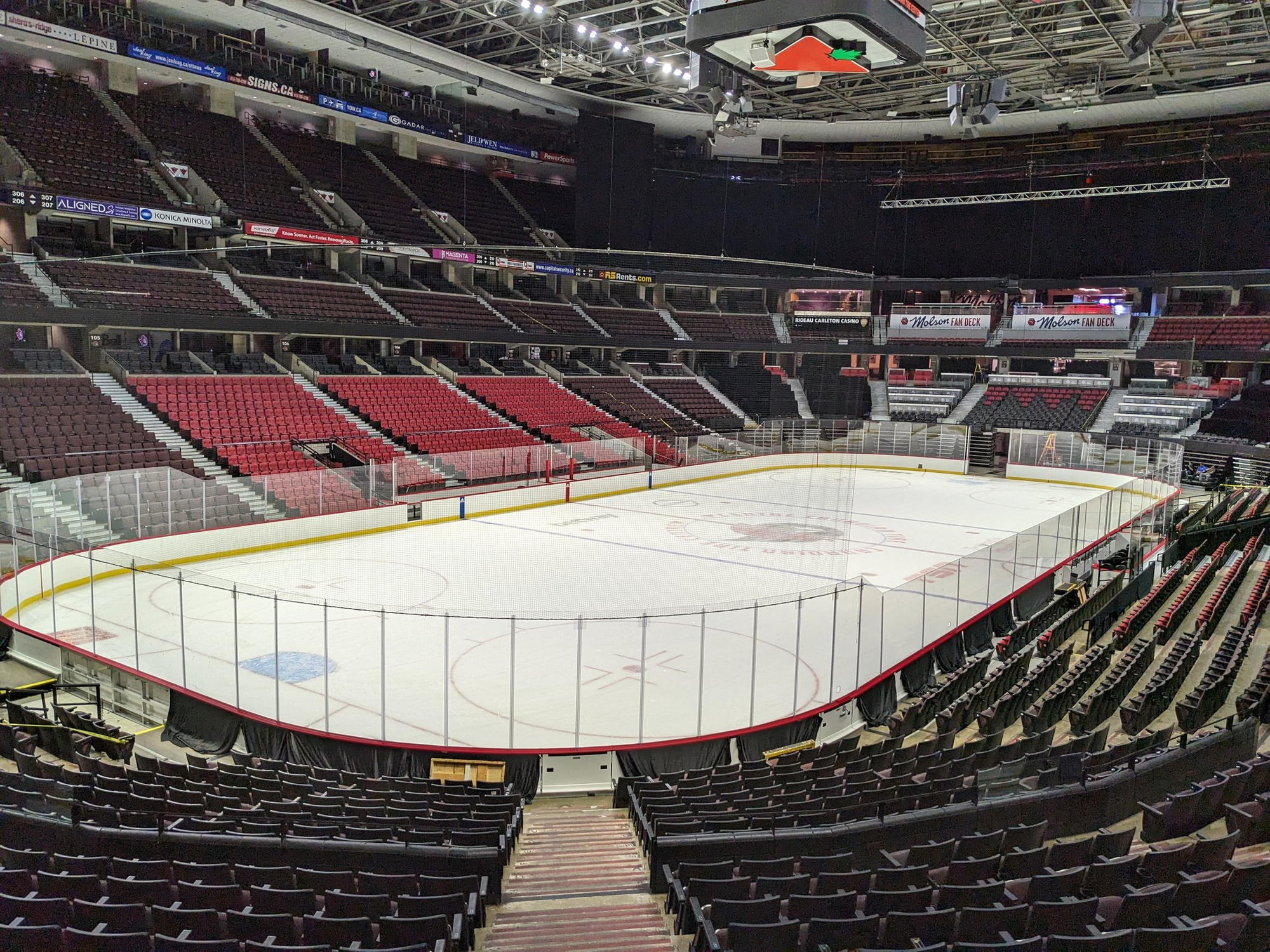 Jennifer Cameron (Director of Events & Fundraising w/ the Senators Community Foundation) then stepped up to provide a Foundation update.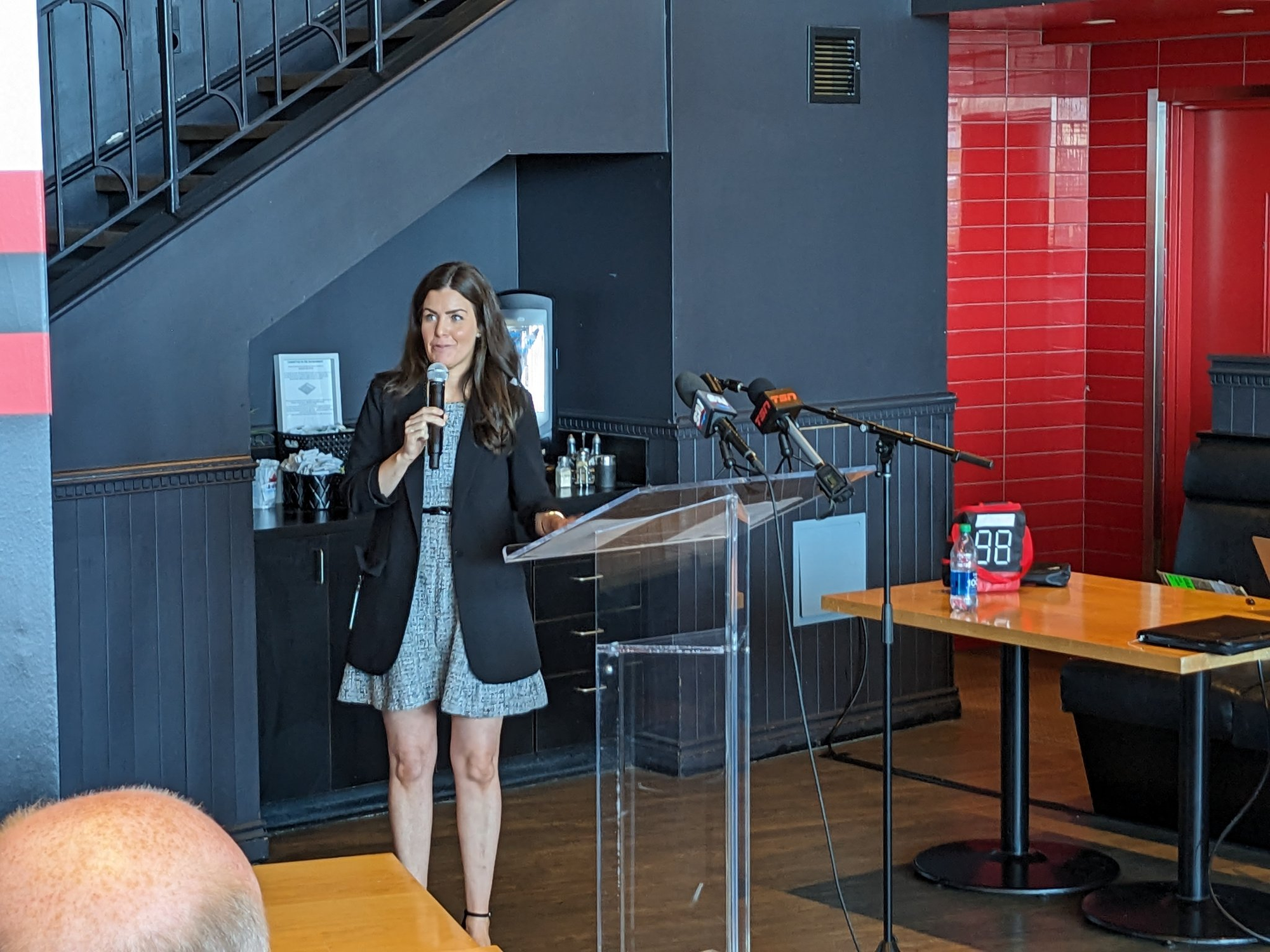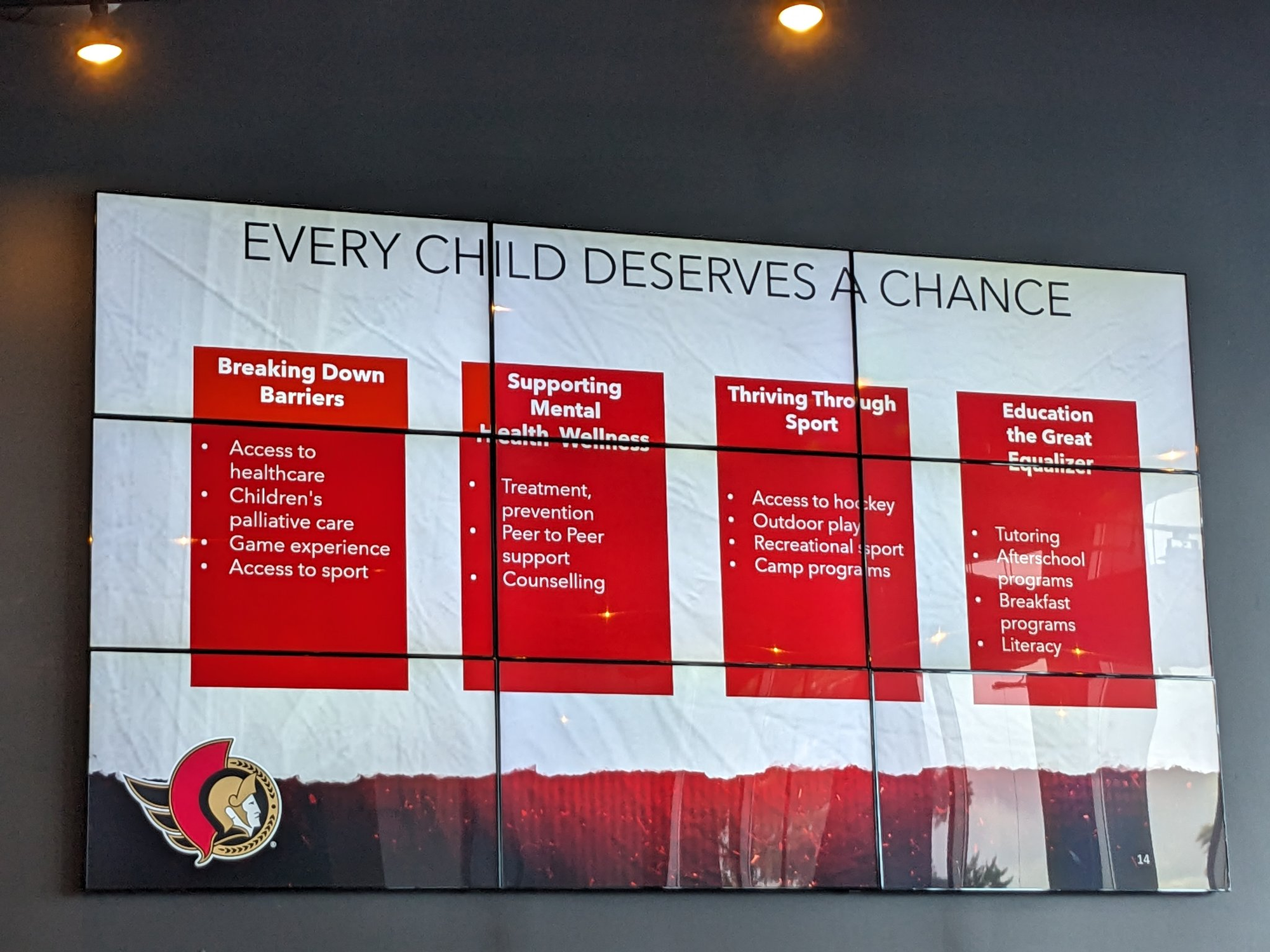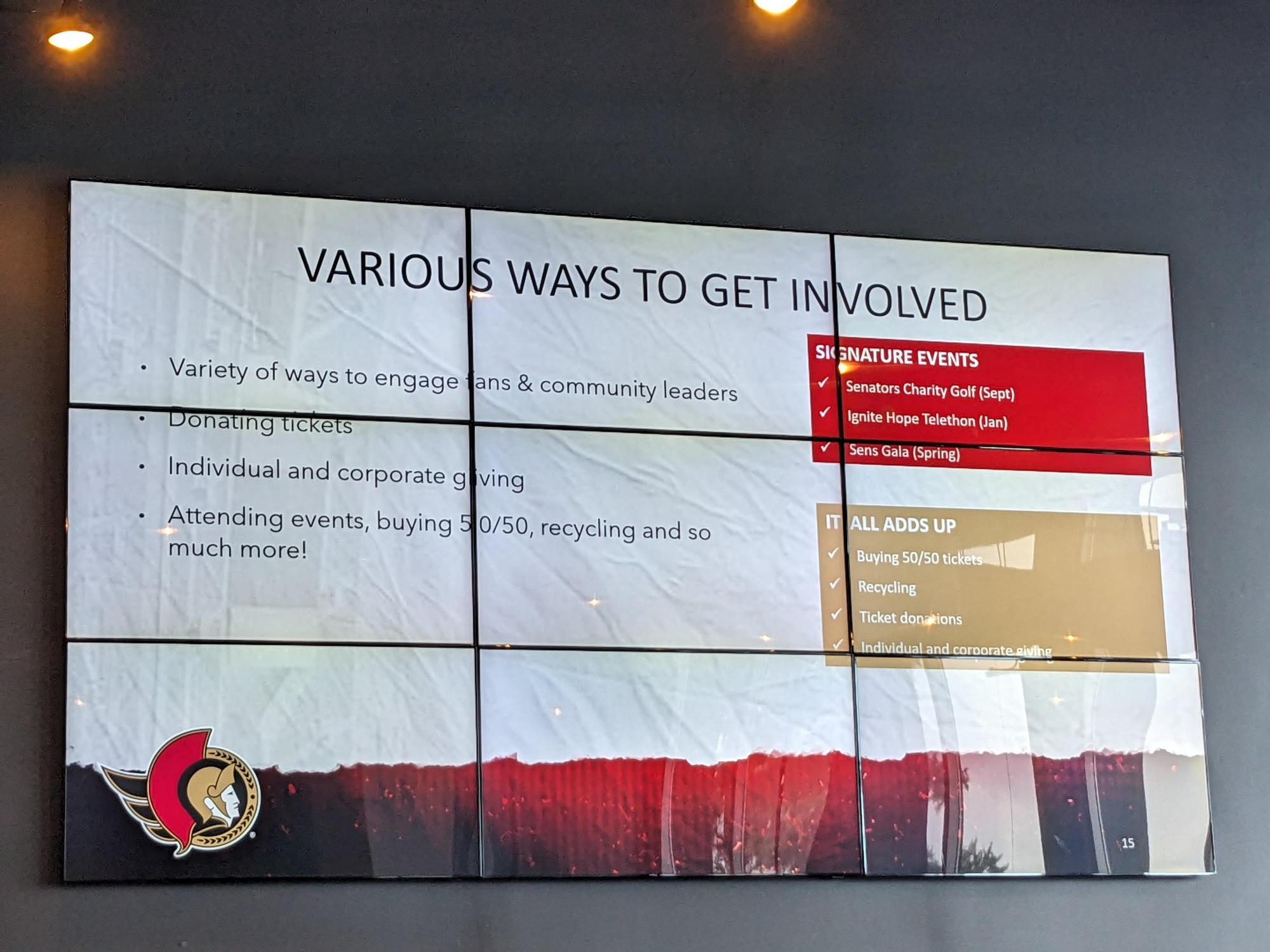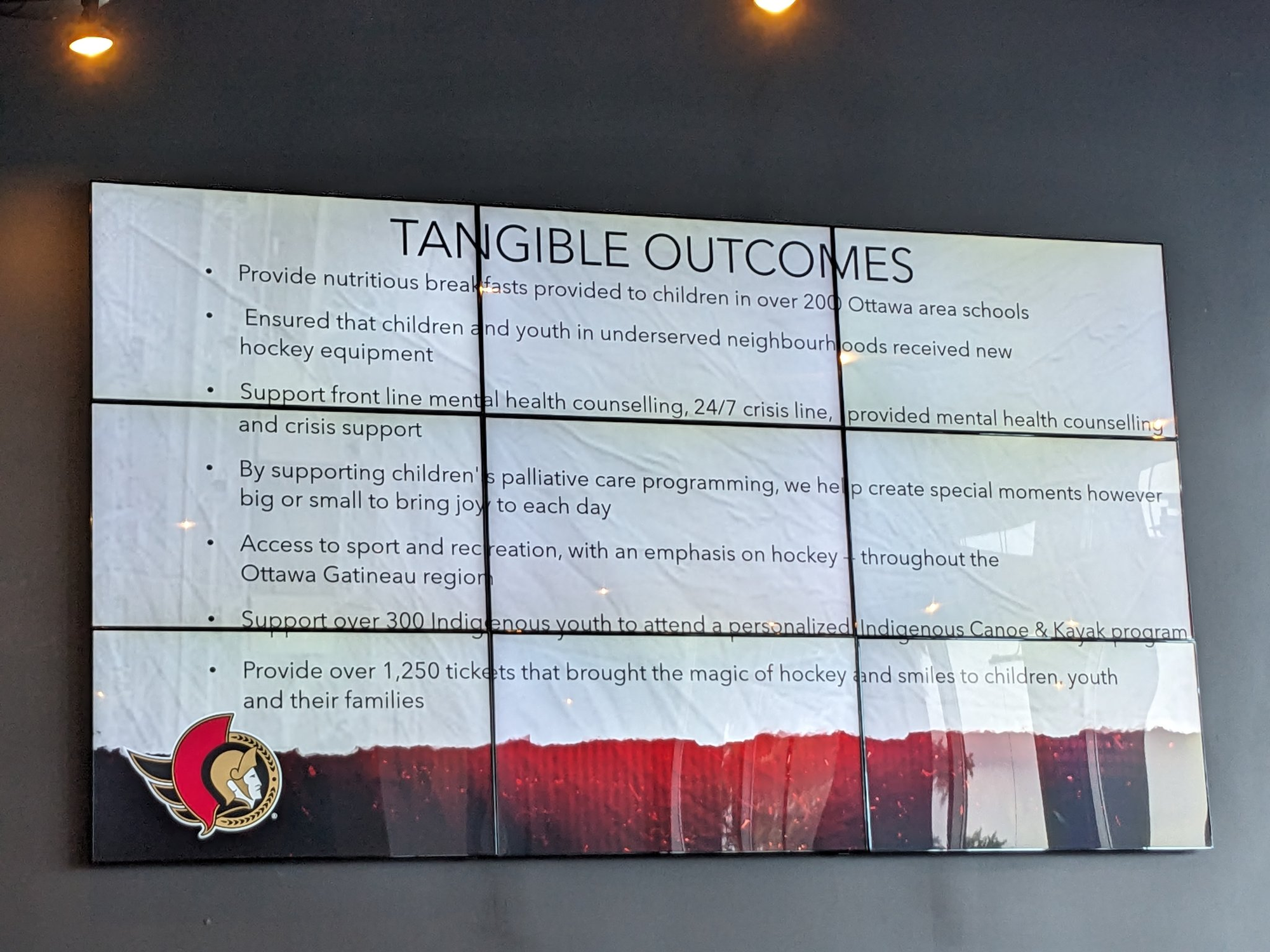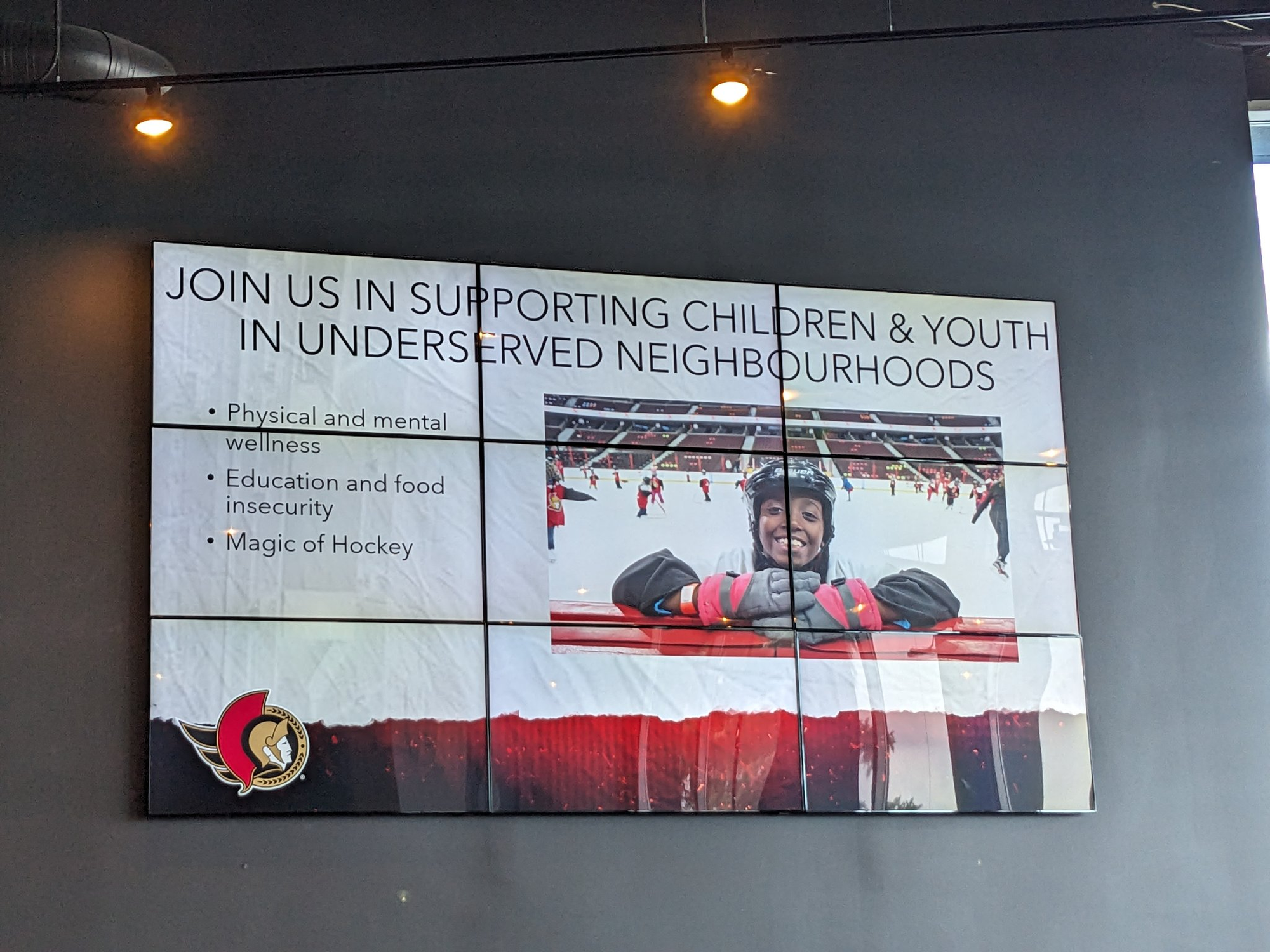 Some of the highlights include showing how the Foundation supports children and youth in underserved neighbourhoods, via education, sport (with a focus on hockey), mental health, and breaking down barriers. She also discussed ways the public can get involved via donations as well as at Sens games themselves.
To end the event, we got a surprise appearance from Jake Sanderson, fresh off his eight year contract extension.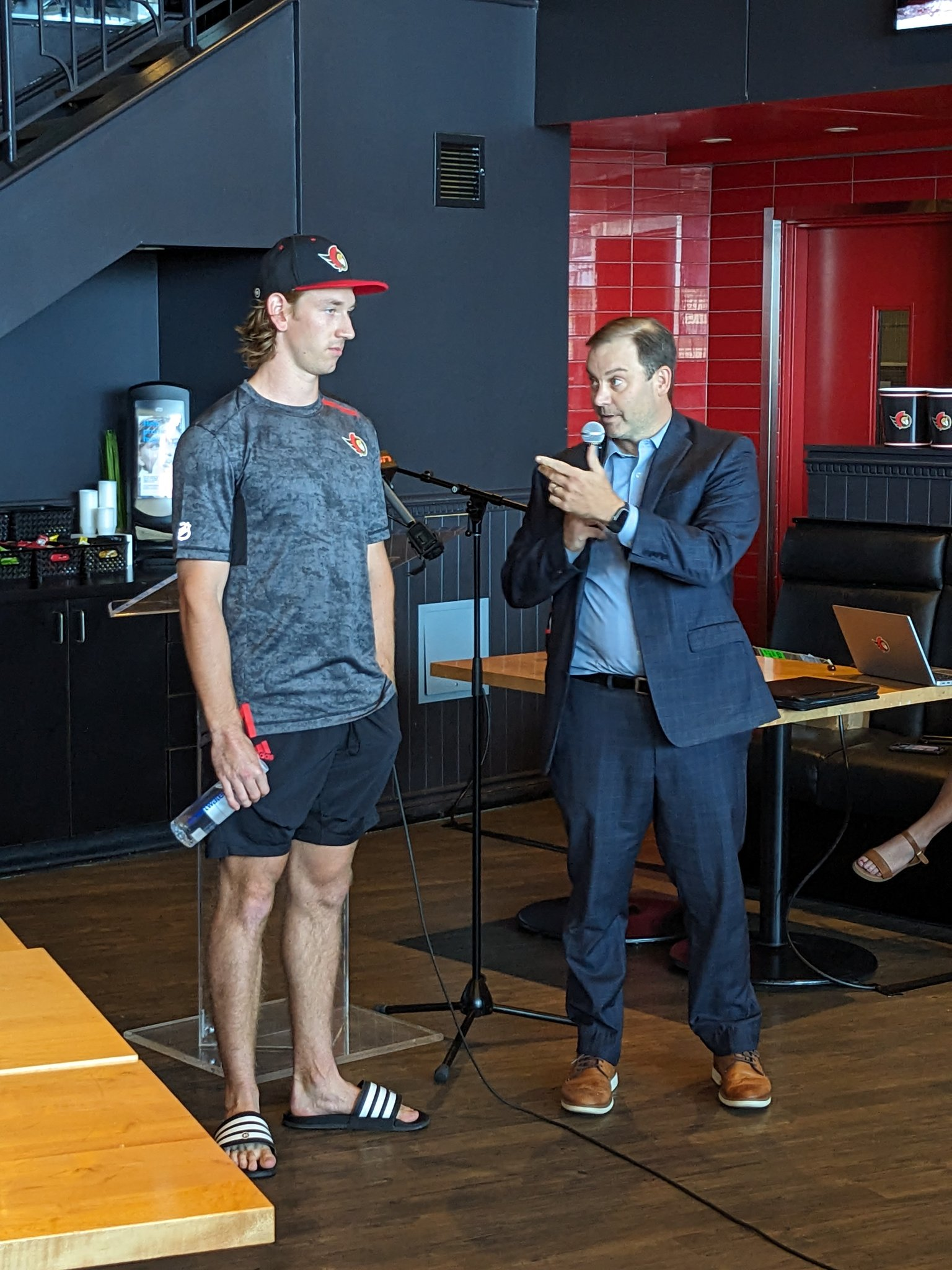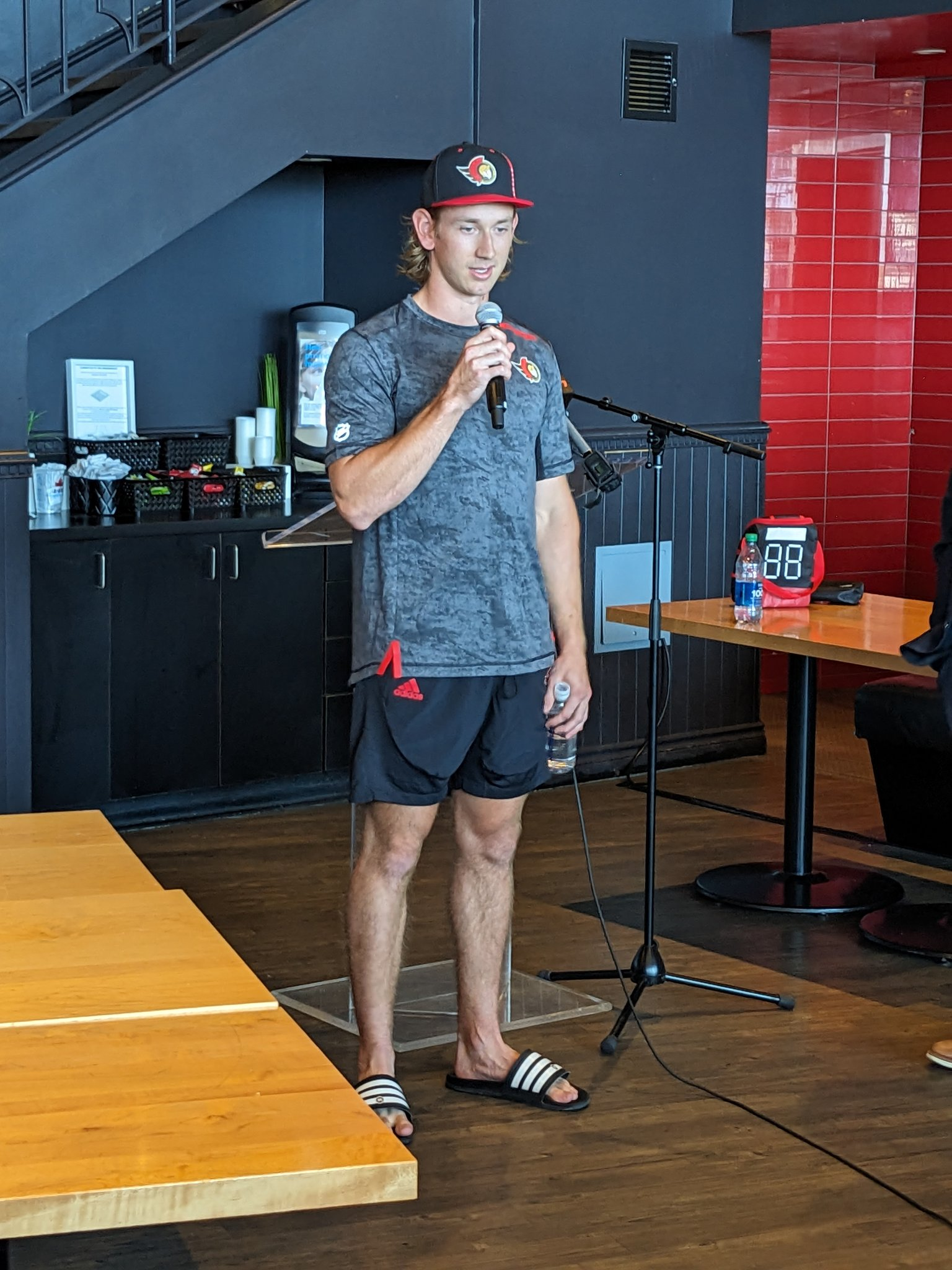 It was a brief Q&A, but there were two big points to note. He mentioned Tim, Brady, and Josh showing a commitment to the team (via long term extensions) and him wanting to follow them as a reason for signing the extension. And then he brought up wanting to bring the Stanley Cup to Ottawa.
And that was a wrap for the event. Big thanks again to the Senators for extending this invite to me, and can't wait for the season to get started!
Not everyone can afford to pay for sports coverage right now, and that is why we will keep as much of the site's content free for as long as we can.
But if you are able to, please consider subscribing to help keep our articles free (and get a few extra perks).
Erik Condra
Ability to comment and participate in our community
Twice monthly newsletter available only to subscribers
Ad-free reading
Our undying love and appreciation
Brady Tkachuk
Everything from the Erik Condra tier
10% discount on all merch
Access to any future paywalled content
A personal thank-you from the Silver Seven staff
Daniel Alfredsson
Everything from the Brady Tkachuk tier
Inner peace knowing you are supporting quality, independent coverage of your favourite sports team