Although the Ottawa Senators played just their 13th game of the season tonight, every game has started to feel like a "must-win" as they had a record of just 5-7-0. Another Western Canadian team came to town tonight, the Calgary Flames, who haven't been nearly as successful as the Vancouver Canucks have been. However, they were up against probably the best goalie who wasn't in the NHL until today—AHL MVP Dustin Wolf.
Things got off to a shaky start, as the Flames controlled most of the play at 5v5 and on two powerplays, but Joonas Korpisalo stood on his head to keep the game tied. It was a nice change of pace from previous games. Ottawa didn't deserve to break open the scoring, but that's exactly what Mathieu Joseph did. He tipped a Jake Sanderson shot from the point, giving him four goals (and 12 points) on the season, which already surpassed his three goals from last season:
Matty Jo with the net presence to get things started! 🚨#GoSensGo pic.twitter.com/4lyY7VBfSv

— Ottawa Senators (@Senators) November 12, 2023
It seemed as if the Senators were finally getting those "bounces" like DJ Smith has talked a lot about, as the second period featured more close chances for Calgary that hit the post, missed the net, or got stopped by Korpisalo. Then in true "Baseball Sens" fashion, Drake Batherson made it 2-0 on a swing at the puck in mid-air:
Swing batter, batter!! 🚨#GoSensGo pic.twitter.com/UVFiCkwOLw

— Ottawa Senators (@Senators) November 12, 2023
A bad read at the offensive blueline from Travis Hamonic would lead to a 2-on-1 later in the period, and Martin Pospisil's great pass to Blake Coleman gave him the most gaping open net I've ever seen on a 2-on-1. Korpisalo had no chance on it, making the score 2-1. Ottawa had an excellent opportunity to add to their lead before the period ended with a 5-on-3 last over a minute, but they couldn't do much with it.
Despite the 2-1 lead heading into the final frame, it didn't seem like Ottawa had a grasp on this game. Thankfully, they played the third period much better than the first two. Drake Batherson picked the pocket of Nikita Zadorov behind the net, quickly sent it out front to Dominik Kubalik, who then gave it to a wide open Rourke Chartier, who easily scored. It was Chartier's first as a Senator and just his second career NHL goal:
Ottawa goal!

Scored by Rourke Chartier with 16:10 remaining in the 3rd period.

Assisted by Dominik Kubalik and Drake Batherson.

Ottawa: 3
Calgary: 1#CGYvsOTT #GoSensGo #Flames pic.twitter.com/fdps3qw5jO

— NHL Goals (@nhl_goal_bot) November 12, 2023
Less than a minute and a half later, Tim Stützle and Claude Giroux seemingly had a "who can make more passes" contest in the offensive zone before handing it off to Travis Hamonic a little bit later. I'll give you one guess for what Hamonic did. Yep, he took a one-timer—and it went in to give them a 4-1 lead!
Travis Hamonic knuckles Stutzle's pass past Wolf for Ottawa's second tally in 1:22!#GoSensGo pic.twitter.com/nVfCfgfCyp

— Hockey Daily 365 l NHL Highlights & News (@HockeyDaily365) November 12, 2023
The rest of the period was listless for the Flames, and Ottawa finished much better than they showed earlier on. It ended up being a 4-1 win, with fans giving a standing ovation as the clock counted down. It looks like they might have some momentum going to Sweden this week.
Game Notes
The Senators did not look the best tonight, and the main difference was Joonas Korpisalo. If the goaltending had looked like it has many other nights this season, this game would have looked and felt a lot different. Korpisalo stopped 24 of 25 shots and was the key difference maker. He's up to a .907 SV% in 10 games.
It was great to see Chartier get his first goal as a Senator, and he's been quietly solid on the fourth line. He came into tonight ranking 12th/20 Senators skaters in Goals Above Replacement at 0.4, which was even ahead of Drake Batherson and Josh Norris (both at -0.6 due to their defensive numbers). He's nothing more than a fourth-line player, but it's nice to have someone help out there.
I'm not sure how long I can keep talking about Mathieu Joseph but wow. Not only did he score, he was flying out there and continues to prove the naysayers wrong. I'm so happy he's still a Senator.
I always talk about how good teams find a way to win even when they might not deserve to, and that's exactly what the Senators were able to do tonight. They had just 48.48% of the 5v5 shot attempts and 39.22% of the expected goals, but Korpisalo was able to keep them in it, and they buried the chances they got. They need much more of that.
Ottawa headed into the third period up 2-1 but the 5v5 shot attempts were 18-11 for Ottawa and they had a 68.84 xGF%. Usually teams sit back in that situation, but it's encouraging that they did the exact opposite.
Artem Zub and Vladimir Tarasenko awkwardly collided in the final minute, with both of them getting shaken up. Zub left the game for precautionary reasons, but we're incredibly hopeful that he's alright.
I really wonder what the Sweden trip will do to this team. We are probably talking it up too much due to what happened last time in 2017, but it's great that they finished with a win before the trip and I hope they become even closer during their time there.
Game Flow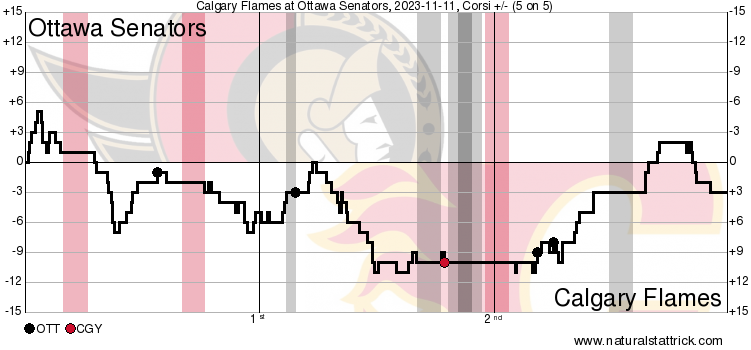 Heat Map