Reffing Controversies, A Few Stranglehold Leads, and More Playoff Fun
It's the Monday edition of Links, News, and Notes!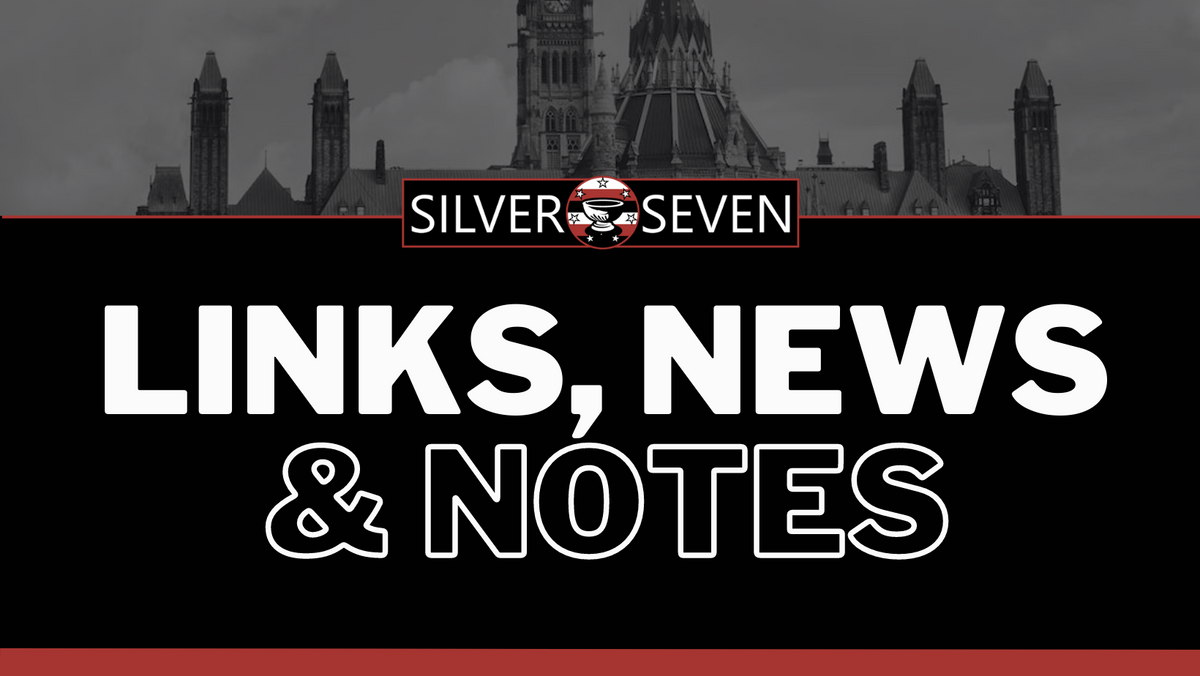 NEWS
To say that the refereeing has been a source of controversy in the first week of the playoffs would be a massive understatement. It seems like every game has been riddled with "they called that??" comments from both sides. I'm not sure if that's abnormal compared to other years, but it does seem like it's talked about a ton. The biggest controversy was the Los Angeles Kings' overtime winner on Friday night, which probably shouldn't have counted due to a high stick beforehand, although I'm still not sure it's 100% conclusive:
PLAYOFFS
Sunday's Games
Hurricanes 5 @ Islanders 2 – CAR leads 3-1
I'll be honest, this series has interested me the least so far. New York just seems like a team that doesn't belong, even though two of their losses were just by one goal. Seth Jarvis scored twice, Sebastian Aho (the Carolina one) broke the Hurricanes record for playoff points, Martin Necas scored his first of the playoffs, and Mackenzie MacEachern got his first career playoff goal after having 0 NHL games this season. Carolina now has a chance to move on to round two in front of their fans on Tuesday.
Bruins 6 @ Panthers 2 – BOS leads 3-1
Although Florida was able to put up a good fight in Boston, it seems like the Bruins have taken a stranglehold here. The Bruins are obviously the better team, and it'd be even more shocking if they can't win one of the next three games. Florida was able to make it 3-2 in the 3rd period, but Jake DeBrusk added a fourth, and Taylor Hall scored two in a row, which made it a 6-2 final.
Stars 3 @ Wild 2 – Series tied 2-2
This has surprisingly been one of the more entertaining series so far and I hope it goes to Game 7. Tyler Seguin made it 3-1 with 3:31 left, which seemed to put the game out of reach. However, Frederick Gaudreau scored on the powerplay with 1:20 left, and then Jake Oettinger had to make a stellar save in the dying seconds in order to save the game. It's such a tight series that will be difficult to predict the rest of the way.
Oilers 5 @ Kings 4 (OT) – Series tied 2-2
The Oilers were dangerously close to a 3-1 series deficit, as they were down 3-0 in the second period. Stuart Skinner was pulled after the third goal, and Edmonton was able to get three goals in the second period (two on the powerplay). Matt Roy retook the lead for Los Angeles early in the third, but Evander Kane was there to save the day with just 3:02 left. Then in overtime, Zach Hyman was the hero to tie the series at two. The Oilers are the better team but this will probably come down to the wire.
Tonight's Games
Devils @ Rangers – NYR leads 2-1
The Devils were incredibly close to being down and out with a 3-0 deficit staring them in the face during overtime on Saturday. Dougie Hamilton was able to snipe an overtime winner in order to keep New Jersey alive though, and they definitely have a good enough team to win this series.
Leafs @ Lightning – TOR leads 2-1
The Leafs barely got past the Lightning in Game 3, as they scored with one minute left in the third period to tie it at 3. Tampa Bay controlled more of the play in overtime, but all it took was a floater from Morgan Rielly to get past Andrei Vasilevskiy. Surely, you'd think in a year where the Lightning finally appear mortal and have some players clearly very banged up, that Toronto would be able to get the job done and win two of the next four. Right?
Golden Knights @ Jets – VGK leads 2-1
Vegas also won in overtime on Saturday, and they almost blew a 4-1 lead in Game 3. Our pal Michael Amadio got the game-winner, and if you don't remember him playing for the Ottawa Senators, I don't blame you--he played just five games after acquiring him for Christian Wolanin in 2021. The Golden Knights definitely hold the upper hand here, but I'm not counting out a team that has Connor Hellebuyck while their opponent has Laurent Brossoit. Josh Morrissey will be out for the rest of the series, which is certainly a massive blow.
Avalanche @ Kraken – COL leads 2-1
Seattle sending this series to six or seven games would be a success in my mind, and they've already been able to hang with Colorado. The Kraken were tied 3-3 at the beginning of the 3rd period, plus they were also up 2-0 in Game 2, so they could've very easily been leading this series. Seeing the atmosphere at the Climate Pledge Arena was pretty amazing, so I'm looking to see that be a factor in Game 4.