Longform
What would a "best-in-class" front office look like?
With Staios in the fold, what areas of hockey operations need expanding?
The Michael Andlauer era has started with a bang. First, the new Sens majority owner brought longtime President and co-founder Cyril Leeder back into the fold. The next week, he added his trusted confidante Steve Staios as the team's President of Hockey Operations.
Clearly, this is new to all of us. I'm used to seeing the Senators run with the bare minimum in terms of staff capacity in all areas and, if anything, I'm used to seeing people who have built relationships with the fans, like Tom Anselmi and Trent Mann, depart their roles.
It's still early, but Andlauer's communication style appears to be in a different galaxy than what we're used to, adeptly blending business-speak buzzwords with practical examples to try and signal the changes fans can anticipate. In this article, I hope to unpack a key term – "best in class" – and assess what that would mean for a long under-resourced area of the organization, the hockey operations department.
---
We begin with direct quotes from Andlauer, shared with TSN1200 during his first week on the job:
"I'm a player-first owner in hockey. To me, it's about providing the tools to be successful and, if I give you the tools to be successful, then I can hold you accountable in all facets...whether it be the players, the equipment manager, the coaches or the GM. [...] I'm just trying to understand the pieces. My first order of the day is learning, observing, understanding what's worked in other markets and then good R and D — ripoff and duplicate, where it makes sense. [...] There's opportunities there to bolster our hockey operations to make it stronger than it already is by the way."
This sentiment was corroborated by his first (re)hire, Cyril Leeder, who's likely in charge of leading this on the business side:
"He's extremely passionate about hockey, the game, and winning. He's a people person and good communicator," Leeder said. "As a fan that's what you a want in your owner, a person that's passion about the sport, winning and a good communicator. [...] He'll have the right people in place on the hockey side. He'll help them do what they need to do and give them the resources they need to win."
We saw immediate evidence of this the following week, when Steve Staios joined the front office as President of Hockey Operations (POHO). Andlauer referenced having both a POHO and a General Manager as a practice he's familiar with from Montréal, where Jeff Gorton and Kent Hughes fill those roles, and a setup that rings true across the league.
🏒
"It's such a complex part to complement each other and focus on all areas. You look at all the aspects from drafting and recruiting properly to the development part. To me, the development part is one of the more understated aspects that needs to be focused on in the NHL and the AHL also has different components to it. [...] It's not a one-person can do all this. What I see in Montreal I like, so it's a little bit of rip-off and duplicate from Montreal." -
Michael Andlauer
When referencing further additions to the hockey operations department, Steve Staios highlighted the hiring of Sean Tierney, the team's Director of Hockey Analytics, as a start:
"There's different components to building a championship team, but certainly I believe the analytics component is one of them, and a very strong tool."
This got me wondering how the Senators' front office stacks up league-wide. I recognize that the effectiveness of a group isn't solely about the number of hires, but about the quality of their work and I believe exploring other front office setups might help us illuminate where there are gaps in Ottawa. The goal is to try and determine what rebuilding the organization's hockey operations department and player support staff could look like as Andlauer and co. try to live up to their promise of making the Senators a "best-in-class" organization.
I've split up my analysis into four main sections of a hockey operations group: analytics (strategy, data, research and development); executives; player development; and player support. I've purposefully left out scouting because I feel more confident in being able to dig into the quality of the team's scouting staff relative to other teams in a future article. All data, unless otherwise cited, has been pulled directly from each organization's official website. If there are gaps (screw you, Los Angeles Kings) or less detail than you'd like, blame the team themselves. I didn't want to get into the messiness of researching for answers that might be right on teams that I know very little about, especially when trying to categorize qualitative data.
Hockey Analytics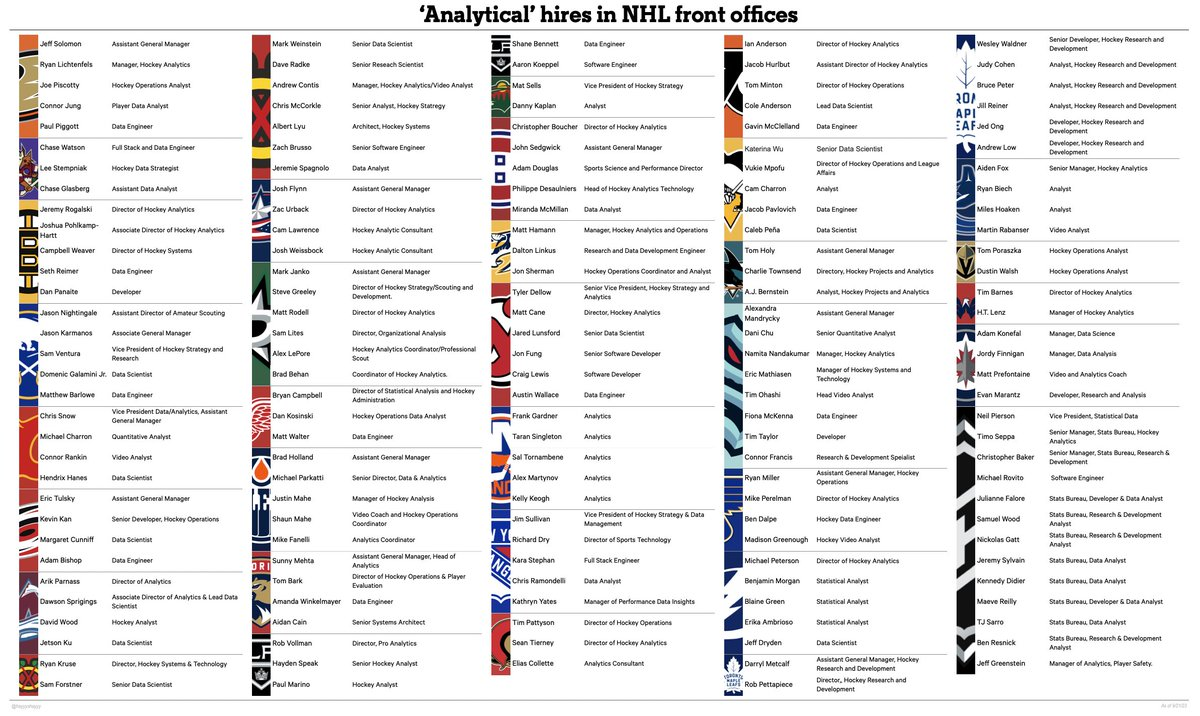 Sean Tierney's hiring is probably the first of a few additions the Senators need to make when thinking about data analysis, research, technology, and hockey strategy. While we know that long-time staffer Tim Pattyson added some of this to his role in the 2010s and Elias Collette supported as a part-time consultant, the Senators ~2.5-person department is still the smallest in the league alongside Minnesota, Vegas, and Washington. It's likely that the lack of staff capacity means that the Senators are behind other teams in the league, and while that might've hurt them to this point, it's a situation ripe for Andlauer's practice of "rip off and duplicate" what's worked for other teams.
Looking at the roles defined here, it seems like the Senators could use support on the back-end side of collecting and organizing data for Sean Tierney – a teacher by training – to use when communicating with other members of hockey operations, like D.J. Smith's coaching staff. Hiring people with the skillsets to be a data engineer, data scientist, developer, and/or a data analyst is probably what I'd expect next. Tierney is used to leading a team of people, both in Hamilton and with Sportlogiq, so while I can see him spearheading these efforts, it's noteworthy that both teams that Andlauer and Staios have high-level experience with – Montréal and Edmonton – have assistant general managers with analytics in their purview.
Executive Leadership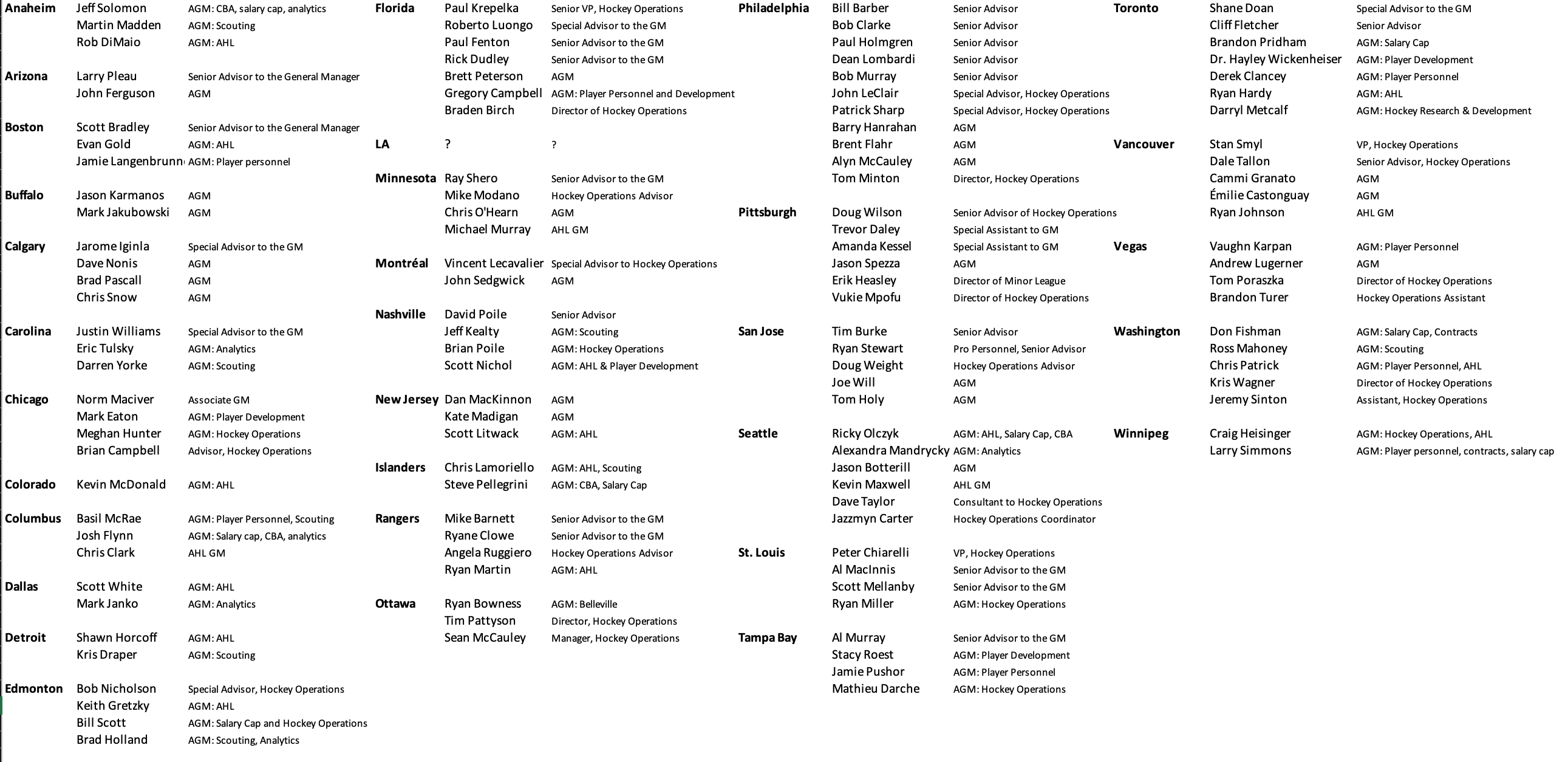 The Senators are one of four teams with just one person in the role of assistant general manager: Arizona (yikes!), Colorado (yay!), St. Louis, and the New York Rangers. The latter two have more folks in the role of advisors, a role that Daniel Alfredsson used to play for Ottawa, and it'll be interesting to see if Staios brings anyone else in to fill that void.
Another piece that stands out from this research is how clear some teams are with publicly outlining the task delineation within each role – Anaheim, Chicago, Columbus, Edmonton, Seattle, Tampa Bay, Toronto, Washington, Winnipeg – and how many aren't. Thinking of Andlauer and Staios, it's also interesting how different Edmonton and Montréal are, which makes it hard to determine where the Senators might head.
Two things are very clear. First, as a new cap team, the Senators could benefit from having someone focusing on cap management, the CBA, and contracts. Second, with the loss of Trent Mann, the team needs new leadership among its scouting and recruitment staff.
Player Development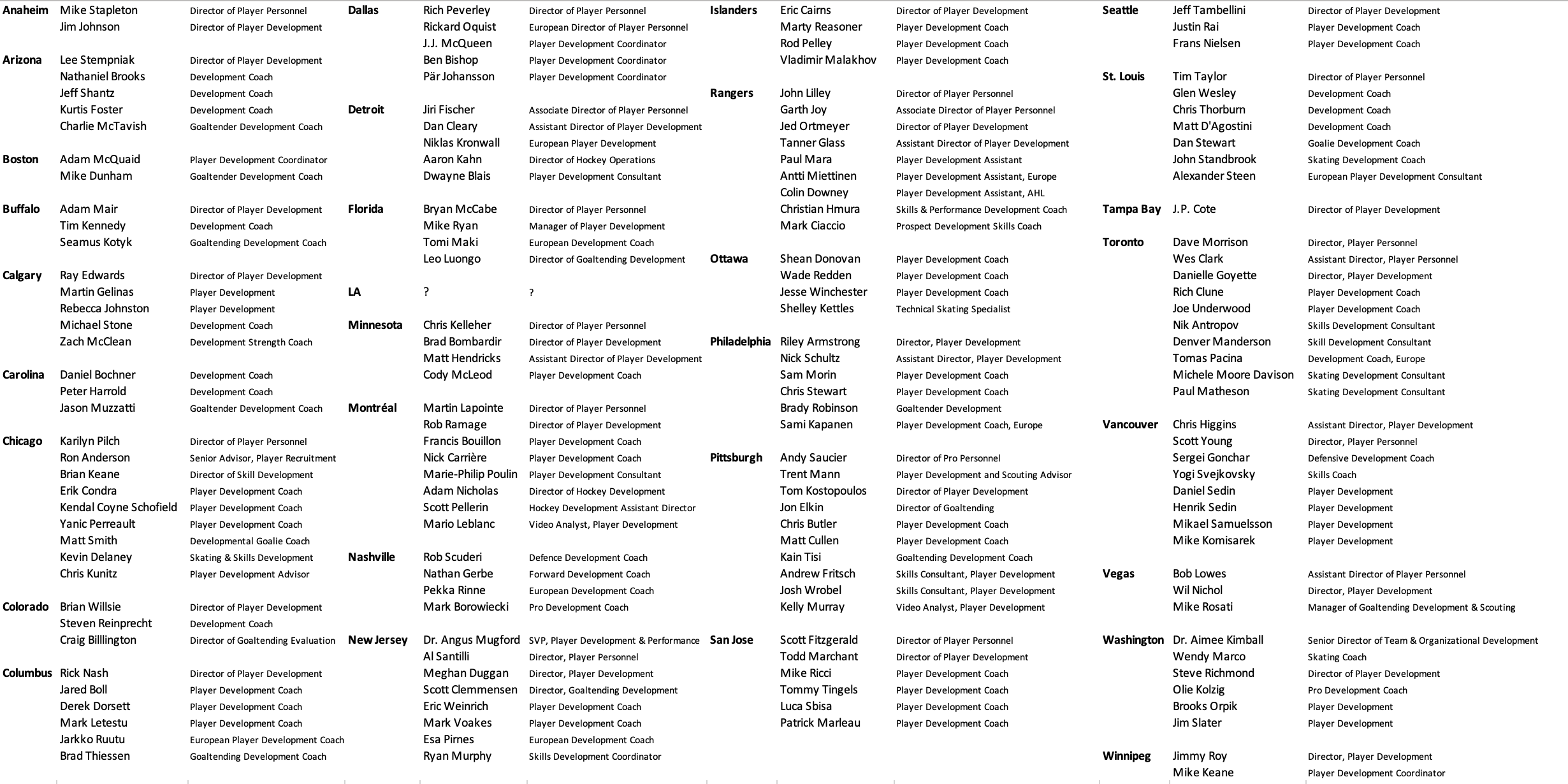 I count 24 of 32 teams having someone in a leadership role (Director, Manager) in player development. Ottawa is not one of them. This is Daniel Alfredsson's stated interest in hockey operations. I will let you connect the dots.
Beyond that, the Senators are one of a handful of teams that have someone in a role focused on skating – Mark Stone thanks you, Shelley Kettles – and with three development coaches, they're in solid shape. While the team hasn't publicly outlined areas of focus for Donovan, Redden, and Winchester, reading and listening to interviews over the years gives me confidence to state that Redden works with defenders, Winchester with forwards, and Donovan seems to oversee it all.
The Senators haven't outlined someone as a "goaltending development coach". I thought about including Justin Peters, Belleville's goaltending coach, on this list for Ottawa, but I'm unsure how much he and Zac Bierk talk with prospect goaltenders like Kevin Reidler and Vladimir Nikitin versus focusing on their respective AHL and NHL clubs. Beyond that, some of the more robust player development departments appear to have a team member focused on Europe, more skills, strength, and conditioning coaches for prospects. Edmonton didn't have anyone listed under player development on their official site, and Montréal is the only team to have player development and hockey development separated – which is fascinating.
Support Staff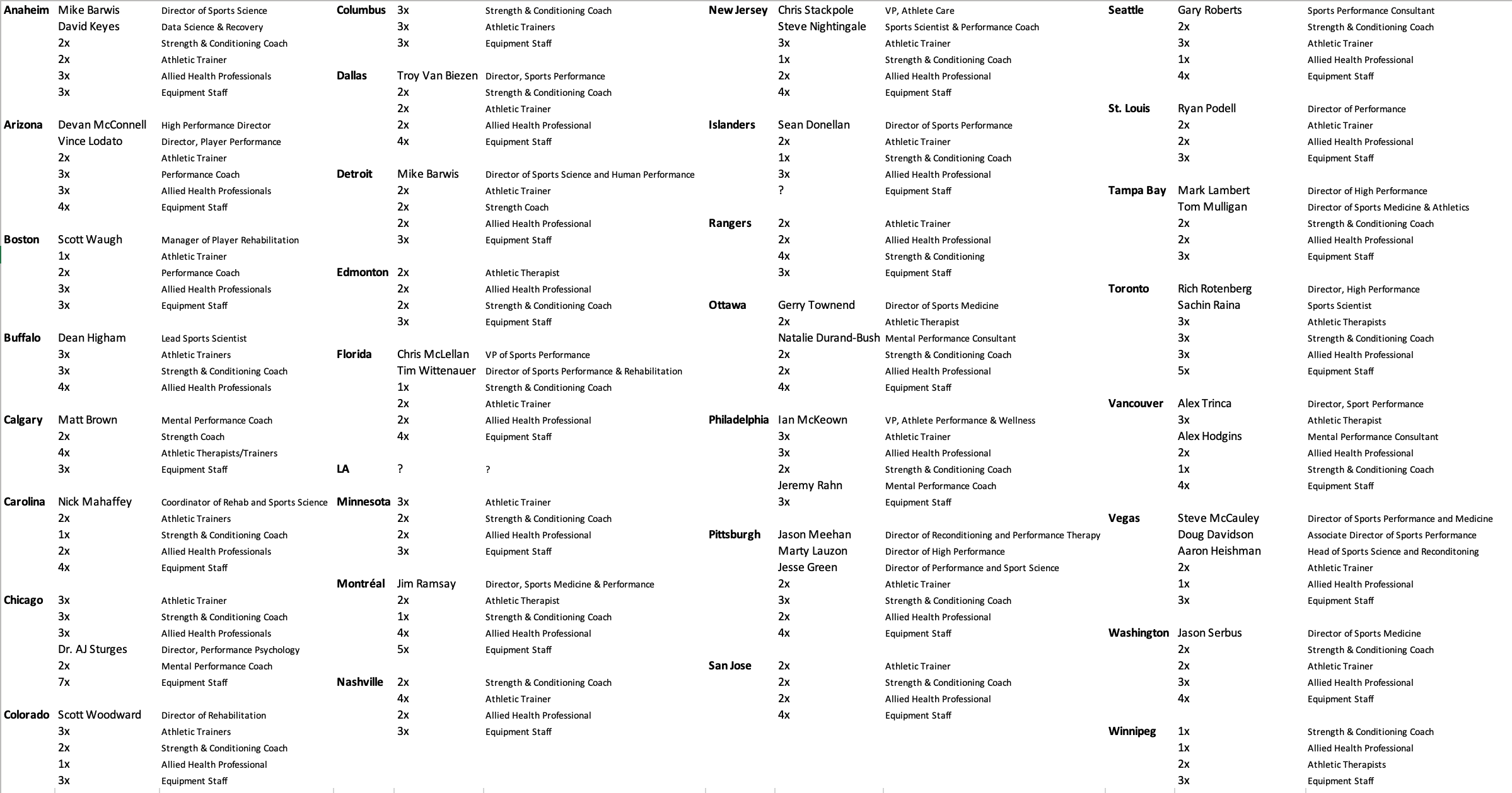 The teams leading the charge in terms of player support have staff in place as Directors of Rehabilitation or Director of Sports Science & Performance, such as perennial playoff teams Carolina, Florida, Pittsburgh, Tampa Bay, Toronto, and Vegas. While I haven't checked out if there's a correlation between number of support staff and number (or severity) of player injuries, the Senators have had a number of core players go through surgical procedures and have difficult rehabilitation processes in recent years. Adding a few team members to lead this group alongside Gerry Townend seems like a no-brainer.
Despite skimping out on most other areas of their front office in the Melnyk years, it seems like the Senators have league-average numbers of athletic therapists, strength & conditioning coaches, allied health professionals, and equipment staff. I hope they feel well supported; it's not lost on me that there are many former players who talk about this group of professionals very fondly and many have represented Team Canada in international tournaments.
---
In summary, this league-wide analysis has illuminated some key gaps for Andlauer, Staios, and co. to address in the Senators hockey operations department:
additional hires focusing on data analysis and engineering as Ottawa builds out a robust hockey research and strategy department
potentially an additional assistant general manager (or two), focusing on salary cap, CBA, contracts, scouting, and (potentially) analytics
senior advisors to support Staios as he finds his feet in the NHL, compared to his vast OHL experience
defined leadership among their player development team; additions in Europe and to their skills and strength squad focused on prospects
leadership in sports science and player rehabilitation
Daniel Alfredsson
In addition, we saw a few teams who were innovating with some interesting ideas, such as Adam Douglas' group in Montréal focusing on hockey development. While I didn't list these folks out because I didn't know where they'd fit in the way I chunked the information I shared with you – a limitation of this work – there were a few other interesting roles I wanted to highlight. Bruce Franklin is Anaheim's Director of Player Evaluation; Mike Huff is Florida's Vice President of Player Engagement; and James Lipscomb is listed as New Jersey's Facilitator of Hockey Information and Operations. These are roles that I didn't see across other teams, and represent different ways that NHL front offices are evolving. While Michael Andlauer has primarily talked about ripping off and duplicating ideas that have worked for others, I hope there's also room to learn from others' mistakes and innovate in new areas so Ottawa can push the envelope and develop a competitive advantage. Fighting on those margins is what transforms "better" into "best" as we work to bring this city a Stanley Cup.