An Interview with Micah McCurdy of HockeyViz
A Q+A with the man behind the charts
Micah Blake McCurdy is one of the most influential voices in hockey analytics today. The math PhD and hockey aficionado creates data visualizations  for his aptly named website, HockeyViz – the entirety of which is publicly available  for a modest monthly fee. The "heat maps" that you frequently see populating our articles are straight from the site.  I cannot recommend his work strongly enough.
Micah is also a long-time fan of the Ottawa Senators. He was kind enough to answer a few questions, which are lightly edited for clarity below.
You can find all of Micah's work at hockeyviz.com.
Silver Seven: How did you come to be a fan of the Sens?
MM: When I was a  teenager in the mid-nineties, my dad and I would read the Globe and Mail side-by-side every morning, and one day there was an article in the sports section that proposed that the Senators and the Sharks (at the bottom of the league together) should make a deal that whoever had the better record over the final few games (instead of the worst) should get the first overall pick. I don't remember who wrote the article but it suggested that the Sens brass had actually floated this idea and that the league or the Sharks had turned it down, and I thought that was a fun idea. My dad was a lapsed Rangers fan from his youth and we started watching Sens games together when we could, which was not often - I was pretty casual fan until I moved to Australia to get my PhD in my early twenties, and then suddenly got into hockey as a kind of simultaneous way to stave off depression and homesickness. I think one year I watched every Sens, Habs, Canucks, Flames, and Oilers game.

Silver Seven: In your estimation, what is the story of the Sens' season?
MM: That it takes more than one good season to really turn a team around after so many years of being run into the ground. There's plenty of bright spots - Giroux, Stützle, DeBrincat, just to name the three most striking individuals; the excellent power-play too, but also plenty of ill-fortune and weak spots, like the forward depth lacking any finishing talent, the injuries and general weakness in goal, the occasionally mystifying coaching choices, the glut of decent-but-not-quite-good-enough defenders. It's the kind of mixed bag season that typifies teams who finish in the #6-#10 range in their conference. Ultimately, I don't think you can put your finger on a single defining thing.

Silver Seven: Were there any Sens players that particularly outperformed your expectations? Conversely, were there any that you consider to have had disappointing campaigns?
MM: Claude Giroux has been the biggest surprise to me. He has been so good for so long; it feels rude to say that I expected him to fall off a little but I did, and he hasn't, and it's been great to watch. For complicated reasons I watched a lot of Flyers hockey over the last five years and he was perpetually a bright light for them too; he became one of my favourite players to watch there, and now here too.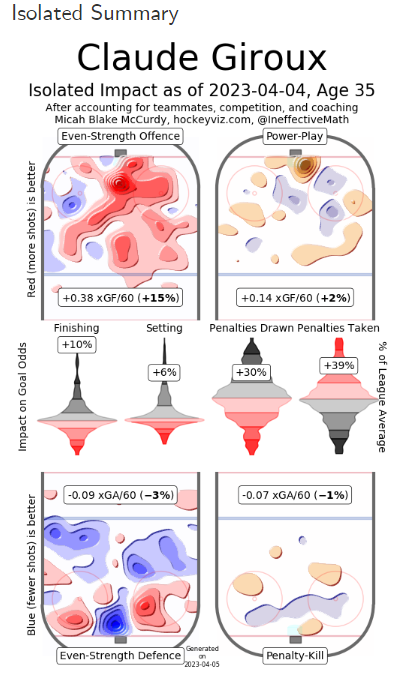 Silver Seven: You've been running Hockeyviz for quite a while now, and it's been your "full-time job" for several years. When did you realize that you could make a career out of hockey stats?
MM: HockeyViz as a money-making enterprise has been a slow and gradual thing, so there hasn't been a moment where anything really "felt different". It's always been just a question of "can we pay the bills this month" and finding a way to stack up "yes" answers every month since the summer of 2015, when I left my old tech startup job that I didn't find very fulfilling. Along the way I did a lot of contract work for various teams, and agents, and syndicates, and other people's hockey startups that didn't get off the ground, alongside as much math teaching work as I could put my hands on to keep body and soul together. I like working for the public more than any of that other stuff, though, so I've gradually let other things recede into the background a little bit, to the point where HockeyViz pays nearly all of the bills by itself. I wouldn't have even tried to make a go of it had my wife Anna not strongly encouraged me to try, especially at first but really throughout. Knowing that I have a full-time job where I can share everything I figure out with everyone who cares to learn too is incredibly satisfying. It feels like it goes hand in hand with my university teaching work.

Silver Seven: With Connor Bedard eligible to be selected in this year's NHL Entry Draft, the chattering classes are once again debating the merits of the league's Draft Lottery system. You propose an alternative system, Gold Drafting, to reward bad teams for winning instead of losing. Can you briefly explain it and why you remain a proponent despite all of the NHL's tinkering with their existing system?
MM: I like cheering for wins, as a fan, and I hate the dissonant feeling of knowing that losses help the team long-term more than wins do. I especially hate the corrosion that it causes among the fanbase, where that internal mishmash of mixed feelings becomes externalized into spats about what ought to be the most basic and unchanging piece of shared fan culture: that you want the team you cheer for to win. The system I like best to avoid this is a version of what's called Gold Drafting, where the best draft picks go to the teams who have the most standings points, but in order to be eligible you have to give up your chance of making the playoffs. It gives fans a more interesting thing to debate (should we try to win a playoff spot, this year? or should we try to win a good draft pick, to try to get better for future years?) but there's never any disagreement about what you want: you want the team to win. Whether you do win or lose, your shared experience is better because you all want the same thing - and if you /do/ win a great draft pick, you get to tell the story about how that one season was awful until it was really, really great, and about how you watched them win it on the ice.

Silver Seven: Lastly, what do you consider to be the next frontier in hockey stats? Where are the biggest opportunities for additional insight?
I feel that the public analysis of the game is still in its infancy - we're only seeing common agreement about what sorts of things ought to be included in a basic expected goal model as of the last few years, for instance - and sometimes it feels to me like there is so much work to do still with the data we've got that it'll keep me busy for years. I'm especially keen to try to pin down just how much impact coaches can have. Depending on who you talk to, coaches are either the most important people in an entire organization or figureheads who are so unimportant as to be let go just to "send a message" to the current roster. I don't have a coach's eye for Xs and Os but I'd like to tease out more of how their choices of scratches, linemates, and systems affects team results, and particularly goalie results. Goaltending is my other main focus these days; the natural variation in results is so large that it's easy to feel overwhelmed but I don't think we've yet learned all that we can learn from the information we've already got, let alone all the extra data I would so love to have.
Thank you again to Micah for his time and be sure to check out HockeyViz.