Patrice Bergeron Retires, Canes Secure Aho, NHLPA Under Fire and More
Thursday's Edition of the Links, News and Notes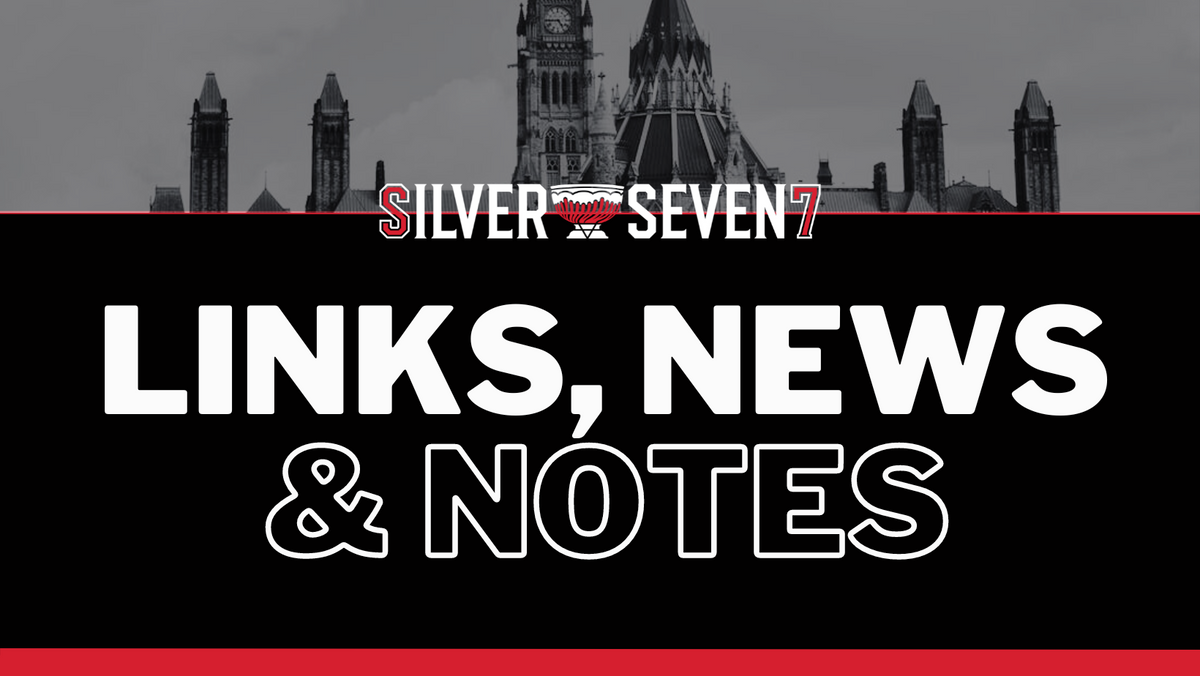 Is it October yet? I mean, I know we're all enjoying the summer weather and all but it seems July is taking its sweet time to go by.
While we wait, let's take a tour around the hockey world this week.
Let's kick things off by congratulation Jacob Billington who is the first winner of Silver Seven's Tuesday Trivia! This proved to be a tough one with Jacob winning with a score of 6 out of 10. Congrats Jacob!
No matter what team you cheered for, Patrice Bergeron would have to be on top of your most respected hockey players. This week, the 38-year-old announced that he will be hanging up his skates. Bergeron retired with a Stanley Cup, Two Gold Olympic Medals, a World Junior Gold, and a Hockey championship gold. Mostly, he retires with the legend of being the most consistent and powerful two-way forward of his time.
The Carolina Hurricanes have been on the rise the past few seasons, they are constantly posing a threat in the league and it starts with good management. They now have their star forward Sebastian Aho signed long term as an 8-year deal was announced this week worth $9.75M AAV. A hefty price but that's the cost of retaining your star players in this league.
The Hurricanes have also brought back Tony DeAngelo on a one-year contract.
The stories of fraud and abuse in the hockey world continue to pour in. TSN's Rick Westhead reported on a lawsuit against the NHLPA by a former employee who claims he was wrongfully fired for wanting to expose fraudulent behaviour within the organization.
If you thought Matt Murray's tenure with the Sens was terrible, wait until you hear his latest status with the Maple Leafs. The team announced today that Matt Murray is out indefinitely and will be placed on Injured Reserve. The season hasn't even started and they're counting him out. Unfortunately, this will not provide any relief for the Sens from a cap perspective.
Filip Gustavsson had a great comeback season in Minnesota and now he wants to be rewarded. Both parties don't seem to be coming to a conclusion and are expected to wait for the arbitration results.
Ian Mendes looks into whether the current Sens roster is of playoff caliber, especially with the departure of Alex DeBrincat.
Not everyone can afford to pay for sports coverage right now, and that is why we will keep as much of the site's content free for as long as we can.
But if you are able to, please consider subscribing to help keep our articles free (and get a few extra perks).
Erik Condra
Ability to comment and participate in our community
Twice monthly newsletter available only to subscribers
Ad-free reading
Our undying love and appreciation
Brady Tkachuk
Everything from the Erik Condra tier
10% discount on all merch
Access to any future paywalled content
A personal thank-you from the Silver Seven staff
Daniel Alfredsson
Everything from the Brady Tkachuk tier
Inner peace knowing you are supporting quality, independent coverage of your favourite sports team