Instant Analysis: Ottawa Senators Trade Alex DeBrincat to Detroit Red Wings
The long-awaited deal is finally done and we're left to wonder what could have been

After what seemed like an eternity, the Ottawa Senators have traded Alex DeBrincat to the Detroit Red Wings for winger Dominik Kubalik, prospect Donovan Sebrango, a conditional 2024 1st round pick, and a 2024 4th round pick. The conditions on the first round pick are somewhat complicated:
The initial condition on the first-round pick is as follows -- the Red Wings will have the option of sending their own 2024 first-round pick or Boston's 2024 first-round pick (previously acquired on March 2, 2023) to Ottawa. However, if the Bruins' 2024 first-round selection is an eventual top-10 pick (following the annual draft lottery), Boston will have the option of retaining the pick and transfering its 2025 unprotected first-round selection to Detroit. The Red Wings will then have the option of sending that draft pick or their own first-round pick in 2024 to the Senators to complete this trade.
The Red Wings simultaneously announced that DeBrincat had signed a four year contract extension with an AAV of $7.875M.
As far as next season goes, the big piece here is obviously Kubalik, who will turn 28 in August, and has one year left on a contract that carries a $2.5M AAV. He will be a UFA at the conclusion of the 2023-24 campaign. The Czech left winger tallied 20 goals and 25 assists in 81 games last year for Detroit, and has posted 161 points in 283 games for his career. Barring additional moves, he appears likely to slide into DeBricat's role in the Sens' top six.
Kubalik's 45 points are nothing to sneeze at, but he still represents a sizable downgrade – even from last year's version of DeBrincat that proved to be a disappointment for Sens fans. On a good team, Kubalik plays third line minutes, where he can be sheltered a bit, spends some time on the second power play unit, and occasionally steps up to sub in for injured players on the top two lines. Last year he was 269th in the league in scoring rate at 5v5 among players with at least 200 minutes – or about what you'd expect from a slightly below average third line winger's production. His shot impact per Hockeyviz's model aren't particularly flattering: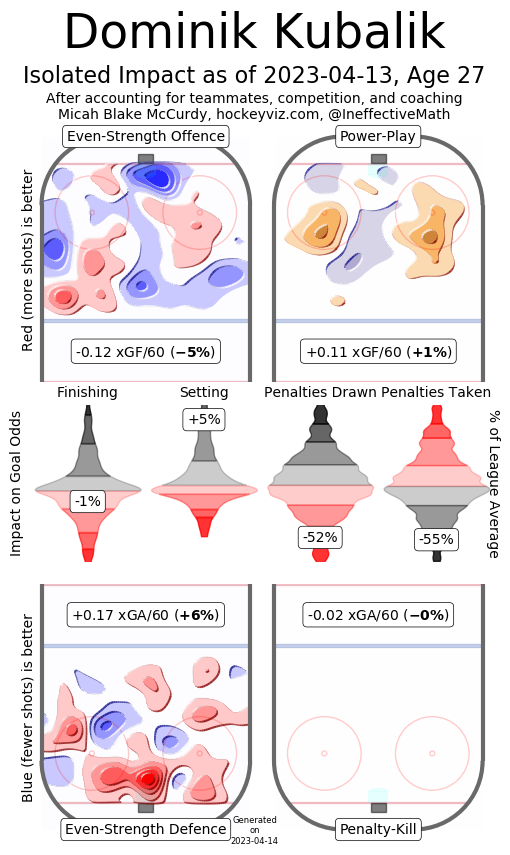 The other important consideration for next year's team is the Sens' cap situation. After the deal, Ottawa has just over $5M in cap space with Shane Pinto still left to be signed. It's unlikely that Pinto will be able to command a large sum, but anything less than $2.5M would be surprising, which doesn't leave too much space. In other words: it's hard to imagine another impact player being signed cough cough Vladimir Tarasenko cough cough barring additional moves. Maybe Dorion has more up his sleeve, but as it stands this kind of looks like it might be pretty close to the squad that comes into training camp.
As for the future, Sebrango is a 21 year-old left shot defenseman who split last season between the AHL and the ECHL. The Athletic profiled the Ottawa native a couple of years ago. Scott Wheeler also had Sebrango as the Wings' 14th ranked prospect in February, and wrote this at the time
It has been a bit of an up-and-down year for Sebgrango. I thought he started the year strong in Grand Rapids, but when he hit a rough patch and then got caught in the numbers game, he was sent to the ECHL, it took him some time to find his presence there (he can play with a lot of presence — a hard thing to describe — when he's playing firm and aggressive), but he found it and had an excellent January and I expect you'll see him back in Grand Rapids before the season is done.
He's a physical, hard-nosed defender who has driven defensive results across levels without ever being a highly productive player. There are times when his first touch isn't the smoothest and I'd like him to make the long play instead of the rushed one under pressure, but I don't think he needs to change his game to be effective and I get the sense he doesn't care to (he trusts in who he is out there). He plays a step-up style. His skating and mobility has gone from below NHL average to at it. He makes consistently [good] choices with the puck, he's capable of stretching the ice as an outlet passer, he blocks every shot he can, I like the routes he takes, and there's a maturity to his game that might push him into No. 6-7 role eventually, even if this year feels like a "setback".
I am far from a prospect expert, and certainly not an expert when it comes to other teams' prospects, but I think it would be fair to call Sebrango a "B" or "C" prospect. He should help Belleville next year, but especially given the Sens' depth on the left side of their blueline ,it's hard to see him getting much time in Ottawa in the immediate future.
The draft picks, then, are the real haul, and here the Sens will once again be hoping for some luck in the vein of the San Jose Sharks' pick from the Erik Karlsson trade that eventually became Tim Stützle. If both Detroit and the Boston Bruins fall on hard times (unlikely but not impossible) then this trade haul has the potential to look a lot better than it does today. If you weren't already actively cheering against both the Wings and the B's, now would be a good time to start.
Did the Sens win this trade? In a vacuum, it's hard to make that argument. The Wings got a top flight winger, signed him to a very reasonable contract, and gave up a pretty light package in return. But this trade didn't happen in a vacuum: clearly Dorion didn't feel it was feasible to bring DeBrincat to training camp and play out next season without a long-term deal in place, and once the decision was made to trade the winger Detroit seemed like the only potential match. For some time now, there has been no chatter of any other bidders besides the Wings –  and so Dorion essentially had to settle for what was on offer. There is a whole other, broader, discussion to be had about how we arrived at this exact situation, but given the context this deal is O.K. It's not a disaster, and it certainly doesn't invalidate the stellar trade to pry him from Chicago in the first place, but the net result is to make next year's team immediately worse. That might have been impossible to avoid in this context.
So, about next season: is this group better than the squad that missed the postseason by a mere six points? Are they good enough to make the play-offs? I can only meekly answer: "Maybe?"
Swapping DeBrincat for Kubalik is a large-ish downgrade, and the forward group remains quite thin overall. Though the Norris injury was undoubtedly a problem, the Sens were otherwise quite blessed when it came to injuries to their forwards:  Stützle, Tkachuk, Giroux, DeBrincat, Batherson, Pinto missed a combined 4 games between them. If the Sens' forwards are going to be better, they will need good health for everyone again (and Norris this time, too) as well as some internal improvements from the aforementioned Pinto, Mathieu Joseph, and a meaningful contribution from Ridly Greig. None of these things are impossible, and I feel more or less optimistic about each of them depending on when you ask.
With the caveat that further moves here to upgrade the forward group would change the calculus, the bet that Dorion is making is that the Sens will get a year of mostly good health (I'm looking at you Jakob Chychrun) from what promises to be a very strong blue line and that Joonas Korpisalo is the 2022-23 version of himself and not another, earlier incarnation. The Sens are, once again, banking on a bit of good luck to carry them over the edge and into the post-season. With the DeBrincat trade completed at last, they can now fully focus on the task at hand
Not everyone can afford to pay for sports coverage right now, and that is why we will keep as much of the site's content free for as long as we can.
But if you are able to, please consider subscribing to help keep our articles free (and get a few extra perks).
Erik Condra
Ability to comment and participate in our community
Twice monthly newsletter available only to subscribers
Ad-free reading
Our undying love and appreciation
Brady Tkachuk
Everything from the Erik Condra tier
10% discount on all merch
Access to any future paywalled content
A personal thank-you from the Silver Seven staff
Daniel Alfredsson
Everything from the Brady Tkachuk tier
Inner peace knowing you are supporting quality, independent coverage of your favourite sports team