Prospects Update
Ottawa Senators Prospect Update - October 23rd
American Edition. Whether we're talking about the Allen Americans or the USHL is up to interpretation.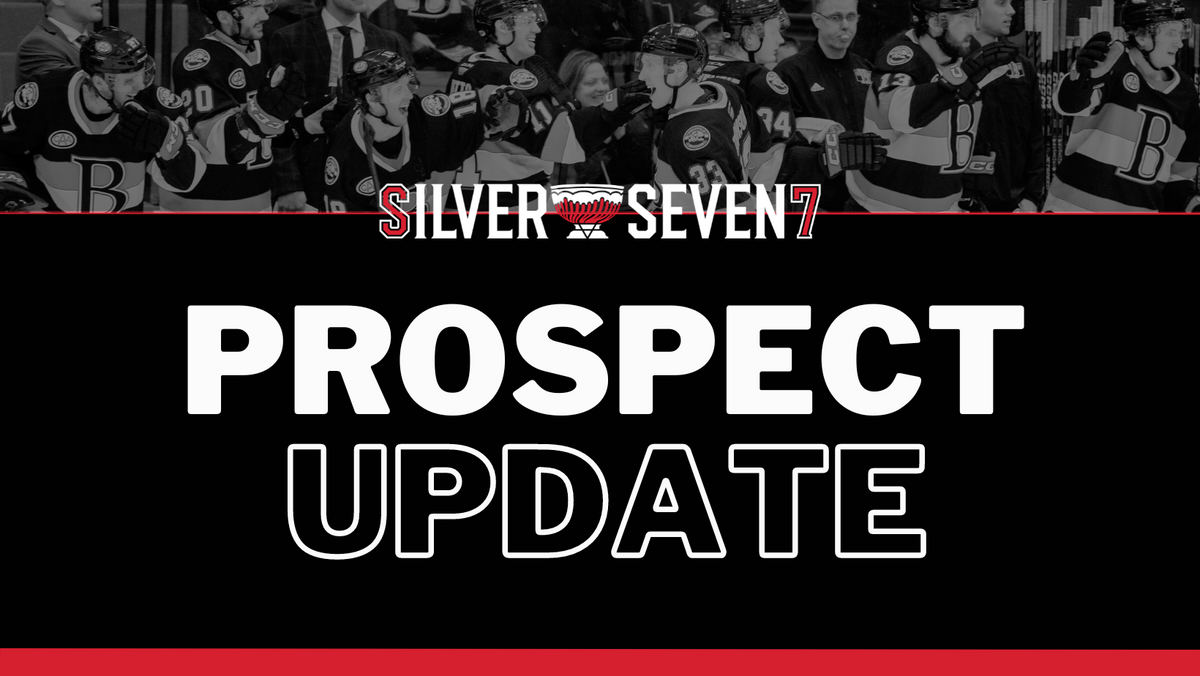 The American end of the Ottawa Senators prospect pool had a particularly big week, and one of last year's top prospects has recovered after a slow start. Belleville also went a perfect 1-for-1, which is quite literally the best possible result you could hope for.
Forwards:
Philippe Daoust
Whatever Daoust needs to do to earn some ice time in Belleville, it certainly isn't related to production. The 2020 sixth-rounder had 7 points in 9 games last season, was a standout in the prospects tournament, and now with the ECHL's Allen Americans, has two goals and two assists in his first two games.
Zack Ostapchuk
The 6'4" centre made his professional debut during Belleville's season opener but it wasn't until the home opener, two games later, where he finally got himself on the board. In Saturday's 5-4 win against Laval, Ostapchuk contributed a goal and an assist while skating alongside Cole Reinhardt and newly assigned winger Zack MacEwen. The trio, centred by Ostapchuk, combined for three goals and three assists in this game.
We don't think Ostapchuk will look back on this as a highlight reel play, but he'll certainly remember it as a highlight of his career.
Cole Reinhardt
Cole Reinhardt is one of those prospects who can be easy to forget. He doesn't have the higher draft pedigree like Ridly Greig and he's not a flashy player like Roby Järventie. But, boy is his effort consistent. Reinhardt is one of those players who embodies "compete level". Flanking Ostapchuk, he had two assists in Saturday's home opening to bring him to four points in his first three games this season.
Defensemen:
Jorian Donovan
After a slow start to the season, Donovan is back on the upswing with a 4-game point streak for the Brantford Bulldogs, including a goal and assist against Owen Sound on Saturday. The 2022 fifth-rounder is now up to 8 points in 9 games on the year, and is leading the team in points. Keep that in mind if he doesn't produce at a point-per-game clip this season, offensive support from forwards is always going to have a big impact.
Filip Nordberg
There's a NordVPN joke somewhere there, with his tendency to jump from team to team, though I'm too lazy to word it figure it out completely or word it properly. Hopefully Nordberg can stay put on a single team this time around – it appears to be doing wonders for the 2022 second-round LHD thus far. He had his first USHL goal and added an assist in two games for the Muskegon Lumberjacks, and has 3 points in 4 games.
Goaltending
Kevin Reidler
You love to see another late-round 2022 pick turn into a potential steal. After a solid 31-save performance this past week, Reidler has a 4-1-2 record and .915 save percentage with the Dubuque Fighting Saints of the USHL, the old stomping grounds of fellow 2022 draftees Cam O'Neill and Theo Wallberg. The jury's still out on whether he'll pursue a college career or head back to Sweden to take command of AIK's crease next season.
Promotion
Ridly Greig, you no longer exist. At least as far as these updates are concerned, that is. You're an NHLer now, congratulations. I wouldn't be surprised to see him go Top-10 in a re-draft somewhere down the road. What a great pick, eh?
Belleville Team Update
After going 1-1-0 in their opening weekend, the Belleville Senators kicked off their campaign at CAA Arena on Saturday with a date with the Laval Rocket. Head Coach Dave Bell returned to Mads Søgaard in net. Heading into this one, the Danish netminder had played 96:39 without allowing a goal. Of course, that had to end at some point. The Rocket had a ton of grade A chances against the Great Dane, finding the back of the net four times.
Fortunately for Søgaard and the BSens, the offense bailed the team out for a 5-4 regulation win. Graham McPhee opened the scoring just two minutes in, while Zack MacEwen's first in a Belleville uniform occurred shortly after. Between the end of the first and beginning of the second, Laval bookmarked a pair of goals to even things up but it only took Zack Ostapchuk 11 seconds to regain that lead.
Brennan Saulnier extended it to 4-2, and while Laval was able to claw their way back in, MacEwen's second of the game ended up as the winner.
The big storyline with this one occurred in the penalty box. Things got heated, and heated quick. Just 21 seconds into the game, Tyler Kleven took on Nathan Légaré for his first professional tilt. While there were only five total powerplays, a total of 16 players for both teams made their way to the penalty box for one reason or another. If you look at the timestamps, you can see a lot of infractions occurring at the same time. Fights, scrums, roughing, and more were in this one. It was pretty clear from the drop of the puck that neither team was going to back down from a physical contest.
Fortunately for both teams, their penalty kills were perfect and this entire game was won by even strength play.
Belleville has the Milwaukee Admirals in town tomorrow before hosting a back-to-back on the weekend with the Toronto Marlies, another North Division rival. It's early, but every in-division game means something in the AHL. At the end of the season, a pair of wins against Toronto this weekend could be a difference maker.
Every point counts.
Stats
Since the Last Update
|
TOTAL
PLAYER
POS
AGE
LEAGUE
GP
G
A
P
PIM
SOG
SH%
|
GP
G
A
P
PIM
SOG
SH%
Jacob Bernard-Docker
RD
23
AHL
0
0
0
0
0
0
0%
|
2
0
0
0
2
3
0%
Jacob Bernard-Docker
RD
23
NHL
1
0
0
0
0
0
0%
|
1
0
0
0
0
0
0%
Tyler Boucher
RW
20
AHL
0
0
0
0
0
0
0%
|
0
0
0
0
0
0
0%
Angus Crookshank
LW/C
24
AHL
1
0
0
0
4
4
0%
|
3
1
0
1
6
10
10%
Philippe Daoust
C
21
ECHL
2
2
2
4
0
4
50%
|
2
2
2
4
0
4
50%
Ridly Greig
C/LW
21
NHL
2
1
1
2
2
6
17%
|
5
1
3
4
2
11
9%
Maxence Guénette
RD
22
AHL
1
0
0
0
0
0
0%
|
3
0
1
1
0
2
0%
Roby Järventie
C/LW
21
AHL
1
0
0
0
0
2
0%
|
3
0
1
1
0
4
0%
Tyler Kleven
LD
21
AHL
1
0
1
1
5
1
0%
|
3
0
1
1
5
4
0%
Zach Ostapchuk
C
20
AHL
1
1
1
2
0
3
33%
|
3
1
1
2
0
5
20%
Cole Reinhardt
LW
23
AHL
1
0
2
2
2
3
0%
|
3
1
3
4
4
4
25%
Donovan Sebrango
LD
21
ECHL
1
1
0
1
0
1
100%
|
1
1
0
1
0
1
100%
Egor Sokolov
RW/LW
23
AHL
1
0
0
0
0
6
0%
|
3
1
0
1
4
11
9%
Lassi Thomson
RD
23
AHL
1
0
0
0
2
1
0%
|
3
0
1
1
6
3
0%
Since the Last Prospect Update
|
Total
PLAYER
POS
AGE
TEAM
GP
G
A
P
PIM
SOG
SH%
|
GP
G
A
P
PIM
SOG
SH%
Owen Beckner
C
18
Tri-City (USHL)
2
2
1
3
0
3
0%
|
10
3
7
10
4
11
27%
Tyson Dyck
C/LW
19
Wisconsin
2
0
1
1
0
1
0%
|
2
0
1
1
0
1
0%
Stephen Halliday
C
21
Ohio State
2
0
0
0
0
9
0%
|
5
1
3
4
12
15
7%
Cameron O'Neill
RW
19
UMass
1
0
0
0
2
0
0%
|
4
0
0
0
17
1
0%
Filip Nordberg
LD
19
Muskegon (USHL)
2
1
1
2
2
1
100%
|
4
1
2
3
2
5
20%
Hoyt Stanley
RD
18
Cornell
0
0
0
0
0
0
0%
|
0
0
0
0
0
0
0%
Theo Wallberg
LD
19
Ohio State
2
0
1
1
2
0
0%
|
5
1
4
5
2
2
50%
Nicholas VanTassell
RW
19
UMass
1
0
0
0
0
0
0%
|
3
0
0
0
2
1
0%
Since the Last Prospect Update
|
Total
PLAYER
POS
AGE
TEAM
LEAGUE
GP
G
A
P
PIM
SOG
SH%
|
GP
G
A
P
PIM
SOG
SH%
Matthew Andonovski
LD
18
Kitchener
OHL
3
0
1
1
6
4
0%
|
10
2
4
6
12
13
15%
Jorian Donovan
LD
19
Hamilton
OHL
3
1
3
4
0
9
11%
|
9
2
6
8
13
24
8%
Tomas Hamara
LD
19
Kitchener
OHL
3
0
0
0
0
7
0%
|
10
0
2
2
0
16
0%
Djibril Toure
RD
20
Sudbury
OHL
1
0
0
0
2
0
0%
|
3
2
0
2
4
3
67%
Since the Last Prospect Update
|
Total
PLAYER
POS
AGE
TEAM
LEAGUE
GP
G
A
P
PIM
SOG
SH%
|
GP
G
A
P
PIM
SOG
SH%
Oliver Johansson
C/LW
20
Timrå IK
SHL
2
0
1
1
2
2
0%
|
12
1
1
2
2
14
7%
Oskar Pettersson
RW
19
Rögle BK
SHL
2
0
0
0
0
1
0%
|
12
0
0
0
0
8
0%
Since the last prospect update
|
Total
PLAYER
AGE
TEAM
LEAGUE
GP
W
L
OTL
SOL
SA
GA
SV%
|
GP
W
L
OTL
SOL
SA
GA
SV%
Kevin Mandolese
23
Belleville
AHL
0
0
0
0
0
0
0
0.0%
|
1
0
1
0
0
12
4
66.7%
Leevi Meriläinen
21
Allen
ECHL
1
1
0
0
0
45
2
95.6%
|
1
1
0
0
0
45
2
95.6%
Vladimir Nikitin
18
Chilliwack
BCHL
1
1
0
0
0
28
5
82.1%
|
6
2
3
0
0
164
28
82.9%
Kevin Reidler
19
Dubuque
USHL
1
1
0
0
0
33
2
93.9%
|
7
4
1
2
0
223
19
91.5%
Mads Søgaard
22
Belleville
AHL
1
1
0
0
0
34
4
88.2%
|
3
2
0
0
0
86
4
95.3%