Prospects Update
Ottawa Senators Prospect Update - October 17th
Welcome to another season of our coolest and most handsome feature on the site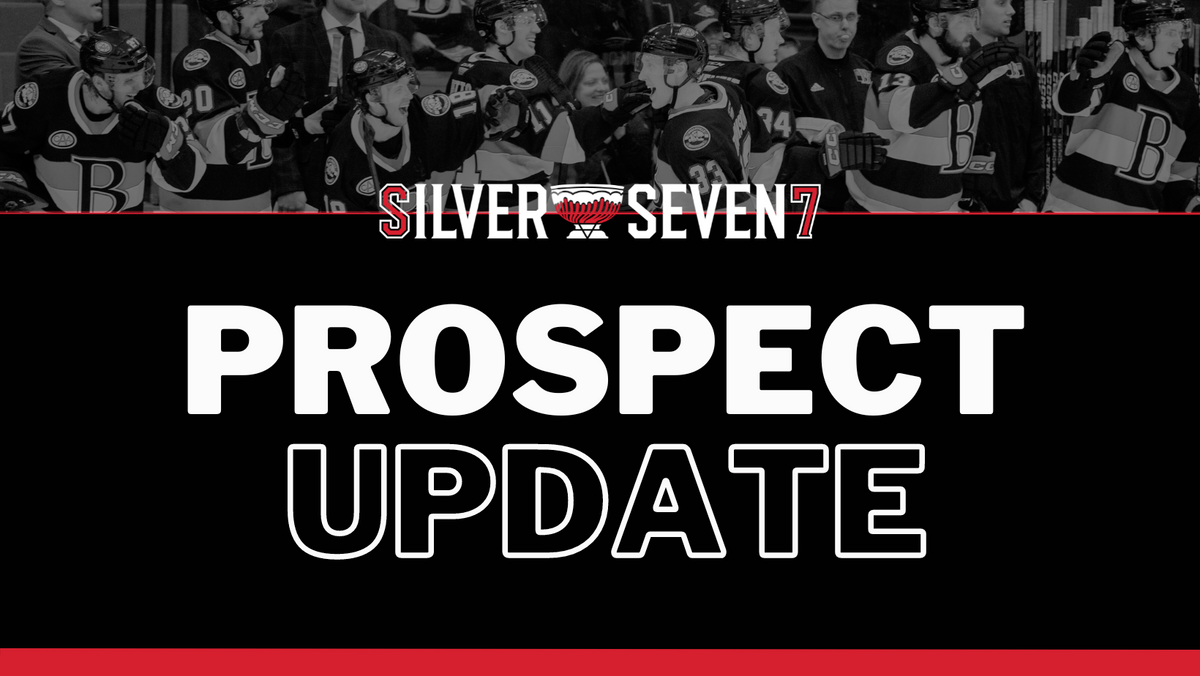 The Sens are (SO) back and as is our prospect coverage!
Over the past few weeks, members of the Ottawa Senators' pipeline have kicked off their seasons. In major junior, many teams are already multiple weeks into the season. The Kitchener Rangers, for example, already have seven games under their collective belts, going 5-2-0 with Matthew Andonovski and Tomas Hamara making up a big part of their blueline.
In Belleville, the BSens opened their season with a back-to-back on the weekend, going 1-1-0. On Saturday, Mads Søgaard was lights out giving Belleville a shutout in their opening game of the season against the defending Calder Cup Champions. In that 3-0 victory, it was many of the faces you'd hope would show up who came to play. Cole Reinhardt and Angus Crookshank both found the back of the net, while Lassi Thomson and Roby Järventie registered assists. The highlight of the weekend, however, was Nikolas Matinpalo firing a rocket into the back of Hershey's net, giving him a goal in his AHL debut.
Next, let's run through Owen's Prospect Team of the Week which happens to cover players playing in four different leagues. We've got three forwards, two defenders and a goalie to highlight.
Let's dive in!
Prospect Team of the Week
Forwards
Ridly Greig
As much as the Ottawa Senators and this fanbase would love to see Josh Norris and Shane Pinto in the number two and three centre slots respectively, Ridly Greig has more than held down the fort through the first three games of the season. We really couldn't have asked for much more from Greig given his youth and inexperience. It doesn't hurt when you have some exceptional wingers on your line but Greig has performed as much more than just a passenger to Vladimir Tarasenko.
Elsewhere among Sens forward prospects, Oliver Johansson and Oskar Petterson have gotten off to relatively quiet starts in the SHL, while the usual suspects (Angus Crookshank, Roby Järventie, Cole Reinhardt, and Egor Sokolov) contributed modestly through the first two games in Belleville.
Owen Beckner
In the first entry from a 2023 Senators draftee (and let's hope for many more) centre Owen Beckner has gotten off to a strong start for USHL Tri-City. One of Ottawa's seventh-rounders this summer, I wouldn't expect too many fans to get overly excited about a player like Beckner but full credit to the guy for keeping up a near point-per-game pace through the first leg of the season.
We'll touch base on a couple of 2023 selections this week but just to tie up the loose ends I'll mention here that Hoyt Stanley (Ottawa's top pick in the draft) has yet to make his season debut while Ottawa's two other seventh-rounders, Nicholas VanTassell and Vladimir Nikitin haven't really gotten into gear yet in their new leagues.
Stephen Halliday
Circling back to 2022 draftees, however, Stephen Halliday picked up pretty much where he left off with his statement freshman season, maintaining his pace of more than a point-per-game. Halliday and the Buckeyes flew out of the gate going undefeated in their first three games. Is it too early to start talking about Hobey Baker votes for this guy?
Defence
Matthew Andonovski
Yes, I will happily include another 2023 draftee in this year's first prospect update because why not. Ottawa's fifth-rounder this summer narrowly stole this spot from Jorian Donovan in week one. I would enjoy nothing more than watching those two (and Tomas Hamara) jostle for coverage in our weekly coverage. Curiously enough, all four Sens prospects playing in the CHL this season (the OHL specifically) play defence as you'll note that Djibril Toure returned to Sudbury after training camp.
Theo Wallberg
Wallberg's name may surprise some folks here as he doesn't often come up in top Sens top prospects conversations too often but he does go on a tear every now and then and we did have him in this feature more than once last season while playing for USHL Dubuque. Given the hot start that Ohio State has gotten off to, I feel very curious to see just how well Wallberg can maintain his current pace.
Goaltender
Mads Søgaard
Mads Søgaard recorded his first career AHL shutout (what?) in the first game of the season on Saturday. On Sunday he came in for a relief appearance and stopped all 22 shots he faced to give him a perfect save percentage after opening weekend. By all accounts, Søgaard could step right in to an NHL gig in Ottawa based on his own performance to date but with the Senators' current configuration in the crease, expect a big AHL season as a consolation prize.
Kevin Mandolese will naturally look to bounce back after getting the hook in his first game of the season. Leevi Meriläinen will commence his ECHL season this weekend. Meriläinen made 40 saves in his one preseason appearance. Kevin Reidler has gotten off to a decent start in his USHL career while Vladimir Nikitin has struggled early on in North America (but obviously has plenty of time to get his legs).