Prospects Update
Ottawa Senators Prospect Update - November 7th
The 2023-24 Ottawa Senators are proving that our decision to write about prospects more than the main roster was a good one.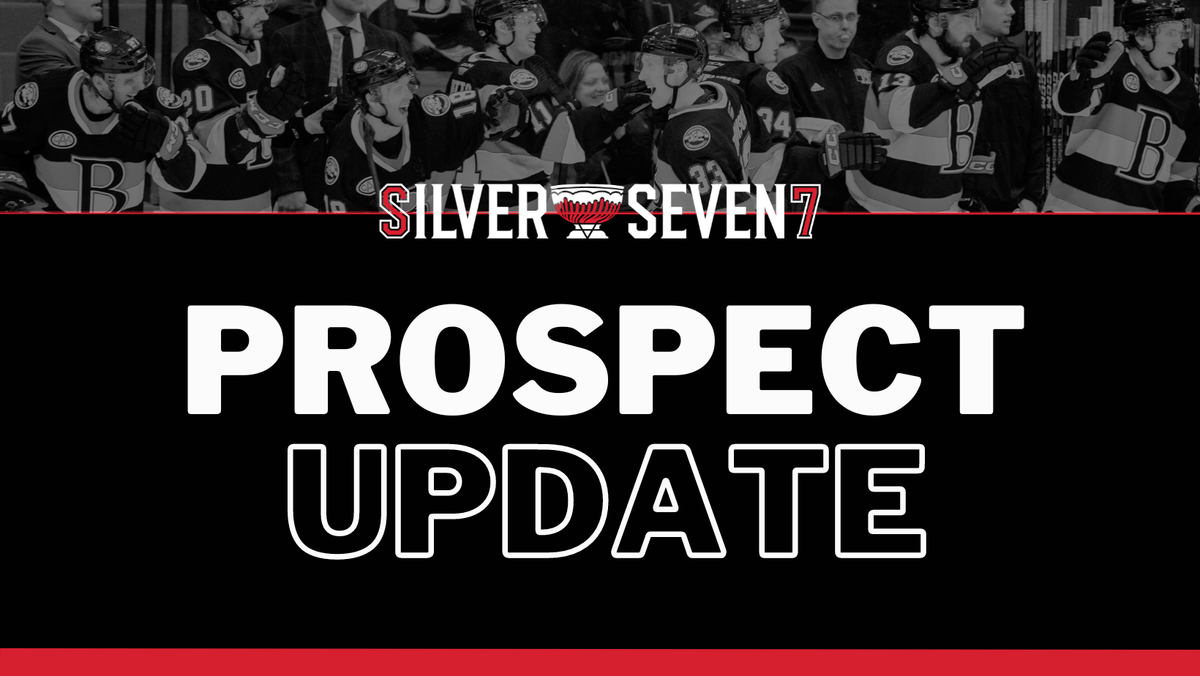 Pretty sure we did prospect updates on Thursday and Saturday but oh well, here you go.
Forwards:
Tyson Dyck
Ottawa's most productive forward prospect outside of the pros was this seventh-rounder from the 2022 NHL Draft. Dyck struggled in his freshman year with UMass after a solid first few games, before transferring to Wisconsin for his sophomore year. He posted 2 assists in 2 games this past week, for a total of 3 assists in 6 games.
Garrett Pilon
While Garrett Pilon is certainly on the older side of the prospect spectrum, the 25 year old centre starred for Belleville this past weekend, compiling a pair of goals and an assist through two games. With injuries and recalls impacting Belleville, Pilon has been elevated up the lineup and performed admirably in a top six role. Not only was he productive, but he was timely, forcing overtime against the Penguins on Saturday night.
Angus Crookshank
After starting the year with one goal in his first five outings, Angus Crookshank appears to have found his stride of late. The 24 year old winger has a goal and three assists in his last three games, and has averaged three shots per game in those outings.
Defensemen:
Jorian Donovan
The 2022 fifth-rounder continues to lead the Brantford Bulldogs in scoring, with 12 points in 13 games, including pairs of goals and assists in the past week. Consistently producing this way throughout the year would go a long way towards cementing himself as a blue-chip prospect, especially given the lack of offensive support on Brantford's roster. They've lost a number of key contributors who've aged out of the league since their Memorial Cup appearance two years ago.
Jacob Bernard-Docker
It's amazing to think a defenseman playing for the Ottawa Senators in the last two games could be featured on this update in a positive light, but JBD posted back-to-back assists and had a net zero rating, playing roughly 22 minutes on average. The Sens have been a train wreck in their own end ever since Artem Zub's injury, but chipping in offensively as one of the younger members of the blueline is relatively good.
Goaltending:
Leevi Meriläinen
Leevi Meriläinen was recalled to Belleville on October 28th, featuring in a loss to the Marlies where he posted a respectable 0.914 SV%. This past weekend, he took his play to another level, stopping 27 of the 29 shots he faced against the Wilks/Barre-Scranton Penguins for a 0.931 SV% and the win. With Meriläinen and Mads Søgaard currently sharing the net in Belleville, there should be very little concerns on stopping the puck with both goaltenders clearing 0.930SV% early in the year.
Silver Linings:
2023 fourth-rounder and right-shot defenseman Hoyt Stanley's freshman year with Cornell is underway – he has 2 assists in 4 games so far.
Theo Wallberg, one-half of the Ohio State Sens, added two more assists to his total of 7 points in 9 games, one back of Stephen Halliday for the team lead, coincidentally, the other half of the Ohio State Sens.
Belleville Team Update:
The Belleville Senators were on the road this weekend, facing off against Springfield and Wilkes/Barre-Scranton in two out-of-town, out-of-division matchups.
On Friday night, the BSens took on the Thunderbirds in what would end up being a 6-3 loss. Now, don't let the final score fool you. While Springfield did find the back of the net six times, two of those markers were scored in the final two minutes of the third period and featured no goaltender. Through the first 58 minutes, Belleville played well. The two teams were split with 33 shots a piece and Belleville only allowed one goal on Springfield's five trips to the powerplay.
Where the BSens fell short was during their own attempts with an extra skater as they not only allowed two empty net goals but only scored twice on nine powerplays. Given that this was a one goal game until Springfield's first empty netter, capitalizing on just one of those seven unsuccessful powerplays would've been a difference maker.
Saturday night was a much more disciplined affair, as the BSens and WBS Pens combined for just five powerplays. For Belleville, everything went right... except the penalty kill as the Penguins scored both of their goals with the man advantage. Belleville learned from their mistakes on Friday and ended up tying this late with a goal of their own in the dying seconds, with the net empty. Then, it was Jacob Larsson once again playing hero in overtime, with his second overtime winner of the year.
Early in the year, the North Division is as close as it can get, with just five points separating first and fifth in the division. Two wins would see the BSens leap from fifth to second, three wins would see them grab the top spot. It's early and Belleville has plenty of time and the right roster to get into the conversation for a top spot in the division. They just need Ottawa to get healthy and stay healthy.
Don't forget, Ottawa missing half their blueline and half their centres means Belleville is, too. The fact Belleville has been able to win some games while missing Jacob Bernard-Docker, Tyler Kleven, Nikolas Matinpalo and now Roby Järventie and Zack MacEwen is great news. Once some or all of those players make their way back, look for Belleville to go streaking.
Stats: