Prospects Update
Ottawa Senators Prospect Update - November 21st
Jiri Smejkal and Angus Crookshank highlight this week's edition of the Ottawa Senators Prospect Update.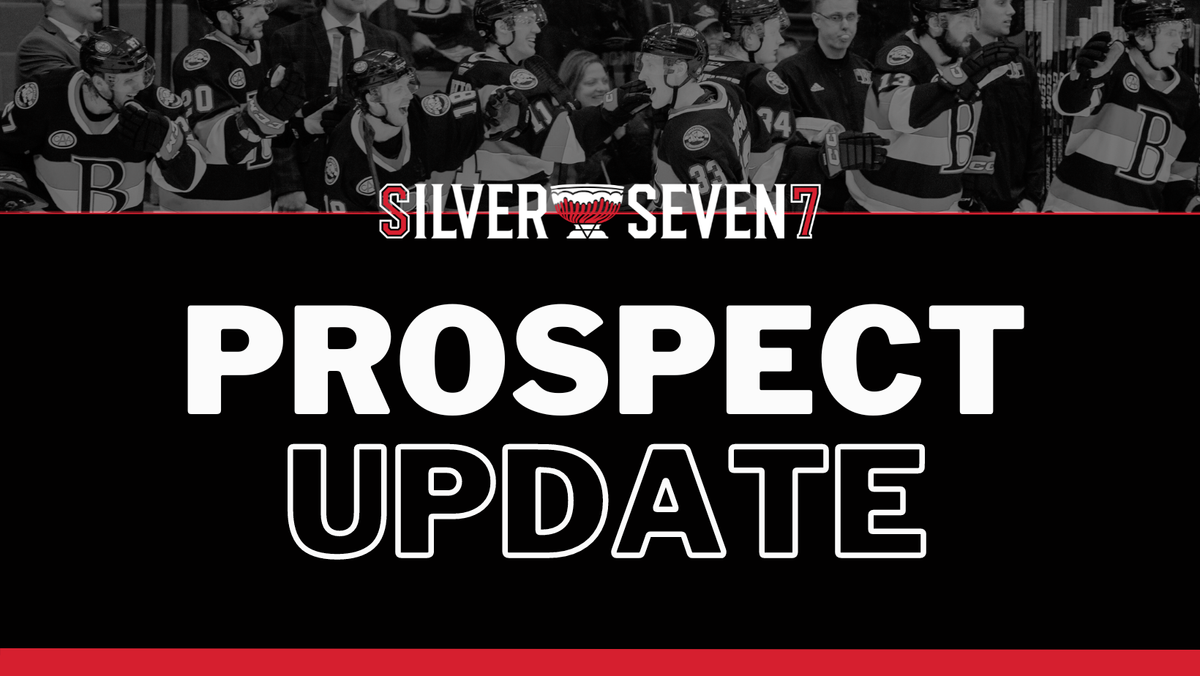 Forwards:
Jiri Smejkal
The Czech forward who came over this offseason expecting to have a spot with the big club has spent the entire season, thus far, in Belleville. For Smejkal, this had to be a blow to his ego and it showed in how he started the season - with just three points in his first nine games. This week, however, Smejkal came up big in attempting to complete a late game comeback against the Manitoba Moose on Friday night where he scored a pair of goals in the final four minutes of the third period to bring Belleville to a 3-2 loss.
Angus Crookshank
Angus Crookshank appears again, as his hot streak continues. After just one point in his first give games, Crookshank has produced at a point per game clip in his last nine. This weekend, Crooker had two goals and an assist, bringing him to 11 points in 14 games.
Cameron O'Neill
One of three 5th-round picks from the 2022 NHL Draft, O'Neill scored his first career collegiate goal with the University of Massachusetts, his only point in 7 games thus far in his freshman year.
Defensemen:
Tomas Hamara
Sometimes all you need is a change of scenery. Since his being selected in the third round of the 2022 draft, and viewed as Ottawa's best-value pick at the time, Hamara hasn't produced at the level you'd expect. He appeared to be passed on the depth chart by fellow Sens draft pick, Matthew Andonovski, a 5th-rounder from 2023, on Kitchener's depth chart. Now a Brantford Bulldog, he has tallied 4 assists in his last 3 games.
Jorian Donovan
And speaking of Brantford Bulldogs defencemen, Jorian Donovan also had a strong week with 2 goals and an assist in his past 3 games and is now up to 18 points in 20 games.
Goaltending:
Kevin Reidler
With a ton of offensive support (a nice change of pace from last season), Kevin Reidler doesn't have to stand on his head to win games. He's 10-2-3 with the Dubuque Fighting Saints after back-to-back wins, during which he stopped 67 of 74 for a .905 save percentage.
Belleville Update
For the Belleville Senators, it was a pretty disappointing week.
If you recall this post last week, we talked about how while Belleville was in fifth in the division, they were only a few points from first. With three games on the docket this week, Belleville had an opportunity to close that gap or even take sole possession of the division, if they could have managed six points in three games.
The BSens accomplished the opposite.
Not only did they lose all three games, they were at the mercy of an absolute beatdown from Lehigh Valley on Saturday evening - a game in which the Phantoms put eight pucks into the back of Belleville's net.
A few individuals are worthy of highlighting, as Angus Crookshank (2G, 1A), Jiri Smejkal (2G), Boko Imama (1G, 1A), Matthew Boucher (2A), Cole Reinhardt (2A) and Maxence Guénette (2A) all had multiple points through three games. But offense is only half of the story, and the other half of Belleville's story wasn't easy to watch this week.
Leevi Meriläinen posted a .821 SV% combined between his starts against Laval and Lehigh Valley. Against the Phantoms, Meriläinen allowed five goals before being replaced by Kevin Mandolese in the third period. Mandolese did post a .912 SV% against Manitoba Friday night but followed that up with a .833 SV% in relief of Meriläinen on Saturday.
We can't lay all the blame on goaltending, obviously. This is a team sport and the team in front of these two goaltenders was simply not great through the majority of last week. Specifically, on special teams, Belleville allowed two goals to their opponent's powerplay in every single game last week. When you consider that they lost to Laval by two goals and Manitoba by a single goal, that hurts.
The other aspect that impacted this week was out of the team's control, with Ottawa taking a number of players to Sweden with them. Belleville will have Tyler Kleven, Jacob Larsson, Matthew Highmore and Mads Søgaard back for their upcoming road trip.
Belleville heads out for a back-to-back with Hartford and Bridgeport this weekend, looking to right the ship and grab as many points as they can.
Stats: