Ottawa Senators Prospects Update - April 4th
Starting today, the Prospects Updates will be taking on a new look. Owen, Shaan, and Spencer will be collaborating every week to bring your coverage of Belleville and beyond!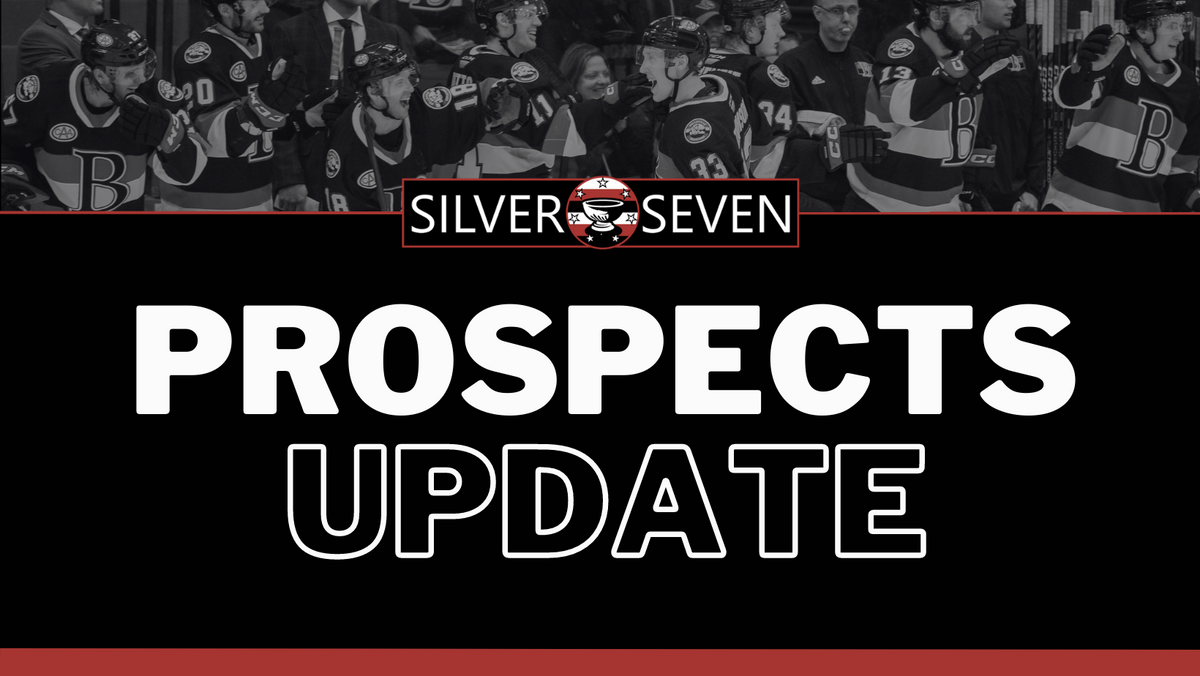 ***Editor's Note: We are experimenting with a couple of changes to our Prospects Coverage based on feedback from the reader survey. The Belleville Update feature will now be included as part of the weekly prospect coverage, still written by Spencer, and we'll generally be trying to devote more time to painting a fuller picture of the Sens' overall prospect pool. Let us know what you think in the comments! – nkb***
The Ottawa Senators may have blown a third-period lead to the worst team in the NHL over the weekend, but the ongoing development of young players was still a bright spot.
A few Belleville players had some big games as well, while several of the organization's CHL prospects saw their first postseason action of the season.
Forwards
Zack Ostapchuk
Ottawa's top CHL prospect has gotten off to a strong start in the playoffs with the Winnipeg Ice, with two goals and an assist in back-to-back wins over the eighth-seeded Medicine Hat Tigers. Both goals were scored thanks to a strong net-front presence – here in Game Two he finds a hole in the opposing coverage and deflects the puck past the netminder to double the lead.
Ostapchuk followed up a lacklustre regular season in 2021-22 with 23 points in 12 playoff games for the Vancouver Giants. If he has a similar postseason with a contender like the Ice, they're going to be a problem.
Angus Crookshank
Angus Crookshank had an inconsistent start to his season as he would switch between hot and cold like a Katy Perry song but, of late, the speedy winger has been far more consistent and that continued over the weekend. In three games against Syracuse and Toronto (x2), Crookshank compiled a goal and three assists. This gives him six goals and six assists for 12 points in his last 13 contests.
Roby Järventie
Roby Järventie kicked off the season with just two goals and three assists in his first nine games before sustaining an injury that kept him out until the end of January. Upon his return, it took him a few games to get his feet going but since February 15th, the talented Finn has 11 goals and six assists for 17 points in 21 games.
This week, Järventie had a goal and an assist in Belleville's weekend series. The BSens will be leaning on him heavily to try to claim that final playoff spot as the regular season quickly comes to a close.
Defensemen:
Tyler Kleven
Not only did he deliver on his trademark physical play, but Kleven also managed a pair of assists in his first three NHL games, along with five shots on goal. There's a lot to like on the defensive side of things, too, highlighted by his rush defence against Leafs' forward Sam Lafferty in the following clip.
It's been only three games, but we've seen enough to know that Kleven is a prospect worth getting excited about. With a spot on the blueline likely up for grabs next season, we can expect quite the battle to take place in training camp.
Maxence Guénette
Maxence Guénette has really come into his own down the stretch for Belleville. His four assists in three games this weekend were critical in helping Belleville secure three important points. Not only has the 6'3" right shot defender found himself on the scoresheet more dependably, he's played well defensively.
At just 22 years old, there's a better chance he turns into an NHL player than if we looked at his game this time last year.
Goaltending:
Leevi Meriläinen
Belleville fans finally got to see Meriläinen make his AHL debut on Saturday, as Head Coach David Bell trusted the new addition to the team with a start against Toronto, the North Division's top club. In his first North American professional start, the young Finn carried over the steady play we saw in Europe this season with a 41 game shutout. Not only was this an impressive first appearance, given the heavy workload and zero goals against, but doing so against the Marlies is a cherry on top. The Marlies are not only the top team in the division, they're also a top five team in the league in points percentage and seventh in the league in goal scoring.
Meriläinen was recalled to Ottawa to play the role of back-up on Sunday with Mads Søgaard out with an illness. I'd expect he'll be back in Belleville to help backstop the AHL squad to a playoff spot, if they can catch some fire in their final five games.
Silver Linings
Egor Sokolov: Sokolov had a pair of points on Friday night to help Belleville secure one point from Syracus. Throughout the weekend, he had 13 shots in three games, doing everything he could to help his team find the back of the net.
Kevin Mandolese: Mando's performance this week was overshadowed by Meriläinen's AHL debut but he still put up 0.921 SV% in Belleville's overtime loss to the Crunch on Friday night.
Jakov Novak: A 7th-rounder from 2018, Novak had quite the week with the ECHL's Allen Americans, with 3 goals in 3 games, and is up to 5 points in 7 games. The next step for him will be to earn an AHL contract with Belleville for next season.
Belleville Team Update
Facing a similar situation to their AHL affiliate, the Belleville Senators having found themselves in a spot where every loss sees their playoff chances take a drastic dive. The North has four solidified playoff teams already, while Laval, Belleville and Cleveland sit within three points of each other for the final spot. Going 1-1-1 this weekend was great, but they squandered an opportunity to pull within one point of Laval for the final spot in their 6-2 loss on Sunday afternoon.
Belleville has five games left on the schedule. Their ceiling would bring them to 75 points, should they win out. Laval, similarly, has five games left while Cleveland has seven. Looking at their schedules, we will have a very good idea of Belleville's true playoff hopes by Saturday night since the BSens take on Cleveland on Wednesday and again on Saturday, while Laval and Cleveland face off Friday night as well.
All-in-all, Belleville is playing important games down the stretch but a year ravaged by injury is more likely to end in the final game of the regular season than it is with a playoff run. Should Belleville end up securing that final playoff spot, they'll play a three game play-in series with whichever club ends up in fourth place.
CHL Playoff Picture
Tomas Hamara (2GP, 0G, 0A): The Kitchener Rangers, despite being the eighth seed in the OHL's Western Conference, have taken a 2-0 lead over the Windsor Spitfires, with 5-3 and 4-0 victories.
Jorian Donovan (3GP, 0G, 0A): Donovan and the sixth-seed Hamilton Bulldogs are attempting to pull off an upset over the Barrie Colts. After dropping the first two games by a combined 16-5 score, the Bulldogs took Game Three on Sunday by a 6-3 score.
Chandler Romeo (2GP, 0G, 0A) : In a cruel twist of fate, Chandler Romeo is facing the Sarnia Sting, his former team in the first round. The Guelph Storm are down 2-0 in this series by way of 5-0 and 5-4 losses.
Stats
Pro
Since the last prospect update
T O T A L
PLAYER
POS
AGE
LEAGUE
GP
G
A
P
PIM
SOG
SH%
|
GP
G
A
P
PIM
SOG
SH%
Jonathan Aspirot
LD
23
AHL
3
0
0
0
6
3
0%
|
39
5
10
15
57
53
9%
Jacob Bernard-Docker
RD
22
AHL
0
0
0
0
0
0
0%
|
38
2
3
5
27
37
5%
Jacob Bernard-Docker
RD
22
NHL
2
0
0
0
0
2
0%
|
15
0
1
1
9
17
0%
Angus Crookshank
LW/C
23
AHL
3
1
3
4
2
9
11%
|
66
25
19
44
27
180
14%
Philippe Daoust
C
21
AHL
0
0
0
0
0
0
0%
|
9
2
5
7
0
10
20%
Ridly Greig
C/LW
20
AHL
0
0
0
0
0
0
0%
|
35
13
14
27
40
69
19%
Ridly Greig
C/LW
20
NHL
2
0
1
1
2
4
0%
|
18
1
6
7
12
25
4%
Maxence Guénette
RD
21
AHL
3
0
4
4
0
4
0%
|
67
4
34
38
23
122
3%
Roby Järventie
C/LW
20
AHL
3
1
1
2
2
5
20%
|
35
14
10
24
26
83
17%
Tyler Kleven
LD
21
NHL
3
0
2
2
0
5
0%
|
3
0
2
2
0
5
0%
Viktor Lodin
LW
23
AHL
0
0
0
0
0
0
0%
|
28
6
9
15
34
43
14%
Cole Reinhardt
LW
23
AHL
0
0
0
0
0
0
0%
|
62
10
23
33
85
123
8%
Egor Sokolov
RW/LW
22
AHL
3
1
1
2
2
13
8%
|
67
19
36
55
58
154
12%
Lassi Thomson
RD
22
AHL
3
0
0
0
4
9
0%
|
51
7
22
29
26
101
7%
Lassi Thomson
RD
22
NHL
0
0
0
0
0
0
0%
|
2
0
0
0
4
1
0%
USA
Since the last prospect update
T O T A L
PLAYER
POS
AGE
TEAM
GP
G
A
P
PIM
SOG
SH%
|
GP
G
A
P
PIM
SOG
SH%
Tyson Dyck
C/LW
19
UMass
0
0
0
0
0
0
0%
|
28
5
4
9
8
25
20%
Stephen Halliday
C
20
Ohio State Univ.
0
0
0
0
0
0
0%
|
40
9
32
41
19
105
9%
Tyler Kleven
LD
21
Univ. of North Dakota
0
0
0
0
0
0
0%
|
35
8
10
18
84
82
10%
Luke Loheit
RW
22
Univ. of Minnesota-Duluth
0
0
0
0
0
0
0%
|
35
8
11
19
53
64
13%
Jakov Novak
LW/C
24
Northeastern Univ.
0
0
0
0
0
0
0%
|
35
8
4
12
26
38
21%
Jakov Novak
LW/C
24
Allen (ECHL)
3
3
0
3
6
7
0%
|
7
4
1
5
6
13
31%
Cameron O'Neill
RW
19
Tri-City (USHL)
3
2
0
2
2
4
50%
|
49
9
17
26
24
86
10%
Theo Wallberg
LD
19
Dubuque (USHL)
1
0
2
2
2
2
0%
|
53
4
17
21
26
58
7%
CHL
Since the last prospect update
|
T O T A L
PLAYER
POS
AGE
TEAM
LEAGUE
GP
G
A
P
PIM
SOG
SH%
|
GP
G
A
P
PIM
SOG
SH%
Tyler Boucher
RW
20
Ottawa
OHL
0
0
0
0
0
0
0%
|
21
10
7
17
32
87
11%
Jorian Donovan
LD
19
Hamilton
OHL
0
0
0
0
0
0
0%
|
55
12
33
45
51
126
10%
Jorian Donovan
LD
19
Hamilton (Playoffs)
OHL
3
0
0
0
0
4
0%
|
3
0
0
0
0
4
0%
Tomas Hamara
LD
19
Kitchener
OHL
0
0
0
0
2
5
0%
|
56
2
15
17
33
79
3%
Tomas Hamara
LD
19
Kitchener (Playoffs)
OHL
2
0
0
0
0
2
0%
|
2
0
0
0
0
2
0%
Carson Latimer
RW
20
Prince Albert/Winnipeg
WHL
0
0
0
0
0
0
0%
|
53
14
26
40
28
107
13%
Zach Ostapchuk
C
19
Vancouver/Winnipeg
WHL
0
0
0
0
0
0
0%
|
55
31
36
67
46
177
18%
Zach Ostapchuk
C
19
Winnipeg (Playoffs)
WHL
2
2
1
3
4
5
40%
|
2
2
1
3
4
5
40%
Ben Roger
RD
20
Kingston
OHL
0
0
0
0
0
0
0%
|
49
2
11
13
32
78
3%
Chandler Romeo
LD
19
Sarnia/Guelph
OHL
0
0
0
0
0
0
0%
|
54
9
8
17
53
59
15%
Chandler Romeo
LD
19
Guelph (Playoffs)
OHL
2
0
0
0
0
4
0%
|
2
0
0
0
0
4
0%
Europe
Since the last prospect update
|
T O T A L
PLAYER
POS
AGE
TEAM
LEAGUE
GP
G
A
P
PIM
SOG
SH%
|
GP
G
A
P
PIM
SOG
SH%
Oliver Johansson
C/LW
19
Timrå IK
J20 Nationell
0
0
0
0
0
0
0%
|
8
4
4
8
0
17
24%
Oliver Johansson
C/LW
19
Timrå IK
J20 Nationell Playoffs
3
1
2
3
0
3
33%
|
5
2
2
4
4
3
33%
Oliver Johansson
C/LW
19
IF Björklöven
Allsvenskan
0
0
0
0
0
0
0%
|
27
6
3
9
6
40
15%
Oliver Johansson
C/LW
19
Timrå IK
SHL
0
0
0
0
0
0
0%
|
6
0
0
0
0
3
0%
Filip Nordberg
LD
18
Södertälje SK
J20 Nationell
0
0
0
0
0
0
0%
|
18
3
8
11
14
46
7%
Filip Nordberg
LD
18
Södertälje SK/Tingsyrds AIF
Allsvenskan
0
0
0
0
0
0
0%
|
33
2
4
6
10
20
10%
Filip Nordberg
LD
18
Tingsyrds AIF
Allsvenskan Playoffs
0
0
0
0
0
2
0%
|
4
0
1
1
0
2
0%
Filip Nordberg
LD
18
Växjö HC
SHL
0
0
0
0
0
0
0%
|
9
0
1
1
2
1
0%
Oskar Pettersson
RW
19
Rögle BK
J20 Nationell
0
0
0
0
0
0
0%
|
24
23
10
33
33
103
22%
Oskar Pettersson
RW
19
Kristianstad
Allsvenskan
0
0
0
0
0
0
0%
|
2
0
1
1
2
6
0%
Oskar Pettersson
RW
18
Rögle BK
SHL
0
0
0
0
0
0
0%
|
29
1
1
2
33
17
6%
Goalies
Since the last prospect update the last prospect update
TOTAL
PLAYER
AGE
TEAM
LEAGUE
GP
W
L
OTL
SOL
SA
GA
SV%
|
GP
W
L
OTL
SOL
SA
GA
SV%
Dylan Ferguson
24
Belleville/Toronto
AHL
1
0
0
0
0
2
2
0%
|
12
7
3
0
0
264
26
90.2%
Dylan Ferguson
24
Ottawa
NHL
1
0
1
0
0
34
4
88.2%
|
2
1
1
0
0
83
5
94.0%
Kevin Mandolese
22
Belleville
AHL
1
0
0
1
0
38
3
92.1%
|
17
6
8
3
0
508
56
89.0%
Kevin Mandolese
22
Allen
ECHL
0
0
0
0
0
0
0
0.0%
|
6
4
2
0
0
188
14
92.6%
Kevin Mandolese
22
Ottawa
NHL
0
0
0
0
0
0
0
0.0%
|
3
1
2
0
0
119
10
91.6%
Leevi Meriläinen
20
Kärpät
Liiga
0
0
0
0
0
0
0
0.0%
|
42
18
13
7
0
919
75
91.8%
Leevi Meriläinen
20
Kärpät
AHL
1
1
0
0
0
41
0
100.0%
|
1
1
0
0
0
41
0
100.0%
Kevin Reidler
18
AIK
J20 Nationell
0
0
0
0
0
0
0
0.0%
|
32
14
16
0
0
1002
89
91.1%
Kevin Reidler
18
AIK
J20 Nationell Playoffs
0
0
0
0
0
0
0
0.0%
|
3
1
2
0
0
116
7
94.0%
Mads Søgaard
22
Belleville
AHL
0
0
0
0
0
0
0
0.0%
|
21
6
9
2
0
571
58
89.8%
Mads Søgaard
22
Ottawa
NHL
1
0
1
0
0
16
3
81.3%
|
16
7
6
2
0
439
48
89.1%