Ottawa Senators Prospect Update - April 25th
Zack Ostapchuk's Winnipeg Ice remain in the thick of the playoffs as one of Ottawa's lone prospects still on the ice.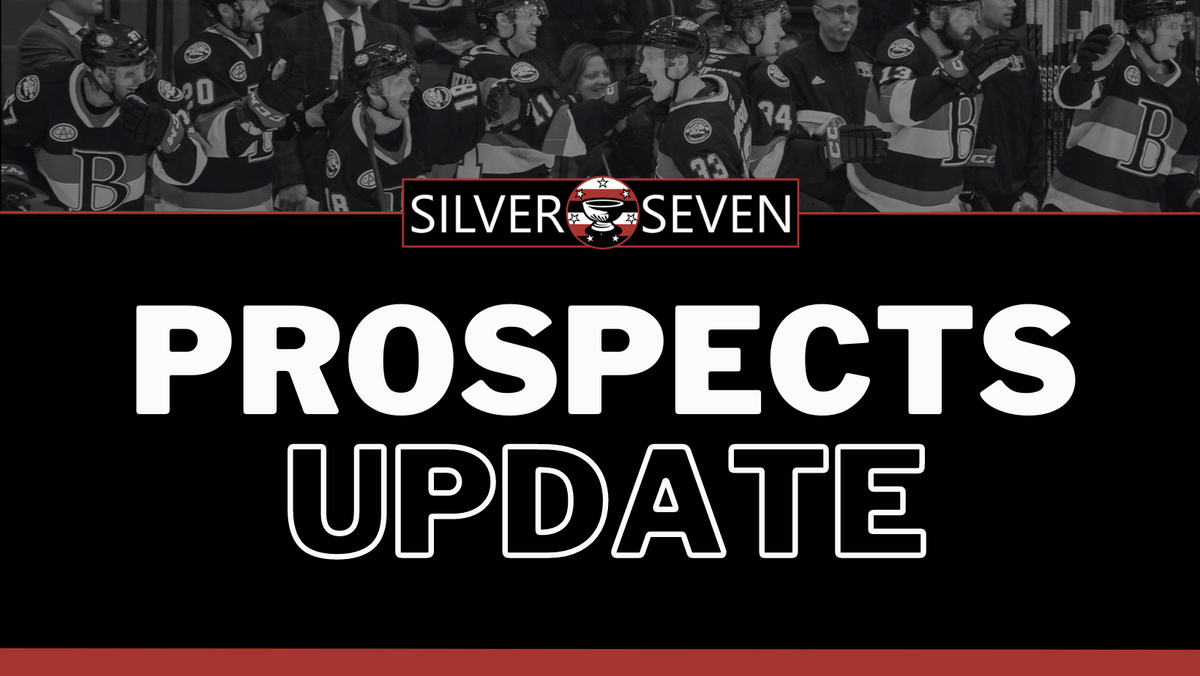 We are into the offseason for almost everyone in the Senators organization, with only a few members still in play. Last week, the Belleville Senators wrapped up their season with a valiant effort in their final three games, even with chances of making the playoffs off the table.
For this week's prospect update will focus on wrapping up the Belleville season, with an eye on the few prospects left in play.
Belleville's Season
Overall, Belleville's season mirrored that of the parent club relatively closely. Logically, as Ottawa suffered injury after injury, Belleville was impacted by recalls. If you thought it was tough for the Senators to run through six different goaltenders this year, take a trip over to the AHL's goalie stats page where there are  10 (!) goalies listed.
Belleville's season ended with them in the basement of the North but also four points out of a playoff spot. That's how tight the race was. While the team was unable to win enough games to qualify for the postseason, their powerplay percentage ranked tied for third in the division. They also led the division, by a relatively large margin, in powerplay opportunities. This should have given the team an ability to win more hockey games, and yet they ended where they ended. On the flip side, the lack of discipline and their performance on the penalty kill, well, killed their chances. While they saw the most powerplay opportunities of any team in the division, they also gave up the most powerplays while having one of the worst penalty kills. More disciplined play and/or a better penalty kill would have done wonders for this club. It's very possible it was the only thing standing between Belleville and the playoffs.
The other place where Belleville didn't quite have an edge on their competition was superstar power. While Egor Sokolov, Jake Lucchini and Angus Crookshank performed admirably on the scoresheet, you have to go to the second sheet of the league-wide leaderboard to find your first Belleville Senator. The BSens scored by committee this year, but missing a Josh Norris or Drake Batherson level star certainly made it more difficult to win those otherwise winnable games.
A deeper look into Belleville's year will come in the coming weeks, as I get a chance to dive deeper into the stats and video review.
2022-23 Standouts
Egor Sokolov: Up front, Egor Sokolov was easily Belleville's most consistent and impactful forward. The third year AHLer clearly has the size and skill to be successful at this level, while it was clear that his skating and speed took a step this year. Sokolov was always one to win battle down low and out muscle his opponents, but that was out of necessity as he was almost never the first one to the puck in the first place. This season, that changed. Sokolov, who's been working on his skating since before he was drafted, found extra speed this year. Something that will, hopefully, translate to the NHL sooner rather than later as his prospect age clock is winding down.
Maxence Guénette: On the blueline, Lassi Thomson and Jacob Bernard-Docker were both solid at every moment. But, the thing is, that was expected. With Guénette, I've been waiting for his progression to stall. After all, you expect your first round picks to continue progressing but with Guénette, drafted 187th overall, you're basically playing with house money. I don't know enough about casinos to make an accurate joke here but all I'm saying is that house money is making us more money. The 21 year old right shot defender posted 40 points in 72 games this season.
Dylan Ferguson: Dylan Ferguson didn't start the season with Belleville, nor was he the goaltender who played the most games, but over his 13 starts he posted a 0.912 SV%. The only netminder who faired better was Leevi Meriläinen, but he only started four times so I have to give the edge to Ferguson due to sample size. Not only did he post a strong save percentage, but the Belleville Senators were 8-3-0 with Fergie between the pipes. The only other goaltender with a winning record was, once again, Meriläinen. For comparison, Ferguson's 0.912 SV% had him tied for 8th league wide.
Honourable Mentions: Angus Crookshank had a fantastic rookie season. Given the fact he missed all of last year with an injury, it took Crookshank a little while to heat up. By the end of the year, Crookshank finished the year as Belleville's goalscoring leader with 26 goals. A lack of consistency and lack of opportunity while Ottawa was still in the midst of a playoff push are the likely two scenarios which left Crookshank off the call-up list. For me, you can't talk about the BSens without talking about Cole Cassels. The former third round pick was absolutely electric this year with 51 points in 64 games. For reference, his previous career high was back in 2017-18 with the Utica Comets where he registered 26 points in 69 games.
Silver Linings
Zack Ostapchuk and the Winnipeg Ice are still in the thick of the WHL playoff race, where the Sens second rounder has six goals and two assists in eight games. His six goals is second on the Ice behind only 2022 9th overall pick Matthew Savoie. Winnipeg is currently ahead of Moose Jaw 3 games to 2 in their best of 7.
Carson Latimer has a goal and an assist through four games with Winnipeg, playing a depth role well behind Ostapchuk on the depth chart.
After sweeping Windsor in round one, Tomas Hamara and the Kitchener Rangers quickly saw themselves exit the OHL playoffs last week as the London Knights made light work of the Rangers in five games. Hamara finished the playoffs with one assist in nine games.
The Allen Americans are taking on the Kansas City Mavericks in ECHL playoff action. In game one, Kevin Mandolese stopped 27 of 29 shots for a 0.931 SV%, giving the Americans a 1-0 series lead. Kansas City took game two, however, evening things up. Mandolese posted a 0.906 SV% in the loss. Sens 2018 seventh round pick Jakov Novak was held pointless in both games.
Stats
Since the Last Prospect Update
|
Total
PLAYER
POS
AGE
TEAM
LEAGUE
GP
G
A
P
PIM
SOG
SH%
|
GP
G
A
P
PIM
SOG
SH%
Tyler Boucher
RW
20
Ottawa
OHL
0
0
0
0
0
0
0%
|
21
10
7
17
32
87
11%
Jorian Donovan
LD
19
Hamilton
OHL
0
0
0
0
0
0
0%
|
55
12
33
45
51
126
10%
Jorian Donovan
LD
19
Hamilton (Playoffs)
OHL
0
0
0
0
0
0
0%
|
6
1
3
4
4
16
6%
Tomas Hamara
LD
19
Kitchener
OHL
0
0
0
0
0
0
0%
|
56
2
15
17
33
79
3%
Tomas Hamara
LD
19
Kitchener (Playoffs)
OHL
2
0
0
0
0
0
0%
|
9
0
1
1
2
5
0%
Carson Latimer
RW
20
Prince Albert/Winnipeg
WHL
0
0
0
0
0
0
0%
|
53
14
26
40
28
107
13%
Carson Latimer
RW
20
Winnipeg (Playoffs)
WHL
4
0
1
1
0
8
0%
|
5
1
1
2
0
12
8%
Zach Ostapchuk
C
19
Vancouver/Winnipeg
WHL
0
0
0
0
0
0
0%
|
55
31
36
67
46
177
18%
Zach Ostapchuk
C
19
Winnipeg (Playoffs)
WHL
4
3
1
4
0
13
23%
|
9
7
2
9
9
24
29%
Ben Roger
RD
20
Kingston
OHL
0
0
0
0
0
0
0%
|
49
2
11
13
32
78
3%
Chandler Romeo
LD
19
Sarnia/Guelph
OHL
0
0
0
0
0
0
0%
|
54
9
8
17
53
59
15%
Chandler Romeo
LD
19
Guelph (Playoffs)
OHL
0
0
0
0
0
0
0%
|
6
0
1
1
4
10
0%
Since the Last Prospect Update
|
Total
PLAYER
POS
AGE
TEAM
LEAGUE
GP
G
A
P
PIM
SOG
SH%
|
GP
G
A
P
PIM
SOG
SH%
Oliver Johansson
C/LW
19
Timrå IK
J20 Nationell
0
0
0
0
0
0
0%
|
8
4
4
8
0
17
24%
Oliver Johansson
C/LW
19
Timrå IK
J20 Nationell Playoffs
0
0
0
0
0
0
33%
|
7
3
3
6
31
15
33%
Oliver Johansson
C/LW
19
IF Björklöven
Allsvenskan
0
0
0
0
0
0
0%
|
27
6
3
9
6
40
15%
Oliver Johansson
C/LW
19
Timrå IK
SHL
0
0
0
0
0
0
0%
|
6
0
0
0
0
3
0%
Filip Nordberg
LD
18
Södertälje SK
J20 Nationell
0
0
0
0
0
0
0%
|
18
3
8
11
14
46
7%
Filip Nordberg
LD
18
Södertälje SK/Tingsyrds AIF
Allsvenskan
0
0
0
0
0
0
0%
|
33
2
4
6
10
20
10%
Filip Nordberg
LD
18
Tingsyrds AIF
Allsvenskan Playoffs
0
0
0
0
0
0
0%
|
4
0
1
1
0
2
0%
Filip Nordberg
LD
18
Växjö HC
SHL
0
0
0
0
0
0
0%
|
9
0
1
1
2
1
0%
Oskar Pettersson
RW
19
Rögle BK
J20 Nationell
0
0
0
0
0
0
0%
|
24
23
10
33
33
103
22%
Oskar Pettersson
RW
19
Rögle BK
J20 Nationell Playoffs
0
0
0
0
0
0
0%
|
4
2
1
3
0
17
12%
Oskar Pettersson
RW
19
Kristianstad
Allsvenskan
0
0
0
0
0
0
0%
|
2
0
1
1
2
6
0%
Oskar Pettersson
RW
19
Rögle BK
SHL
0
0
0
0
0
0
0%
|
29
1
1
2
33
17
6%
Oskar Pettersson
RW
19
Rögle BK
SHL Playoffs
0
0
0
0
0
0
0%
|
7
0
0
0
2
2
0%
Since the last prospect update
|
Total
PLAYER
AGE
TEAM
LEAGUE
GP
W
L
OTL
SOL
SA
GA
SV%
|
GP
W
L
OTL
SOL
SA
GA
SV%
Dylan Ferguson
24
Belleville/Toronto
AHL
0
0
0
0
0
0
0
0.00%
|
13
8
3
0
0
319
28
91.20%
Dylan Ferguson
24
Ottawa
NHL
0
0
0
0
0
0
0
0.00%
|
2
1
1
0
0
83
5
94.00%
Kevin Mandolese
22
Allen
ECHL
0
0
0
0
0
0
0
0.00%
|
7
5
1
0
0
246
18
92.70%
Kevin Mandolese
22
Allen
ECHL Playoffs
3
2
1
0
0
88
5
94.30%
|
3
2
1
0
0
88
5
94.30%
Kevin Mandolese
22
Belleville
AHL
0
0
0
0
0
0
0
0.00%
|
17
6
8
3
0
508
56
89.00%
Kevin Mandolese
22
Ottawa
NHL
0
0
0
0
0
0
0
0.00%
|
3
1
2
0
0
119
10
91.60%
Leevi Meriläinen
20
Kärpät
Liiga
0
0
0
0
0
0
0
0.00%
|
42
18
13
7
0
919
75
91.80%
Leevi Meriläinen
20
Belleville
AHL
0
0
0
0
0
0
0
0.00%
|
4
3
0
0
0
105
7
93.30%
Leevi Meriläinen
20
Ottawa
NHL
0
0
0
0
0
0
0
0.00%
|
2
0
1
1
0
49
6
87.80%
Kevin Reidler
18
AIK
J20 Nationell
0
0
0
0
0
0
0
0.00%
|
32
14
16
0
0
1002
89
91.10%
Kevin Reidler
18
AIK
J20 Nationell Playoffs
0
0
0
0
0
0
0
0.00%
|
3
1
2
0
0
116
7
94.00%
Mads Søgaard
22
Belleville
AHL
0
0
0
0
0
0
0
0.00%
|
22
6
10
2
0
588
63
89.30%
Mads Søgaard
22
Ottawa
NHL
0
0
0
0
0
0
0
0.00%
|
19
8
6
3
0
524
58
88.90%
Since the Last Update
TOTAL
PLAYER
POS
AGE
LEAGUE
GP
G
A
P
PIM
SOG
SH%
|
GP
G
A
P
PIM
SOG
SH%
GA
SV%
Jonathan Aspirot
LD
23
AHL
0
0
0
0
0
0
0%
|
43
5
11
16
65
54
9%
28
91.20%
Jacob Bernard-Docker
RD
22
AHL
0
0
0
0
0
0
0%
|
41
2
4
6
35
38
5%
5
94.00%
Jacob Bernard-Docker
RD
22
NHL
0
0
0
0
0
0
0%
|
19
0
1
1
11
22
0%
18
92.70%
Angus Crookshank
LW/C
23
AHL
0
0
0
0
0
0
0%
|
71
26
21
47
31
188
14%
5
94.30%
Philippe Daoust
C
21
AHL
0
0
0
0
0
0
0%
|
9
2
5
7
0
10
20%
56
89.00%
Jorian Donovan
LD
19
AHL
0
0
0
0
0
0
0%
|
2
0
0
0
0
4
0%
10
91.60%
Ridly Greig
C/LW
20
AHL
0
0
0
0
0
0
0%
|
39
15
14
29
46
74
20%
75
91.80%
Ridly Greig
C/LW
20
NHL
0
0
0
0
0
0
0%
|
20
2
7
9
12
30
7%
7
93.30%
Maxence Guénette
RD
21
NHL
0
0
0
0
0
0
0%
|
1
0
0
0
0
2
0%
6
87.80%
Maxence Guénette
RD
21
AHL
0
0
0
0
0
0
0%
|
72
5
35
40
25
131
4%
89
91.10%
Roby Järventie
C/LW
20
AHL
0
0
0
0
0
0
0%
|
40
16
14
30
38
92
17%
7
94.00%
Tyler Kleven
LD
21
NHL
0
0
0
0
0
0
0%
|
8
0
2
2
2
11
0%
63
89.30%
Viktor Lodin
LW
23
AHL
0
0
0
0
0
0
0%
|
28
6
9
15
34
43
14%
58
88.90%
Cole Reinhardt
LW
23
AHL
0
0
0
0
0
0
0%
|
66
11
23
34
91
131
8%
Egor Sokolov
RW/LW
22
AHL
0
0
0
0
0
0
0%
|
70
21
38
59
72
163
13%
Egor Sokolov
RW/LW
22
NHL
0
0
0
0
0
0
0%
|
5
1
1
2
0
5
20%
Lassi Thomson
RD
22
AHL
0
0
0
0
0
0
0%
|
56
7
26
33
28
109
6%
Lassi Thomson
RD
22
NHL
0
0
0
0
0
0
0%
|
2
0
0
0
4
1
0%
Since the Last Prospect Update
Total
PLAYER
POS
AGE
TEAM
GP
G
A
P
PIM
SOG
SH%
|
GP
G
A
P
PIM
SOG
SH%
GA
SV%
Tyson Dyck
C/LW
19
UMass
0
0
0
0
0
0
0%
|
28
5
4
9
8
25
20%
28
91.20%
Stephen Halliday
C
20
Ohio State Univ.
0
0
0
0
0
0
0%
|
40
9
32
41
19
105
9%
5
94.00%
Tyler Kleven
LD
21
Univ. of North Dakota
0
0
0
0
0
0
0%
|
35
8
10
18
84
82
10%
18
92.70%
Luke Loheit
RW
22
Univ. of Minnesota-Duluth
0
0
0
0
0
0
0%
|
35
8
11
19
53
64
13%
5
94.30%
Jakov Novak
LW/C
24
Northeastern Univ.
0
0
0
0
0
0
0%
|
35
8
4
12
26
38
21%
56
89.00%
Jakov Novak
LW/C
24
Allen (ECHL)
0
0
0
0
0
0
0%
|
14
7
4
11
6
32
22%
10
91.60%
Jakov Novak
LW/C
24
Allen (ECHL) Playoffs
3
0
0
0
0
4
0%
|
3
0
0
0
0
4
0%
75
91.80%
Cameron O'Neill
RW
19
Tri-City (USHL)
2
0
0
0
0
7
0%
|
56
9
18
27
24
102
9%
7
93.30%
Cameron O'Neill
RW
19
Tri-City (USHL) Playoffs
1
0
0
0
0
0
0%
|
1
0
0
0
0
0
0%
6
87.80%
Theo Wallberg
LD
19
Dubuque (USHL)
2
0
0
0
2
3
0%
|
60
5
17
22
28
68
7%
89
91.10%
Theo Wallberg
LD
19
Dubuque (USHL) Playoffs
1
0
0
0
0
2
0%
|
1
0
0
0
0
2
0%
7
94.00%
Tyler Kleven
LD
21
NHL
0
0
0
0
0
0
0%
|
8
0
2
2
2
11
0%
63
89.30%
Viktor Lodin
LW
23
AHL
0
0
0
0
0
0
0%
|
28
6
9
15
34
43
14%
58
88.90%
Cole Reinhardt
LW
23
AHL
0
0
0
0
0
0
0%
|
66
11
23
34
91
131
8%
Egor Sokolov
RW/LW
22
AHL
0
0
0
0
0
0
0%
|
70
21
38
59
72
163
13%
Egor Sokolov
RW/LW
22
NHL
0
0
0
0
0
0
0%
|
5
1
1
2
0
5
20%
Lassi Thomson
RD
22
AHL
0
0
0
0
0
0
0%
|
56
7
26
33
28
109
6%
Lassi Thomson
RD
22
NHL
0
0
0
0
0
0
0%
|
2
0
0
0
4
1
0%