Prospects Update
Ottawa Senators Prospect Update - April 18th
With the majority of the Sens pipeline off for the summer, we take a look at the remaining prospects still in action.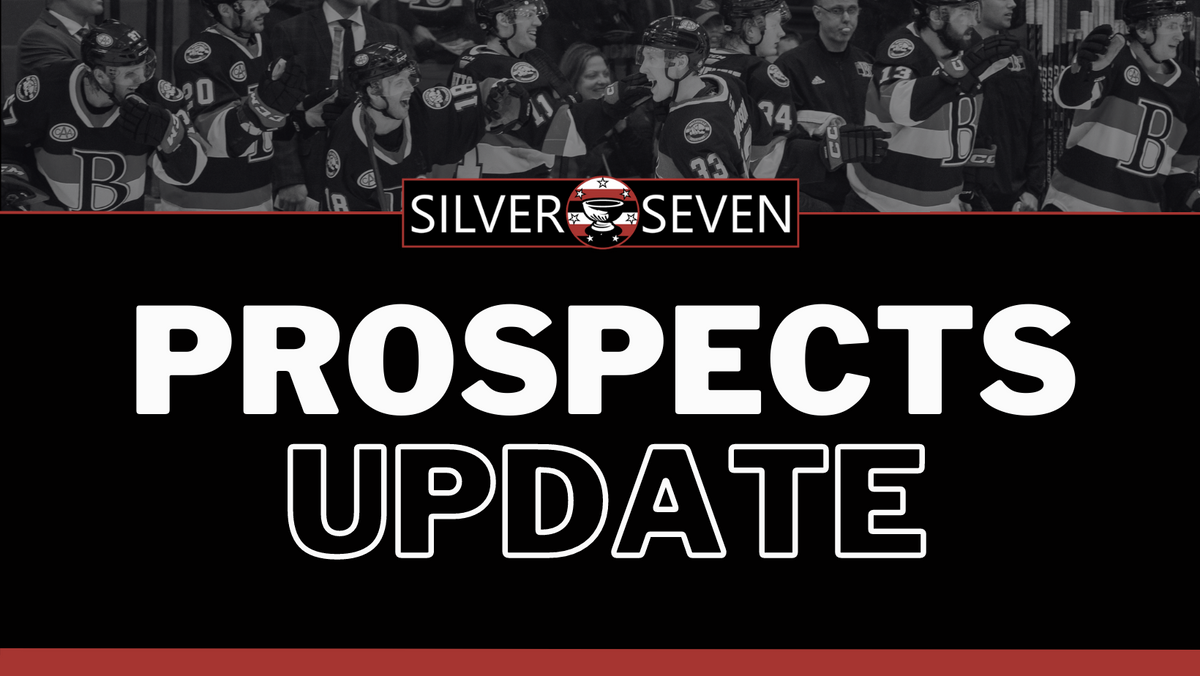 The season has ended for both Ottawa and Belleville while a few prospects are still in pursuit of their junior championships. In this week's prospect update, we'll focus primarily on the Belleville Senators, as their season just wrapped up on Sunday.
Let's take a look at the standouts at each position and a round up of other prospect-related items.
Forwards
Egor Sokolov
Once again, everyone's favourite teddy bear makes the cut for our prospect update. After being named the team's internal MVP, Sokolov had two goals and two assists in Belleville's final three games of the season.
Sokolov finished the season with 59 points in 70 games, establishing career highs in games played, goals, assists, points and penalty minutes. He also surpassed Drake Batherson for Belleville's franchise record with his 79th career assist.
Roby Järventie
Red Light Roby finished the season incredible strong with a pair of goals and four assists in three games this past weekend. Establishing a career high in goals with 15, Järventie had a fantastic sophomore season in the AHL. He fell just three points short of matching last year's totals, but played in 30 fewer games due to a long term injury he sustained in October.
Ridly Greig
Following Ottawa's elimination, Ridly Greig re-joined Belleville to help with the ultimately unsuccessful playoff push at the end of the year. That being said, Greig's impact was felt this past weekend as he added another pair of goals to his rookie totals.
Greig's rookie season in the AHL was relatively inconsistent, partially because he had multiple stints in the NHL so it was broken up a fair amount. He ended the year playing in just over half of Belleville's games, compiling 29 points in 39 games played.
To compare Greig's rookie numbers to some familiar players, his 0.38 goals per game ranked ahead of Batherson (0.37) but behind Alex Formenton (0.44) and Josh Norris (0.55) for their respective rookie campaigns.
Defensemen
Lassi Thomson
In his media appearance yesterday, GM Pierre Dorion dubbed Lassi Thomson the "most talented" defenseman in the system who's not currently with the NHL team but specifically mentioned he needs to see more consistency from the Finnish rearguard to have him move to the next level. This statement was accurately reflected in Thomson's final three games of the season as he compiled a whopping four assists. Coming into Friday's game against Rochester, Thomson went nine straight games without registering a point.
Jorian Donovan
The 2022 fifth round selection finished his junior season and was added to Belleville's lineup. He made his debut on Saturday against the Marlies, also appearing in Sunday's contest. He played primarily alongside Maxence Guénette on Belleville's third pairing, registering four shots on net.
Goaltending
Dylan Ferguson
Dylan Ferguson returned to action after a minor injury saw him miss some time. He hopped between the pipes against Toronto in Saturday's 7-2 win which saw Ferguson stop 29 of the 31 shots her faced. Since joining Belleville, Ferguson's season completely turned around. In five starts with the Marlies, he posted a 0.888 SV%. A fresh start in Belleville saw him start eight games while posting a 0.926 SV%. The BSens were 6-1-0 this season with Fergie tending the goal.
Silver Linings
While he's on the older end of the prospect spectrum as a 27 year old, Rourke Chartier had an absolutely wild final weekend for Belleville, registering five goals - including a hat trick on Saturday - in three games. The AHL veteran finished the season with six goals and two assists in his final six appearances for the BSens.
Tomas Hamara and the Kitchener Rangers notably swept the top seed Windsor Spitfires to advance to the second round of the playoffs. Unfortunately, they now find themselves down 2-0 to the London Knights. Hamara went pointless in the first two games of the series.
The Winnipeg Ice find themselves tied with Moose Jaw one game a piece in their second round playoff series. After serving a one game suspension for cross checking, Zack Ostapchuk figured back into the lineup for game two, where he scored another goal. Ostapchuk now has four goals and an assist in five playoff games this season.
Jakov Novak, Kevin Mandolese and the Allen Americans head into the Kelly Cup Playoffs this week. Novak had 11 points in 14 games after joining the ECHL this spring, while Mandolese holds a 0.922 career save percentage at the ECHL level.
Belleville Team Update
Well, the push for the playoffs ended for Belleville right around the same time as Ottawa. The BSens were mathematically eliminated on Tuesday night with a 6-3 Laval win over Toronto, bringing the Rocket to a point total Belleville could match but not pass, while Laval held the advantage in the tie breaker.
The final three games of the season were, essentially, freebies, as they didn't matter for Belleville in the standings. That being said, they went 2-1-0 in those three games, playing some really strong hockey in their two wins.
There will be a ton of questions for Belleville as the offseason gets underway. You'll be able to find Season In Review pieces on the BSens coming from this blog in the next few weeks where we'll dive deeper into individual player performances, team dynamics and an investigation into how much Belleville changed following the dismissal of Head Coach Troy Mann.
Stats
Pro (NHL, AHL)
Since the Last Update
|
TOTAL
PLAYER
POS
AGE
LEAGUE
GP
G
A
P
PIM
SOG
SH%
|
GP
G
A
P
PIM
SOG
SH%
Jonathan Aspirot
LD
23
AHL
2
0
1
1
8
0
0%
|
43
5
11
16
65
54
9%
Jacob Bernard-Docker
RD
22
AHL
3
0
1
1
8
1
0%
|
41
2
4
6
35
38
5%
Jacob Bernard-Docker
RD
22
NHL
0
0
0
0
0
0
0%
|
19
0
1
1
11
22
0%
Angus Crookshank
LW/C
23
AHL
3
1
2
3
2
4
25%
|
71
26
21
47
31
188
14%
Philippe Daoust
C
21
AHL
0
0
0
0
0
0
0%
|
9
2
5
7
0
10
20%
Ridly Greig
C/LW
20
AHL
4
2
0
2
6
5
40%
|
39
15
14
29
46
74
20%
Ridly Greig
C/LW
20
NHL
0
0
0
0
0
0
0%
|
20
2
7
9
12
30
7%
Maxence Guénette
RD
21
NHL
1
0
0
0
0
2
0%
|
1
0
0
0
0
2
0%
Maxence Guénette
RD
21
AHL
3
1
1
2
2
5
20%
|
72
5
35
40
25
131
4%
Roby Järventie
C/LW
20
AHL
3
2
4
6
12
3
67%
|
40
16
14
30
38
92
17%
Tyler Kleven
LD
21
NHL
1
0
0
0
2
1
0%
|
8
0
2
2
2
11
0%
Viktor Lodin
LW
23
AHL
0
0
0
0
0
0
0%
|
28
6
9
15
34
43
14%
Cole Reinhardt
LW
23
AHL
3
1
0
1
4
4
25%
|
66
11
23
34
91
131
8%
Egor Sokolov
RW/LW
22
AHL
3
2
2
4
14
9
22%
|
70
21
38
59
72
163
13%
Egor Sokolov
RW/LW
22
NHL
1
0
1
1
0
0
0%
|
5
1
1
2
0
5
20%
Lassi Thomson
RD
22
AHL
3
0
4
4
2
2
0%
|
56
7
26
33
28
109
6%
Lassi Thomson
RD
22
NHL
0
0
0
0
0
0
0%
|
2
0
0
0
4
1
0%
USA (NCAA, USHL)
Since the Last Prospect Update
|
Total
PLAYER
POS
AGE
TEAM
GP
G
A
P
PIM
SOG
SH%
|
GP
G
A
P
PIM
SOG
SH%
Tyson Dyck
C/LW
19
UMass
0
0
0
0
0
0
0%
|
28
5
4
9
8
25
20%
Stephen Halliday
C
20
Ohio State Univ.
0
0
0
0
0
0
0%
|
40
9
32
41
19
105
9%
Tyler Kleven
LD
21
Univ. of North Dakota
0
0
0
0
0
0
0%
|
35
8
10
18
84
82
10%
Luke Loheit
RW
22
Univ. of Minnesota-Duluth
0
0
0
0
0
0
0%
|
35
8
11
19
53
64
13%
Jakov Novak
LW/C
24
Northeastern Univ.
0
0
0
0
0
0
0%
|
35
8
4
12
26
38
21%
Jakov Novak
LW/C
24
Allen (ECHL)
3
2
0
2
0
12
0%
|
14
7
4
11
6
32
22%
Cameron O'Neill
RW
19
Tri-City (USHL)
2
0
0
0
0
5
0%
|
54
9
18
27
24
95
9%
Theo Wallberg
LD
19
Dubuque (USHL)
2
0
0
0
0
4
0%
|
58
4
18
22
26
65
6%
CHL
Since the Last Prospect Update
|
Total
PLAYER
POS
AGE
TEAM
LEAGUE
GP
G
A
P
PIM
SOG
SH%
|
GP
G
A
P
PIM
SOG
SH%
Tyler Boucher
RW
20
Ottawa
OHL
0
0
0
0
0
0
0%
|
21
10
7
17
32
87
11%
Jorian Donovan
LD
19
Hamilton
OHL
0
0
0
0
0
0
0%
|
55
12
33
45
51
126
10%
Jorian Donovan
LD
19
Hamilton (Playoffs)
OHL
3
1
3
4
4
12
8%
|
6
1
3
4
4
16
6%
Tomas Hamara
LD
19
Kitchener
OHL
0
0
0
0
2
5
0%
|
56
2
15
17
33
79
3%
Tomas Hamara
LD
19
Kitchener (Playoffs)
OHL
3
0
0
0
0
1
0%
|
7
0
1
1
0
5
0%
Carson Latimer
RW
20
Prince Albert/Winnipeg
WHL
0
0
0
0
0
0
0%
|
53
14
26
40
28
107
13%
Carson Latimer
RW
20
Winnipeg (Playoffs)
WHL
1
1
0
1
0
4
25%
|
1
1
0
1
0
4
25%
Zach Ostapchuk
C
19
Vancouver/Winnipeg
WHL
0
0
0
0
0
0
0%
|
55
31
36
67
46
177
18%
Zach Ostapchuk
C
19
Winnipeg (Playoffs)
WHL
1
1
0
1
0
3
33%
|
5
4
1
5
9
11
36%
Ben Roger
RD
20
Kingston
OHL
0
0
0
0
0
0
0%
|
49
2
11
13
32
78
3%
Chandler Romeo
LD
19
Sarnia/Guelph
OHL
0
0
0
0
0
0
0%
|
54
9
8
17
53
59
15%
Chandler Romeo
LD
19
Guelph (Playoffs)
OHL
0
0
0
0
0
0
0%
|
6
0
1
1
4
10
0%
Europe
Since the Last Prospect Update
|
Total
PLAYER
POS
AGE
TEAM
LEAGUE
GP
G
A
P
PIM
SOG
SH%
|
GP
G
A
P
PIM
SOG
SH%
Oliver Johansson
C/LW
19
Timrå IK
J20 Nationell
0
0
0
0
0
0
0%
|
8
4
4
8
0
17
24%
Oliver Johansson
C/LW
19
Timrå IK
J20 Nationell Playoffs
1
1
1
2
4
1
33%
|
7
3
3
6
31
12
33%
Oliver Johansson
C/LW
19
IF Björklöven
Allsvenskan
0
0
0
0
0
0
0%
|
27
6
3
9
6
40
15%
Oliver Johansson
C/LW
19
Timrå IK
SHL
0
0
0
0
0
0
0%
|
6
0
0
0
0
3
0%
Filip Nordberg
LD
18
Södertälje SK
J20 Nationell
0
0
0
0
0
0
0%
|
18
3
8
11
14
46
7%
Filip Nordberg
LD
18
Södertälje SK/Tingsyrds AIF
Allsvenskan
0
0
0
0
0
0
0%
|
33
2
4
6
10
20
10%
Filip Nordberg
LD
18
Tingsyrds AIF
Allsvenskan Playoffs
0
0
0
0
0
2
0%
|
4
0
1
1
0
2
0%
Filip Nordberg
LD
18
Växjö HC
SHL
0
0
0
0
0
0
0%
|
9
0
1
1
2
1
0%
Oskar Pettersson
RW
19
Rögle BK
J20 Nationell
0
0
0
0
0
0
0%
|
24
23
10
33
33
103
22%
Oskar Pettersson
RW
19
Rögle BK
J20 Nationell Playoffs
0
0
0
0
0
8
0%
|
4
2
1
3
0
17
12%
Oskar Pettersson
RW
19
Kristianstad
Allsvenskan
0
0
0
0
0
0
0%
|
2
0
1
1
2
6
0%
Oskar Pettersson
RW
18
Rögle BK
SHL
0
0
0
0
0
0
0%
|
29
1
1
2
33
17
6%
Goalies
Since the last prospect update
|
Total
PLAYER
AGE
TEAM
LEAGUE
GP
W
L
OTL
SOL
SA
GA
SV%
|
GP
W
L
OTL
SOL
SA
GA
SV%
Dylan Ferguson
24
Belleville/Toronto
AHL
1
1
0
0
0
32
2
93.8%
|
13
8
3
0
0
296
28
90.5%
Dylan Ferguson
24
Ottawa
NHL
0
0
0
0
0
0
0
0.0%
|
2
1
1
0
0
83
5
94.0%
Kevin Mandolese
22
Belleville
AHL
0
0
0
0
0
0
0
0.0%
|
17
6
8
3
0
508
56
89.0%
Kevin Mandolese
22
Allen
ECHL
0
0
0
0
0
0
0
0.0%
|
6
4
2
0
0
188
14
92.6%
Kevin Mandolese
22
Ottawa
NHL
0
0
0
0
0
0
0
0.0%
|
3
1
2
0
0
119
10
91.6%
Leevi Meriläinen
20
Kärpät
Liiga
0
0
0
0
0
0
0
0.0%
|
42
18
13
7
0
919
75
91.8%
Leevi Meriläinen
20
Belleville
AHL
2
1
0
0
0
42
6
85.7%
|
4
3
0
0
0
105
7
93.3%
Leevi Meriläinen
20
Ottawa
NHL
0
0
0
0
0
0
0
0.0%
|
2
0
1
1
0
49
6
87.8%
Kevin Reidler
18
AIK
J20 Nationell
0
0
0
0
0
0
0
0.0%
|
32
14
16
0
0
1002
89
91.1%
Kevin Reidler
18
AIK
J20 Nationell Playoffs
0
0
0
0
0
0
0
0.0%
|
3
1
2
0
0
116
7
94.0%
Mads Søgaard
22
Belleville
AHL
1
0
1
0
0
17
5
70.6%
|
22
6
10
2
0
588
63
89.3%
Mads Søgaard
22
Ottawa
NHL
1
0
0
1
0
36
4
88.9%
|
19
8
6
3
0
523
58
88.9%