Ottawa Senators Prospect Update - April 11th
The summer has arrived for more young Senators.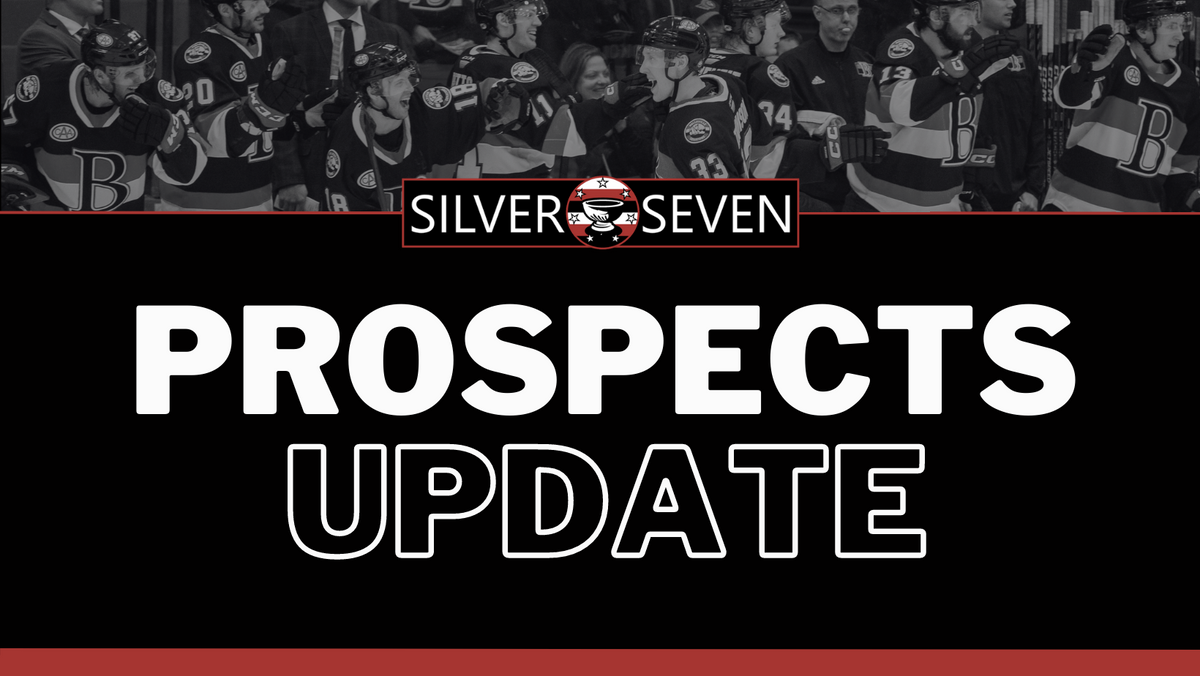 Remember how much ass that kicked last night when our prodigal son, Claude Giroux joined the 1,000 NHL point club and the Ottawa Senators won their last home game of the season? I enjoyed that. While we bask in that feeling as long as we can, let's take a look around Sens prospects land.
Forwards
Egor Sokolov
Egor Sokolov had his day in the NHL this week as he secured his first career goal on an absolute beauty.
In the same week, Sokolov was named Belleville's team MVP, thanks in part to his team leading 55 points in 67 games for Ottawa's AHL affiliate. His recall to the NHL was certainly earned, but is play thus far has left something to be desired. As a pivotal player on Belleville's top line, Sokolov creates space for his linemates and distributes the puck at a level above the majority of is AHL peers. In the NHL, he's played sparingly, usually in a checking role, and hasn't shown what he's truly capable of. I'm hopeful that he'll get a little more leash in his final game, as Ottawa is already eliminated and it'd be great to give Sokolov more of an audition.
Jakov Novak
A prospect who doesn't make a ton of headlines, Jakov Novak joined the ECHL's Allen Americans following the conclusion to his five year NCAA career and has been showing that he was definitely ready for the transition from NCAA to ECHL. He has 9 points in 11 games, including 4 points in 4 games this past week.
Angus Crookshank
While he didn't find the scoresheet in Belleville's lone game this week, Angus Crookshank was named Belleville's rookie of the year as he leads the team in goal scoring wit 25 on the year and has played a pivotal role in keeping Belleville's playoff hopes alive with strong, consistent play down the stretch.
The big knock on Crookshank early on was his consistency, which we can likely attribute to recovering from the injury that saw him miss an entire season last year. His season started slow with just two points in his first seven games. He has 42 points in 61 games since.
Defense
Tyler Kleven
Fresh off his professional debut, Tyler Kleven has been able to work his way into a regular spot in the lineup with Thomas Chabot, Jakob Chychrun and Travis Hamonic sidelined. He hovers around 12 minutes a night on DJ Smith's blueline, which is pretty limited, but he makes the most out of his play with a team leading 63.29 CF%.
He also got a chance to play some secondary powerplay minutes last night against Carolina, showing off his hard shot.
Tomas Hamara
Tomas Hamara's Kitchener Rangers completed the sweep of Shane Wright's Windsor Spitfires in the first round of OHL Playoff action last week. The 8th seed Rangers are the first team in OHL history to pull off a sweep of a 1st seed opponent.
In the series, Hamara continued his role as a reliable top four defenseman who plays a 200 foot game, moving the puck in transition and shutting down the oppositions best. Hamara secured an assist in the four game series.
Goaltenders
Leevi Meriläinen
Featured again this week, Leevi Meriläilen had a rough second start in the NHL as he got pulled after allowing three goals on 12 shots against the Florida Panthers. Upon his return to the AHL, however, Meriläilen got right back on his horse, postined a 0.955 SV% in an imperative win for the BSens against the Cleveland Monsters. Needless to say, the impressive Finnish prospect was not rattled by his lacklustre second NHL start.
Silver Linings
In the NHL, Ridly Greig had a goal and an assist on five shots in two games. Egor Sokolov scored his first NHL goal and also had five shots, in four games. Leevi Meriläinen played his heart out in his NHL debut only to have the Sens lose in overtime. A tough start in Florida bombed his save percentage but the game against Carolina (we hope) demonstrated Meriläinen's NHL potential. Mads Søgaard redeemed a mediocre relief appearance against the Panthers with a win against Carolina to end his season at home the right way.
Jakov Novak continued his strong start to his professional career with four more points in four more games in the ECHL. In the USHL, Cameron O'Neill and Theo Wallberg had relatively quiet weeks, but, in good news, both players' respective teams have qualified for the playoffs.
In the WHL postseason, Zach Ostapchuk had one assist and three shots in two games as Winnipeg completed their sweep of Medicine Hat. More notably, Ostapchuk will miss game one of round two after receiving a game misconduct and received an automatic suspension.
In the OHL, Tomas Hamara got his first playoff point in the OHL, with an assist this week as Kitchener swept Windsor in round one. Chandler Romeo's season came to an end as Sarnia (Romeo's former team) eliminated Guelph in six games. Jorian Donovan also saw his season draw to a close as Barrie eliminated Hamilton, also in six games. Donovan ended the postseason with a goal and three assists on 16 shots after missing time late in the regular season on the injured reserve.
In Sweden, Oskar Petterson had a goal and an assist along with eight shots in two games as his Rögle BK squad won the J20 championship. Oliver Johansson also had a goal and an assist in two games, as Timrå IK had to settle for third place in the tournament.
Belleville Team Update
With the season dwindling, Belleville's playoff hopes are still alive. Barely.
Belleville currently sits three points back of Cleveland, four back of Laval. Unfortunately for the team, both Cleveland and Laval finished last night with victories, putting a couple loose nails in Belleville's proverbial coffin.
Laval currently has two games left on the schedule while Cleveland has three. This means that the best Laval can do is 76 points, Cleveland can win out and finish with 77, while Belleville winning out would see them finishing with 74 points. None of the three teams have a particularly easy schedule remaining, which is good news for Belleville, with all three teams matching up with teams ahead of them in the standings.
Ideally, Belleville wins out. But, if they don't, they need both Cleveland and Laval to falter in their final few games. If Belleville wins out, Cleveland can only win one of their final three while Laval would need to lose their final two. There are other scenarios that could see them make the final spot, but winning out is obviously the easiest.
At the end of the day, Belleville needs five points in their final six games to get into a spot where tiebreakers don't matter, as they'd lose the tiebreaker to Laval (regulation wins). It's going to be a really tough grind for Belleville in their final three.
Since the Last Update
|
TOTAL
PLAYER
POS
AGE
LEAGUE
GP
G
A
P
PIM
SOG
SH%
|
GP
G
A
P
PIM
SOG
SH%
Jonathan Aspirot
LD
23
AHL
2
0
0
0
0
1
0%
|
41
5
10
15
57
54
9%
Jacob Bernard-Docker
RD
22
AHL
0
0
0
0
0
0
0%
|
38
2
3
5
27
37
5%
Jacob Bernard-Docker
RD
22
NHL
4
0
0
0
2
5
0%
|
19
0
1
1
11
22
0%
Angus Crookshank
LW/C
23
AHL
2
0
0
0
2
4
0%
|
68
25
19
44
29
184
14%
Philippe Daoust
C
21
AHL
0
0
0
0
0
0
0%
|
9
2
5
7
0
10
20%
Ridly Greig
C/LW
20
AHL
0
0
0
0
0
0
0%
|
35
13
14
27
40
69
19%
Ridly Greig
C/LW
20
NHL
2
1
1
2
0
5
20%
|
20
2
7
9
12
30
7%
Maxence Guénette
RD
21
AHL
2
0
0
0
0
4
0%
|
69
4
34
38
23
126
3%
Roby Järventie
C/LW
20
AHL
2
0
0
0
0
6
0%
|
37
14
10
24
26
89
16%
Tyler Kleven
LD
21
NHL
4
0
0
0
0
5
0%
|
7
0
2
2
0
10
0%
Viktor Lodin
LW
23
AHL
0
0
0
0
0
0
0%
|
28
6
9
15
34
43
14%
Cole Reinhardt
LW
23
AHL
1
0
0
0
2
4
0%
|
63
10
23
33
87
127
8%
Egor Sokolov
RW/LW
22
AHL
0
0
0
0
0
0
0%
|
67
19
36
55
58
154
12%
Egor Sokolov
RW/LW
22
NHL
4
1
0
1
0
5
20%
|
4
1
0
1
0
5
20%
Lassi Thomson
RD
22
AHL
2
0
0
0
0
6
0%
|
53
7
22
29
26
107
7%
Lassi Thomson
RD
22
NHL
0
0
0
0
0
0
0%
|
2
0
0
0
4
1
0%
Since the Last Prospect Update
|
Total
PLAYER
POS
AGE
TEAM
GP
G
A
P
PIM
SOG
SH%
|
GP
G
A
P
PIM
SOG
SH%
Tyson Dyck
C/LW
19
UMass
0
0
0
0
0
0
0%
|
28
5
4
9
8
25
20%
Stephen Halliday
C
20
Ohio State Univ.
0
0
0
0
0
0
0%
|
40
9
32
41
19
105
9%
Tyler Kleven
LD
21
Univ. of North Dakota
0
0
0
0
0
0
0%
|
35
8
10
18
84
82
10%
Luke Loheit
RW
22
Univ. of Minnesota-Duluth
0
0
0
0
0
0
0%
|
35
8
11
19
53
64
13%
Jakov Novak
LW/C
24
Northeastern Univ.
0
0
0
0
0
0
0%
|
35
8
4
12
26
38
21%
Jakov Novak
LW/C
24
Allen (ECHL)
4
1
3
4
0
7
0%
|
11
5
4
9
6
20
25%
Cameron O'Neill
RW
19
Tri-City (USHL)
3
0
1
1
0
4
0%
|
52
9
18
27
24
90
10%
Theo Wallberg
LD
19
Dubuque (USHL)
3
0
0
0
0
3
0%
|
56
4
18
22
26
61
7%
Since the Last Prospect Update
|
Total
PLAYER
POS
AGE
TEAM
LEAGUE
GP
G
A
P
PIM
SOG
SH%
|
GP
G
A
P
PIM
SOG
SH%
Tyler Boucher
RW
20
Ottawa
OHL
0
0
0
0
0
0
0%
|
21
10
7
17
32
87
11%
Jorian Donovan
LD
19
Hamilton
OHL
0
0
0
0
0
0
0%
|
55
12
33
45
51
126
10%
Jorian Donovan
LD
19
Hamilton (Playoffs)
OHL
3
1
3
4
4
12
8%
|
6
1
3
4
4
16
6%
Tomas Hamara
LD
19
Kitchener
OHL
0
0
0
0
2
5
0%
|
56
2
15
17
33
79
3%
Tomas Hamara
LD
19
Kitchener (Playoffs)
OHL
2
0
1
1
0
2
0%
|
4
0
1
1
0
4
0%
Carson Latimer
RW
20
Prince Albert/Winnipeg
WHL
0
0
0
0
0
0
0%
|
53
14
26
40
28
107
13%
Zach Ostapchuk
C
19
Vancouver/Winnipeg
WHL
0
0
0
0
0
0
0%
|
55
31
36
67
46
177
18%
Zach Ostapchuk
C
19
Winnipeg (Playoffs)
WHL
2
1
0
1
5
3
33%
|
4
3
1
4
9
8
38%
Ben Roger
RD
20
Kingston
OHL
0
0
0
0
0
0
0%
|
49
2
11
13
32
78
3%
Chandler Romeo
LD
19
Sarnia/Guelph
OHL
0
0
0
0
0
0
0%
|
54
9
8
17
53
59
15%
Chandler Romeo
LD
19
Guelph (Playoffs)
OHL
4
0
1
1
4
6
0%
|
6
0
1
1
4
10
0%
Since the Last Prospect Update
|
Total
PLAYER
POS
AGE
TEAM
LEAGUE
GP
G
A
P
PIM
SOG
SH%
|
GP
G
A
P
PIM
SOG
SH%
Oliver Johansson
C/LW
19
Timrå IK
J20 Nationell
0
0
0
0
0
0
0%
|
8
4
4
8
0
17
24%
Oliver Johansson
C/LW
19
Timrå IK
J20 Nationell Playoffs
2
1
1
2
27
4
33%
|
6
2
2
4
31
11
33%
Oliver Johansson
C/LW
19
IF Björklöven
Allsvenskan
0
0
0
0
0
0
0%
|
27
6
3
9
6
40
15%
Oliver Johansson
C/LW
19
Timrå IK
SHL
0
0
0
0
0
0
0%
|
6
0
0
0
0
3
0%
Filip Nordberg
LD
18
Södertälje SK
J20 Nationell
0
0
0
0
0
0
0%
|
18
3
8
11
14
46
7%
Filip Nordberg
LD
18
Södertälje SK/Tingsyrds AIF
Allsvenskan
0
0
0
0
0
0
0%
|
33
2
4
6
10
20
10%
Filip Nordberg
LD
18
Tingsyrds AIF
Allsvenskan Playoffs
0
0
0
0
0
2
0%
|
4
0
1
1
0
2
0%
Filip Nordberg
LD
18
Växjö HC
SHL
0
0
0
0
0
0
0%
|
9
0
1
1
2
1
0%
Oskar Pettersson
RW
19
Rögle BK
J20 Nationell
0
0
0
0
0
0
0%
|
24
23
10
33
33
103
22%
Oskar Pettersson
RW
19
Rögle BK
J20 Nationell Playoffs
2
1
1
2
0
8
13%
|
4
2
1
3
0
17
12%
Oskar Pettersson
RW
19
Kristianstad
Allsvenskan
0
0
0
0
0
0
0%
|
2
0
1
1
2
6
0%
Oskar Pettersson
RW
18
Rögle BK
SHL
0
0
0
0
0
0
0%
|
29
1
1
2
33
17
6%