Five Thoughts for Friday: Boring Draft Day
There just wasn't a whole lot of excitement on Draft Day itself, but that doesn't mean the off-season hasn't been without excitement.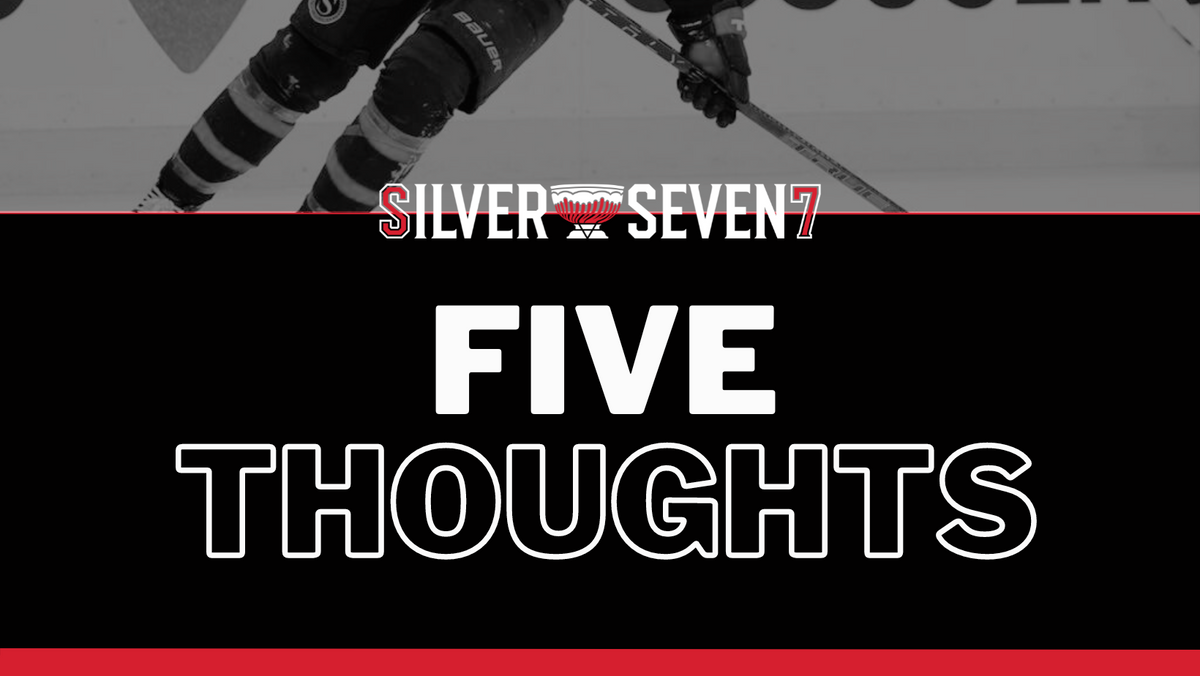 In this week's edition of Five Thoughts, we talk about the lack of trades on the first day of the draft, but also the flurry of transactions that could re-shape the league from every other day.
1. Daft Draft
I sat through the entirety of the first round of the draft, waiting for something, anything to happen. Instead, every team made their pick exactly as they were slotted. Don't get me wrong, there were exciting trades leading into the draft, but the day-of was a bit of a snooze fest. Gary Bettman only got one chance to make jokes about people booing him. No "we have a trade to announce", only for it to be followed by news that a team had traded a 1st and a 3rd to move up a couple spots or something. Maybe you really enjoy prospect analysis, and love the intrigue of where an enigmatic Russian (aka, what hockey people always seem to call Russians) will get taken in the 1st round. I'm not as good at keeping track of the boys before the boy auction, and so it doesn't mean as much to me. And, let's be real, the Sens not having a pick in the first round definitely didn't help my enjoyment. It meant I had no pick to look forward to, and also hadn't even really read draft profiles, because none would end up with the Sens anyway. All I'm saying is, if Bill Guerin making a joke about Tootsie's is the highlight of the night, it wasn't a great night as a Sens fan from an entertainment perspective.
2. Trade Value
I have no idea what a player is worth anymore. On the one hand, a guy like Pierre-Luc Dubois fetched the famed the plickspect, plus an extra player for good measure, or a guy like Alex Newhook fetches a 1st and a 2nd. On the other hand, good-but-maybe-overpaid players like Ryan Johansen, Klim Kostin, Kailer Yamamoto, and Josh Bailey get traded for actually nothing.  Taylor Hall or Kevin Hayes are traded for next to nothing. On top of that, most of these deals were done with salary retained. What do the Flyers get out of a 6th-round pick for retaining half of Hayes' salary? Was Kailer Yamamoto really worth less than Ross Colton or 85-year-old Corey Perry? They say the market sets its value, but I have no idea what the value is. It's like trying to sell your house, and being told it's worth either $4-million, or else a worn-out boot. Of course, the Golden Knights traded Max Pacioretty for nothing, and then won the Stanley Cup, so maybe it's actually a great move.
3. Alex DeBrincat's Trade Value
This brings us back to the Sens part of this news. What's DeBrincat's trade value? Pierre-Luc Dubois should, in theory, be a useful benchmark, seeing as they're similar ages, and are owed similar money (PLD extended with LA at $8.5M per year). On the other hand, Dubois' career high in points (63) was lower than what was considered an off-year for ADB (66). ADB has scored 40+ goals twice, while PLD hasn't scratched 30. On the third hand (for those keeping count at home), PLD is a centre and 6'4" (though, arguably, a very soft 6'4"), while ADB is a winger and listed, maybe generously, at 5'8". On the fourth hand, ADB put up more hits than PLD this past year, and ADB has grown in this stat throughout his career, while PLD seems to be shying away from contact as he ages.
It feels a bit like Steinbeck's The Pearl to me (the kind of reference that I know you all come here for), when all the pearl merchants unite to tell Kino that his pearl is too large to be of any value so they can buy it for way less than it's worth. All the NHL GMs are conspiring to say, "Well, he is great at hockey, but... what if we assume he isn't? What then? We'll give you a low pick a broken hammer." To his credit, GM Pierre Dorion explicitly said he wouldn't trade DeBrincat for 'pennies on the dollar'. Maybe it is in the Sens' best interests to hold onto him, let him play with a bona fide centre (sorry to Shane Pinto), and then see if the price goes up nearing the playoffs, when players of his ilk are rarely available. It just feels like, after Mark Stone, after Jason Spezza, I don't understand why teams seem to keep undervaluing players from Ottawa, offering low-ball offers. It's very frustrating as a Sens fan, to see a washed-up Andrew Ladd or Antoine Vermette go at the trade deadline for more than a full-year + extension of Stone or Spezza or, possibly now, DeBrincat.
4. Major Mess of a Merger
In case you haven't heard, the PWHPA bought the PHF. There have been lots of thoughts on this, and there will be many more from folks more qualified than me. For more info, go read the writings of those who are the experts (such as our friends at the Ice Garden, as linked above, who will have lots of coverage in the coming days). What I do know is that it's probably good for the future of women's hockey to have one league, but that also, and much more importantly, a deal that results a whole league's worth of employees—players, staff, coaches, ...—lose their contracts all of a sudden isn't great for any of those employees. The proposed contraction of teams, and the resulting loss of jobs, also seems less than ideal.
As Sens fans, we know that news that is suddenly released, without any heads-up, on a weekday evening, is probably news that's designed to minimize the PR backlash. You don't release good news when you're hoping nobody's going to be paying attention. You definitely don't release it by letting it leak to the public before you've even told your own league members. Could this end up being good news? Yes. I really hope it is. But everything about how it's being handled to this point suggests that this is at best, a stumble out of the gate, and at worst, a step backwards among what has seemed like far too many in recent years for women's hockey.
5. The Ones That Got Away, But Also Didn't
The Welcome To Your Karlsson Years (soon to be Welcome Back To Your Karlsson Years?) podcast dropped a couple days ago, and though Elite Sens Brain is elite, the WTYKY podcast is always hilarious, with the added charm that it comes out between 0.4 and 2.2 times per year. There are some excellent bits, but one of my favourite moments was when they discussed mediocre ex-Sens players that Sens fans put way too much stock into (e.g., Jonathan Dahlen), but also occasionally dominant ex-Sens players that nobody seemed to care about (e.g., Jennings-winning Brian Elliott). So my question is, who would you say was the most weirdly-remembered Sens player, and who was the most confusingly forgotten ex-Senator? I would put Dahlen in the former category, as the guy couldn't hack it after multiple chances with the Sharks, and yet got years of traction as a guy the Sens should never have traded. For the latter, I'd maybe consider Noesen, a first-round pick was part of the Bobby Ryan trade, who somehow was the AHL's highest goal-scorer in 2021-22, and turned it into a full-time role with the Hurricanes this year. He wouldn't be bad as a bottom-six guy in Ottawa, but I'm not sure I've ever heard other Sens fans talk about him.
Not everyone can afford to pay for sports coverage right now, and that is why we will keep as much of the site's content free for as long as we can.
But if you are able to, please consider subscribing to help keep our articles free (and get a few extra perks).
Erik Condra
Ability to comment and participate in our community
Twice monthly newsletter available only to subscribers
Ad-free reading
Our undying love and appreciation
Brady Tkachuk
Everything from the Erik Condra tier
10% discount on all merch
Access to any future paywalled content
A personal thank-you from the Silver Seven staff
Daniel Alfredsson
Everything from the Brady Tkachuk tier
Inner peace knowing you are supporting quality, independent coverage of your favourite sports team