Links, News, and Notes: Putting the Sen in TaraSENko
The last edition of Links, News, and Notes for July!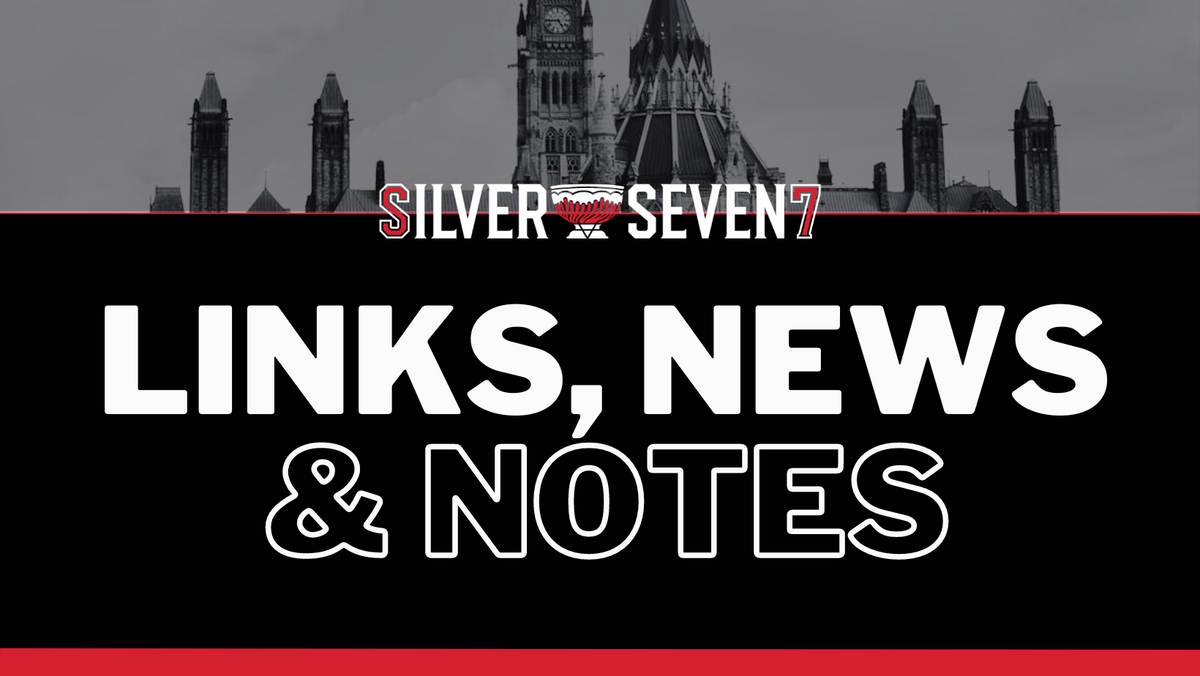 The Senators decided to give the NHL some late-July headlines by signing Vladimir Tarasenko to a one-year deal. Yes, that was last week but it's also still the most exciting piece of news to share with you – it's the summer!
Some follow-up on that deal and more in today's edition of Links, News, and Notes:
Adam Proteau says the Tarasenko signing makes the Sens a bigger up-and-comer in the Atlantic Division, but he still likes the Sabres' short-term playoff chances more.
Supposedly, the Panthers tried to lure Tarasenko, but they somehow had even less cap space to work with, so it didn't end up being a fit
Jacob Larivière looks at this offseason's follow-up to last year's Hot Pierre Summer; in particular, he wonders if Anton Forsberg's going to start the year on LTIR, giving the Sens a little more cap flexibility.
Paul Quinney of The Hockey Writers is down on the Korpisalo contract. As in, very, very pessimistic. You've been warned.
Die By The Blade looks at the Sabres' intradivision rivalries, including with the Sens. The bottom line? "The Senators are not a franchise to underestimate." Seems good!
Who could break out for the Sens this year? The Hockey News suggests Greig, Pinto, and/or Sanderson. Pinto and Sanderson in particular had great rookie years, so if they break out more this year, that would go a long way to ensuring a play-off berth
HockeyFeed argues that the Sens got screwed over by the Leafs' LTIR of Matt Murray; considering that a buyout would've given cap relief but perma-LTIR doesn't, I kind of agree.
A fundraiser hockey game for ALS research organized by Sens assistant coach Bob Jones, who himself has ALS, features some current Senators in Josh Norris and Brady Tkachuk, and some past ones in Alex DeBrincat and Dylan DeMelo
Shifting wider in the league, the loss of Patrice Bergeron and (likely) David Krejci means the Bruins suddenly have no top-six centres; names floating around in trade rumours include Elias Lindholm and Mark Scheifele. Is this the year that the Bruins finally take a step back? Probably? Should we even say it out loud?
The KGH Foundation, which supports healthcare in the Kelowna region, is having its own hockey fundraiser, with ex-Senator Curtis Lazar among the NHL players attending
Some other NHL rumours roundup, including that silence from Pittsburgh likely means they're pushing hard to acquire Erik Karlsson
The Hockey News looks back at some former NHL offseason events that should make a comeback. I definitely remember hearing about Smashfest, Dominic Moore-organized ping-pong tournament
Some updates on the World Junior Summer Showcase, which is currently going on. Oskar Pettersson and Kevin Reidler are the two Sens prospects participating, with both playing for Sweden
To finish up, here's Oskar Pettersson getting a nice and/or lucky steal, and then burying it on a filthy wrister
Not everyone can afford to pay for sports coverage right now, and that is why we will keep as much of the site's content free for as long as we can.
But if you are able to, please consider subscribing to help keep our articles free (and get a few extra perks).
Erik Condra
Ability to comment and participate in our community
Twice monthly newsletter available only to subscribers
Ad-free reading
Our undying love and appreciation
Brady Tkachuk
Everything from the Erik Condra tier
10% discount on all merch
Access to any future paywalled content
A personal thank-you from the Silver Seven staff
Daniel Alfredsson
Everything from the Brady Tkachuk tier
Inner peace knowing you are supporting quality, independent coverage of your favourite sports team