Links, News, Notes: Arbitration Station
This week's edition of LNN with a heavy focus on arbitration hearings.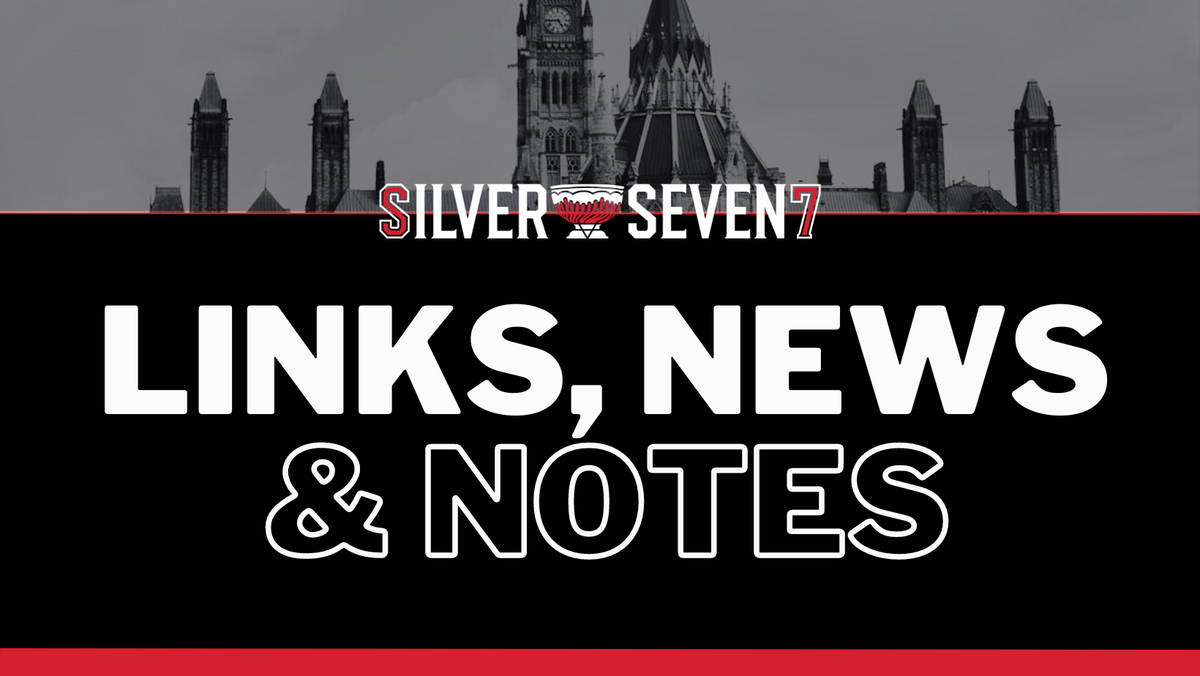 The Sens news is few and far between... but NHL arbitration hearings are actually being awarded. Your Monday links, news, and notes, now:
Dobber Hockey's assessment of the Sens' offseason, including some thoughts on Jiri Smejkal, who they see as the wild-card joining the Sens this year
The latest Elite Sens Brain features a shoutout to me, so you'd better listen
It's almost a week old, but the Zubcast's latest episode included thoughts on the best malls in Ottawa, along with discussing DeBrincat and the Manns
The Hockey Writers looks at some of the players in Sens history with Indigenous and Métis roots
THW also argues Kubalik could be a natural fit in the Sens' top six
Ian Mendes focuses on Hockey Canada this week, looking at the hesitancy from sponsors, even as new CEO Katherine Henderson steps in
The Ottawa 67s'  video series Between Barber Poles returns for a Season 2, and is definitely worth a watch, especially if you enjoy hearing Dave Cameron
Some Kraken news: Vince Dunn extended for four years at $7.35M, and coach Dave Hakstol extended until the end of the 2025-26 season
Ilya Samsonov was awarded a one-year, $3.55M deal with the Leafs by an arbitrator, which was about $400k lower than people were expecting (Side note: I love Pension Plan Puppets' commitment to using stock images in all their articles)
Meanwhile, another arbitration award came out for Chicago's Philipp Kurashev, this one for two years and $2.5M per year. It's surprising to have so many negotiations actually going to arbitration, and also to see a two-year award come out
Some quick league-wide news updates, including on Evan Bouchard, Ryan McLeod, Dawson Mercer, and a potential Tarasenko deal with the Panthers
Sportsnet released their mid-season power rankings, with Colorado at the top, followed by the depending champs
The Hockey News lists six of the NHL's most underappreciated players, which always feels silly to me, because it requires someone to appreciate the player to put them on the list. Kevin Fiala seems a funny pick, since he was a much-hyped trade option last summer, but Filip Gustavsson... stings a bit as a Sens fan.
The UFA class of 2024 is actually a pretty big deal, headlined by Auston Matthews, William Nylander, and Sebastian Aho (the Hurricanes one)
And finally, here's the latest Sens Breakaway, a behind-the-scenes look at the 2023 Draft:
Not everyone can afford to pay for sports coverage right now, and that is why we will keep as much of the site's content free for as long as we can.
But if you are able to, please consider subscribing to help keep our articles free (and get a few extra perks).
Erik Condra
Ability to comment and participate in our community
Twice monthly newsletter available only to subscribers
Ad-free reading
Our undying love and appreciation
Brady Tkachuk
Everything from the Erik Condra tier
10% discount on all merch
Access to any future paywalled content
A personal thank-you from the Silver Seven staff
Daniel Alfredsson
Everything from the Brady Tkachuk tier
Inner peace knowing you are supporting quality, independent coverage of your favourite sports team