Links, News, and Notes: The Ottawa Senators are Worth $1B?
The first round ends tonight and the Ottawa Senators are going for how much now?!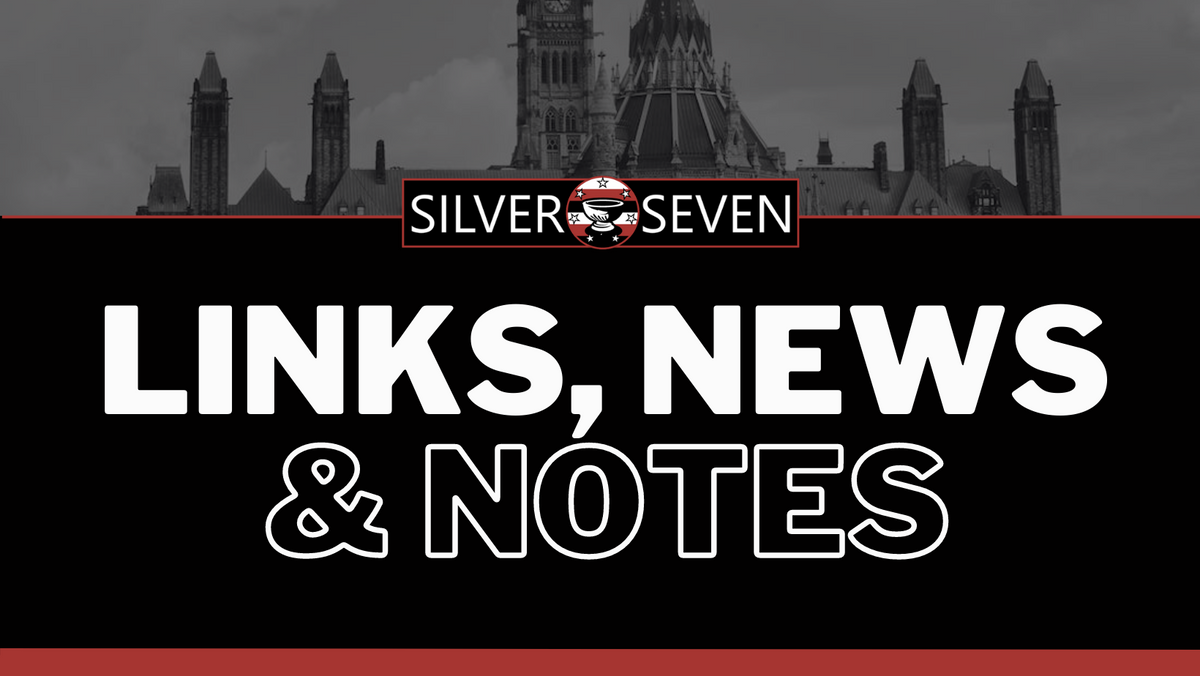 It's Monday's links, news, notes, and then the playoff update!
Here's what's being talked about in the hockey world:
Playoffs
Since Thursday night, we've seen every playoff series end except one—Devils/Rangers Game 7 runs tonight. Here's your update, in the order in which the series ended
Golden Knights defeat Jets 4–1. The Knights put together a dominant display, defeating the Jets 4–1 both in Thursday night's game and in the series, breezing into the second round. Mark Stone had a goal and two more assists, to climb to 8 points through the 5 games of the series. Meanwhile, the Jets seem to be experiencing an identity crisis.
Hurricanes defeat Islanders 4–2. The Islanders had mounted a spectacular comeback, but in Friday's Game 6, the Canes slowly started to push Ilya Sorokin more and more. (Carolina's) Sebastian Aho finally got an ugly one past Sorokin in the third, ending his shutout streak just shy of 60 minutes. Then Paul Stastny scored in overtime, assisted by Derek Stepan, to remind you that both those guys are still in the NHL and playing for Carolina.
Stars defeat Wild 4–2. After this series looked close early, the Stars earned a 4–0 win in Game 5 and then a 4–1 in Game 6 to lock it up. Jake Oettinger went 115:47 without allowing a goal, ending the series with a .929 save percentage (and a career .945 save percentage in the playoffs). Roope Hintz's 12 points also lead the playoffs so far.
Maple Leafs defeat Lightning 4–2. The Leafs finally ended their drought, making the 2nd Round for the first time since 2004, when they defeated ***REDACTED***. After several high-scoring games, Game 6 was a goaltending duel, ending 2-1 in OT off the stick of John Tavares.
Oilers defeat Kings 4–2. This one was a nail-biter, when Stuart Skinner made a gaffe late in the third to gift Philip Danault a shorthanded goal to tie it up 4–4. But then Kailer Yamamoto followed the old adage of "pucks on net", and got a seeing-eye shot past Joonas Korpisalo late in the third to win it. Leon Draisaitl finished the series with 11 points, just edging out Connor McDavid's 10 for the team lead.
Panthers defeat Bruins 4–3. Th is all-timer of a Game 7 took place last night, with Brandon Montour tying it up with 59 seconds left, and then Carter Verhaeghe scored in OT to send the record-setting Bruins packing. It was shocking to see the Bruins cruise to a 3–1 series lead, and then struggle as they brought Patrice Bergeron and David Krejci back into the lineup. The greatest regular season of all-time is for naught, and the B's are left with an awful lot of questions.
Kraken defeat Avalanche 4–3. Another upset by a road team:Oliver Bjorkstrand scored two goals, and hit the posts and crossbar at least three more times, leading the Kraken to a 2–1 win. It was remarkable to see the reigning Cup winners defeated on the same night as the President's Trophy winners. We officially have CHAOS.
Devils vs. Rangers tied 3–3. The Rangers returned to their form from Games 1 and 2, dominating the Devils in a 5–2 Game 6 victory. Game 7 starts tonight in New Jersey at 8 pm ET. Rookie goalie Akira Schmid of the Devils will look to continue his .937 save percentage into the crucial contest, while Chris Kreider, already the Rangers' career leader in playoff goals, will look to drive the scoring again, since his four goals and seven points lead both teams in this series.
This sets up the Division Finals as Leafs–Panthers, Stars–Kraken, Knights–Oilers, and Hurricanes–Devils/Rangers. This has been a supremely entertaining first round, and here's hoping that continues through the playoffs.